The Real Reason for Record Gas Prices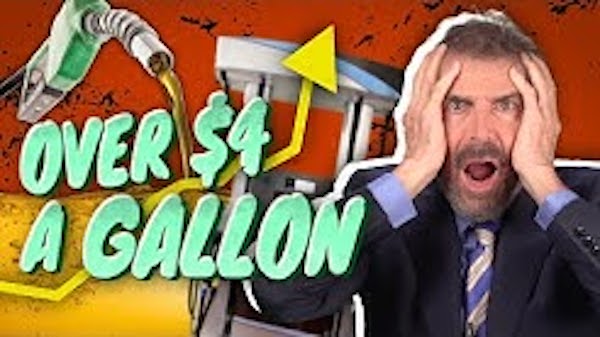 Who's to blame for record high gas prices which in turn have made EVERYTHING more expensive?
Politicians are using the playbook of environmental activists who want desperately to slow everything down, every business, and every single person (who can't afford endless price hikes).
Here's Emmy Award winning journalist John Stossel.
=====
From StosselTV
Putin! Price gouging! Excess profit! Politicians blame the wrong things for record gas prices. Politicians say higher prices are caused by "corporate greed." Nonsense. Greed is a constant. Companies are always greedy. They were just as greedy when prices dropped. "If big oil could raise prices anytime they wanted … then why were they so cheap in 2020?" asks Ben Lieberman of the Competitive Enterprise Institute. He points out that the record price "all comes down to cutting back on supplies." Exactly. Prices change because of supply and demand. Politicians, pushed by environmental activists, have restricted oil production.
——– Don't miss a single video from Stossel TV. Sign up here: https://www.johnstossel.com/#subscribe ——–
John Stossel
Libertarian journalist John Stossel created Stossel TV to explain liberty and free markets to young people. Prior to Stossel TV he hosted a show on Fox Business and co-anchored ABC's primetime newsmagazine show, 20/20. Stossel's economic programs have been adapted into teaching kits by a non-profit organization, "Stossel in the Classroom." High school teachers in American public schools now use the videos to help educate their students on economics and economic freedom. They are seen by more than 12 million students every year. Stossel has received 19 Emmy Awards and has been honored five times for excellence in consumer reporting by the National Press Club. Other honors include the George Polk Award for Outstanding Local Reporting and the George Foster Peabody Award.
First test production of plastic a milestone for Heartland Petrochemical Complex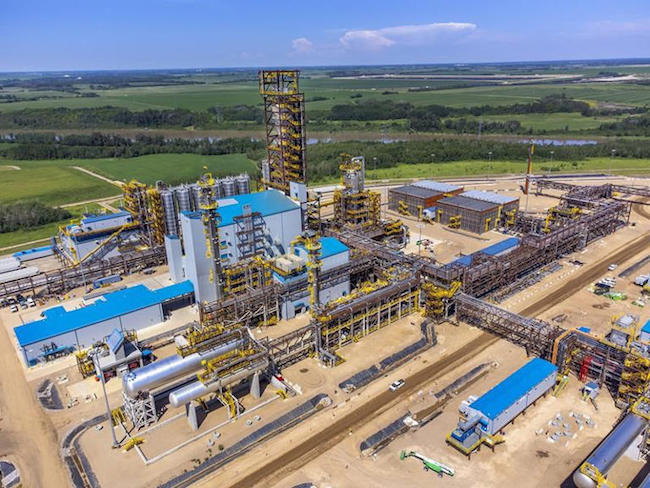 CALGARY — The $4.3-billion Heartland Petrochemical Complex, which has been under construction northeast of Edmonton since 2018, has produced its first plastic pellets.
Owner and operator Inter Pipeline Ltd. said Tuesday the newly commissioned facility has been producing test pellets steadily since late June, an important milestone en route to the expected start of full commercial operation sometime this fall.
The Heartland Petrochemical Complex will convert Alberta propane into 525,000 tonnes per year of polypropylene beads, an easily transported form of plastic that is used in the manufacturing of a wide range of finished products.
Steven Noble, spokesman for Calgary-based Inter Pipeline, said the facility will be the first integrated propane dehydrogenation and polypropylene production facility in North America. He said approximately 70 per cent of Heartland's total production capacity has been already contracted out to long-term customers.
"Through the duration of the project's construction, we've seen demand for polypropylene increase significantly … including at one point hitting an all-time record (market price)," Noble said in an interview. "The demand that we initially forecast certainly hasn't gone away."
The Heartland facility is being built with the support of a $408-million grant from Alberta's provincial government. The cash grant, part of an incentive program aimed at growing the province's petrochemicals sector, is to be paid to Inter Pipeline in equal instalments over three years once the complex is operational.
Noble said by creating a new market for propane, the Heartland facility is an example of how natural resource development in Alberta is diversifying.
"The fact that we're now looking at our raw resources in a different way, and figuring out different ways to get value out of them and create other refined products right here at home … is really the part of the story that everyone here is excited about," he said.
The Heartland Petrochemical Complex is expected to employ 300 people once fully operational.
The polypropylene produced at the facility will be branded as Heartland Polymers.
This report by The Canadian Press was first published July 5, 2022.
Amanda Stephenson, The Canadian Press
Biden offshore drilling proposal would allow up to 11 sales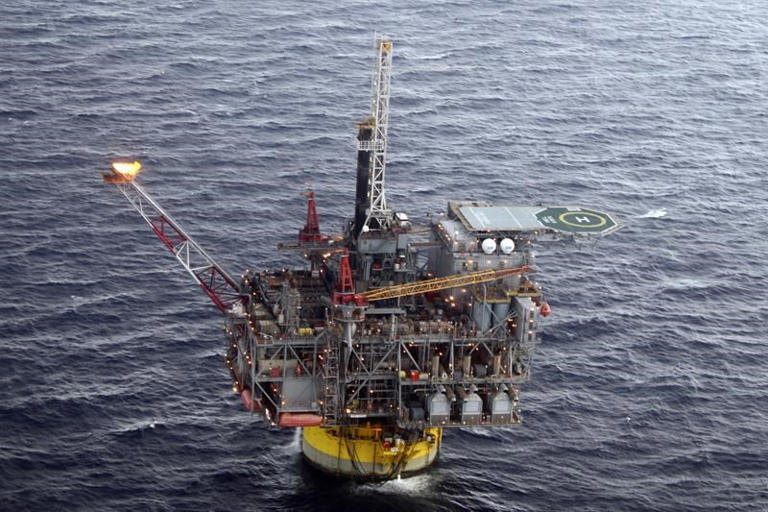 NEW ORLEANS (AP) — President Joe Biden's administration on Friday proposed up to 10 oil and gas lease sales in the Gulf of Mexico and one off the Alaska coast over the next five years — going against the Democrat's climate promises but scaling back a Trump-era plan that called for dozens of offshore drilling opportunities including in undeveloped areas.
Interior Secretary Deb Haaland said fewer than 11 lease sales — or even no lease sales at all — could occur, with a final decision not due for months. New drilling off the Atlantic and Pacific coasts would be blocked, after being considered under Trump.
"President Biden and I have made clear our commitment to transition to a clean energy economy. Today, we put forward an opportunity for the American people to … provide input on the future of offshore oil and gas leasing,″ said Haaland, whose agency oversees drilling on federal lands and waters.
The proposal brought immediate backlash from both environmentalists — who accused Biden of betraying the climate cause — and oil industry officials and allies, who said it would do little to help counter high energy prices. Gasoline prices averaged $4.84 a gallon on Friday, a strain on commuters and a political albatross for Biden's fellow Democrats going into the midterm elections. That has left the White House scrambling for solutions, including Biden's call last week for suspension of the 18.4 cents a gallon federal gas tax.
The Interior Department had suspended lease sales in late January because of climate concerns but was forced to resume them by a U.S. district judge in Louisiana.
The Biden administration cited conflicting court rulings about that decision when it canceled the last scheduled lease sales in the Gulf and Alaska during the previous offshore leasing cycle. That prior five-year cycle, a program adopted under former President Barack Obama, expired on Thursday.
There will be a months-long gap before a new plan can be put in place. The oil industry and its allies say the delay could cause problems in planning new drilling and potentially lead to decreased oil production.
There's unlikely to be an offshore lease sale until well into next year, said Frank Macchiarola, senior vice president of the American Petroleum Institute, the industry's top lobbying group.
And, he said, administration officials "went out of their way to say" there might not be any lease sales at all.
"It's very important for the administration to send a signal to the global oil markets that the United States is serious about increasing supply … for the long term," he said, repeating a longtime claim by industry officials and Republicans that ties uncertainty over oil supply to high prices.
Biden in recent weeks has criticized oil producers and refiners for maximizing profits and making "more money than God," rather than increasing production in response to higher prices as the economy recovers from the pandemic and feels the effects of Russia's invasion of Ukraine.
The leasing announcement was a bitter disappointment to environmentalists and some Democrats who rallied around then-candidate Biden when he promised to end new drilling in federal lands and waters.
The proposal comes a day after the administration held its first onshore lease sales, drawing $22 million in an auction that gives energy companies drilling rights on about 110 square miles (285 square kilometers) in seven western states. The sales came despite the administration's own findings that burning oil and gas from the parcels could cause billions of dollars in potential future climate damages.
"Our public lands and waters are already responsible for nearly a quarter of the country's carbon pollution each year. Adding any new lease sales to that equation while the climate crisis is unfolding all around us is nonsensical," said House Natural Resources Committee Chairman Raul Grijalva, D-Arizona.
Cynthia Sartou, executive director of the environmental nonprofit Healthy Gulf, called the lease-sale plan "a huge loss for Gulf residents, American energy policy and the global climate."
Moderate Democrat Joe Manchin, who chairs the Senate energy committee, welcomed the proposal as a chance "to get our leasing program back on track."
"While Americans everywhere are suffering from record high gas prices and disruptions in the global oil market caused by (Russian leader Vladimir) Putin's senseless war in Ukraine, the Department of the Interior hasn't held any successful offshore lease sales since November 2020," the West Virginia lawmaker said.
Under the Trump administration, Interior officials had proposed 47 sales, including 12 in the Gulf of Mexico, 19 in Alaska and nine off the Atlantic coast that were later withdrawn. Trump lost the 2020 election before the proposal was finalized.
The current format of holding Gulf-wide sales was put in place under Obama because of dwindling interest in offshore leases. Prior to that there had been decades of regional sales.
Friday's announcement opens a 90-day public comment period, then a final plan must be submitted 60 days before it goes into effect.
The government held an offshore lease auction in the Gulf of Mexico in November that brought $192 million in bids. A court canceled that sale before the leases were issued.
Haaland has said previously that the industry is "set" with the amount of drilling permits stockpiled and at its disposal. She testified during a House hearing in April that the industry has about 9,000 permits that have been approved but are not being used.
Oil production has increased as the economy recovers from the coronavirus slowdown, but it's still below pre-pandemic levels. Energy companies have been reluctant to ramp up production further, citing a shortage of workers and restraints from investors wary that today's high prices won't last.
Major oil companies reported surging profits in the first quarter and sent tens of billions of dollars in dividends to shareholders.
Athan Manuel of the Sierra Club said delaying offshore sales until next year "is an important step toward protecting communities and climate, and we urge the administration to finalize a plan that commits to no new offshore drilling leases, period."
__
Brown reported from Billings, Mont. Associated Press writer Matthew Daly in Washington contributed to this story.
Janet Mcconnaughey And Matthew Brown, The Associated Press