The Little Red by Tim Lasiuta
From time immemorial, the creek has flowed.
Its life blood, the swiftly flowing stream that has ebbed and surged has both moved and has been moved through the gently hilled landscape.
Around it, the land has been home to natives and immigrants for at least 12,000 years and possibly as long as 20,000 years.   Migrating bands of natives had called this area home, using the rich resources of animal life and water supply to feed their people.  Summer camps, winter camps and elk/buffalo pounds all lie beneath what we now call Red Deer.
"…If Shakespeare were here, he might write sonnets…"
Cree legends speak of the Great Spirit and what we now call the Medicine Hills noting events we deem to be 12,000 years ago.
With the arrival of immigrant settlers and the exploration of Central Alberta by Thompson and others, the dwindling supply of buffalo and the breaking of traditional land into settler lots the wandering creek still brought life but now became a symbol of a burgeoning settlement.
Mankind has traditionally settled near water, and the hamlet and later town, and city of Red Deer did the same.  What was once viewed as a source of life was now a feature to be seen as an anchor to the wild beauty of the area.  Like the elders of the native tribes before him, Kerry Wood fought for the natural areas in his beloved community and his hand is obvious for those who look.
We, as present citizens of the city of Red Deer, cannot ignore the legacy that the 'keepers of the land' left behind.
Pre-contact natives looked on this land as far as the eye could see and deemed it a blessing from the Great Spirit.  Great chiefs looked on this land as their charge, and considered it a responsibility to protect the land.
Farmers look on their land as their responsibility to keep and protect for future generations.
Modern day urban and real estate planners look on priceless natural areas as part of urban development with an eye to profit than to protection.
Once upon a summer day, I wandered through the Bower area and I discovered a treasure.
Turning  a corner into the east side of the green area by Bower Mall, the beauty of the wandering creek overwhelmed me.  The summer day sun just magnified the greatness of the area.  Birds sang songs to each other and the silence that encompassed the aerial arias was magnificent.  The sheer experience of the time was priceless.
All around me the might trees swayed in a slight breeze and the warm air flowed around me.  Looking north, south and east the hand of our Creator was obvious.  True beauty cannot be bought, engineered, nor constructed by human hands.
Such is the heart of the jewel that is Red Deers natural areas.
This area, as seen in the photos cannot be replaced by a bridge, walkway, or overpass.  In fact, the beauty of the area will be lost forever.
It is not hard to imagine that centuries ago young braves and their families set camp beside the creek and enjoyed life.  If you could listen to the past, you might hear sounds of campfire conversations, drum circles, singing and laughing.
More importantly, they, like modern citizens today, and myself on this day, knew this was a special place that perhaps was sacred for some and just a place of rest for others.
If Samuel Taylor Coleridge were here, he might compose Xanadu.
If Shakespeare were here, he might write sonnets.
If the Sons of the Pioneers were here with instruments, they might compose a haunting song like "Blue Prairie," or "The Touch of Gods Hand."
An artist might paint a moving memory.
Young lovers from all eras might declare their everlasting love to each other.
Yet, we, as a city, are considering its desecration.
Today, it is a reminder that we cannot and should not consider turning this priceless area into a traffic zone.
We should never, ever forget that our responsibilities to shepherding and managing the land must consider environment over people every time.
Take a moment, look at these pictures and ponder…..Bridge or beauty….
Tim Lasiuta is a local writer with interests in history preservation, from environmental to pre-contact native archaeology, faith and telling stories that matter in Central Alberta.  His work has appeared in Canadian Cowboy Country, True West Magazine, Mad Magazine, Alberta Venture, in published anthologies and Comic Buyers Guide.
You can contact Tim at [email protected].
Read more stories on Todayville.com.
Michener North lands selected as location for future multi-use aquatic facility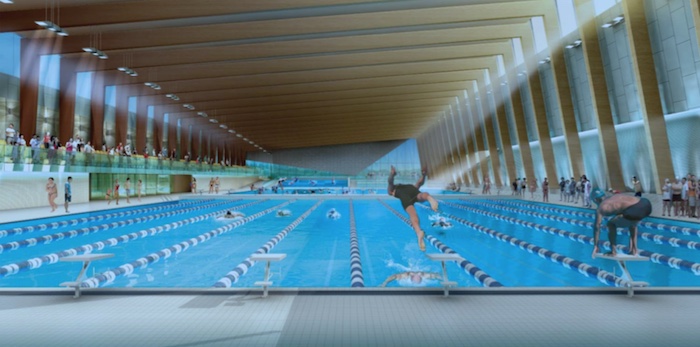 Monday, Red Deer City Council approved Michener North lands as the site for a future multi-use aquatic facility in Red Deer.
"Confirming the location for the future multi-use aquatic centre is an important milestone in bringing the vision for a new aquatics centre to life for our community," said Mayor Tara Veer. "Both Rotary Recreation Park and Michener North lands were viable options for the facility; however, selecting Michener North lands offers us the opportunity to re-imagine a future for this significant piece of Red Deer's history and create a legacy for future generations. Today's decision also signals Council's desire to move forward with this long anticipated project when economic conditions are more favourable in the future, as well as our commitment to re-purpose Michener North for public purposes and park expansion. One of the challenges for funding a new aquatic centre was the many pragmatic financial uncertainties of the project. We have now determined location and scope, which will help us to plan more definitively for funding of future construction."

In December, Council directed administration to consider two possible locations for the multi-use aquatic facility: Michener North lands and Rotary Recreation Park. In addition to an in-depth evaluation of both sites, several factors were considered in selecting Michener North lands:
The City is purchasing the Michener North lands from the Province, with funds approved in the 2021 Capital Budget.
Solidifying this location allows the multi-use aquatic facility to be included in the visioning for Michener North. This visioning will help develop ideas around what this site could for the community and will begin in early 2022.
The multi-use aquatic facility serves as an anchor to this future major park node.
Scoping, design and cost were also determined in December as part of Phase 1 of this project. At this time, the facility includes a 53M x 25M pool with 10 lanes, ranging in depth from 2.5M to 3.8M with diving platforms at the deep end and two 1.5M movable bulkheads. This competition pool is compliant with FINA standards and Swim Alberta recommendations. The facility also includes a 25M x 20.6M pool with eight lanes, ranging in depth from 1.2M to 2.2M to accommodate swim competitions, warm up for aquatic sport competitions, and floor based depths serving local community programming needs. Two hot tubs, steam and sauna amenities, universal change rooms, spectator seating for up to 750 people, storage, sport group dryland training area, and staff supports are accounted for in the design.
The facility construction costs are estimated at $51,600,000, and by selecting Michener, The City is in a better position to quantify the variable site development costs as plans are solidified to place the item in the capital plan.
We now know that Michener North lands will be used for municipal purposes and become a major park node for community use," said Sarah Tittemore, Community Services General Manager. "Major park nodes need indoor facilities to serve the needs of park users, and deciding on the multi-use aquatic facility at this site allows the visioning for the Michener North lands to include this anchor and the community. We look forward to working with the community to enrich the vision through planned future consultation."
Last day to buy tickets – Buy and share to support your hospital!
Today at 11pm it's all over but the winning in the 2021 Red Deer Hospital Lottery.
No extensions will be made.
Buy now – it's your last chance! 
The Grand Prize Dream Home package is valued at $880,619 and includes furnishings from The Brick
and $10,000 Dream Home CASH!
CHECK OUT OUR GREAT TICKET PACKAGES
$25 EACH | 5 FOR $75 | 10 FOR $125 | 25 FOR $250
And remember, your purchase of a Red Deer Hospital Lottery ticket will directly benefit Central Alberta's tiniest patients.  
The Mega Bucks 50 jackpot is the highest ever!
Some ticket packages are still available.
1 for $10   ·   10 for $25
25 for $50   ·   50 for $75
Win half of the current jackpot of: