Central Alberta Child Advocacy Centre thrilled with Provincial Funding announcement
Mark Jones of the Central Alberta Child Advocacy Centre comments on the Province's financial commitment to children
From the Province of Alberta 
New funding model for child advocacy centres
The Government of Alberta is introducing a consistent and equitable funding model to help vulnerable children across the province get the help they need.
Child advocacy centres provide a safe place for children and youth who have experienced abuse. The centres allow clients to tell their stories and access support throughout the entire process of disclosure, investigation, the judicial phase and healing journey.
The centres bring together multi-disciplinary teams to provide a coordinated and child-friendly approach that minimizes trauma, supports healing, and increases the likelihood of offender conviction.
A new funding allocation model will replace the previous system of annual grants, which created uncertainty and inconsistency between centres. A three-year funding cycle will ensure an equitable and sustainable approach, emphasizing government's continued commitment to supporting the most vulnerable Albertans.
"Child Advocacy Centres show the power of public, private and not-for profit organizations working with caring citizens to support children and families affected by abuse. This new funding model will ensure fairness across the province and give families certainty in accessing the supports they need."
"We are grateful for the support of the Government of Alberta. Child Advocacy Centres are the result of a strong community response working to end child abuse through collaboration of services and resources. This funding allows us to continue to help children and youth who have experienced abuse efficiently access the services and supports they need, under one roof."
"This long-term funding model allows us to plan for the future of our centre in a thoughtful way. While we are disappointed to receive less funding than before, we understand the need to ensure equity across the province and we will look to take a leadership role in collecting data and information to inform government decision-making over the next few years."
Government will provide $3.4 million per year for 2020-23 to support child advocacy centres in Edmonton, Calgary, Grande Prairie, Red Deer, Lloydminster and Fort McMurray. Funding has been set aside for centres in Medicine Hat and Lethbridge, should they become operational.
| | 2019 | 2022-23 |
| --- | --- | --- |
| Zebra Child Protection Centre (Edmonton) | $712,000 | $1,037,050 |
| Calgary and Area Child Advocacy Centre | $1,979,000 | $1,306,850 |
| Caribou Centre Child Advocacy Centre (Grande Prairie) | $150,000 | $202,350 |
| Central Alberta Child Advocacy Centre (Red Deer) | $150,000 | $303,530 |
| The Little Bear Child and Youth Advocacy Centre (Lloydminster) | $115,530 | $126,470 |
| Care Centre for Children and Youth (Fort McMurray) | $133,000 | $160,200 |
Total funding amounts will not change, but will be distributed based on the new model, which takes into account previous base funding, the volume of clients served, and the intensity of need based on a community's child intervention caseload. The three-year grants will also include data collection obligations, allowing for funding based on consistent metrics across the province. The funding allocation model does not affect co-located government staff from Children's Services and Alberta Health Services.
New funding model reduces red tape
Because grants will no longer have to be renewed each year, the new funding model will reduce the administrative burden on centres and government staff. This is part of government's ongoing commitment to reducing red tape and making processes more efficient.
Quick facts
In 2008, there were 14,403 substantiated cases of child abuse in Alberta.
36 per cent of adults in Alberta have experienced some form of abuse in their youth.
Alberta's Child, Youth and Family Enhancement Act requires anyone who believes a child is at risk to report their concern.
Albertans should know the signs of abuse and neglect, and report any concerns to the Child Abuse Hotline at 1-800-387-KIDS (available in multiple languages, 24 hours a day), or contact a local Children's Services office, Delegated First Nations Agency, or law enforcement.
The funding in each centre will be directed towards multidisciplinary triage, forensic interviews, victim advocacy, court preparation, and service coordination (medical and mental health referrals).
Final weekend to see $880,000 dream home and buy tickets to win Red Deer Hospital Lottery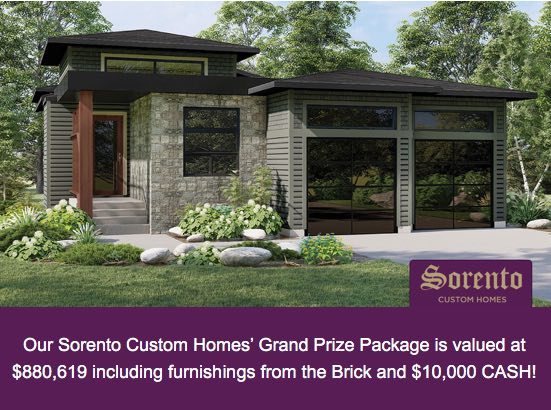 CHECK OUT OUR GREAT TICKET PACKAGES
$25 EACH | 5 FOR $75 | 10 FOR $125 | 25 FOR $250
Total value of the Dream Home prize package is $880,619!
Our Dream Home is open for viewing!
Saturday June 19 and Sunday June 20
(1:00 pm to 5:00 pm each day)
Dads! Enter to win a Father's Day gift basket valued at $400

Plus, Real Country and Z98.9 will be on site June 20 
The Mega Bucks 50 jackpot is the highest ever!
Some ticket packages are still available.
1 for $10   ·   10 for $25
25 for $50   ·   50 for $75
Win half of the current jackpot of:
CALL RED DEER & AREA OR TOLL FREE
403.340.1878      1.877.808.9005
Alberta city cancels Canada Day fireworks at site of former residential school
ST. ALBERT, Alta. — A city northwest of Edmonton says it has cancelled its Canada Day fireworks display because it was to be held on the site of a former residential school.
The City of St. Albert says in a news release that Mission Hill, where the July 1 display was planned, is the site of the former Youville Residential School and that it "likely" contains unmarked graves of former students.
It says it made the decision to "demonstrate empathy and respect for members of the community who have experienced, and who continue to experience, the devastating effects of intergenerational trauma because of the residential school system in Canada."
The release notes that the city wasn't able to find another suitable location in time that that met the technical and safety requirements for a fireworks display.
Last month, a First Nation in British Columbia announced that ground-penetrating radar had found what are believed to be the remains of 215 children buried on the site of a former residential school in Kamloops.
The City of St. Albert news release says it also scaled back a number of Canada Day activities due to the uncertainty of provincial COVID-19 public health measures.
"The City of St. Albert encourages residents to spend this Canada Day considering both the opportunities and freedoms afforded to many within our country as well as the tragic history that our nation's story has been built upon," Mayor Cathy Heron said in a separate release on Friday.
"With this in mind, we can reflect on our past while holding onto hope for an even better future for everyone."
The city made the announcement about the fireworks cancellation and scaling back events on Friday, the same day Premier Jason Kenney also said remaining public health restrictions would be lifted July 1.
Edmonton Mayor Don Iveson tweeted Saturday that the city's Canada Day fireworks will be going ahead.
The leaders of three communities in northern Saskatchewan, meanwhile, have collectively decided to cancel Canada Day celebrations such as fireworks this year and instead focus on National Indigenous People's Day on Monday.
The leaders of La Ronge, the Lac La Ronge Indian Band and the village of Air Ronge say it's in response to the findings in Kamloops.
This report by The Canadian Press was first published June 19, 2021.
The Canadian Press