The Halftime Report – News from the Alberta Sports Hall of Fame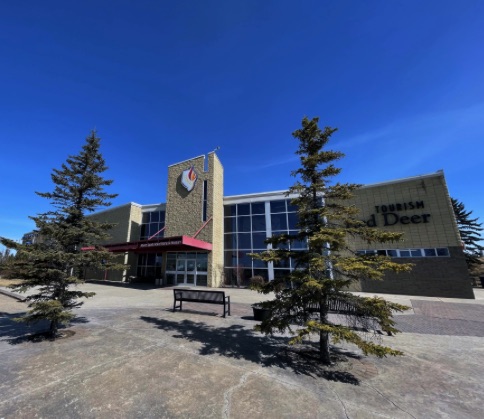 Diane Jones Konihowski Inducted to Canada's Sports Hall of Fame & receives the Order of Sport Award
On October 3rd, Diane Jones Konihowski was awarded the Order of Sport Award and was Inducted into Canada's Sports Hall of Fame Class of 2020-2021. Diane has been inducted into the Alberta Sports Hall of Fame since 2002 as a Multisport Builder. She was appointed to the Order of Canada in 1978, YWCA "Woman of Distinction" Sport & Recreation Award in 1988, "Great Canadian" Award in 1993, and she was inducted into the Canadian Olympic Sports Hall of Fame in 1995. Congratulations Diane on this well deserved recognition on all you have done for sport in Canada.
The Guys from the Oh, Deer Podcast recap their experience at the Alberta Sports Hall of Fame
This newsletter is sponsored by the Innisfail Eagles.
2020 Virtual Induction Ceremony
More information still to come.
Honoured Member Deryk Snelling has Passed
We are saddened to hear of the passing of legendary Swim Coach Deryk Snelling.
Deryk Snelling's coaching abilities helped place fifty-seven swimmers on Olympic teams with twenty-one of them earning Olympic medals. Alberta Sports Hall of Fame Honoured Members Tom Ponting, Mark Tewksbury, Cheryl Gibson, and Susan Sloan, were all coached by him when competing internationally. Deryk's swimmers won ten World Championship medals, thirty-eight Pan American medals, sixty-five Commonwealth medals, and twenty-seven Pan Pacific medals. They set seven World Records and won sixty-nine Canadian National Team Championship titles. Deryk was Head Coach of the Canadian Olympic Team four times, the Commonwealth Games Teams five times, and one World Championship Team.
1997 Swimming Builder, Calgary
Provincial Sport Organization: Alberta Equestrian Federation
Our mission: is to assist in creating a positive environment for the enjoyment of equines. Through leadership and a proactive approach we promote, facilitate, and coordinate equestrian-related activities in Alberta.
The Alberta Equestrian Federation strives to maximize a participant/athlete's potential and involvement in our sport. We are athlete centered, coach driven and administrated, sport science and sponsor supported. By tailoring an athlete's/participant's sports development program to enables them to reach their full potential, increase lifelong participation in Equestrian and other physical activities while improving health and well-being.
Honoured Member in Focus: Margaret & Ron Southern
Margaret and Ron Southern had a dream to develop and operate a world-class equestrian facility. In 1976, their dream became a reality as Spruce Meadows hosted its first tournament. Over the years, Spruce Meadows has developed into one of the finest show jumping venues in the world. Spruce Meadows is the locale for four coveted world-class tournaments annually, including "The Masters" — that offers the largest purse of any show jumping event. Margaret and Ron have prided themselves in showcasing equestrian competitions, and their outstanding efforts have proven positive, as they have attracted competitors from all over the world.
Their daughter Nancy Southern is being Inducted this year along with Ian Allison for the Bell Memorial Award!
Artifact of the month!
Equestrian sports can be divided into 3 main categories: Eventing, Jumping and Dressage.
Eventing is often considered the supreme test of total horsemanship and was originally intended to test military officers for any challenges they could come across on or off duty. Jumping or show jumping features a technical course with a series of obstacles that vary in height and width, including jumps over water and stone walls, parallel rails, and triple bars. Referred to as horse ballet, dressage has been used for over 2000 years starting as a way the Greeks prepared their horses for war.
All nomination packages for the 20201 intake year must be submitted prior to October 31st, 2021 to be considered for the 2021 selection year.
Give Back Today!​
The Alberta Sports Hall of Fame needs your support to continue the ongoing preservation of Alberta's sports history and the development of museum exhibits. We are grateful and appreciative of the generosity of our supporters and friends.
Reducing funding for RCMP on the table for Saskatchewan amid firearm buyback debate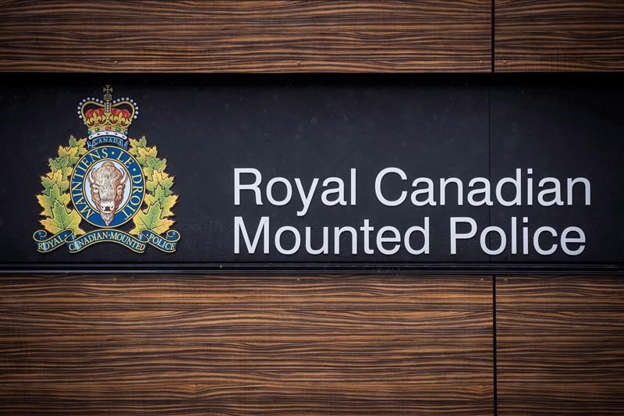 REGINA — Saskatchewan says it would consider reducing its funding for the RCMP if the force was to help the federal government with its proposed firearms buyback program.
Public Safety Minister Christine Tell says all options are on the table, signalling the province will not help Ottawa collect guns it has banned.
"We as a province fund the RCMP to a tune of 70 per cent, so it could even get more interesting," Tell said Thursday.
The Saskatchewan Party government said it is pushing back to protect law-abiding firearms owners from what it views as federal intrusion on its provincial autonomy.
Under Ottawa's proposed firearms buyback program, it would be mandatory for people to have their assault-style firearms rendered inoperable or have them discarded. That could also include centrefire semi-automatic rifles or shotguns designed to accept a detachable magazine that can hold more than five cartridges.
In response, Saskatchewan has introduced its own firearms act to forbid municipalities and police services from receiving federal money to help confiscate firearms.
The proposed law says a municipality, police service or board would have to get written approval from the province's public safety minister before agreeing to support the federal buyback program.
It also states that Saskatchewan's chief firearms officer would enforce which federal agent can or cannot confiscate firearms in the province.
"These legal firearm owners are not the ones committing the crimes," Tell said.
The legislation was tabled Thursday, months after Tell wrote a letter to Assistant Commissioner Rhonda Blackmore, the head of Saskatchewan's RCMP. It stated that the province would not support the Mounties using provincially funded resources to help confiscate firearms.
Alberta, Manitoba and New Brunswick have sent similar letters to their RCMP forces. They have joined Saskatchewan in asking Ottawa to not use up "scarce RCMP and municipal resources" for its buyback program.
In October, Blackmore said Mounties are service providers, not decision-makers, and any decisions over the buyback program are between the federal and provincial governments.
"As the service provider, we would be the individuals that get our information from them," Blackmore told The Canadian Press.
That includes if additional resources would be needed by RCMP once the buyback program rolls out.
"It would depend on the level of expectation, and what that looks like, and what the involvement is if there are additional resources," Blackmore said.
The specific role of the RCMP and the details surrounding the buyback program have not been determined.
On Friday, the Saskatchewan RCMP said it will continue to prioritize front-line services and the safety of communities is its highest priority.
The Saskatchewan Firearms Act also calls for helping firearm owners get fair market value for guns collected through the buyback program and would require all seized firearms to go through forensic and ballistic testing.
The Saskatchewan Wildlife Federation, which advocates for hunters and the protection of the province's hunting heritage, praised the proposed act, saying it would mitigate the "draconian" federal legislation.
There are approximately 115,000 licensed firearms owners in Saskatchewan, 75,000 of whom may be penalized under the federal government's policy. That's about 10 per cent of Saskatchewan's adult population, the province said.
Saskatchewan's NDP Opposition has stood united with the government to denounce the program.
"It does not strike the right balance for Saskatchewan," justice critic Nicole Sarauer said last week in the legislature.
"These amendments are overbroad and capture rifles that have legitimate uses for both hunters and producers in Saskatchewan."
This report by The Canadian Press was first published Dec. 2, 2022.
Mickey Djuric, The Canadian Press
Premier Smith goes on the attack against NDP opposition to the Alberta Sovereignty Act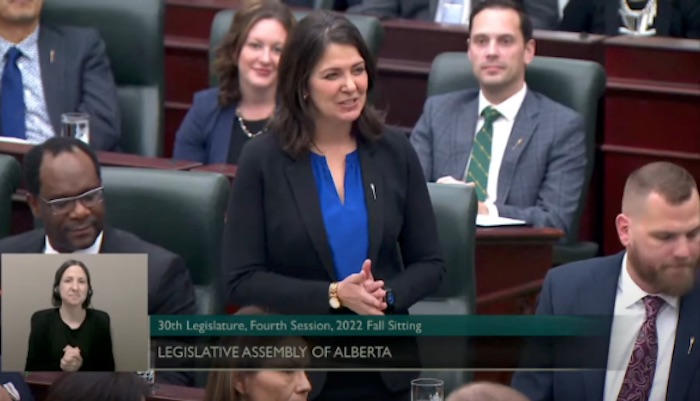 It appears Premier Danielle Smith has had enough of playing defence. In the days since introducing the Alberta Sovereignty Act in the Alberta Legislature this week, Smith has found herself explaining and re-explaining how the Act will survive scrutiny and serve the province well in ongoing battles over issues of contention with Ottawa. Peppered by the media and by the Official Opposition NDP inside and outside the legislature, Smith and her team decided to turn the tables.
The media and the official opposition claim the Sovereignty Act allows laws to be crafted by cabinet members "behind closed doors" after the legislature has declared a federal overreach into provincial jurisdiction.
However that appears to be a confusing opposition tactic since the Sovereignty Act does not require the passing of new laws. Rather, the Province will simply provide reasons for declining to enforce federal laws which (i) intrudes into provincial legislation jurisdiction, (ii) violates the rights and freedoms of Albertans under the Canadian Charter of Rights and Freedoms, or (iii) causes or is anticipated to cause harm to Albertans.
Thursday, Premier Smith took the opportunity during Ministerial Statements to lash out at the opposition leader Rachel Notley for siding with Ottawa instead of Alberta in the struggle to defend provincial rights.