Red Deer's Joan Donald inducted into the Alberta Order of Excellence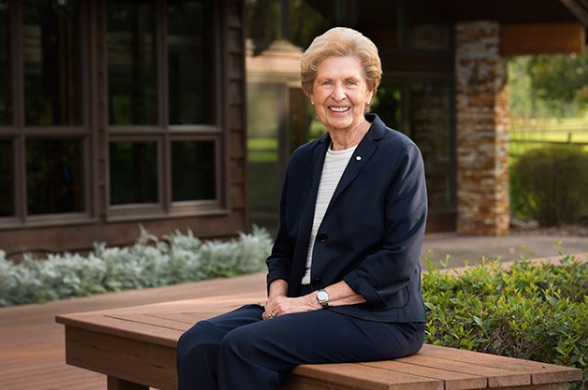 Eight exceptional Albertans will be inducted into the Alberta Order of Excellence in 2021.

"Our honourees have abundant strengths that have served our province well. These include great perseverance, a selfless commitment to giving back, and a steadfast focus on sharing their unique gifts and abilities in a way that enriches us all. I offer my heartfelt thanks to each of them for their remarkable contributions."

"All of the recipients show a remarkable talent for innovative creativity in their fields. Whether in business, research, education or community building, their leadership has made all of our lives better, safer and richer. I congratulate this year's inductees on their many accomplishments, proving brilliant ideas shine brighter when courage and collaboration stand together."

The Alberta Order of Excellence recognizes Albertans who have made an outstanding provincial, national or international impact. It is the highest honour a citizen can receive as an official part of the Canadian Honours System. The new additions will bring the total membership of the Alberta Order of Excellence to 197.

The Alberta Order of Excellence members being invested in 2021 are:

Joan Donald of Red Deer has enriched the social and economic health of her community by bringing governance and leadership to boardrooms of organizations that range from business, health and education to social justice, sport and culture.

Cyril Kay of Edmonton is among the world's eminent biochemists, unlocking the building blocks of life. His vision to create and lead internationally respected multidisciplinary teams has revolutionized biomedical research.

Murray McCann of Calgary is an entrepreneur and community leader who reinvests his success into organizations that combat hunger, homelessness, fear and violence. He created programs that honour fallen soldiers and support homeless veterans.

Barb Olson of Calgary is an internationally recognized researcher, entrepreneur and toxicology expert. Her research with husband Merle in veterinary medicine has led to a better understanding of bacterial infections and treatment in humans and animals.

Merle Olson of Calgary is an internationally renowned veterinarian and researcher. His entrepreneurism with wife Barb has led to innovative biotech and pharmaceutical companies specializing in veterinary products to address animal welfare issues.

Greg Powell of Calgary is a pioneering emergency physician, innovator and educator. He has saved countless lives by co-founding and leading the Shock Trauma Air Rescue Service (STARS) and revolutionizing emergency medicine.

Cor Van Raay of Lethbridge has strengthened both agriculture and agribusiness in Western Canada through his innovation and entrepreneurship. His generosity and community building have enriched the lives of Albertans.

Lena Heavy Shields-Russell (Ikkináínihki) of the Blood Reserve is an Elder, author, teacher and trailblazing translator. She created Alberta's Blackfoot curriculum, safeguarding the language and culture to pass on to future generations.

Full biographies and official portraits of new members, and information about the program, are available at alberta.ca/AOE.

Joan Donald

"All through my life I have believed in helping out people in need and giving back to the community. I love to quote Maya Angelou: 'You shouldn't go through life with a catcher's mitt on both hands; you need to be able to throw something back."
Joan Donald is a Red Deer community leader, volunteer and mentor. She has enriched the social and economic health of her community by bringing governance and leadership to the boardrooms of organizations that range from business, health and education, to social justice, sport and culture.
Joan May Schultz was born on May 29, 1935, in Wetaskiwin, Alberta, and grew up on a farm near Millet as one of 11 children. Living on a farm meant there was always work to do, whether it was hauling water and wood into the house or bringing lunch to the men working in the field. "We came home from school and went right to work on our chores. We learned about being good neighbours. At harvest time, if our family finished first, we were there to help our neighbours," she says.
Joan attended a one-room country school until Grade 9, when she moved with her parents and younger sister to Edmonton. While attending Garneau High School, she met Jack Donald (AOE 2015), her future husband. The couple married in 1955. After graduation, Joan worked at the Royal Bank of Canada, taking business classes in the evening. She worked hard at the bank, but soon realized she could work just as hard for herself. Partners in life, she and Jack decided to become partners in business, venturing into the service station business in 1957 in Edmonton.
In 1964, Joan and Jack moved to Red Deer to raise their children Kathy and John, reasoning that the smaller city would provide more opportunities for their young family. They marked their move by co-founding a new business, Parkland Oil Products Ltd. They expanded the business from a fledgling single gas station in Red Deer to 38 service station outlets across central Alberta before selling Parkland Oil in 1971.
Five years later, Joan and Jack again ventured into business together, buying a public company, Parkland Industries Ltd., the corporation behind the well-known Fas Gas service stations. "We have been a great team over the years. He's the business mind and I'm the people person. We complement each other," she says.
Joan served as Parkland's Assistant Corporate Secretary from 1977 until her retirement in 2001, working in public and investor relations, annual meetings, all board planning, and serving on the board of directors for 28 years. By the time she retired, the company, now called Parkland Fuel Corp., had its own refinery and 454 retail service stations in Western and Northern Canada. She continues to serve as Vice- President of Parkland Properties Ltd., their personal investment and real estate company in Red Deer. Joan also served a four-year term on the Board of Directors of the Alberta Energy Company Ltd. (now EnCanada Corp./Ovintiv Inc.).
Many of Joan's greatest contributions have been outside the corporate world. She began volunteering as soon as the family moved to Red Deer and has continued to do so for more than 50 years. She has repeatedly galvanized the community and volunteer teams, leading a multitude of community fundraising campaigns, while encouraging others to join her in giving their time and financial support.
In the early 1970s, she began organizing horse shows for Westerner Park, a role she enjoyed for the next two decades. Her interest in horses led to more volunteer work with the Quarter Horse Association of Alberta and the Waskasoo Handicapped Riding Association. Joan went on to serve four years on the board of directors – which governs Westerner Park, Red Deer's events centre – and eight years on the executive team, including two as president. She has worked tirelessly with the board to introduce sound governance processes and, also as a shareholder for over 40 years, she has participated in or chaired many of the organization's major committees. In 2007, Joan and Jack donated a substantial gift to assist in building a new Westerner administration building.
Joan was instrumental in starting the Festival of Trees in Red Deer in 1994. Under her guidance, the festival grew from a relatively small fundraiser to become the premiere community charitable event in the city, raising funds for the Red Deer Regional Hospital Foundation. Each year, she and the volunteers focused on growing the festival by adding new events and activities. Joan's continued involvement, at leadership levels and now as a major donor, together with her unfailing enthusiasm, have been key reasons for the Festival of Trees' success.
As long-time volunteers, Joan and Jack are both proud to support Red Deer College, now Red Deer Polytechnic. Joan has served on the Board of Governors and as honorary chair of the highly successful capital campaigns. Joan and Jack have also been major personal donors to Red Deer Polytechnic for many years, as have their companies.
In 2007, they generously supported the college's expansion plan, a gesture that resulted in the college's business faculty being named the Donald School of Business. This honoured more than their philanthropy and support of lifelong learning. It gives tribute to the entrepreneurialism and keen business sense it took to grow a single gas station into what has become Canada's largest independent fuel marketer and distributor.
Another of their more sizable gifts to the college was for the Donald Health & Wellness Centre, which is dedicated to teaching and learning in the fields of health and wellness. They also contributed a significant gift for the new Library Information Common. Combined with previous leadership investments, they are the college's largest philanthropic donors.
"We have continued to invest in Red Deer Polytechnic, because we believe in empowering local learners to give them the opportunities they need to be successful in their careers and lives. Our communities are strengthened tremendously with the high-quality individuals who are bettering themselves in their time on campus, and beyond," says Joan.
She has volunteered on many other non-profit boards and fundraising campaigns, including her tireless work on the Board of Directors of STARS (Shock Trauma Air Rescue Service) and on two STARS capital campaigns, the second to acquire two new higher-capacity helicopters.
Over the years, Joan and Jack have donated substantial gifts and time to a number of non-profit community groups, including Central Alberta Child Advocacy Centre, Red Deer Hospice Society, United Way Central Alberta, and JA (Junior Achievement) Southern Alberta. She consistently "puts her money where her mouth is," supporting the same organizations she has asked others to support.
While many people may write a cheque for a good cause, Joan realizes that fewer will become campaign leaders. That's where she feels her legacy is. She has an enduring track record of starting organizations on the right foot with strong principles, plans and practices, then staying on to cultivate future leaders. She has mentored many community members, guiding fellow volunteers on how to best put together a fundraising team, how to lay out their goals and plans very clearly, and share what is expected of their team members to reach those goals.
Joan also invested in young people to cultivate future leaders for Alberta and Canada, developing a unique program with the Red Deer School Board. At Lindsay Thurber High School, she supported the Minerva Club for girls in Grade 9, where they examined careers in math, sciences and non-traditional areas.
Joan has received numerous awards over the years, including Queen Elizabeth II's Golden Jubilee Medal in 2002, Red Deer Citizen of the Year in 2004, Queen Elizabeth II's Diamond Jubilee Medal in 2012, and the Senate Canada 150 Medal in 2017. She and Jack have received the G.H. Dawe Memorial Award for philanthropic contributions to Red Deer Polytechnic for dedicated service to education in 2000, and the Philanthropic Family–Generosity of Spirit Award from the Calgary Chapter of the Association of Fundraising Professionals in 2005. In 2008, the Red Deer and District Community Foundation presented Joan with a Women of Excellence Lifetime Achievement Award and in 2015, she received the Festival of Trees Friends Award for her lifetime of significant contributions. In 2011, Joan was made a Member of the Order of Canada for her lifetime of distinguished community service.
Joan continues to actively volunteer and will continue to, as long as she sees a need. She and Jack have five married grandchildren and nine great grandchildren, with whom they spend as much time as they can when they're not wintering at their home in San Diego, California.
Regulator lays charges against Tidewater Midstream for acidic water release
CALGARY — The Alberta Energy Regulator has laid charges against Tidewater Midstream and Infrastructure Ltd. for a release of acidic water in west-central Alberta.
The regulator says the release occurred in Oct. 2019 at Tidewater's Ram River sour gas processing plant near Rocky Mountain House. 
It says the acidic water flowed into a nearby creek.
Calgary-based Tidewater has been charged with 10 violations under the Environmental Protection and Enhancement Act, including releasing a substance to the environment that caused or may have caused an adverse effect. 
The regulator also alleges that Tidewater failed to report the release of the acidic water as soon as possible, and failed to take all reasonable measures to repair and remedy the spill.
Tidewater is scheduled to appear in court on Dec. 8 in Rocky Mountain House.
This report by The Canadian Press was first published October 21, 2021.
Companies in this story: (TSX:TWM)
The Canadian Press
Alberta's top doctor says COVID-19 cases receding but vigilance needed at Halloween
EDMONTON — Alberta's chief medical officer of health says COVID-19 case numbers in the province continue to recede.
But Dr. Deena Hinshaw cautions that the hospital situation remains precarious given the high number of patients.
And she says Albertans can't afford to let up on health restrictions, particularly with Halloween coming up.
There were 770 new cases of COVID-19 Thursday for a new total of 10,434 active cases.
There were eight more deaths, bringing that total to 3,014.
Alberta Health Services says there are 912 people in hospital with COVID-19, and that 201 of them are in intensive care.
Alberta remains under gathering restrictions for indoor and outdoor events, and Hinshaw says it's important to stick to those limits at Halloween.
Hinshaw urged those setting out candy for trick or treaters to not use bowls, but to set out the candy spaced apart on a surface like a blanket.
She says those who want to have a Halloween party should consider a small gathering of vaccinated people.
"This is not the year for large Halloween parties," Hinshaw said.
"If you're planning a Halloween gathering try to have it outdoors and make sure the limit of no more than 20 people is observed."
Hinshaw noted that last Oct. 31 there were 5,600 active COVID-19 cases, about half the current total. There were 141 people in hospital with the illness a year ago.
Alberta continues to battle a fourth wave of the pandemic.
It has more than doubled the normal number of 173 critical care beds and has had to cancel thousands of non-urgent surgeries to handle the surge.
Opposition NDP Leader Rachel Notley says with winter coming and COVID-19 still circulating, the province needs to provide stable funding to social agencies for winter emergency shelters.
"All people deserve to live in dignity and have a safe place to call home," said Notley. "These calls are urgent. It's getting cold outside, and our northern winter will be here soon."
This report by The Canadian Press was first published Oct. 21, 2021.
The Canadian Press