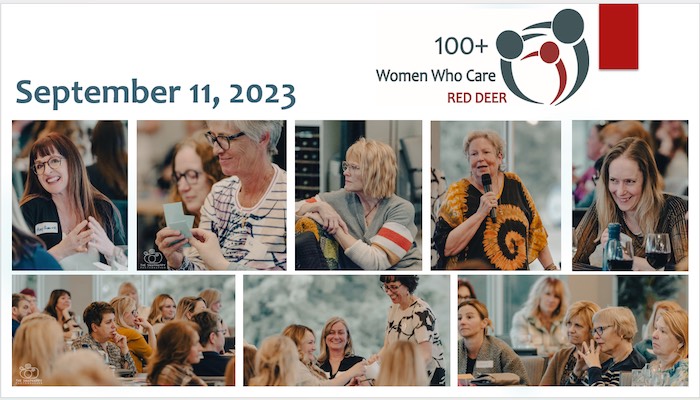 News release from 100 Women Who Care
The room was buzzing with energy and connection on Monday night – what a great way to kick off the fall with a full-house!
Thanks to everyone who joined us, with a special thank you to the 14 new members and their friends who encouraged them to join. There were also a few ladies simply checking out the vibe and we hope to see them again.
We had three excellent, engaging presentations from:
Judy-Ann Wybenga – Red Deer Food Bank Society
Jean Stinson – Red Deer Action Group Society
Lisa Smith – Central Alberta Pregnancy Care Centre
Congratulations to Judy-Ann! Our donations are going to the Red Deer Food Bank Society for their Community Kitchen initiative. We sure hope we get two big cans on the donor board. (Inside joke, ya had to be there!
)
There are two ways to make your donations to the Red Deer Food Bank through the Red Deer and District Community Foundation:
Mail a cheque to the Red Deer & District Community Foundation at 4901 48 St #503, Red Deer, AB T4N 6M4. Please write "100+ Women RD" along with "Red Deer Food Bank" in the memo line.
OR
Use this link or QR code to donate

– just be sure to note Red Deer Food Bank on the online form. If you can, please consider adding $4 to your online donation to cover the Foundation's processing fees. Simply click on the link to do so – no need to add it to your donation.
https://www.canadahelps.org/en/dn/67021
The Red Deer and District Community Foundation manages our donations and ensures that they arrive all present and accounted for to the recipient charities. Erin Peden, Executive Director of the RDDCF (and 100+ Women member) gave us an enlightening date on the amazing work happening at the Foundation. It sure had both of us thinking about ways we can support it more.
Thank you Jody Wianko for the update from CMHA. Our donation helped more that 340 people since April.
Kim Mortimer, The SnapHappy Photographer, was everywhere in the room getting great action shots. The sample above from April's meeting shows what a fun, yet serious, group we are. It's so great having you at the meetings, Kim. And for bringing friends!
There is so much happening in Central Alberta! Here are a few of the community announcements:
We asked and these gals delivered! Jillian donated a beautiful autumn arrangement and two tickets to the Mustard Seed's Bowls for Bellies event. Shelley donated a $100 gift certificate from her family business, Twisted Steel Blacksmithing. Annamarie donated a gorgeous fresh bouquet on behalf of Hucal and Edwards Orthodontics.
We asked and you delivered! The Central Alberta Women's Emergency Shelter and Safe Harbour Society are very grateful for the generous donations of toiletries and personal care items.
It was great to see so many people arrive early to socialize and a number that stuck around after the meeting to keep the evening's energy going. Thank you to Mary Warrener, Samantha Sheridan and Gail Bellanger for all their help at the registration desk, collecting and counting ballots, and generally keeping us organized. Thanks also to everyone who assisted with the post-meeting clean up. We hardly had to lift a finger and it gave us a chance to visit a few of you.
And lastly – aargh – EMAIL ISSUES! We have heard from many of you that you're not getting our emails, so we took some time before sending this out to restructure our email list. Fingers crossed that it worked! Please respond to the read request. This will help us gauge who is and who isn't getting the emails. Please compare notes with your 100+ Women friends, too, by asking if they received this email and letting us know if there are still gaps. Our apologies to everyone who hasn't been in the loop and we that this is rectified "toot sweet"
.
NEXT MEETING: MONDAY, NOVEMBER 27.
With so much gratitude to all of you,
Cindy and Susan
Addiction Recovery: City hosting full day information session on "Recovery Oriented Systems of Care"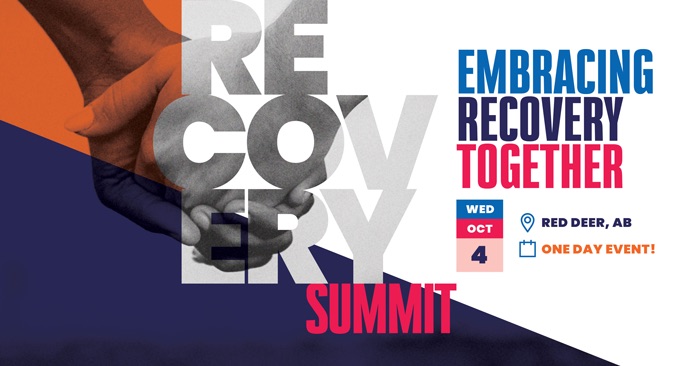 Embracing Recovery Together
Come together in Red Deer for a one-day conference focused on building an understanding of what a Recovery Oriented System of Care is, and what implementation can look like for Red Deer specifically.
Join industry, not-for-profits, government, and interested members of our public to learn, grow, build and start a journey towards recovery.
The word "recovery" can have various meanings in various contexts. For the purposes of an ideal coordinated response, it means helping individuals maintain forward momentum toward better wellness and fulfillment, across all dimensions of their life – physically, mentally, emotionally, spiritually and culturally.
When:
Wednesday, October 4 – 7:30 a.m. until 4 p.m.
Where:
Westerner Park (4847A 19th Street)
Event Details:
7:30 – 8:30 a.m. – Breakfast & Registration
8:30 – 9:15 a.m. – Welcome & Opening Prayer with Mayor Ken Johnston and Elder Lynn Jonasson
9:15 – 10:15 a.m. – Opening Plenary: Let's Get to Work with Alison Jones Webb
10:15 – 10:30 a.m. – Coffee break
10:30 – 11:15 a.m. – Breakout Option #1: What is Recovery, Recovery Capital and Recovery Oriented Systems of Care (ROSC) with Paul W. Sobey, MD
10:30 – 11:15 a.m. – Breakout Option #2: Understanding Trauma and Behaviour with Elicia Miller
11:15 – 11:30 a.m. – Break
11:30 a.m. – 12:15 p.m. – Breakout Option #3: Conversation with Elder Lynn Jonasson
11:30 a.m. – 12:15 p.m. – Breakout Option #4: Panel discussion with Kath Hoffman, Reed Charbonneau, Ben Borger, Samantha Shortneck and Sarah Fleck
12:15 – 1 p.m. – Lunch break
1 – 3:30 p.m. – Afternoon Keynote: "Whole of Society Approach" to Recovery with Dr. Alina Turner
3:30 – 4 p.m. – Closing remarks with the Honourable Dan Williams, Minister of Mental Health and Addiction
More information about the facility, including directions, can be found here: https://westernerpark.ca/
More information about Red Deer, hotels, what to do, and restaurants, please visit Tourism Red Deer
Thank you to the Government of Alberta for providing financial support for this event. For more information about the Provincial Government's approach, please read the report here: Toward an Alberta Model of Wellness
*Note: If the cost of the conference is a barrier to attending, please reach out to [email protected] and we would be happy to work with you to ensure everyone has the opportunity to attend.
Speaker Bios
THE JACKPOT IS OVER $14000 AND THE WINNER WILL TAKE HALF!!!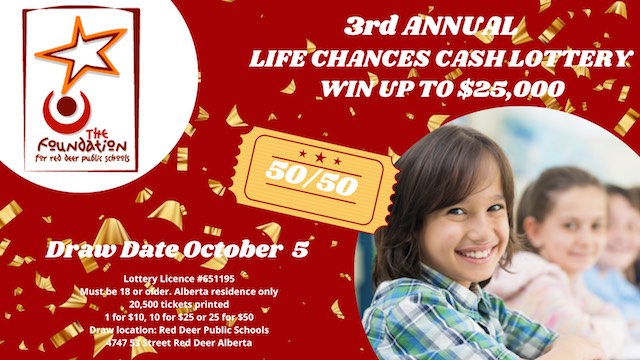 GET YOUR 50/50 TICKETSTODAY!!!! Winner could take home up to $25,000!!!
The Foundation for Red Deer Public Schools supports programs that have a significant impact on the LIFE CHANCES of students across the Division. By purchasing a ticket to support our 50/50 cash lottery you are giving students opportunities to have better life chances.
From giving kids a Bright Start to school to reconnecting with students so they graduate and cross the Finish Line, the Foundation helps students who face challenges in school and makes things better. We motivate struggling students and inspire them to read and write through Reading College. For students who come to school without basic needs, we give them that needed Step Up.
With the support from the Foundations 50/50 Life Chances Raffle, you are providing a student with opportunities that will improve their life. They can't always control the situations they're in but with your help students will continue to have these chances.
Don't miss your chance, CLICK HERE to buy your tickets today – Draw will be held on October 5! Good luck!
NOTE: This raffle is open to all community members in Alberta and over the age of 18.