The Dystopian Future of Canada Part III: PCR and False Positives
Canada, like the whole world, has seemingly descended into chaos.
At the core of lockdowns across most our country and measures ranging from military implementation to Alberta's light touch with growing positive test numbers (identified as cases) seemingly out of control is a potentially faulty test methodology.
Recently, a family member tested positive for Covid 19 and as a result, we had the opportunity to examine the test result from the Calgary lab.  However, it was not until we read past the test result that questions started to surface.
As you can see, the specimen type is identified, nasal swab.
The method of testing is identified as NAT or PCR and 'was performed using primers and probes targeting the E (envelope protein) gene of the SARS-CoV-2 virus DEVELOPED AT ProvLab.'  ProvLab is the Alberta Government testing lab with multiple sites for sample testing.
I was aware that the blue non-surgical masks people use across the world note on the box that they do not stop viruses or virus based infections, a fact which renders them largely useless for Covid prevention but I was not prepared for the disclaimer printed on the bottom of the test which reads:
"This method was validated at ProvLab.  IT HAS NOT BEEN CLEARED OR APPROVED BY THE US FDA OR HEALTH CANADA AND RESULTS SHOULD BE INTERPRETED IN A CLINICAL CONTEXT."
If this NAT/PCR test has NOT been approved by Health Canada OR the US FDA, then why is Alberta using it and how can we trust the results?  According to the Health Canada website, "unauthorized tests may not produce accurate results, leading to potential misdiagnosis," which could have dire consequences.
Checking into Health Canada, two facts can easily be found.  Firstly, there are 102 Covid tests 'under review' at present, one of which may be this test executed by ProvLab of Calgary.  The tests fall under three broad categories, Antigen, PCR and Serology with rapid and regular kits available to test for Covid 19, SARS and Influenza.
List of testing devices for COVID-19: applications under evaluation – Canada.ca
https://www.canada.ca/en/health-canada/services/drugs-health-products/covid19-industry/medical-devices/authorized/list.html
Two links below notate testing 'progress' in Canada:
Health Canada approves first Canadian-made rapid COVID-19 test | Globalnews.ca
Sask. working to identify best version of antibody test that could measure public COVID-19 immunity | CBC News
Potential patients who test positive may not be testing FOR Covid, but rather one of the family of Corona Viruses.  Your mother, father, brother, sister or child could have a regular cold and have the luxury of 2 weeks in lockdown.  There have been circumstances of individuals receiving the influenza vaccine testing positive FOR covid shortly thereafter.
And, a second and third verification from British Columbia and the FDA is below:
With a little research by a government friend, I was able to find the following out about the test and results directly from the Health Ministers Office.
"Alberta does not use a commercial test kit for the lab-based reverse transcriptase (RT) polymerase chain reaction (PCR) assay used for diagnostic testing for the SARS-CoV-2 virus. Alberta's COVID-19 test was developed and validated at Alberta Precision Laboratories (APL) and the test was further validated by the National Microbiology Lab.
All PCR testing involves amplification cycles. The PCR test used in Alberta has been confirmed to be highly specific for SARS-CoV-2. It does not react to other viruses and it cannot amplify a negative sample into a positive.
Alberta is currently evaluation a rapid antigen test, the Abbott PanBio test, for use in Alberta and this test is being used in a limited number of real-world settings. It is important to note that these rapid POC testing technologies are not as sensitive and are limited in their testing capacity when compared with the existing diagnostic test currently used in the province. Due to their limitations, rapid POC tests cannot replace all existing testing and public health measures, and instead will be used to augment current testing program. The Government of Alberta, in partnership with Alberta Health Services, is committed to monitoring evolving testing evidence and technology to improve our testing approach."
The National Microbiology Lab is Canada's Level Four lab which signifies that they are able to safely test and respond to the world's most dangerous infectious diseases such as the Ebola virus, toxigenic e-coli and also highly pathogenic influenzas.  They were briefly mentioned in a 2019 ouster/defection of Chinese scientists including Xiangguo Qiu who was escorted out of the Winnipeg lab in July for a possible "policy breach."  Qiuu was invited to go to the Wuhan National Biosafety Laboratory of the Chinese Academy of Sciences twice a year for two years, for up to two weeks each time from 2017 to 2019. It has been suggested that this may be the source of the Wuhan Virus (Covid 2019).
Globally, PCR testing is considered to be the 'gold standard,' with high accuracy dependant on the sampling methodology.  Yet the CDC has noted that false negatives are more prevalent than false positives.  We must also consider the publicized case of Elon Musk who tested 4 times, 2 negative and 2 positive and the 50 % false results.  Other studies have posited that accuracy may be as low as 10% or as high as 90%, with 20% being more common with 34 cycles for the test.
According to a British Columbia Centre for Disease Control report AND a FDA report, their evidence does not support the 'gold standard,' but rather that "The CT scan is not a gold standard for diagnosis of Covid 19 and scan cannot differentiate amongst the many microbiological causes of pneumonia."  (https://www.fda.gov/media/134922/download)
However, there is one salient point that detection of Covid 19 is dependant upon a purified sample from a patient that is not mixed with monkey or bovine material.  To date, no pure samples are available and upon questioning of 34 jurisdictions (Canada, New Zealand, Australia, Scotland, the United Kingdom, United States (CDC) and others as shared on:
Health Canada has no record of "COVID-19 virus" isolation – Fluoride Free Peel
So, the question can be asked again, if the CDC does not have a pure sample and Health Canada does not have a pure sample, how can tests and vaccinations be produced?  It has been noted widely that it took decades for Polio, the Influenza and other vaccines to be produced, yet we have hundreds of potential miracle cures for Covid 19 in less than a year?  You have to wonder what kind of research and testing has been done?  Is it possible that this really is a manmade virus (that is patented by the CDC) therefore a vaccine can be produced as the model IS known?
One potential answer given for the rapid development of vaccines is the similarity of Covid 19 to SARS and MERS.  Promising research has indicated the presence of an E gene (Protein) that accompanies the virus which seems to accelerate its spread or to act as a retardant and which may be the key to halting its reach.
SARS-CoV-2 E protein is a potential ion channel that can be inhibited by Gliclazide and Memantine – ScienceDirect
However, as noted, how long does good testing and development take that does not endanger human lives with potentially fatal unintended consequences?
There is another big story that has not been reported in Western media.  In early November, the Portuguese courts have ruled that the PCR process is not a reliable test for Sars-Cov-2, and therefore any enforced quarantine based on those test results is unlawful and a violation of constitutional rights.
In addition, during their decision they cited a European study that showed that if more than 35 cycles are used in the test that the probability of actually detecting 'real'  Covid 19 is 3 % and  a 97 % probability for a false positive detection.
Portuguese Court Rules PCR Tests "Unreliable" & Quarantines "Unlawful"
The big question is, if  we believe that a vaccine can help the world in the fight against Covid 19 in so quick a time and that desperate measures are justified in this fight against this unseen (and potentially imaginary) enemy then we are ripe for the Great Reset which has come into public knowledge this year under the guise of medical emergence, a fact which Justin Trudeau himself has made reference to at the UN in September!
If we hearken back to basic science and believe that vaccines cannot stop virus infections but rather good nutrition and healthy immune systems lead to efficient patient recoveries, then the citizens of the world will be able to counter the biological war that is in our borders.
To end off the thread on which this discussion started, on November 27, 2020 my family received a letter from my mothers' retirement home (Revera) that calm states the following:
November 27, 2020
Dear Resident/Family Member at Aspen Ridge
I am writing to you to confirm that we have had no other residents at Aspen Ridge test
positive for COVID-19. With that being said, we have taken many residents off isolation today
due to a clerical error from AHS that resulted in a false positive reporting.
With that teaser, look for part II of Positive Corona Virus Diagnosis Errors…
Please feel free to read the first part of this series
The Dystopian Future of Canada, Part 2-Corona Virus Testing Cause or Curse? – Todayville
Active COVID cases continue to fall – Mike York update for January 17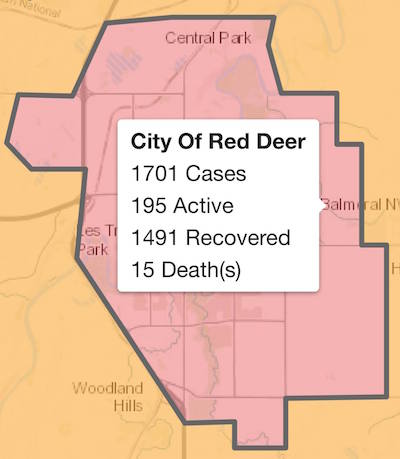 January 17 COVID update – noticeable drop of 15 active reported cases in Red Deer to 195 after 10 new cases but 23 recoveries. Unfortunately, there were also 2 new deaths bringing the total to 15.
Active cases are down from 1,209 to 1,182, with 8,209 cases to date. Hospitalizations sit at 65, down four, and ICU admissions are up one to 12. All ICU admissions in Central Zone are at Red Deer Regional Hospital.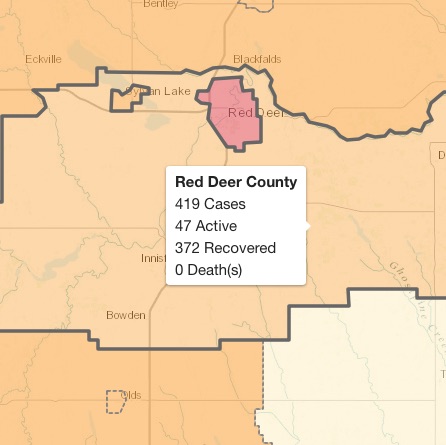 Red Deer County has 47 active cases, up one, the town of Sylvan Lake has 35, even with Saturday, and Olds has 27.
Lacombe County has 28 active cases, down one, and the city of Lacombe has 21, down six.
Ponoka County has 381, an increase of 15, though most cases there are in Maskwacis.
Clearwater County, which includes Rocky Mountain House, has 86 active cases, up two, and Brazeau County, which includes Drayton Valley, has 33, up two.
Mountain View County has 24, up two, Kneehill County has seven, down two, and County of Stettler has six, the same as yesterday.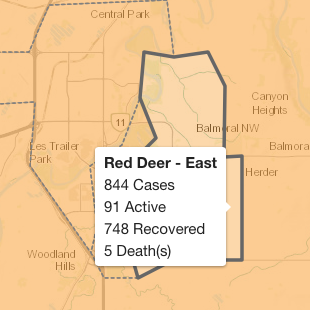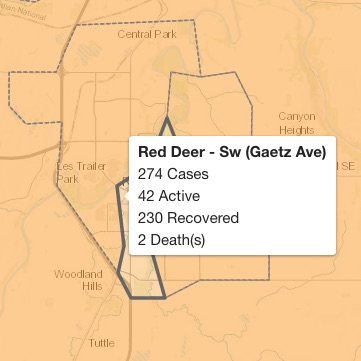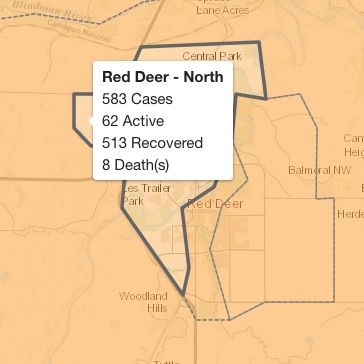 Meanwhile in Red Deer, the eastern section of town has dipped below 100 active cases for the first time in many weeks.  Cases are falling in Red Deer North (62) and in the South West as well (42).
COVID cases falling! Below 200 in Red Deer and under 1200 in all of Central Alberta – Mike York Update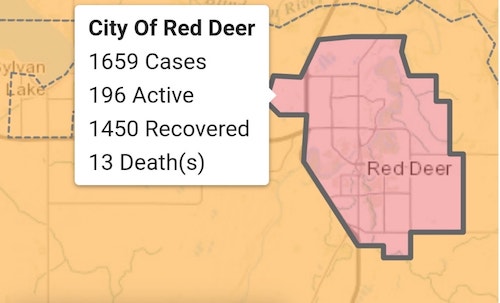 Thursday January 14th, 2021 Covid-19 update from AHS goes like this.
In the Central Zone, 64 new cases and 186 new recoveries.
Wow!
The total active cases has dropped dramatically since yesterday from 1275 to 1152 in our region.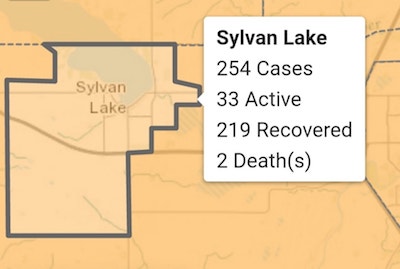 There are now 75 people in hospitals which is 5 fewer than yesterday's total. 15 of these people are in ICU. Sad to report 1 additional death in the zone since yesterday to bring that total to 65 to date.
Red Deer had some positive numbers also.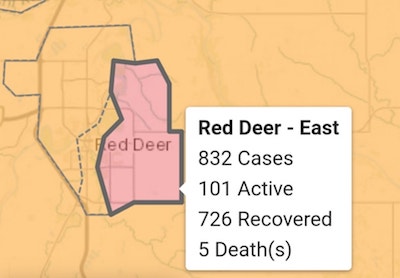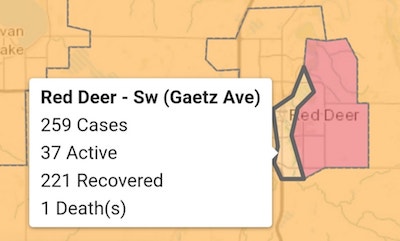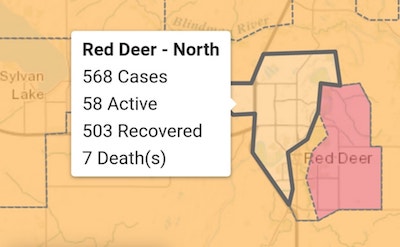 Just 13 new positive cases and 33 recoveries. Thus our active cases has decreased by 20 to just 196 at this time.
Very promising outlook going forward, it seems our current health measures are working, way to go people.
Cheers for now.