The Dystopian Future of Canada Part I
According to Prime Minister Justin Trudeau, the "Great Reset," is underway, and that should scare you.
In a video interview released November 16, 2020, of his speech in front of the United Nations delivered in late September, Trudeau has now emerged as North Americas poster child for the United Nation Agenda 21 and 2030.
While Canadians were spending our summer at our homes with limited travel and our economy sputtered along, the Liberals and their global partners were rolling out their plan to reimagine the worlds economic systems with a focus on Net-Zero Emissions and social equity.
"This pandemic has provided an opportunity for a reset," Trudeau said in the following video.  "This is our chance to accelerate our pre-pandemic efforts to reimagine economic systems that actually address global challenges like extreme poverty, inequality and climate change."
The video can be viewed at:
He and his fellow Liberals also absconded the phrase, "Building Back Better," a slogan that Presidential hopeful Joe Biden used during his campaign.  "Building back better means getting support to the most vulnerable while maintaining our momentum on reaching the 2030 Agenda for Sustainable Development," said Trudeau.
What will the life of an ordinary Canadian look like under 2030?
According to the original 1992 version of this non-binding legislation it included 95% depopulation of the world with all property rights being stripped from citizens with all workers living in zones close to employment.
(https://csglobe.com/agenda-21-depopulation-95-world-2030/)
Our modern version may be slightly different with no private property ownership, guaranteed incomes, forced vaccinations, the death of the family unit (perhaps our lockdowns and cohort associations are the beginning), and the death of churches and athletics (again, look at the last 6 months).
A particularly telling video explains 8 concepts the Global Rest will make commonplace,  remember "I don't own anything and I am happy."
https://www.armstrongeconomics.com/wp-content/uploads/2020/10/WEF-Future.mp4?_=1
According to one website, (https://prepareforchange.net/2019/04/08/agenda-21-reinvented-as-agenda-2030-and-agenda-2050-is-a-plan-to-depopulate-95-of-the-world-population-by-2030/)
"It will remove and destroy all constitutions, restrict free speech and disarm the people. When Agenda 21 is fully realized, the United Nations will be in possession of all guns and subsequently, there will be no opposition to their control."
Paul McGuire, an internationally recognized futurist, speaker, minister, and author writes in his book The Babylon Code that:
"The true agenda of Agenda 21[/2030] is to establish a global government, global economic system, and global religion. When U.N. Secretary General Ban Ki-Moon spoke of 'a dream of a world of peace and dignity for all' this is no different than when the Communists promised the people a 'worker's paradise.'"
The 2030 Agenda for Sustainable Development is not new, it is a program that has been part of the UN for several years and includes climate change as a tool to reinvent world economies and societies.  In fact, the Davos meetings have focused on the 'Reset' as well over the last couple of years as well and this stage has been where United States President Trump has pushed his America First policy, an act which earned him international scorn.
According to the UN 2030 website, the rationale behind the movement also known as Agenda 21 is:
                                                                                   When you see a chance, take it
We have a once-in-a-generation opportunity to set things straight. To write a new social contract, together, that is fair and just for everybody. A bold, ambitious plan to achieve the 2030 Agenda and the Sustainable Development Goals.
From the website, there are 17 Sustainable Development Goals (SDG) which were adopted in 2015 and designed for a 15-year implementation time frame.
These can be found here:  https://www.un.org/sustainabledevelopment/development-agenda/
They are:  No poverty, zero hunger, good health and well-being, quality education, gender equality, clean water, affordable clean energy, decent work, industry and innovation, reduced inequalities, sustainable cities, responsible consumption, climate action, life below water and on land, human rights and partnerships.
How far along the murky waters of Agenda 21 are we exactly in Canada?
UN troops in Canada?  You bet, that will be another discussion.
Guaranteed incomes?  Does CERB fit the bill?
A brief description of the tenets of the Global Reset can be found at the website below:
In fact, a recent Canadian Government grant (https://www.startupcan.ca/social-impact/sdg-pitch-competition/) for SDG Pitch Competitions has been announced for the month of November focusing on:
 SDG 1: Poverty Reduction
 SDG 5: Gender Equality
 SDG 8: Decent Work & Economic Growth
 SDG 13: Climate Action
The prize of $500 plus a gift in kind rewards pitches that embrace sustainability and fulfills one of the 4 SDG's including: Poverty Reduction, Gender Equality, Decent Work & Economic Growth, and Climate Action.
Again, quoted from the UN website:
We believe fossil fuel subsidies can be removed without causing social harm. In five countries we are analyzing the best way to reform energy prices and we will offer a guide for policymakers on carbon pricing and subsidy reform.
As a matter of fact, one of the elements of 2030 is the decarbonization of countries while encouraging renewable resources.  To see evidence of this policy in Canada all citizens have to do is to look at federal support for oil and gas resource development in western Canada and Carbon tax levels coupled with the proposed Clean Fuel Initiative from the last 'budget.'
The simple fact remains.  When Prime Minister Justin Trudeau campaigned for a seat in the UN, Canada was rejected however, since then it has become apparent that the 'consolation' prize of just being a member country has morphed into an outright granting of Canada's sovereignty to the highest bidder, in this case the UN in exchange for a seemingly spokesperson role for the organization.  Instead of being OUR Prime Minister, he has become the liaison and has sold his country out for a paper crown.
This short discussion merely scratches the surface, and further links between Trudeau and his UN cohorts come to the surface daily.
NEXT INSTALLMENT:  Trudeau and the Chinese Connection:  Or Wu (han) is your Daddy!
Bjorn Lomborg shows how social media censors forgot to include the facts in their fact check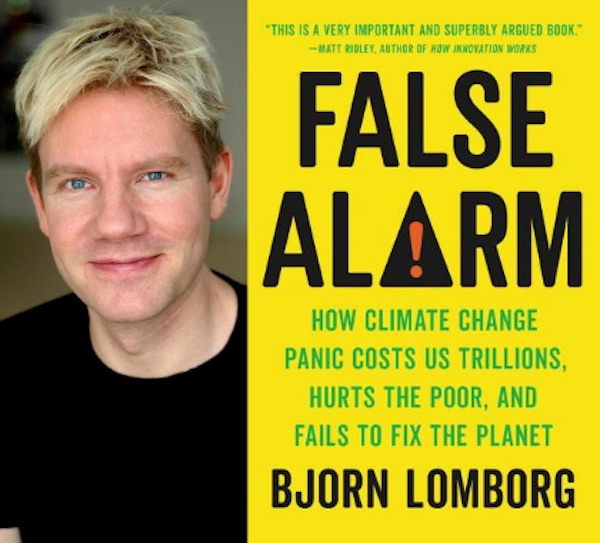 Dr. Bjorn Lomborg is president of the Copenhagen Consensus Center, and visiting fellow at the Hoover Institution, Stanford University. The Copenhagen Consensus Center is a think-tank that researches the smartest ways to do good. For this work, Lomborg was named one of TIME magazine's 100 most influential people in the world. His numerous books include "False Alarm: How Climate Change Panic Costs Us Trillions, Hurts the Poor, and Fails to Fix the Planet", "The Skeptical Environmentalist", "Cool It", "How to Spend $75 Billion to Make the World a Better Place", "The Nobel Laureates' Guide to the Smartest Targets for the World 2016-2030" and "Prioritizing Development: A Cost Benefit Analysis of the UN's SDGs".
The heresy of heat and cold deaths
Ethics prof at one of Canada's oldest universities on temporary paid leave for stance against forced vaccinations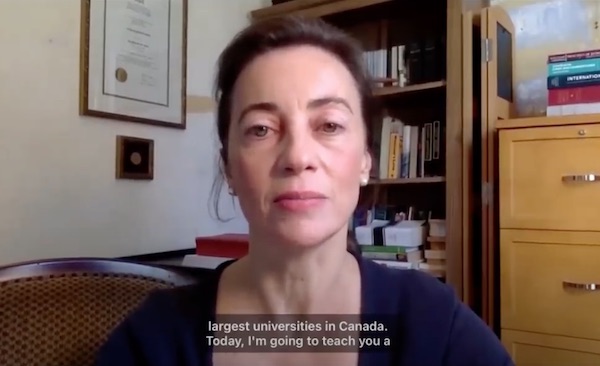 Huron University in London, Ontario, was incorporated way back in 1863 as one of the founding colleges of Western University.  Western is one of the largest universities in Canada.
On the University's website under academic objectives, Huron University strongly encourages "critical thinking through excellent teaching and research".  But it appears critical thinking may have landed a university ethics professor in a career ending dilemma. Dr. Julie Ponesse has been teaching Ethics at Huron for 20 years.  Dr. Ponesse says the University of Western Ontario has barred her from campus and put her on temporary paid leave for taking an ethical stance against the University's vaccine policy.
Here is the first measure of that policy as highlighted on the University website.
Mandatory Vaccination on Campus: Huron and its affiliate partners are implementing a vaccination policy which will require proof of vaccination or have an exemption in order to come on campus, including living in residence. Those with an exemption must be tested for COVID-19 twice weekly. There is no testing option for those who choose not to be vaccinated. Those without proof of vaccination or an exemption will not be permitted on campus.
Professor Ponesse says just a few days before the school year began, she was mandated by her employers to take the vaccine immediately.  As an Ethics educator she decided it was her job to teach her students it's ethically wrong to force people to take a vaccine.  Instead of lining up for the jab, Dr. Ponesse went to her office and recorded a video which has now been seen across Canada tens of thousands of times.  At the end of the video a statement appears indicating Professor Julie Ponesse was dismissed by her employers on September 7.
The video is being shared and commented on by Canadians from coast to coast, in various social media platforms.  It's a fascinating discussion on ethics in a terribly confusing and controversial time, by an experienced ethics professor who has courageously put her ethics ahead of her career.

The video has been taken down by both Facebook and Twitter for statements Ponesse makes about the effectiveness of vaccines.  This video was reloaded to Facebook.  Supporters of Dr. Ponesse have also posted it to Instagram.  We've posted two links in case one is taken down yet again.