The Californication Of Toronto: Urban Nowhere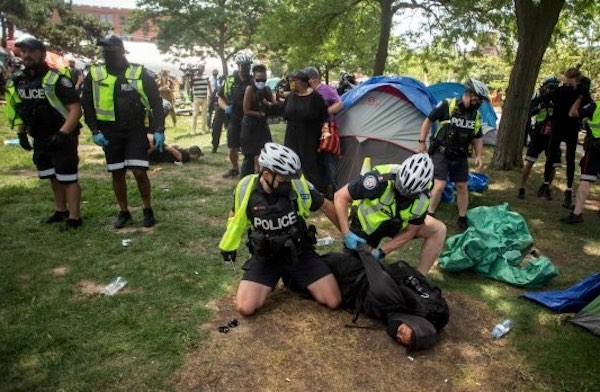 Last weekend I talked on the phone with my broadcasting friend Andrew Krystal about the state of Toronto— including his beloved Maple Leafs. Little did I know it was to be our final conversation; Andrew died just a few minutes after as he walked home in Yorkville.
In his inimitable way Andrew had been giving me the gears for criticizing Toronto after I'd spent so many years there. "You made your name here. You are a product of Toronto," he pointed out above the din in a local Toronto bar.
Indeed I was a product of the Toronto I left behind in 1998. As I told him, that Toronto— the Little City That Could—is long gone. Replaced by something… else. As we shouted to make ourselves heard I told him that Toronto now reminds me of the California nightmare described in a recent Matt Taibbi piece on Substack. "California is what happens when new money becomes old money."
Taibbi quoted Swedish writer Malcom Keune: "California shifted mid century from being the US's fastest-growing state — 50% population growth between 1950 and 1960 — to a state that is somehow, improbably, shrinking… mostly because of the regulations the state's inhabitants put in place that block the housing that's required to support California's economic success. As a result, California has lost the "technology" of being able to affordably house its inhabitants…
To use a California literary reference, that meant no more living off the "fat of the land," for with the well of plenty drying, even elites are now forced to feed off each other. In such a society, he wrote, "belligerence is not a choice," and "you need to dispossess others" to get ahead, because "not doing so means losing your own way of life."
The Diaspora of middle-class Californians to Texas, Montana, Florida, Tennessee, Colorado and elsewhere has been mirrored by the thousands of successful businesses such as Tesla, Oracle, Hewlitt-Packard and many more also leaving the state, taking with them tens of thousands of excellent jobs. Leaving behind a titled elite and a serving class— many just arrived in the state.
The desire to make California a morally pure progressive paradise has turned into open drug use on streets, collapsing infrastructure and sclerotic one-party rule. "California announced a high-speed train in 1996 and the current plan is for service on the L.A-San Francisco line to begin in 2033. One executive I spoke with described the state's development as "frozen in aspic."
One reason is strangulation by bureaucracy. "Institutions everywhere are filling up with employees bearing skills "orthogonal" to the bureaucratic mission," Kyeyune writes, "part of what's been packaged as progress but feels more like a vast jobs program for otherwise unemployable pseudo-intellectuals. "Hire us, pay us, give us and our clients sinecures at your expense, "or we will make life difficult for you."
As I told Andrew, "It doesn't take a great leap to see these descriptions applying to Toronto as it came into its new status as a progressive cosmopolitan haven." The Toronto of today, like California, is moving forward and backward at the same time. A champion in its day for fighting apartheid in South Africa, the same city now proudly celebrates segregated commencement sessions .
The source of Toronto's entitlement was the stopping of the Spadina Expressway in the 1970s, the singular NIMBY resistance to growing the city at the expense of leafy neighbourhoods. Since then attempts to move newcomers around the heart of privilege have produced gridlock.
The result? Stratospheric housing prices in a city that resisted growth even as it imported hundreds of thousands to serve as its worker drones. The basic roof-over-one's-head now is exclusive to aging Boomers squatting on their cashboxes while their children and newcomers move two hours away (if lucky) or mortgage themselves to the real-estate lottery.
Like Hollywood, Toronto's hip class is besotted by Woke culture. Instead of Hollywood, Toronto is an IT factory married to media elites. But this success a two-edged sword for liberals— as California discovered. The Golden State "began to worry about how to balance the proceeds of its mastery of lowbrow markets with the desire of its most influential inhabitants to maintain reputations for the latest in progressive attitudes".
Toronto's IT culture has opinions; they're just all virtually the same. None may say a negative word for fear of being banished to Barrie or London or (gasp) Alberta to find a living. It is a self-imposed gag order.
Exit strategies? Like California, Toronto's business Diaspora to its suburbs and beyond has been replaced by a tax base resting on rapacious condo construction and gentrification. Its attempts to replace cars with rapid transit, such as the Eglinton subway project, mirror California's rapid-rail project. No one in office wants to make hard decisions about the Gardiner Expressway, so they put off the inevitable.
Once a bastion of security, Toronto's street crime is blighting the city. No wonder the middle class is cashing out its homes and heading to Northern Ontario, PEI, Alberta and the U.S.
Like the California elite in Silicon Valley, Toronto's Family Compact has shown its survival skills in the Trudeau years, returning Captain Blackface to power on three occasions in a Faustian bargain to preserve its status. With the reality sleeping on homeless sidewalks, Toronto's nomenklatura moved "to dispossess others" to get ahead, because not doing so meant losing their own way of life.
The accelerator for decline has been the gelding of its media. With government now pumping billions into media based in the city, there is a homogeneity of thought in coverage. Reporters who were once independent and cranky now see their best interests served in building echo chambers for the government/ corporate crowd. In California there are at least some people such as Taibbi defying the Media Party directives. For how long not one knows.
I will miss Andrew but in many respects. I'm just glad he won't be around to see what will happen to the city where he was raised and where he revelled in the last days of old Toronto.
Bruce Dowbiggin @dowbboy is the editor of Not The Public Broadcaster (http://www.notthepublicbroadcaster.com). The best-selling author was nominated for the BBN Business Book award of 2020 for Personal Account with Tony Comper. A two-time winner of the Gemini Award as Canada's top television sports broadcaster, he's also a regular contributor to Sirius XM Canada Talks Ch. 167. His new book with his son Evan Inexact Science: The Six Most Compelling Draft Years In NHL History is now available on http://brucedowbigginbooks.ca/book-personalaccount.aspx
Should Poilievre Go Around The Legacy Media With His Message?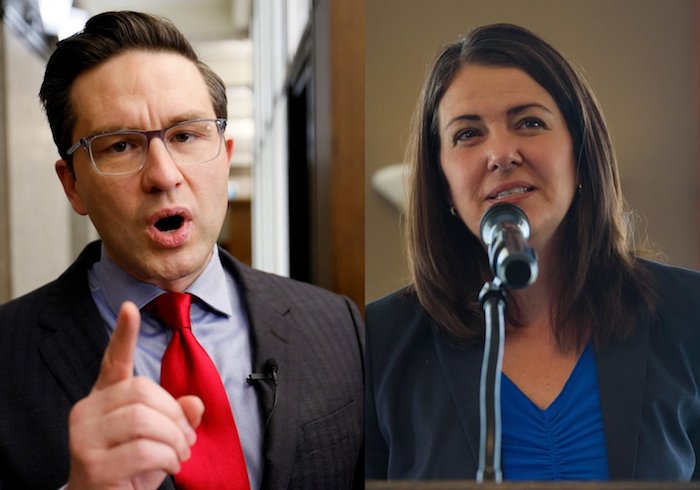 "It's amazing that we have an entire industry dedicated to making sure voters don't know what the government is up to. It's called Legacy Media."— Scott Adams
Is Pierre Poilievre's lesson from the 2023 Alberta election campaign that he simply go around the Media Party when he finally faces off against Justin Trudeau and/or the Liberals? To pass on their debates and town halls, sticking to his own carefully scripted events? The Alberta vote says maybe.
Despite 18 months of intense, bitter strafing from the chattering class, premier Danielle Smith emerged with a majority government on Monday. With 52.4 percent of the vote, she has an eleven-seat buffer in which to operate. (Although in Alberta politics that's still a narrow gangplank.)
Certainly it would be hard to get worse press than Smith got from the provincial and national media. Like Hansel and Gretel, the arbiters of #samethink laid a trail for the voters to follow. Using every flip and flop in Smith's tumultuous political journey they sought to create a narrative path. As happened when they conflated the Trucker Convoy into Three Weeks That Shook The World, the Media Party expected dutiful adherence to the taste makers with pleas like this.
"Dr. Lynora Saxinger MD FRCPC Infectious Diseases @AntibioticDoc May 27 I'm in a social media group with 1000s of AB doctors discussing exit plans if there's a Smith UCP win…"
Of course, none of them are going anywhere, because, contrary to media, every province in Canada (and many U.S. states) are afflicted the same way. Even when Smith staved off NDP lifer Notley in the televised debate the believers stayed fixed on this trail. One of their most beloved notions is that every group disparity can be explained by some form of bigotry. So Smith's backers had to be far-right, gun-toting, God-obsessed goobers that you wouldn't want at your Scotch nosing.
Bolstered by some polls that showed a dead heat, those ridings that want tunas with good taste, not tunas that taste good, knocked off Calgary-based UPC cabinet members and others without tattoos and nose rings.
Yet, with everything going for them— a photogenic NDP leader in Notley an unpredictable UPC leader, the Covid hangover— the media couldn't get their woman over the finish line. The (spare me) "donut ridings", smaller communities and the farming country checked out months before when the NDP started hinting at a 38 percent rise in corporate taxes ("still lowest run the nation") and adopting Justin Trudeau's Transition Program for gas and oil.
They weren't buying the absurd notion of the NDP and its unionized pals as the voice of the common person the in the province. They passed on people who believe men can have babies, who believe government controls the weather, who believe politicians create jobs? All this passed without comment from media slappies. Not so for the people who don't spend 18 hours a day on Twitter and Tik Tok.
You wouldn't have seen this demographic by watching CBC, CTV, Global and the predictable media snobs. Earnestly trying to play the results down the middle (sure) on Monday they served up disaffected UPC ex-cabinet whingers, "unbiased" professors wearing NDP buttons and reporters 10 minutes out of J School to craft the narrative.
Sample a) Hapless @CBCNews talking head announced a UPC candidate winning his riding by over 5,000 votes. "Clearly a big win by NDP there," she bubbled. (Some habits die hard at the Corp). Sample b): After the vote CBC's The National seemed to boast that Notley had finished a close second while Smith had finished second from the bottom.
The over/under on the word "unions" being mentioned by "independent" panelists in a sentence with NDP was about 1. And the under cashed. Odd, seeing as how so many producing the broadcasts and writing for legacy papers are union members. The best news for @Alberta_UCP was lifer socialist Notley vowing to defend the rights of Alberta's unions for another four years. Andrea Horvath, here she comes!
So how should Poilievre handle the lurking beast that awaits his campaign with open notebooks and closed minds? Put a different way, what would he and the Conservatives have to lose by doing what Governor Glenn Youngkin did in the state of Virginia when he upset the Democratic machine in 2021?
Faced with the overwhelming Democratic financial pump next door in DC and the Trump Noise Machine on his other flank, Youngkin decided it was better to use social media to find his voters and craft his message. Wielding a family-based conservative message on education he knew he'd be wasting his time doing the dog-and-pony farce of legacy media with its union shills and their gotcha' questions.
So the Virginia state GOP avoided the Media Party as much as possible, submitting only to limited exposure. "Experts" predicted doom by going the social-media route. Youngkin was accused of banning books. But on election night the multi millionaire scored a massive win over "those who must be obeyed". The triumph carried from the governor's chair down to the school-board level. (Youngkin is now being mentioned as a GOP presidential candidate.)
Poilievre îs going to change zero minds in sit-downs with the Toronto Star editorial board. Worse, they'll contort his message, further convincing the Wine Moms of Toronto that PP is a Trump disciple (the ultimate Family Compact sneer). CBC and CTV panels will furrow their brows about right-wing extremism. The Toronto media community will dig up fundamentalist Christians— as if they're more extreme than full-term abortion supporters.
It's a loser's game to always play in then other team's end of the field. Maybe Poilievre and his comms team can come up with something that changes the game. Like going directly to the electorate with their message. And leaving the bought-and-paid-for national media outside the door.
Sign up today for Not The Public Broadcaster newsletters. Hot takes/ cool slants on sports and current affairs. Have the latest columns delivered to your mail box. Tell your friends to join, too. Always provocative, always independent. https://share.hsforms.com/16edbhhC3TTKg6jAaRyP7rActsj5
Bruce Dowbiggin @dowbboy is the editor of Not The Public Broadcaster A two-time winner of the Gemini Award as Canada's top television sports broadcaster, he's a regular contributor to Sirius XM Canada Talks Ch. 167. Inexact Science: The Six Most Compelling Draft Years In NHL History, his new book with his son Evan, was voted the seventh-best professional hockey book of all time by bookauthority.org . His 2004 book Money Players was voted sixth best on the same list, and is available via http://brucedowbigginbooks.ca/book-personalaccount.aspx
Inherit The Wins: Hockey Has Its Privileges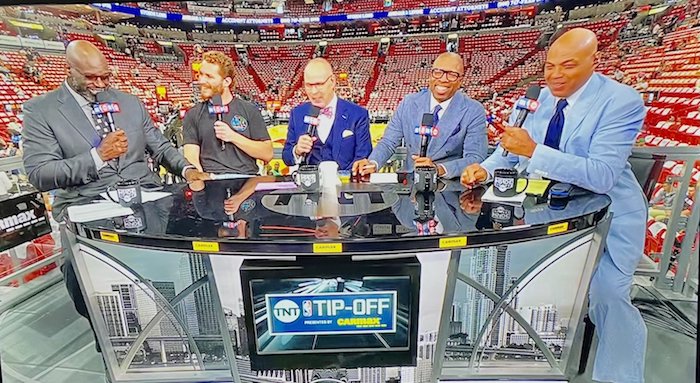 It might not have exactly been Neil Armstrong setting foot on the moon, but Florida Panthers glitter boy Matthew Tkachuk sitting in with the TNT NBA panel of Shaquille O'Neal, Charles Barkley and Kenny Smith might have been close that magnitude of collision between cultures.
Tkachuk has become the NHL poster boy in the U.S. by leading the sad-sack Panthers to the Final. In his casual Elbo Room T-shirt he was the epitome of the Fort Lauderdale hip cross-over star as he met the panel. While Barkley has become a hockey-fan-of-the-moment, Shaq professed total, wilful ignorance of the sport beyond its fighting. Smith was not much more puck savvy.
The highlight of the chat was Sir Charles suggesting he'd like to play hockey just once because he could only get a two-minute penalty for slugging Shaq. The two men did a little faux-theatre for the cameras to promote TNT's coverage of the NHL Final.
The other nugget from the chat was the revelation that Tkachuk went to high school in St. Louis with Celtics star Jason Tatum, whose team was about to force Game 7 against the local Heat. Talk about a sports hothouse. Host Ernie Smith also showed pictures of Tkachuk with his legendary father Keith and his brother Brady of the Senators, marvelling at the genes involved in a 527-goal scorer siring two NHLers..
It's both a wonder— and a concern— for the NHL, as we wrote in August of 2021. Because the brothers Tkachuk are part of a trend away from random selection and more to expensive grooming of elite athletes in the sport. Is equal outcome a lost cause?
"The NHL faces a question of opportunity at the moment. But this is not a racial or gender issue. The question facing a league renowned for its blue-collar roots is 'has hockey become a rich person's sport, a league where being an insider has extra clout?'
Are today's superstars a product of more than talent? Are they also the products of an expensive, exclusive grooming process that leaves the Gordie Howe farm boy archetype in the dust?
One hint of the benefits of having access to resources and people within the hockey industry is the annual spate of sons of former NHLers now being drafted each summer. In the recent draft, there was a plethora of progeny selected, many at the very top of the draft. No other league has such a high percentage of sons being selected.
There have always been a few NHL father/ son duos. Gordie Howe's boys and Bobby and Brett Hull spring to mind. But they were not as pervasive in the league as they are today. Witness the just-passed (2021) Draft that saw a host of familiar family names getting new surnames.
Cole Sillinger (Mike), Tyler Boucher (Brian), Josh Doan (Shane), Redmond Savage (Brian), Ryan St. Louis (Martin); Shane Lachance (Scott); Nick Malik, Marek), Justin Robidas, (Stephane), Jackson Blake (Jason) and Chase Stillman (Cory) were among the sons of famous fathers drafted. Others were signed as free agents.
It was no fluke. A glance around the NHL shows many sons of former stars getting steady work. Matthew and Brady Tkachuk (Keith), Kasperi Kapanen (Sami), Brandon Sutter (Brent), William and Alex Nylander (Michael), Sam Reinhart (Paul), Max Domi (Tie), Samuel Poulin (Patrick), Tag Bertuzzi (Todd), Ryan Johnson (Craig), Tyson Barrie (Len), Landon Ferraro (Ray), Marcus and Nick Foligno (Mike), Nolan Foote (Cal), Ryan MacInnis (Al) Brendan Lemieux (Claude), Ryan Donato (Ted), Daniel Audette (Donald) and Dominic Turgeon, (Pierre) are just a sampling of the direct relationship between father and sons..
The hockey pipeline is full of young men whose fathers could give them a hockey education but who also knew many of right people to tap into. The sophisticated training and arduous diet regimes are getting more like Tom Brady and less like Gump Worsley. And they're expensive— even in Howe's home nation of Canada which honours its roots.
This discipline and access is reflected in the United States where the boom in hockey participation is resulting not in farm boys and rink rats but in privileged sons and daughters of highly paid NHL stars getting an inside track on make the league or the Olympics.
NHL veterans in both the U.S., Europe and Canada know the inner workings of agents, independent training academies and skill trainers to help their sons past some of the highest hurdles in development. If they handled their millions properly they also have the funds to open doors for young stars."
Author Malcolm Gladwell popularized the notion of taking 10,000 hours to translate talent into the finished product of a genius. It takes money to allow a young person that time, money that only a select number of families can provide. If you are a child in a single-income home or in a remote part of the country away from facilities, equipping and training a young prospect quickly gets out of the reach of parents of modest means.
Perhaps the most telling development story was that of Montreal goalie Carey Price, whose father bought a $13,000 four-seat Piper Cherokee plane to fly young Carey back and forth 320 kilometres to hockey practices all winter in northern B.C.
Where the NHL was predominantly players from blue-collar backgrounds till the Euros arrived in the 1970s, today it is often constituted of young men from families of means and education. Often, like Tkachuk, they're in training academies with future stars in other sports. The idea of the farming
In that way, through no fault of Walter Gretzky, the super coach, hockey has become a sport for families of means or friends with means. He taught parents that the proper training and equipment was imperative. And that doesn't mean simply the rink in your backyard. With a new pair of skates costs $500, a stick costs $125 or a set of goalie equipment runs into a few thousand dollars you are losing a segment of the population to financial costs. And so Walter's legacy of training development is forever tied to a big price tag.
To say nothing of the progeny of NHL stars like Keith Tkachuk helping give their kids a hand-up in making it to the league and its vast piggy bank.
Sign up today for Not The Public Broadcaster newsletters. Hot takes/ cool slants on sports and current affairs. Have the latest columns delivered to your mail box. Tell your friends to join, too. Always provocative, always independent. https://share.hsforms.com/16edbhhC3TTKg6jAaRyP7rActsj5
Bruce Dowbiggin @dowbboy is the editor of Not The Public Broadcaster A two-time winner of the Gemini Award as Canada's top television sports broadcaster, he's a regular contributor to Sirius XM Canada Talks Ch. 167. Inexact Science: The Six Most Compelling Draft Years In NHL History, his new book with his son Evan, was voted the seventh-best professional hockey book of all time by bookauthority.org . His 2004 book Money Players was voted sixth best on the same list, and is available via http://brucedowbigginbooks.ca/book-personalaccount.aspx