The Alberta SPCA Encourages Livestock Owners to Arrange for Winter Feed Now
August 6, 2019
Hay, Secure Your Feed!
The Alberta SPCA Encourages Livestock Owners to Arrange for Winter Feed Now
The Alberta SPCA encourages livestock owners to make arrangements now for winter feed for their animals. This has been a tumultuous year for investigations of underfed livestock in Alberta, particularly for horses. With another year of challenging hay production before us, the Alberta SPCA urges animal owners to seek out and lock in feed immediately to ensure they have an adequate supply of high quality hay.
"Hay conditions have improved this summer thanks to all the moisture," said Ken Dean, Director of Animal Protection Services for the Alberta SPCA. "However, the quality of the hay is still an unknown due to all the rain. Owners who wait until the fall or winter to look for high quality feed may find it difficult to buy, and those who do find it will have to pay a premium price."
From last November to June, the Alberta SPCA initiated 402 investigations for neglected horses. A total of 233 horses were taken into protective custody. The Alberta SPCA has spent $187,000 in 2019 for the transportation and care of those animals. Most have since been rehomed.
Horses and other livestock require additional feed to stay warm during the winter. During a prolonged cold snap, animals will see their body condition deteriorate quickly without adequate nutrition. Once that happens, another increase in feed is required in order for the animals to return to an acceptable weight.
"We do not want to see a repeat of 2019 during the upcoming winter," said Dan Kobe, Communications Manager for the Alberta SPCA. "Owners who do not secure feed now may be putting their animals at risk."

"If livestock owners cannot afford to feed their animals, they will have to look at reducing their herd before winter arrives," added Ken Dean. "'I can't find feed,' or 'I can't afford feed,' are not acceptable excuses for starving your animals."
Animal owners who allow their animals to be in distress due to a lack of food or water could face charges under the Animal Protection Act. If convicted, they could face a maximum fine of $20,000, and a lifetime prohibition from owning animals.
Canada under pressure to produce more food, protect agricultural land: report
A field of wheat is pictured near Cremona, Alta., Tuesday, Sept. 6, 2022. Canada's agricultural land is under increasing pressure as demand for food grows domestically and internationally while the industry grapples with limited resources and environmental constraints, a new report found. THE CANADIAN PRESS/Jeff McIntosh
By Rosa Saba
Canada's agricultural land is under increasing pressure to produce more food as demand grows domestically and internationally, while the industry grapples with limited resources and environmental constraints, a new report found.
"We need to grow more food on less land and in a volatile climate," said Tyler McCann, managing director of the Canadian Agri-Food Policy Institute.
The report by the institute released Thursday looks at the pressures on Canada's agricultural land to produce more food while also mitigating and adapting to the effects of climate change, said McCann.
Despite Canada being a big country, it doesn't have as much agricultural land as people might think, said McCann, with the report noting that agricultural land makes up only around seven per cent of the country.
Because of that, we can't take what we do have for granted, he said. "We need to be really thoughtful about how we are using our agricultural land."
In 2020, Canada was the eighth largest country in terms of cropland area, the report said, with that cropland decreasing by seven per cent over the previous two decades.
Canada is a major producer and net exporter of agriculture and agri-food products, the report said, exporting $91 billion in products in 2022, and one of the top 10 exporters of wheat, canola, pulses, pork and beef.
In the coming years, Canada will face increased demand from countries whose populations are growing, the report said.
"With population growth on one side and climate change on the other, Canada will be amongst an increasingly smaller number of countries that is a net exporter," said McCann, noting that Canada's own population is growing, and farmland also needs to be protected against urban sprawl.
The wildfires clouding Canadian skies this week are a "vivid reminder" of the pressure that extreme weather and the changing climate are putting on the agricultural sector, said McCann.
"We need to clearly mitigate … agriculture's impact on climate change. But we also need to make sure agriculture is adapting to climate change's impacts," he said.
One of the ways the world has responded to demand for increased agricultural production over time is to create more agricultural land, in some cases by cutting down forests, said McCann. But that's not a viable option for Canada, which doesn't have a lot of land that can be sustainably converted into farmland — and even if it could, doing so could have a variety of adverse environmental effects, he said.
Some of the practices used to reduce emissions and sequester carbon in agriculture can also improve production output on existing farmland, the report found, such as precision agriculture and no-till practices.
However, intensifying the production of current agricultural land also comes with potential environmental downsides, the report said.
For example, McCann said fertilizer is an important part of sustainable agriculture, but there's a balance to be struck because excessive use of fertilizer can quickly turn food production unsustainable.
"We need to be a lot more thoughtful about the inputs that we're using," he said, adding the same can be said about the use of technology in agriculture and the policies and programs put in place to encourage sustainable intensification of Canadian agriculture.
The report recommends that Canada adopt policies that provide financial incentives and technical assistance to farmers and develop regulatory frameworks promoting sustainable land use, as well as promoting education and awareness campaigns, so that the country can "ensure the long-term sustainability of its agricultural sector while protecting the environment."
This report by The Canadian Press was first published June 8, 2023.
ALBERTA WILDFIRE – FUNDING ANNOUNCEMENTS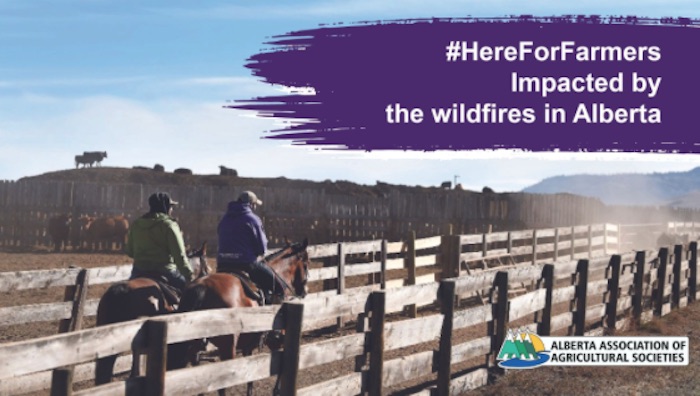 We understand the significant impact that these wildfires have had on our agricultural communities, and we are committed to providing assistance where it is needed the most.
We have two grants that we can apply for in order to secure funding for wildfires. The application deadline for both grants is June 15th.
If your organization has incurred expenses related to aiding your community during this crisis, we encourage you to apply for funding.
Applications for funding must be submitted no later than June 15th, 2023.

We're proud to offer support for agricultural producers affected by recent wildfires,
provided by TELUS Agriculture & Consumer Goods.
CLICK HERE FOR MORE INFORMATION
Applications for relief must be submitted by JUNE 15, 2023.