Teacher Jeremy Spink wins huge prize for Eastview Middle School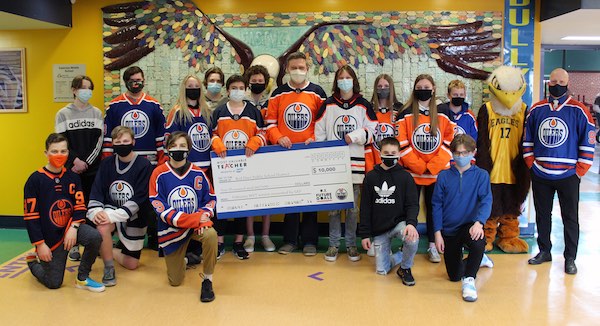 From Red Deer Public Schools
Jeremy Spink named NHL/NHLPA Most Valuable Teacher!
Title comes with $10,000 technology grant
Eastview Middle School Teacher Jeremy Spink has been named the 2020/21 NHL/NHLPA Most Valuable Teacher presented by SAP (Systems, Applications, and Products in Data Processing) for the month of February!
Spink was one of 20 Future Goals™ teachers from across North America who were vying for the title. He has won a personalized NHL club jersey and a $10,000 technology grant provided by SAP to help bring Science, Technology, Engineering and Mathematics concepts to life for students.
With the $10,000 grant, Eastview will purchase technology for classrooms that will get into the hands of their students. The school will also look at how to add to and improve programming in their hockey development classes.
Spink is now in the running as a finalist to receive an additional $20,000 for Eastview Middle School, and $1,000 towards a personal technology device to improve the virtual classroom experience. That winner will be announced in May following another round of voting.
"I'm so excited and almost overwhelmed," said Spink, who is also a minor hockey coach and runs a charity hockey tournament every year to raise money for Melanoma research and other local charities. "I want to say thank you so much to the whole community. It was amazing to see the community rally and help us win."
Spink has incorporated the Future Goals™ – Hockey Scholar program into his classroom, which is designed to leverage STEM in hockey to create a fun and memorable learning experience.
"It is a great program and it all ties right into our curricular goals," he said. "I am dedicated to teaching applications for STEM because I know that it not only impacts how healthy and productive students are during this time, but also their well-being and success far beyond the K-12 years."
Eastview Middle School Principal Kevin Robertson said Spink has long been a leader in the school.  He is also instrumental in coordinating the hockey program and worked with other teachers in delivering programming to Grades 6-8.
"I am so happy for Mr. Spink that he has been recognized for the work he does in our school.  He has had such a positive impact on so many students who are currently at Eastview and who have had him as a teacher or a coach in the past," said Robertson. "One of the things that I have most appreciated is hearing about the countless past students who have reached out to Mr. Spink as a result of this to thank him for making a difference and for being such a positive role model for them. It is a pretty exciting day for Eastview!"
Chad Erickson, Superintendent of Schools, said Spink's win is something to be proud of.
"Jeremy has been a teacher with Red Deer Public for 25 years – all of which he has spent teaching at Eastview Middle School," he said. "We are proud of Jeremy's dedication to students and ensuring they have the best teaching and learning experiences possible."
Red Deer Polytechnic adds Psychology degrees and two diplomas for fall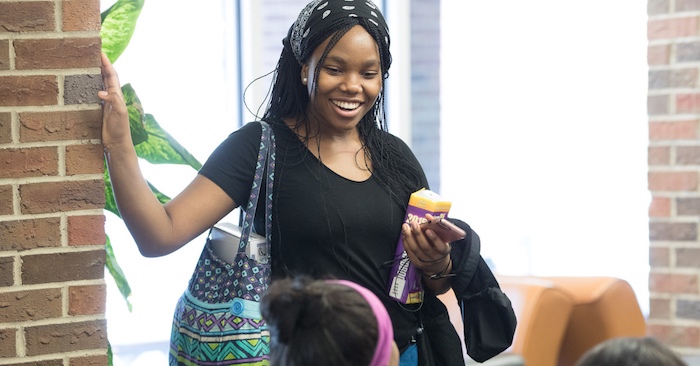 Red Deer Polytechnic continues to expand its breadth of programming for learners by offering a Bachelor of Arts in Psychology, a Bachelor of Science in Psychology, a University Arts Diploma and a University Sciences Diploma, all set to begin in Fall 2021 Term.
"We are pleased to expand our offering of credentials at Red Deer Polytechnic to meet the demand of learners. These new programs signal another important benchmark in the evolution of our post- secondary institution," says Kylie Thomas, Vice President Academic and Research. "As a unique polytechnic, we are committed to offering diverse academic pathways for students. Pathways including apprenticeship, micro-credentials, collaborative degrees, certificates, more of our own degrees, and diplomas."
The Bachelor of Arts in Psychology and Bachelor of Science in Psychology provide Red Deer Polytechnic students with a strong foundational knowledge in a range of topics including behaviour, biology, environment, cognition, neuroscience, and how these areas intersect. Throughout these programs, learners will also explore themes of wellness as they expand their analytical, creative and problem-solving skills.
"Offering of these psychology degrees at Red Deer Polytechnic provides learners the access to complete all four years of their program right here in central Alberta. The value of these opportunities cannot be understated," says Dr. Jane MacNeil, Dean of the School of Arts and Culture. "Throughout their academic journey, students will also benefit from the ability to collaborate with regional partners through participation in experiential learning such as community service and applied research opportunities."
The new two-year diplomas – the University Arts Diploma and the University Sciences Diploma – will provide students with the necessary skills, knowledge, and experiences that will help them prepare for the workforce upon completion of the program or pursue further education in a variety of fields.
Within the University Arts Diploma, learners can focus on several areas of interest in the Humanities and Social Sciences and may choose one of three academic themes: Global Perspectives; Science and Society; or Culture, Societies, and Gender.
Students enrolled in the University Sciences Diploma will explore subject areas that include Chemistry, Calculus, and Physics, with an initial specialization in Biological Sciences. This diploma prepares graduates to work in biology-related fields, to enter a professional school after two years of undergraduate studies, and to transfer into the last two years of Red Deer Polytechnic's Bachelor of Science Degree in Biological Sciences.
"Using a holistic interdisciplinary approach, learners will have the opportunity to advance their multi- faceted education as they engage in independent and collaborative scholarly inquiry throughout these diplomas," says Dr. Nancy Brown, Dean of the Donald School of Business, Science, and Technology. "With a host of hands-on learning opportunities, students will also expand their competencies in solving problems and conducting research projects."
Red Deer Polytechnic has submitted degree proposals to Alberta's Ministry of Advanced Education for Bachelor Business Administration and Bachelor of Education as it looks to broaden its program offerings in the future. The process of designing Red Deer Polytechnic's own Bachelor of Arts in Multidisciplinary Studies is also underway.
More information about these programs, including the application process, can be found online at rdc.ab.ca/apply.
About Red Deer Polytechnic: Our institution's story began as Red Deer College, opening in 1964. The institution proudly serves its learners and communities with more than 100 programs, as well as impressive learning spaces and facilities. Now, as a polytechnic institution, the post-secondary institution will continue to offer the same breadth of programs in various subject areas and credentials it offers now, plus more of its own degrees. Programs will continue to include apprenticeship training, certificates, diplomas, micro-credentials, degrees and programs in collaboration with partner post- secondary institutions.
Red Deer Polytechnic estimates that about 6,200 full-and part-time credit and apprenticeships students will enroll for the 2020/2021 academic year. The Polytechnic also provides lifelong learning opportunities to 34,000 youth and adult learners annually in the School of Continuing Education. Red Deer Polytechnic's main campus is located on Treaty 7, Treaty 6 and Métis ancestral lands. This is where we will strive to honour and transform our relationships with one another.
For more information, please visit: rdc.ab.ca
Red Deer Public Schools team up with Red Deer Polytechnic and sponsors to give 64 Grade 2 students "the best July ever!"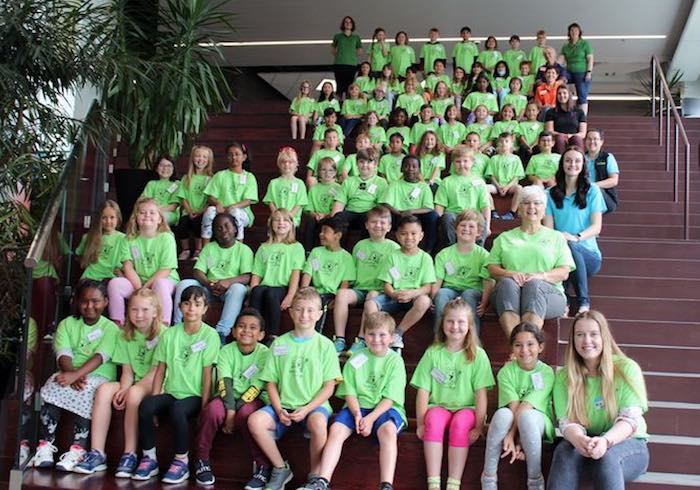 News Release from Red Deer Public Schools
Reading College has reached a big milestone this year as we celebrate its 10th anniversary.
64 Grade 2 students from across Red Deer Public Schools are going to have the best July ever while improving their reading and writing skills along the way.
Last year, due to COVID-19, the program was held in a virtual format, but this year it's back under near normal circumstances — this year at the Gary W. Harris Canada Games Centre at Red Deer College.
For the entire month, Reading College students will be immersed in a literacy rich environment, while being supported by mentor teachers as well as recent graduate teachers of Red Deer College. Students will also enjoy fun activities each day throughout the college, which will further enhance their excitement about reading and writing and introduce them to possibilities for their future.
"Third grade reading levels are one of the best predictors of high school graduation. Reading College helps struggling readers become readers of potential," said Sue Carmichael, Program Coordinator of Reading College. "Reading College is a fantastic program that inspires kids to read and write to ensure they are ready and excited to enter Grade 3."
"Even with summer holidays just starting, kids and parents were excited when they got on the bus today to start Reading College. In 20 days, we will see significant improvement using approaches that have demonstrated real success. Students will be working hard at reading and writing, but also playing hard with lots of great literacy-based activities around RDC," said Bruce Buruma, Executive Director for the Foundation for Red Deer Public Schools. "All the programs the Foundation supports creates life chances for students. Reading College gives these students foundational skills that will help them be more successful in school."
In its 10th year, Reading College is a project of the Foundation for Red Deer Public Schools. The program would not be possible without financial support from many community partners including from the Central Alberta Optimist Clubs and Tim Hortons through their Smile Cookie Campaign.
"We believe Reading College is one of the best projects our club has undertaken in the City of Red Deer," said Glenn Turple, a charter member of the Central Alberta Optimist Clubs. "It really does a lot of great things for kids who really need the help."
"The Foundation is doing such important work in our community that's benefitting so many children," said Tanya Doucette, Tim Hortons Restaurant Owner in Red Deer. "Reading College is an amazing opportunity for children at a pivotal moment in their educational careers where they are transitioning from learning to read as a skill to using that skill to enhance all of their future learning."
For more information regarding Reading College, visit rdpsd.ab.ca/Foundation.php.