Teacher Jeremy Spink wins huge prize for Eastview Middle School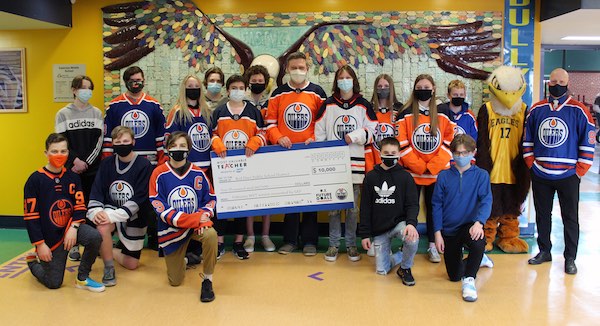 From Red Deer Public Schools
Jeremy Spink named NHL/NHLPA Most Valuable Teacher!
Title comes with $10,000 technology grant
Eastview Middle School Teacher Jeremy Spink has been named the 2020/21 NHL/NHLPA Most Valuable Teacher presented by SAP (Systems, Applications, and Products in Data Processing) for the month of February!
Spink was one of 20 Future Goals™ teachers from across North America who were vying for the title. He has won a personalized NHL club jersey and a $10,000 technology grant provided by SAP to help bring Science, Technology, Engineering and Mathematics concepts to life for students.
With the $10,000 grant, Eastview will purchase technology for classrooms that will get into the hands of their students. The school will also look at how to add to and improve programming in their hockey development classes.
Spink is now in the running as a finalist to receive an additional $20,000 for Eastview Middle School, and $1,000 towards a personal technology device to improve the virtual classroom experience. That winner will be announced in May following another round of voting.
"I'm so excited and almost overwhelmed," said Spink, who is also a minor hockey coach and runs a charity hockey tournament every year to raise money for Melanoma research and other local charities. "I want to say thank you so much to the whole community. It was amazing to see the community rally and help us win."
Spink has incorporated the Future Goals™ – Hockey Scholar program into his classroom, which is designed to leverage STEM in hockey to create a fun and memorable learning experience.
"It is a great program and it all ties right into our curricular goals," he said. "I am dedicated to teaching applications for STEM because I know that it not only impacts how healthy and productive students are during this time, but also their well-being and success far beyond the K-12 years."
Eastview Middle School Principal Kevin Robertson said Spink has long been a leader in the school.  He is also instrumental in coordinating the hockey program and worked with other teachers in delivering programming to Grades 6-8.
"I am so happy for Mr. Spink that he has been recognized for the work he does in our school.  He has had such a positive impact on so many students who are currently at Eastview and who have had him as a teacher or a coach in the past," said Robertson. "One of the things that I have most appreciated is hearing about the countless past students who have reached out to Mr. Spink as a result of this to thank him for making a difference and for being such a positive role model for them. It is a pretty exciting day for Eastview!"
Chad Erickson, Superintendent of Schools, said Spink's win is something to be proud of.
"Jeremy has been a teacher with Red Deer Public for 25 years – all of which he has spent teaching at Eastview Middle School," he said. "We are proud of Jeremy's dedication to students and ensuring they have the best teaching and learning experiences possible."
St. Joseph High School adds huge Falcon mural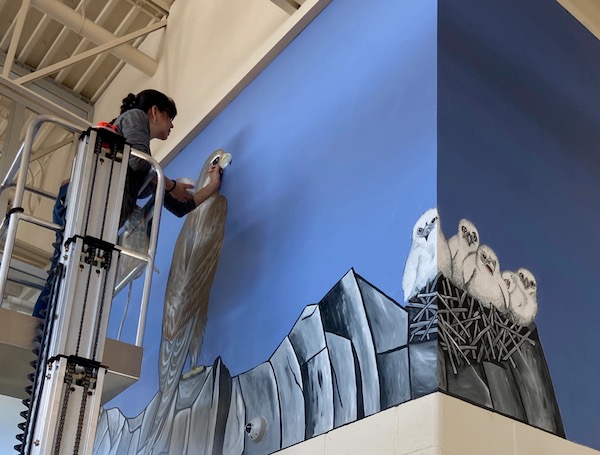 Submitted by Red Deer Catholic Regional Schools
A new Indigenous mural on the second floor near the Career Centre that wraps around two walls at St. Joseph High School. The mural showcases a falcon sitting on rocks, a family of baby birds in a nest and another falcon flying as a way not only to represent the school, but also to move forward and put reconciliation into action.
Delree Dumont was commissioned for the work, as she is a well-known artist in Nakusp, BC who has experience in acrylic painting, smudge fans and medicine bags.
"Our athletic mascot is the Falcon which is a symbol in Indigenous spirituality. Stories and legends are part of the oral history of the Indigenous people. We are honoured to have this aspect of Indigenous beliefs and values incorporated into this mural. This mural ties our school mascot to Indigenous culture and teachings. The mural will remind our students and staff of this important link," said Principal Graeme Daniel at St. Joseph High School.
"We wanted to incorporate the prairie falcon in our building, as that is the symbol of our school and symbolizes wisdom, protection, and victory. When I reached out to our First Nations, Métis, and Inuit Team team, they immediately had Delree in mind. As soon as we met, we knew she was perfect for this. Delree is an extremely talented artist and a blessing to have in our school. It was truly inspiring watching her bring this vision come to life over the past week," said teacher Taylor Bargholz at St. Joseph High School.
This is the fourth mural in Red Deer Catholic Regional Schools. Currently there are Indigenous murals in École Camille J. Lerouge School, St. Francis of Assisi Middle School and St. Thomas Aquinas Middle School.
"As a school division, we feel that it is essential to honour Indigenous ways of knowing by welcoming Indigenous community members into our schools. We are honoured to welcome Delree Dumont into St. Joseph High School and see it as an opportunity for students to connect to Indigenous culture and teachings. Students have watched Delree's work and the painting come to life to reflect the school's design and the artist's vision," said First Nations, Métis, and Inuit Team Coordinator, Selena Frizzley at Red Deer Catholic Regional Schools.
RDC keeps tuition and fee increase for next academic year in line with post-secondary sector standards
College is committed to enhancing financial supports for its students
After considerable consultation with student representatives, RDC has made the difficult decision to increase tuition and fees to the allowable maximum for the 2021/2022 academic year. This will ensure that RDC can effectively continue our commitment to providing students with the educational experience that they have come to expect.
The College's tuition rates and the Facility, Service & Technology fee will increase for 2021/2022, while the Activity & Wellness Fee will remain unchanged. This means RDC students will pay up to $298 more per term for tuition, depending on an individual's course load. Regarding mandatory non- instructional fees, students will pay $135 total per course (based on a three-credit course).
From 2015-2019, RDC was subject to tuition and fee freezes. This has now come to an end under new provincial government regulations that allows for modest increases across Alberta. Because this situation affects most post-secondary institutions in Alberta, RDC learners will continue to access quality academic programs and services at comparable rates to other post-secondary institutions.
This decision was not made lightly, recognizing the challenges that students face in funding their education.
"We understand the challenges that increasing tuition and fees presents to our students and we are pleased to provide a range of supports, as well as a growing amount of scholarships and bursaries, to assist them as they invest in their post-secondary education," says Dr. Peter Nunoda, RDC President. "We are committed to ensuring that post-secondary education in central Alberta remainsaccessible."
RDC provides more than $1 million in scholarships and awards to students each year, through the support of generous donors. Additional community, government and other scholarships are also available for students. More than 1,300 students each year will receive funding support through the College's new Student Bursary Fund that was announced recently. RDC employees assist students in accessing student loans. The College also provides flexible payment options to provide students the opportunity to pay tuition and fees through installments.
It is important that RDC's tuition and fees reflect the value of the education its students receive. The College is pleased to offer greater flexibility in how students learn by providing more courses online or through hy-flex delivery (meaning students can choose to attend online or in-person for a particular course).
"As we continue to make decisions for RDC's next academic year, we will continue to seek efficiencies in our operations while ensuring that we continue to provide value for our
students with quality applied learning opportunities and access to a wide range of services as they pursue their educational goals," says Nunoda.
Red Deer College continues its planning process for the 2021/2022 academic year, including ongoing adaptations to help ensure the health and safety of the College community during the COVID-19 pandemic.