Sweet Capones making sweet dreams come true with special training opportunities for employees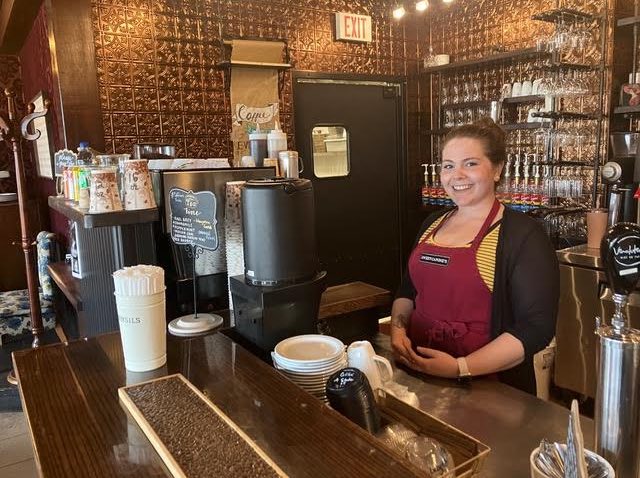 Pictured here is Ciarrea Martin, café manager of Sweet Capone's Red Deer location. The popular bakery is gearing up to launch training programs to help folks have a better chance of landing employment.
By Mark Weber
Known for their scrumptious cannolis, Sweet Capone's Italian Bakery and Cannoli Shop is now launching what promises to be life-changing training opportunities.
"I was a paramedic before we started Sweet Capone's and I absolutely loved my job; I loved helping people," explained Carina Moran who owns the bakery along with her husband Joel.
They first opened the popular establishment six years ago, having since expanded to Lacombe as well. An injury forced a shift in direction from being a paramedic, and thus the establishment of Sweet Capone's – which has met with tremendous success.
"I first started selling our family's cannolis out of our house, but I always felt that the shop needed to stand for something much more – that was always on my heart," she said. "We've always been 'seeding' into organizations around us – we've been helping local soup kitchens, homeless shelters and women's shelters by giving donations. It's a wonderful way to help, but I think the thing we have always had an issue with that it never felt like it was enough," she said, adding that she has felt how vital it is to support those need help – particularly folks who need a hand in landing employment. "There are people who are constantly looked over – they want to have job skills, and they want others to take a chance on them, but they are often given a pass."
To date, Carina and Joel have made it a priority to hire those who could use an opportunity to put their gifts and skills to work, but just haven't been given the chance.
Take Ciarrea, who manages the café in the Red Deer location. A single mom at a young age, she didn't have managerial experience at first.
"Sweet Capone's was her very first job. We have believed in her, and we've given her opportunity because really – at the end of the day – she did have managerial skills through having to manage a house with two little kids," noted Carina.
"Now, she's our manager and we've also sent her back to school to take managerial courses. And then one of our delivery drivers is a war veteran – again, he needed someone to take a chance on him."
Some of Sweet Capone's bakery workers are immigrants who simply needed an open door to walk through as well. So that has been the approach the couple has consistently taken. But it's all about to be taken to a new level.
"One of my favourite quotes is from Desmond Tutu – 'Instead of pulling people out of the water, we need to go upstream and find out why they are falling in in the first place'," said Carina. "If we give people a chance to develop skills and confidence in themselves; to have someone believe in them and give them an opportunity – I really believe it could help to save them before they got to a place of entering a world where nobody would help them out. They may then start seeking other paths or other things that don't serve them well."
To that end, a recent grant to help develop women entrepreneurs is helping Sweet Capone's to take on a new kind of mission – to be able to provide training to those who need an open door so they can build a better life and a more secure future.
"We are already on the way to making plans about what it would look like to have another location somewhere else, and how can we get that up and running? What organizations are we going to work with to help us with the training competent?"
She also has her eye on those emerging from treatment programs who need someone to offer them a chance when it comes to employment.
Ultimately, Carina points to her Christian faith as being the key inspiration behind delving into this exciting new venture. "I feel like there are so many people in this world who just get passed over, and they just aren't given a chance."
She also believes it will take a team to bring this vision ultimately to fruition.
"To see Ciaerra grow and also surprise herself with what she is capable of when all she needed was the opportunity – it's 100 per cent her – she shows up every day and she just gives it her all," explained Carina. "Watching her grow in a safe environment has been very, very cool."
At the end of the day, Carina emphasizes that this initiative is all about others.
"I'm a girl of faith, and God has put this on my heart," she explained. "I'm just obeying Him – I'm just doing what He told me to do. That's it. It's always been on my heart – He has had this on my heart since day one."
She has also been inspired by her own kids – who launched the Caring Cookie Company a few years back. "They raised money for the homeless shelter, but what it also did for my husband and I is it showed us how easy it is to get caught up as a business owner in the world of profit," she explained. "The boys brought it back down to what matters. Sometimes, you stop seeing the human side of things, and our kids really showed us that. We really started to think about what we're doing with our lives – what are we doing with this business?"
It really boils down to taking a step of faith.
"You have to step out with that intention first of all – and the rest will follow."
As mentioned, Ciarrea started with Sweet Capone's nearly four years ago. "Essentially, I had never had a job before coming here," she explained. "I really wanted to work, so I was looking for a job everywhere."
Ciarrea explained to Carina how much she loved the bakery and told her how much she would like to work at Sweet Capone's.
It wasn't long before she got a call about a position that had opened.
"It was a couple of shifts a week, and I said yes! Anything – just to be at the store," she recalled.
Over time, she learned the day-to-day routines at the bakery and has never looked back.
Like Carina, her Christian faith inspires her in virtually everything she does. And her sense of gratitude is unmistakable. "They were just very willing, (and welcomed) us with open arms," Ciarrea added, reflecting on those early days.
"Every time I have had any type of struggle, complication or an area that I've needed work in, they've always taken me under their wing."
"There are things that I need to work on as well, and Carina isn't afraid to tell me that," she said. "It's incredible for me because I love to grow and learn. It's been incredible to work alongside them both, and to see how they do things. They are an amazing team!"
She's thrilled with the news about the expanded training programs. With aspirations of one day owning her own eatery, Ciarrea is indeed grateful for the experience and the wisdom that the Morans have poured into her life. And ultimately, she certainly agrees that it's also about giving someone an opportunity. It's often at that point that their true potential has the chance to flourish.
"It's about having that understanding that maybe just looking at a piece of paper isn't a complete description or definition of a person," she explained. "I also know that from the beginning, we have stood for helping to raise people up – whether it be in their personal lives or work lives."
Telus Corp. marks opening of Telus Sky in downtown Calgary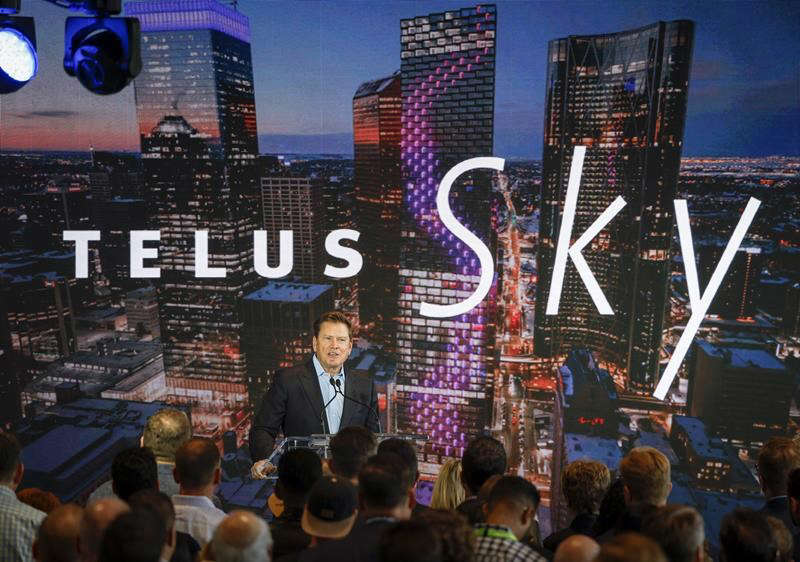 CALGARY — Telus Corp. marked the opening of its new 60-storey Calgary headquarters on Wednesday.
The new $400-million skyscraper, Telus Sky, has been in development for nine years and is now the third-tallest building in downtown Calgary. It features 750,000 square feet of office and retail space as well as 326 rental homes.
The building's eye-catching design, by architects Bjarke Ingels Group (BIG) and Dialog, along with developer partner Westbank and Allied, starts with a rectangular floorplate and then gradually twists as it rises.
Integrated into the facade of Telus Sky is Canada's largest public art display. "Northern Lights" by Canadian author and artist, Douglas Coupland, creates a light show across the building's exterior.
Telus Sky will be home to more than 1,600 Telus employees. It joins TELUS Garden in Vancouver, TELUS Harbour Toronto, TELUS House Ottawa, and Place TELUS Québec as one of the company's LEED (Leadership in Energy and Environmental Design) Platinum-certified buildings.
Among the building's environmental features is a storm water management system that recycles rainwater for use in washroom toilets, reducing the building's municipal water demand by 70 per cent.
This report by The Canadian Press was first published July 6, 2022.
Companies in this story: (TSX:T)
Amanda Stephenson, The Canadian Press
Business Spotlight: Massage Above All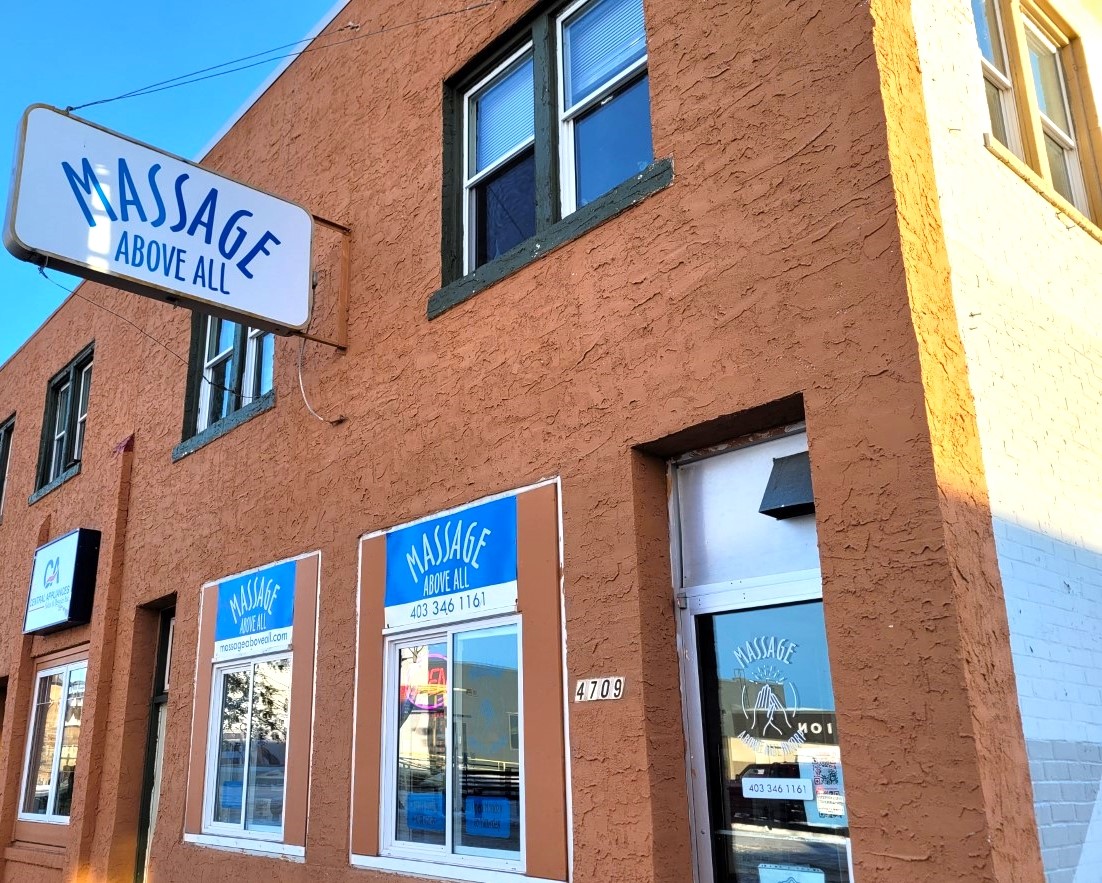 This week's Business Spotlight shines on Massage above all an excellent place to heal and relax with truly professional staff.
1. What is your business?
We are a Professional Therapeutic and Holistic Massage clinic serving Central Alberta in Downtown Red Deer since 1995.
2. When did your business open?
Originally opened in a small rental space in 1995, as we grew, it became apparent that we would need to expand. We purchased and completely renovated our current 2525 sq ft property with our clients in mind. Each treatment is spacious, clean and meets all health standards as per AHS.
3. What makes your business unique?
We are a local Massage Clinic that owns our property and has thrived in the Downtown for some 27 years: 6 treatment rooms spacious lobby. Our therapists are registered with professional associations, and as such, we can direct bill to most insurance companies. *Some conditions apply*
4. What are some products/services that you offer?
We offer Professional Massage Therapy services, including Therapeutic, Relaxation, Lymphatic, Hot Stone, Couples Massage, Reflexology, Cupping, and Craniosacral therapy.
We also offer fair trade merchandise from around the world. Stop in and see
5. Why did you choose Downtown Red Deer as the location for your business?
Personally, I chose the Downtown because our family has owned and operated businesses since 1974 when we moved to Red Deer from Calgary when my parents took over Red Deer Auction Co Ltd.
6. What do you think makes Downtown vibrant?
The unique and friendly businesses and business owners and staff.
7. Finish this sentence: I love Downtown Red Deer because…
It is the core of the city, close to home. A vibrant community with eclectic and unique shopping experiences.
For more information
Facebook – Massage Above All | Facebook
Twitter –@MassageAboveAll