Suzie Vinnick and Downchild Blues Band at Red Deer Memorial Centre Red Deer Wednesday
Downchild Blues Band a natural progression for Suzie Vinnick
By Rob Gilgan
For local folks that caught her in one of her house concerts of a few years back, Suzie Vinnick's appearance with the Downchild Blues Band will be a refreshing memory. For the rest of us? A brand new treat. The Saskatoon native, who now calls the Niagara region home, is thrilled to be back on the road, in western Canada, and opening for this landmark band.
"I've known them for years," Vinnick explains, and while she's never shared a stage with them before, it feels like a natural progression for her. Originally, she was booked to open for the band in Ottawa and when the promoter learned she would be touring western Canada this fall, at the same time as Downchild, the decision was made to add her to the whole western tour. She'll appear solo at the Memorial Centre in Red Deer on October 30, warming up the crowd for Donnie Walsh and the boys.
Vinnick is touring in support of her most recent album, Shake the Love Around, a 12 song set released in March of 2018 that's left reviewers scrambling to find new words to express how well this artist showcases the diversity of the blues genre. The album's title comes from the lyrics of All IWanna Do, a song she wrote with Steve Strongman, one of several collaborations on the disc.
Another, Drift Away, was written years ago, with Matt Andersen. "I would perfrom it at some of my shows and often, people would come up and comment on how it spoke to them," she says, "It happened often enough, I reached out to Matt and asked if he'd be alright with me including it on Shake the Love Around and he gave his blessing." Drift Away is one of those blues tunes that's uplifting and validating. "When you're going through a tough time, just breathe, you know," Vinnick says, describing the song's essence.
While Shake the Love Around dips into a variety of musical and lyrical styles, at its heart, it's predominately a blues album, "There's a bit of a blues angle to everything," she adds. The single of the same name features a selection of Vinnick's guitar heroes while showcasing her multi-instrumental prowess. The tour-de-force blues singer enjoys her time in the studio and the process of collaborating with other songwriters. "Sometimes it's a better way to get a song completed," she explains, "It depends, honestly, on what we come to the table with."
She's happy, not just with the album, but how it's been welcomed across the country. She's looking forward, after the fall touring, to share it with her many fans in Atlantic Canada. "I haven't been to the east coast with it yet," she says, knowing the album will be appreciated by the region's seasoned blues enthusiasts. It's not just fans that find Vinnick's music and performance so noteworthy, as her career has been highlighted by many covet-worthy awards.
These include: 2018 Canadian Folk Music Award for Producer of the Year with her co-producer, Mark Lalama, finalist status in the Solo/Duo Category at the 2013 International Blues Challenge in Memphis, TN; the 2012 CBC Saturday Night Blues Great Canadian Blues Award and the 2012 Sirius XM Canada Blues Artist of the Year. Suzie has won 10 Maple Blues Awards (she has been nominated for 21 so far!), won the 2011 Canadian Folk Music Award for Contemporary Vocalist of the Year and is a 3X Juno Nominee.
Her most cherished sits in front of her, on her desk, reminding her of her prairie roots: the 2019 Saskatchewan Jazz Festival Special Recognition Award. This award takes her from winning an emerging contest at 19 and then follows her journey through the music business, including several appearances at the festival. "I was so thrilled and truly honoured with this award. It came with a two-hour show and I was able to bring on a bunch of players I'd worked with over the years," she adds.
Thrilled and honoured also describes the invitation to open for Downchild Blues Band; she remembers, as a teen, seeing the Blues Brothers on Saturday Night Live and discovering the Toronto band she'll be celebrating with here, on October 30.
Rob Gilgan
Glenn Anderson adds some colour to the "Day of Golf"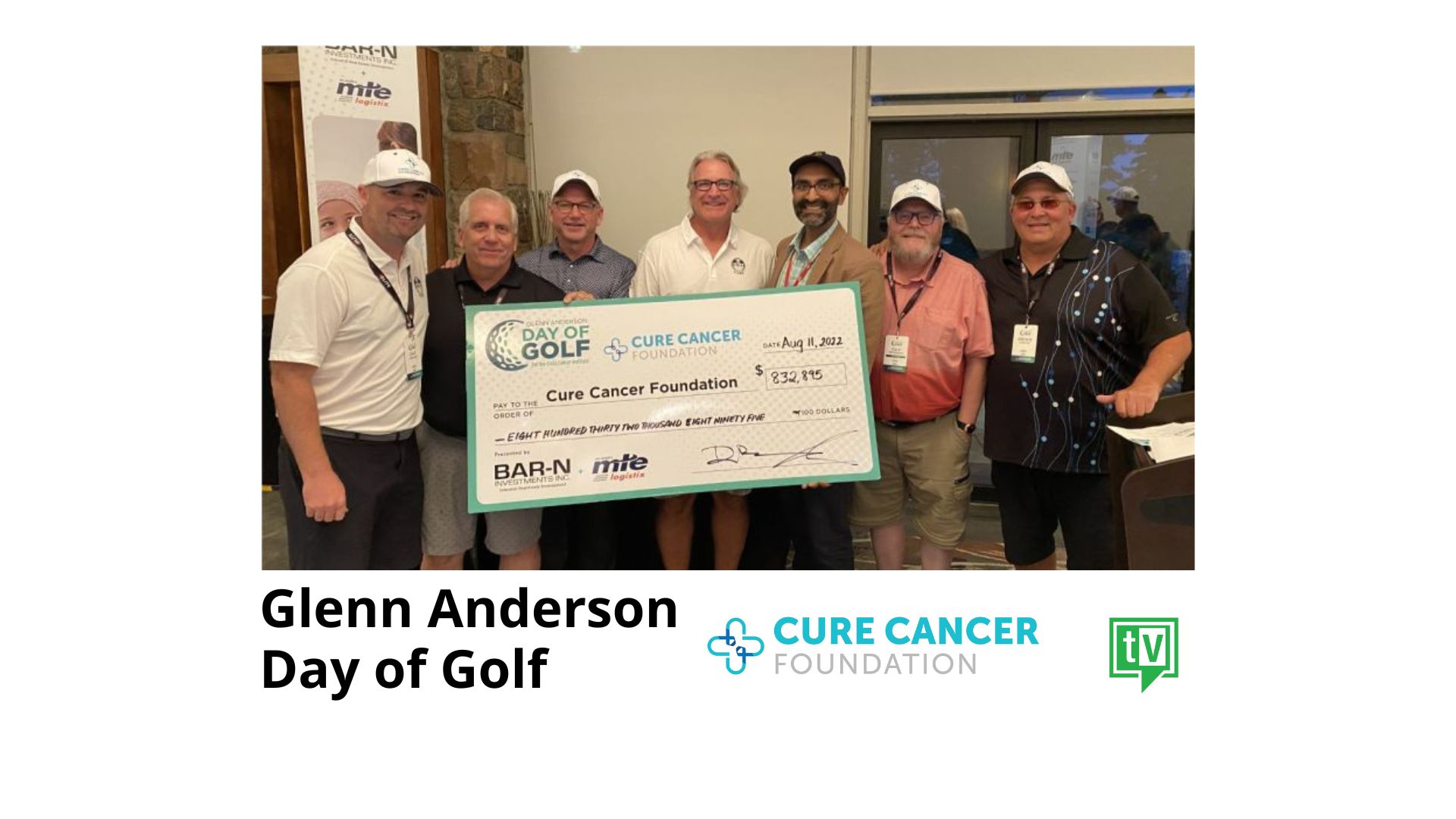 Last week, the 32nd edition of the Glenn Anderson Day of Golf raised an incredible amount of money … in fact more than $832 thousand dollars! Chances are as the numbers are tallied up, that total will be near $900K! That's a big deal and the money raised will fund cancer research. Congratulations to the organizers and a shout out to the Derrick Club who did an amazing job of hosting the event.
But today's story is more about Glenn Anderson. A class act, Anderson travels up to Edmonton from Florida each year to help make this event a roaring success. He told some great stories at a reception the night before the tournament. If you're an Oilers fan, you'll enjoy this video!
Click here to watch the video.
Anne Heche, star with troubled life, dies of crash injuries
LOS ANGELES (AP) — Anne Heche, the Emmy-winning film and television actor whose dramatic Hollywood rise in the 1990s and accomplished career contrasted with personal chapters of turmoil, died of injuries from a fiery car crash. She was 53.
Heche was "peacefully taken off life support," spokeswoman Holly Baird said in a statement Sunday night..
Heche had been on life support at a Los Angeles burn center after suffering a "severe anoxic brain injury," caused by a lack of oxygen, when her car crashed into a home Aug. 5, according to a statement released Thursday by a representative on behalf of her family and friends.
She was declared brain-dead Friday, but was kept on life support in case her organs could be donated, an assessment that took nine days. In the U.S., most organ transplants are done after such a determination.
A native of Ohio whose family moved around the country, Heche endured an abusive and tragic childhood, one that helped push her into acting as a way of escaping her own life. She showed enough early promise to be offered professional work in high school and first came to prominence on the NBC soap opera "Another World" from 1987 to 1991, winning a Daytime Emmy Award for the role of twins Marley and Vicky Hudson, who on the show sustained injuries that anticipated Heche's: Vicky falls into a coma for months after a car crash.
By the late 1990s Heche was one of the hottest actors in Hollywood, a constant on magazine covers and in big-budget films. In 1997 alone, she played opposite Johnny Depp as his wife in "Donnie Brasco" and Tommy Lee Jones in "Volcano" and was part of the ensemble cast in the original "I Know What You Did Last Summer."
The following year, she starred with Ford in "Six Days, Seven Nights" and appeared with Vince Vaughn and Joaquin Phoenix in "Return to Paradise." She also played one of cinema's most famous murder victims, Marion Crane of "Psycho," in Gus Van Sant's remake of the Alfred Hitchcock classic, and co-starred in the indie favorite "Walking and Talking."
Around the same time, her personal life led to even greater fame, and both personal and professional upheaval. She met Ellen DeGeneres at a the 1997 Vanity Fair Oscar party, fell in love and began a 3-year relationship that made one of Hollywood's first openly gay couples. But Heche later said her career was damaged by an industry wary of casting her in leading roles. She would remember advisers opposing her decision to have DeGeneres accompany her to the premiere of "Volcano."
"We were tapped on the shoulder, put into her limo in the third act and told that we couldn't have pictures of us taken at the press junket," Heche said in 2018 on the podcast Irish Goodbye.
After she and DeGeneres parted, Heche had a public breakdown and would speak candidly of her mental health struggles.
Heche's delicately elfin look belied her strength on screen. When she won the National Board of Review's 1997 best supporting actress award, the board cited the one-two punch of "Donnie Brasco" and the political satire "Wag the Dog," in which Heche portrayed a cynical White House aide and held her own against film great Robert De Niro.
Heche also called effectively on her apparent fragility. In 2002 she starred on Broadway in the play "Proof" as a woman fearful of losing her sanity just like her father, a brilliant mathematics professor. An Associated Press review praised her "touching performance, vulnerable yet funny, particularly when Catherine mocks the suspicions about her mental stability."
In the fall of 2000, soon after her break-up with DeGeneres, Heche was hospitalized after knocking on the door of a stranger in a rural area near Fresno, California. Authorities said she had appeared shaken and disoriented and spoke incoherently to the residents.
In a memoir released the following year, "Call Me Crazy," Heche talked about her lifelong battles. During a 2001 interview with TV journalist Barbara Walters, Heche recounted in painful detail alleged sexual abuse by her father, Donald Heche, who professed to be devoutly religious and died in 1983 from complications of AIDS. Heche described her suffering as so extreme she developed a separate personality and imagined herself descended from another planet.
In the final days of his life, Heche said, she learned he was secretly gay and that she believed his inability to live honestly fueled his anger and hurtful behavior. Not longer her father died, her brother Nathan — one of her four siblings — was killed in a car crash.
"I'm not crazy. But it's a crazy life. I was raised in a crazy family and it took 31 years to get the crazy out of me," Heche told Walters. In an effort to escape the past, "I drank. I smoked. I did drugs. I had sex with people. I did anything I could to get the shame out of my life."
Heche dated Steve Martin in the 1990s, and is widely believed to have inspired the childlike, but ambitious aspiring actor played by Heather Graham in his Hollywood spoof "Bowfinger." She later had a son with camera operator Coleman Laffoon, to whom she was married from 2001 to 2009. She had another son during a relationship with actor James Tupper, her co-star on the TV series "Men In Trees."
Heche worked consistently in smaller films, on Broadway and on TV shows in the past two decades. She recently had recurring roles on the network series "Chicago P.D." and "All Rise," and in 2020 was a contestant on "Dancing With the Stars."
The Associated Press