Downtown Business Spotlight: Sunworks Living features high-quality products and expert customer service
For this week's Business Spotlight, we popped into Sunworks Living, located at #110, 4913 Gaetz Ave in the heart of Downtown Red Deer. Visitors to this unique shop are treated to a shopping experience like no other in Red Deer. The selection of high-quality products and expert customer service allow Sunworks to stand out, and why people keep coming back. We sat down with Kathryn Harris of Sunworks to learn more about this exceptional downtown business.
What is your business?
We are Sunworks Living, quality gifts and local art gallery, we offer a unique shopping experience.
When did your business open?
The business opened May 10th, 1996.
What makes your business unique?
Our focus is on local products, so we try and bring in unique, local but very curated pieces. Some of our works in the store are from a few neighborhoods away, others are from as far away as Quebec. We try to stay as Canadian as we can. We do have an emphasis on staying environmentally friendly so some of our products do come from away, but they are a little more sustainable.
What are some products/services that you offer?
Local is one of the key things for the business. We showcase local art, we build special order pieces with local materials based on customer-specific requests, we are very particular as to what we bring into the store, it must be of a certain quality, not found anywhere else. In-store, we carry housewares, handmade natural soy candles, greeting cards, books, kitchenware, a little bit of everything.
Why did you choose Downtown Red Deer as the location for your business?
When Paul and Terry started Sunworks, Downtown Red Deer was a desolate wasteland. Paul grew up in Calgary and it was very important to him that the downtown be the beating heart of the city. At the time you could virtually hear the slamming of the wooden outhouse door and tumbleweed rolling across the street, but downtown is where they always wanted to put their business. I've heard Paul say to Terry,' we need to do something about the downtown or we need to move' so, they felt compelled to get involved and felt a call for change. The community has always been very important.
What do you think makes Downtown vibrant?
The people that work here. I can stand outside in front of the store in the sun on a Tuesday afternoon and can greet people as they walk by. I will see businesses across the street, and we give each other 'the nod' in greeting. You must acknowledge the people that are here.
Finish this sentence: I love Downtown Red Deer because…
It's where I work, where I play and it's close to home. It's close to pretty much all homes in Red Deer because it's the heart of the city. You must go through the downtown to get anywhere anyway so why wouldn't you stop?
The charm and relaxed atmosphere of this quaint shop make it a pleasure to be in. The perfect gift is easily found with the help of the friendly and highly knowledgeable staff, as the possibilities are endless. Give yourself time to browse, there is a lot to discover!
Make sure to follow Sunworks Living:
Facebook: https://www.facebook.com/pg/sunworks
Instagram: https://www.instagram.com/sunworks/
Twitter: https://twitter.com/Sunworksreddeer
Downtown Business Spotlight: RYDE RD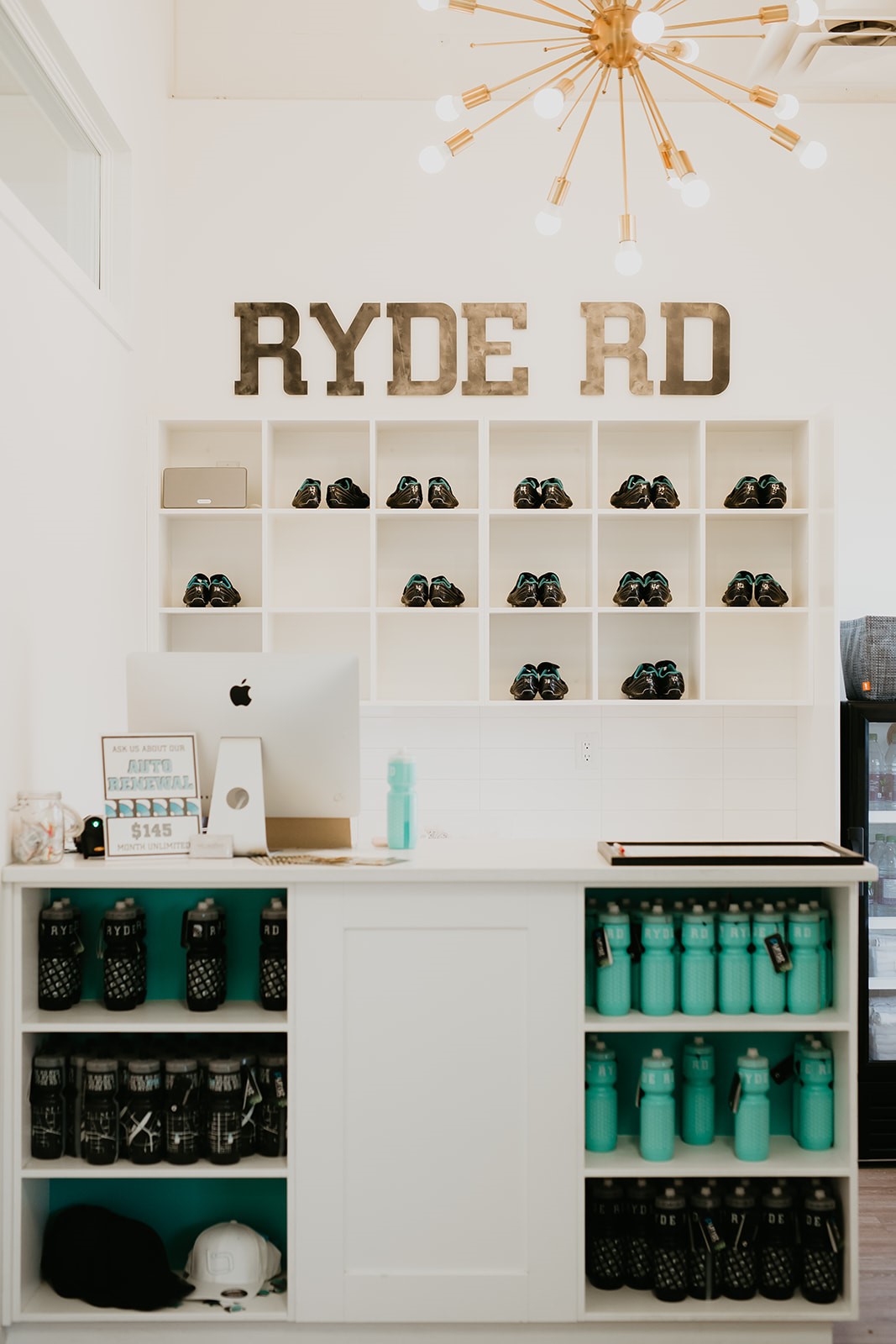 We're starting this year's Business Spotlight off with shining the light on RYDE RD! This boutique spin and body studio is located at 47755 49th street in Bay D. We spoke with owner Alex Wood to learn more about his business.
What is your business?
RYDE RD is locally owned and operated and is downtown Red Deer's only boutique spin and body studio. We're dedicated to providing a fun, multi-sensory workout in a safe and friendly environment.
When did your business open?
We opened our doors October 2016.
What makes your business unique?
Ryde is different with offering an unique experience while working out. Spinning to the beat of the music in a clublike atmosphere you won't even feel like you are working out for 45min.
What are some products/services that you offer?
We offer spin and body classes:
Ryde 45: is the pride of Ryde RD. Our spin instructor motivates you through a music bumping, forty-five minute, full body workout class complete with hand weights & core. Our instructors guide you through the movements, all to the beat of the music. You control the resistance of your bike, so Ryde 45 is as hard as you want it to be. With each instructor having their own flare & music choice, you can expect no two classes to be the same. Whether you're a beginner or an avid ryder, this class is for you. Multiple classes on the daily to fit perfectly into your schedule.
Body 45: is forty-five minute intermediate level class comprised of a variety of exercise modalities, including boot-camp, HIIT, plyometrics, kettlebells, strength training & flexibility. Participants will be educated in new exercises with instruction & demonstration with attention to proper form & safety. Each instructor provides their own unique style of teaching – sure to be a challenge & of course, a good sweat.
Why did you choose Downtown Red Deer as the location for your business?
Downtown Red Deer is a great central location that is easy to get to from everywhere in Red Deer. We are happy to be alongside other fantastic local businesses in the downtown area.
What do you think makes Downtown vibrant?
The sense of community in downtown Red Deer makes it vibrant. It is very attracting to be placed alongside other thriving local businesses.
I love Downtown Red Deer because… because of the sense of community, central location and being alongside other great local businesses.
Check out RYDE RD's website to sign up for a class and be sure to follow them for updates:
Website: https://ryde-rd.com/
Instagram: https://www.instagram.com/ryde_rd/
Facebook: https://www.facebook.com/RydeRedDeer/
Twitter: https://twitter.com/Ryde_RD
Check back next week for another business spotlight! If you would like to see your Downtown business spotlighted, please contact us at 403-340-8696 or [email protected].
Warming up to winter on the Ross Street Patio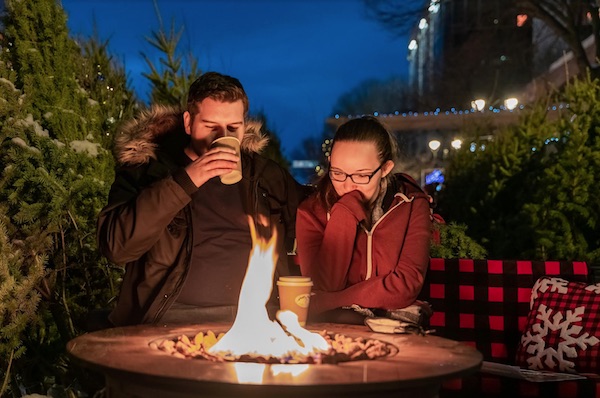 By Mark Weber
We may be into the coldest chill of the winter season, but Red Deerians will find a warm, engaging and inviting atmosphere on the Ross Street Patio just the same. The Ross Street Patio is a spot everyone needs to put on their to do list, even in the winter.
Amanda Gould, executive director of the Downtown Business Association explains the DBA has been bringing special events to the downtown core for several years now. "Every year, we deliver more than 100 events in the downtown core with a favourite being the Ross Street Patio. This marks the first year we will be continuing with programming throughout the winter," she said, adding that the Patio was opened last winter as well, but with the ongoing pandemic there was no programming. "So we aren't really counting last winter as our first go-round, we are counting this winter as our first."
"You will see public art, fire pits, a giant metal 'locks of love' heart, free hot chocolate, a Frosty the Snowman bench where you can take pictures with friends, a live music stage for the warmer days, and an ice sculpture will be (featured) on the music stage, too," Gould explains.
"So we've got lots of activity happening down here, and we are really trying to capture the people's hearts with interesting ideas that we can create that will bring people downtown," adding that another key goal is to help folks realize there is indeed plenty to enjoy downtown through the winter months.
"We aren't going to do things on those minus 25 days, but those other days where it's around minus 10, you can still come outside – the restaurants are open – come down and enjoy a drink, get a hot chocolate and relax on the Patio!"
"Another goal is to just generally increase traffic and overall awareness about all that downtown Red Deer has to offer," says Gould.
"It's really also about engaging the general audience with activity, public art and live music that you can't really get anywhere else," adds Gould. "It's also about showing people the fun that you can have downtown.
"The businesses here are absolutely thriving, and their individual patios kind of spill out onto the streets." Wednesdays in particular are busy especially during the warmer months when special performances are held along with the weekly downtown market.
"During COVID, we've still been seeing great numbers with that," she said. "There will also be the annual car boot sale that we have on Wednesday afternoons as well, where people can come down and sell their wares out of the backs of their cars all along Little Gaetz which is great fun.
"One of the other things we are also working on this year is establishing a new brand for downtown, so that we can really start to change the rhetoric that is happening down here."
"Yes, there is work to be done of course in other areas, but part of what the DBA can control is the messaging that comes out of the downtown. So we will see a new brand roll out toward the end of the year," said Gould.
In the meantime, Gould encourages folks to check out the downtown core and visit businesses they perhaps haven't explored just yet. "Come down and experience it – I think a lot of people who are (affected) by the negative rhetoric maybe haven't been downtown for years, or they have been down recently and seen something that they didn't like.
"But if you come down and experience the downtown on an event day, or during late night shopping, or when there is something like that when there is activity going on, you will have a totally different experience," she said.
"Downtown is such a thriving little community as well – everybody from the various shops knows each other, (staff) from the restaurants know each other – there is a whole bunch of different personalities down here," she said.
"So you are really 'supporting local' while you are down here, but you are also getting an insight into a completely unique way of life in the downtown."