Stettler RCMP investigating theft of unique oilfield equipment
Sept. 2, 2020
Stettler RCMP investigating theft of unique oilfield equipment
Stettler, Alta. – The RCMP are investigating the theft of tools which, while valuable, will not benefit any member of the public. It is possible that these tools have been discarded or that the suspects are trying to sell them. The Stettler RCMP is looking for assistance in recovering these tools.
On Aug. 4, a complaint was received that a locked compound was broken into and unknown suspect(s) removed tools from the back of a truck parked in the compound. Investigation has not led to the identification of the person(s) responsible, and the tools have not been located.
The equipment is described as:
Vivax Metro tech line locator (the receiver end)
Transmitter (small box)
Digitron Gauge
Crystal Gauge
Odorator
If you have any information about this theft, or the whereabouts of this equipment, please contact the Stettler RCMP at 403-742-3382. If you wish to remain anonymous, you can contact Crime Stoppers at 1-800-222-8477 (TIPS), online at www.P3Tips.com or by using the "P3 Tips" app available through the Apple App or Google Play Store.
Three Hills RCMP nab suspect who set fire to a field in escape attempt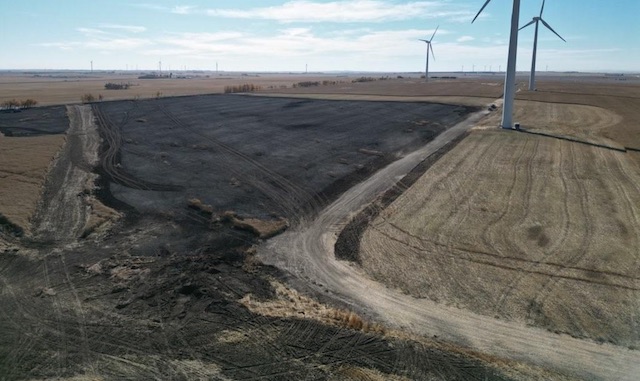 Three Hills RCMP apprehend property crime offender after lighting fire on rural property
On Oct. 8, 2023, at approximately 4:15 p.m., Three Hills RCMP responded to a break and enter in progress while the home owner was home and hiding inside. Members arrived at the residence and observed suspects fleeing the area in a vehicle. Three Hills RCMP located the vehicle and one male suspect after he lit a fire to a farm field to try and evade police. The male was arrested shortly after and identified by police. Police confirmed the vehicle was stolen and officers located break and enter tools and stolen property inside the vehicle.
Joseph Vincent (30), a resident of Sylvan Lake, Alta., has been charged with:
Arson – Damage to Property
Break and Enter Residence
Possession of Break-in Instruments
Possession of property obtained by crime under $5000
Provincial Trespass
Following a Judicial Interim Release Hearing, Vincent was remanded into custody to appear in Alberta Court of Justice in Drumheller on Oct. 13, 2023.
Three Hills RCMP Detachment Commander Sgt. Jamie Day stated "I am proud of the responding members from the Three Hills Detachment. A lot of work went into catching this offender and I am, thankful that no one was hurt during the incident. This demonstrates the importance, effectiveness and dedication from our members. Three Hills RCMP remains fully committed in building safer communities by working in partnership with our community as well as through investigative and enforcement efforts to achieve this goal. An instrumental tool that aided the investigation, was camera footage provided by the victims linking the individual to multiple incidents. I would like to thank Southern Alberta District Crime Analyst for his assistance providing intel that was critical to the investigation."
28 year old Blackfalds woman arrested after drug trafficking investigation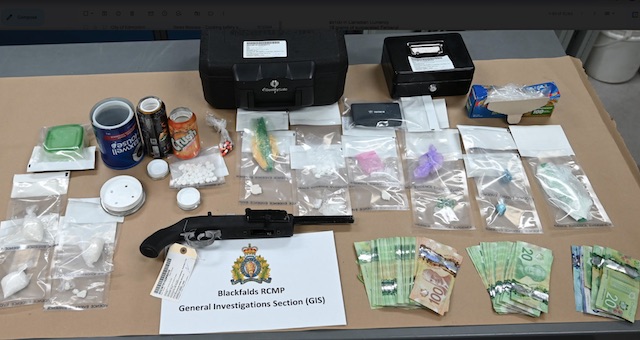 News release from Blackfalds RCMP
Blackfalds RCMP lay charges after drug trafficking investigation
In the summer of 2023, Blackfalds RCMP began an investigation into drug trafficking in the Blackfalds area. As a result of the investigation, on Sept. 5th, 2023, RCMP observed the suspect who appeared to be selling drugs from a Toyota Camry. RCMP initiated a traffic stop and arrested the suspect. RCMP seized:
86.8 grams of suspected Methamphetamine
5.6 grams of suspected Cocaine
93 Percocet pills
A loaded prohibited/Restricted firearm
$5100 in Canadian Currency
16 grams of suspeceted Fentanyl
Other pills that are not yet known.
Evidence obtained in the search of the vehicle led officers to continue the investigation. On Sept. 6, 2023, RCMP executed a search warrant at a hotel in Red Deer. As a result of the search of the hotel room, RCMP seized:
28.3 grams of suspected methamphetamine
8 grams of suspected Cocaine
12.6 grams of suspected Fentanyl
RCMP have arrested and charged Blackfalds resident, Reanne Brodersen (28), with:
Possession for the Purpose of Trafficking (x4)
Possession of the Proceeds of Crime
Weapons offences (x4)
Failure to Comply with Weapons Prohibition Order (x2)
Fail to Comply with Release Order (x2)
Bordersen has been taken before a justice of the peace and remanded with her next appearance date set for Oct. 19, 2023, at the Alberta Court of Justice in Red Deer.