Stay home plea from a healthy Canadian shocked to be a victim of COVID
Shared by Erin Leigh from Chilliwack, BC
Hi Friends and Family!
I have been admitted since I currently need oxygen support. We will wean that off tonight and see how my lungs handle it. I'm currently on oxygen and at 95%. I guess I'll be monitored for a night or two.
I started having symptoms last Wednesday, and haven't left my house since. This is a community infection. I have not travelled, nor have I been around someone who has, and I don't know anyone with this virus. As doctors have said, this virus is unpredictable. I have practiced social isolation and followed the government rules.
I was called this morning by the health department to notify me of the positive test. I was only able to form 1-2 word sentences because of the severe shortness of breath. I was directed to hang up and call 911. To be honest, I expected them to come and say you're ok, and leave me at home. This was not the case and when I walked to the ambulance, my oxygen dropped. The paramedics told me that they would be rushing me to the hospital and that it may be a bumpy ride. I was placed on oxygen support at that time.
On arrival to the hospital, there were about a dozen hospital personnel gowned up and ready for me. It was organized chaos. Every person had a different role and they worked fast. I was a little incoherent because I was so focussed on breathing. The doctor came to my left bedside, looked me straight in the eyes, and stated "I'm Dr. P. I think you are going to be okay, but I need you to know, if your oxygen plummets more, I may have to intubate you, and you will wake up in the ICU"… shit just got real.
I've now stabilized and have been brought up to an internal medicine ward.
I don't want sympathy. I want people to start listening to what the doctors are saying! This is no joke… please stay home! You are only supposed to be interacting with people you live with… no one else. That means NO ONE! Please do your part, as the medical personnel are working their asses off! These people on the front lines are putting patients before themselves. Because of me, alone, this hospital has probably gone through 3 dozen sets of personal protective stuff (gowns, masks, gloves) since I've been treated here, and that's only a few hours. These workers shouldn't have to work with a shortage of these things, so if you have any items to donate, please do!
Please #stayhome and stay healthy!
Yes, you may share. If this helps one person, then it's been worthwhile. I don't wish this upon anyone!
Your story is important – #RedDeerStrong – free and easy story form
Province delays almost all Step 2 cautionary measures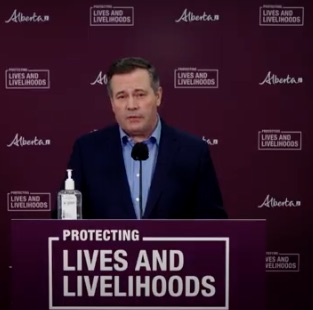 From the Province of Alberta
As a cautionary measure, changes to current restrictions for retail, children's sports, and hotels, banquets, community halls and conference centres have been delayed until Step 3.
Step 2: Hospitalization benchmark – 450 and declining
Libraries
These facilities can now open but must limit capacity to 15 per cent of fire code occupancy, not including staff.
Indoor fitness (no change to outdoor fitness):
Unsupervised low intensity individual and group exercises are now allowed by appointment only.
Mandatory physical distance of three metres is required between participants, including coaches and trainers, at all times, and masks must be worn at all times by trainers and those participating in low-intensity activities.
All indoor fitness must be pre-registered – no drop-ins allowed.
Low-intensity exercises include weightlifting, low-intensity dance classes, yoga, barre and indoor climbing, as well as the low-intensity use of treadmills, ellipticals and related equipment.
High-intensity activities, including running, spin and high-intensity interval training, continue to be allowed only on a one-on-one with a trainer basis, or training with a household and one trainer.
Additional details on the current restrictions is outlined on alberta.ca.
A decision on Step 3 will be made after at least three weeks of evaluation to assess the spread of COVID-19. Metrics based on cases and growth, including variant cases, are being monitored and will also be used to guide any decisions around the need to pause further steps or potentially increase restrictions.
Alberta's government is responding to the COVID-19 pandemic by protecting lives and livelihoods with precise measures to bend the curve, sustain small businesses and protect Alberta's health-care system.
National panel advises provinces not to use AstraZeneca vaccine on seniors
A national panel of vaccine experts says provinces should not use AstraZeneca's COVID-19 vaccine on seniors. 
The vaccine was authorized for use Friday on all adults, including seniors, but the National Advisory Committee on Immunization is concerned there is limited data on how well the vaccine will work in older populations.
There are no concerns that the vaccine is not safe for use.
NACI says the two mRNA vaccines from Pfizer-BioNTech and Moderna should be prioritized for Canadians over 65, while AstraZeneca should be offered to people under 65.
While all three vaccines are 100 per cent effective against death and hospitalization as a result of COVID-19, clinical trials suggested mRNA vaccines were more effective at preventing COVID-19 infections.
The panel's advice helps provincial governments determine how best to use the vaccines available to them but provinces can make their own calls about what to do.
This report by The Canadian Press was first published March 1, 2021.
The Canadian Press