COVID-19 swinging a wrecking ball through the arts community
Jesse Roads has a lot of experience playing in front of crowds.  Performing live is his life, and his livelihood.  In 22 years he's seen it all, until now.  For the first and only time in his career, Roads finds himself at home, unable to play or book a single gig!   A couple of days into his own self-isolation, Roads sat down to tell Canadians what he and many thousands of artists are going through.  Here's his powerful letter.
From Jesse Roads
First of all, are you ok? Are your family and loved ones looked after? With love and positivity as much as possible? I hope so much that all of the above is true for each and every one of you 💜
I'm Just your average Canadian touring musician, who doesn't technically exist.
I've been quiet on all of this for some time now. Digesting day by day. Realizing this is for real. Regardless of the theories, conspiracy, agendas and any other possible thought process on the circumstances, this situation, this commonality we all now find ourselves in and yet out of our control. This is real. This is our "new normal."
Yes, of course my upcoming shows are cancelled. Indefinitely. What does that mean? I have no idea. I'm so confused. Yet clearer than ever as to what's important. For my family. For myself. What's confusing is how, how in the hell can I pull this off? It's ALWAYS been hustle day in day out. ALWAYS. I guess it's also always been there if you work hard enough. If you swallow your pride and make it happen. It's always been available to those of us who respect the art of making it happen. Living show to show. Supporting a family and in my case a rather large family. Is it absolutely crazy to live like that? Do you have to "sell your soul" for the best gigs on the circuit? Do you have to miss your kids birthdays, anniversaries, funerals, weddings and every other imaginable important occasion and significant moment that most people wouldn't miss for the world? Must you sacrifice relationships and even risk being abandoned by almost every single person you let in close, regardless of the nature of why? Do you know every single time you stand in front of a microphone that everyone else is making money off of you whilst you struggle to make it through your 3rd 60 minute set of the night, of 6 nights in a row? Do you realize that almost your entire financial resources will always be a choice of Peter & Paul? Do you know that absolutely every single thing you create will be judged with or without your consent? And do you choose to do it every night smiling and giving everything you've got TIL there is literally nothing left relishing the absolute knowing that it was honestly your best, every time. YES. YES. YES. 1000 times YES.
See… the thing is I've never been an "online" thing. If you will. Yes. I am sincerely grateful for the few thousands of you that do follow me online, literally all over the world. So damn grateful. The online world of existence for me, for my music is recent tho. I love it. So much. That said it didn't really start for me here. Most clubs I play I've played for years. Literally 20+ years. What comes with that is forming relationships that progress year after year. Meeting locals. Meeting owners. Meeting fans! So much comes from that. In fact I built my entire career on the back of my live show. That's all there was when I started. Online was not even a thought. Something clicked tho. Even if it wasn't a mouse. Lol see what I did there? (Ok Jesse enough of the dad jokes) I made it a mission to make performing live the best possible outcome I could. Which to be honest early on lol it was not that good. If you know me, you know I've never wavered. Never. I walk on stage and play every single show as if it were my last. Believe me, ive been on stage many times even recently feeling like it would be my last. Maybe I'll write on that later. I've just never been able to not pull out all the stops. I don't care if literally the only people in the room are the staff (let's be honest with each other without the staff at these clubs we are nothing) I will still rip every string off of my guitar and give them something to remember. Why? Cause that's who I am. I want anyone in the room to walk away from my show whether it's the regular 200/300 ppl a night or an off night of 10. I want them walking away saying "What the hell was that. How is that even a thing?? DID YOU SEE THAT!?!? Because if everything else in my world is on the line for that, then I better make it count on a next level kinda way. EVERY TIME. I'll honestly say it's worked. It's amazing to see what level people are willing connect on when it comes to live music.
Over the years I've shared the stage with some of the best friends and family a guy could ever imagine. Unbelievable to try and even recollect how many amazing times on stage I've been blessed with. I want that to be clear. I've always respected and looked up to every person that joins me on stage. In one form or another (lol most of the time I express this too much as I'm a very heart on my sleeve person) and if I've never said that to the many of you, then I say it now. Thank you. You've all helped shape me in an extraordinary way. I'm so absolutely grateful for each of you. Thank you.
So what next? Well… all of our kids are off school, myself with a pre existing heart condition, my step son with asthma are at an extremely high risk when getting sick. My fiancé works on the frontline at an emergency women's shelter and some of our kiddos are them cray cray teenagers that think they know everything (lol sorry buds) so there's that…
I'm very thankful that our Canadian government is rolling out help to those who do and don't qualify. That is some serious financial aid. Is it perfect? Probably not. Not even close. But it's a start. A huge start. I'm saying this knowing I don't qualify regardless. It does fill my heart with some positivity that our government is actually doing "something." The big six are deferring mortgage payments which is bloody amazing. I'm a renter tho lol. I don't know if my landlord will pass it on or not, he is a very nice guy and has thus far shown nothing but genuine intent. Grocery stores are banding together to maintain supply and fair prices for all of us. This is beautiful. Our chief medical staff and all leaders seem to be actually working together. Also beautiful.
How do I navigate this then? I just don't know. My mental health has always been a rough ride, anxiety, depression, loneliness and weight. Surprising right? I'm the calm guy. The nice guy. Polite guy. Well mannered caring attentive loving do anything for my circle guy. But yes up top it's not always easy to hold it together. I get by every day because of my fiancé, our kiddos, and the rest of my circle. I should point out that music is the epicentre of all of it tho. ALL OF IT.
So… I'll do this. I'll create. I'll love. I'll give love. I'll choose positivity (without losing sight of how important this situation is). I'll cook. Lord will I ever cook (keep an eye out for that). I'll play vids with my kids. I'll read. I'll write. I'll plan. I'll laugh. I'll just continue to be me. I'll help wherever I can. I'll hope and pray that I can turn a fraction of my live show energy into something you guys want online. In whatever form I can. I promise I'll try my best. I don't know what it looks like yet. I'm not sure if it's Facebook Live or IG or TikTok I just don't know yet. I promise it will be something. I won't stop giving my everything. That I'm sure of.
I want to say there are so many people that I consider family whom are absolutely going to be devastated by this crisis. It's unbelievably sad on so many complex levels. So so so many affected. From clubs to staff to owners to patrons to bands and comedians, agents, managers, and so many more. I'm so sorry we all have to go through this. My thoughts are with you all. Please, if you've made it this far through the read, you know who you all are, reach out to me. If you need to chat, vent, joke or cry. Please reach out. I'll do my best to be available. I am thankful and grateful for you all. So very much.
It's ok if you didn't make it to the end, lol if you know me you know I'll talk forever. I don't honestly know how I'll hassle this time to get my family through. I'll need help. Somehow. From somewhere. Groceries etc. That part is true. I can admit that. I'm gonna leave my email address here with ZERO EXPECTATIONS from anyone to send anything. That said if you find it in your heart that you may be able to send well wishes, monies, jokes, recipes or any other possible positivity in this dark time, myself and my family thanks you. From the bottom of our hearts. Anyone who does send monies will receive exclusive content. Created specifically for said sender. My email is:
Thank you. I know I'm not the only one in this position. I understand this. Please only send monies if it is not leaving you and or your loved ones without.
I'm excited to make a bigger splash online. Below is a link to my music, at the very least it would mean the world to me if you had some spare time for a listen and a follow.
Spotify:
https://open.spotify.com/artist/1qpilwOAm1tJ35Ia27tmvD…
Lastly I'll leave you with this.
Peace & Love. That's what we need right now. With purpose. On purpose.
The Red Deer Arts Council is sharing its current exhibition online!
Smiles Thru Lindsey reaching out with a new video message and urging Albertans to look out for each other at this challenging time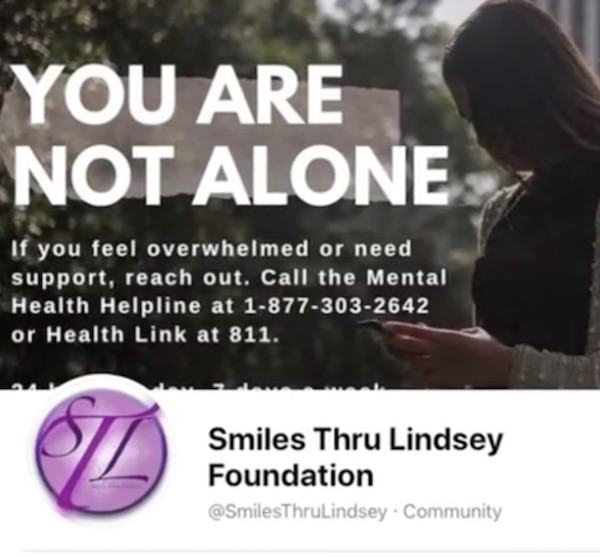 The holiday season is well behind us, we're heading into the coldest part of the winter, and although the days are starting to grow longer there's still a definite lack of daylight in our lives.  The winter blues are a real thing and this year we have COVID, a whole new serious problem to add to our mental health issues.
COVID is also the reason the Smiles Thru Lindsey team has not been able do public events for many months.  Unable to reach out physically through school visits and fund raisers, Smiles Thru Lindsey is reminding Central Albertans to check in on each other.  Also, please follow the Smiles Thru Lindsey Facebook page .  They'll lead you to the resources you or your loved ones need right away.
Meet Lindsey and the Smiles Thru Lindsey team in this powerful video.  …And remember to check in on the people in your life.
If you'd like to help Smiles Thru Lindsey with a donation please click here.
Hope, Faith and Love:  the Music Ministry of Gerard Renaud
"I feel more alive today in God than I did 20 years ago," said Gerard Renaud in the Red Deer Sacred Heart sanctuary.
The musician and worship leader had been asked by Shalom World, an international Catholic Ministry network with programs ranging from daily mass to talk shows, to provide worship music and meditations in 2019 but God had other plans.
"Shalom had come to Red Deer and put on a weekend at Sacred Heart Catholic Church and I had attended as I had never been to one before," said Renaud.  "They needed a guitarist, so I helped out and tailored my song choice to the theme of the weekend and they liked that.  Many of the international leaders were here and they invited me to be part of their Dallas event.  "
Renaud recalled that God had other plans as there were glitches in registration, so the Dallas trip was cancelled. Instead, he went to Vancouver to visit family and while he was there, he was part of 4 events with healings, music ministry and more members of Shalom management met with him!
Fast forward one year.
Early this Fall, Shalom came calling, this time they asked for two short devotions for Rejoice, one of which has already been posted (The Great Commission) and a second on Advent (Due December 18).
Communicating the grace and love of God has always been foremost in Renaud's' life.
"When I was a young man my family lived in Maple Ridge, BC, and I learned to play the guitar when I was nine years old on a 1965 Fender," remembered Renaud.  "My dad taught me 3 chords  in 1974. I credit God with giving me the talent to lean how to play and three months later, my family was the choir at St. Pats and we changed the music style to be more Avant Garde and by the time we changed churches 4 years later, church attendance was up even at the early masses."
By 1977 his family was playing up to 140 times a year in prisons, churches, and seniors' homes.
"Wherever we were wanted, we played," he said.  "The most memorable show we ever did was in 1977 at Alouette which was a medium security prison in Maple Ridge.  There were close to 200 inmates and we played during a prayer service and afterwards, we put on our regular show.  We played all kinds of music, There were not many at the service, but when we started to sing our standard set everyone left, and we were wondering what happened.  Not long later, we packed the chapel, and every wall was full!"
He noted that as a young boy of 12 he was singing 'Wasted Days and Wasted Nights,' and laughed about it.  "What does a 12-year old boy know about wasted days?  But, while we entertained our audiences, we ended up with an acapella Amazing Grace that had people in tears seeking the forgiveness of God."
Experiences like that shaped his family's music and ministry.
His spiritual journey is not restricted to music but also includes counseling and leading healing masses world-wide, a ministry that Sacred Heart has embraced for close to 3 years.
"When we had our first healing Mass in Red Deer more than 200 people came up for prayer," he remembered smiling.  "Father Tom, priest at the time, called him over and asked him a simple question, 'Where did these people come from?' I told Fr. Tom that if we hold one, they will come and they did."
Looking over the sanctuary, he continued to speak.
"But you have to remember that the Holy Spirit only moves like that after great prayer and humility, and we had spent 6 months praying every week for that," he said.  "All I did was to be obedient and do my part.  When I ministered in India, the same thing happened.  Over a couple of months, I led worship and prayed for thousands of people, some of whom I keep in contact with!  God is amazing."
When Shalom came calling, Renaud knew he had to let God speak.
The Great Commission | Gerard Renaud (shalomworld.org)
"My heart is evangelism, and I knew I had to challenge my audience with both a strong message and a powerful song so I chose 'What will you do with the time you have left,'" he said.  "We filmed it at Sacred Heart and after their editing, it debuted in early December."
He was not prepared for the impact his segment would have.
"One of the people of Shalom contacted me and told me that it had been posted in 4 countries and they had been receiving comments from Australia, Canada, Europe and the United States," he noted.  "Not only that, but even in this parish, the response from my fellow believers is amazing with people wanting to help.  Our parish priest, Father Jann wants us to produce a series of videos on faith, doctrine, and the gospels.  We are looking into equipment to help us live stream and work on our video ministry, all because of an invitation from Shalom."
Looking up at the cross, Renaud concluded with a simple statement, "If God asks something of you, do not walk away, but be obedient.  The rewards will be worth every sacrifice."
Renaud leads worship at Sacred Heart Catholic Church at the 11 a.m. Sunday Mass.