Springbrook man charged in meth, fentanyl, and cocaine bust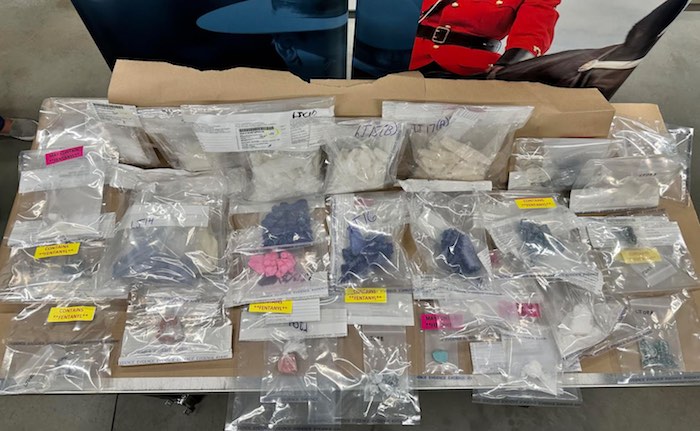 Submitted by Red Deer RCMP
Alberta RCMP charge three men in drug trafficking investigation
A joint operation between the RCMP Federal Serious and Organized Crime (FSOC) unit and Red Deer RCMP's General Investigative Section has resulted in charges laid against three men for drug trafficking in the Calgary and Red Deer area.
As a result of this drug investigation, RCMP seized:
2.1 kg of methamphetamine
1.3 kg of fentanyl
238.2 grams of cocaine
$10,000 cash
Brandon Schnell, 39, a resident of Calgary, has been charged with:
Trafficking in Substance contrary to section 5(1) of the Controlled Drugs and Substances Act (x6);
Possession of Property Obtained by Crime Under $5,000 contrary to section 355(b) of the Criminal Code (x2).
Kevin Gallagher, 38, a resident of Springbrook, was arrested and charged with:
Trafficking in Substance contrary to section 5(1) of the Controlled Drugs and Substances Act (x6);
Possession of Property Obtained by Crime Under $5,000 contrary to section 355(b) of the Criminal Code (x4); and,
Trafficking in Property Obtained by Crime contrary to section 355.2 of the Criminal Code (x2).
Gallagher is scheduled to appear in Red Deer Provincial Court on Dec. 1, 2022.
A 26-year-old resident of Calgary was previously arrested and charged with:
Possession of a Controlled Substance for the Purpose Trafficking contrary to section 5(1) of theControlled Drugs and Substances Act (x3); and,
Possession of Proceeds of Crime Over $5,000 contrary to section 355(a) of the Criminal Code.
That individual appeared in Calgary Provincial Court on Oct. 26, 2022.
"This investigation exemplifies the importance of strong working relationships between the Federal Policing Program and the many RCMP detachments in Alberta. This joint operation disrupted a drug trafficking operation and targeted individuals that would have caused greater harm to our communities."
– S/Sgt. Kent Dahl, RCMP Federal Serious and Organized Crime
"Through excellent investigational work and effective interagency collaboration, this drug trafficking network was disrupted and dangerous drugs were prevented from entering a number of Alberta communities. We are very proud of the work of both our GIS team and of those in FSOC."
– Insp. Heidi Ravenhill, Red Deer RCMP
Regulator gives Imperial weeks to plan fix for months-old oilsands tailings leak
Alberta's energy regulator has given Imperial Oil until the end of the month to figure out a way to fix ongoing seepage at a tailings pond at its Kearl oilsands mine.
The Alberta Energy Regulator says a pond on the site north of Fort McMurray, Alta., has been seeping since May, releasing thousands of cubic metres of wastewater that contains toxins such as arsenic.
The seepage has been recorded both on- and off-site in areas near the tributaries of area rivers.
The regulator says there has also been overflow of tailings water from one of the system's holding ponds.
It says there have been no wildlife or human impacts from the releases.
Imperial says it is working with the regulator to try and resolve the problem.
This report by The Canadian Press was first published Feb. 8, 2023.
This is a corrected story; An earlier version said the seepage was considered to have got into tributaries to area rivers.
Warren Foegele scores twice, Oilers beat Red Wings 5-2
By Larry Lage in Detroit
DETROIT (AP) — Connor McDavid extended his point streak to 13 games and Warren Foegele scored twice in the second period, helping the Edmonton Oilers beat the Detroit Red Wings 5-2 on Tuesday night.
Foegele, a fourth-round winger, had his first two-goal game of the season one game after he was a healthy scratch.
"It's one of the best games I've seen from him, and he should feel real good about himself," Oilers coach Jay Woodcroft said. "There's nobody more happy for him than his teammates and his coaching staff."
Fourth-line center Ryan McLeod and Foegele had goals 36 seconds apart early in the second and Foegele scored again midway through the period to give the Oilers a 3-1 lead. Third-line center Ryan Nugent-Hopkins restored their two-goal lead late in the third period.
"We got some contributions from our entire lineup, which is great," said Edmonton's Evander Kane, who had an empty net goal. "We're going to need that as we go down the stretch here and obviously in the playoffs. That type of scoring wins or loses you series."
Edmonton's Jack Campbell stopped 30 shots, including some key ones in the third to keep a one-goal lead.
"They were big saves, but I would say Jack expects to make those days and we expect those saves," Woodcroft said. "He's starting to build a little personal momentum for himself."
The Oilers maintained the momentum they had going into the All-Star break with their eighth win in nine games.
"The boys have been playing great leading up to the break and definitely wanted to continue where we left off," Campbell said. "Great way to start the road trip and get all the juices flowing again."
Ville Husso made 22 saves for the Red Wings, who had won two of their previous three games.
"There are a lot of positives to take out of this game despite the score, but we just didn't finish," Detroit coach Derek Lalonde said.
Detroit's Tyler Bertuzzi broke a scoreless tie midway through the first period and Joe Veleno scored with 9 seconds left in the second to pull the home team within a goal.
Edmonton, the NHL's highest-scoring team and best on the power play, scored with an extra skater when Nugent-Hopkins had a goal with 4:22 left in the third.
"Their power play is on pace to be the best in the history of the game," Lalonde said. "We gave them a fourth one and it killed us."
The game had plenty of after-whistle scrums, leading to a parade into the penalty box with several penalties in the third period.
"It's today's NHL. A lot of guys think they can get in there, and the referees bail them out a lot," Kane said. "It was a bit of a chippy game, and it started in the second period. We got some guys on our team that don't mind answering the bell."
Red Wings captain Dylan Larkin said he and his teammates let the emotions get the best of them when a game-tying goal was needed.
"That's something we need to learn from," Larkin said.
NOTES: McDavid has nine goals and 12 assists during his 13-game point streak, giving him an NHL-high 41 goals and 93 points. … Bertuzzi, who has been limited to 18 games by injuries, scored his second goal of the season.
UP NEXT
Oilers: Play at Philadelphia on Thursday.
Red Wings: Host the Calgary Flames on Thursday.
___
AP NHL: www.apnews.com/hub/NHL and www.twitter.com/AP_Sports