Split at least $700,000 with Red Deer Hospital Lottery Foundation in Mega Bucks 50 Jackpot – Deadline approaching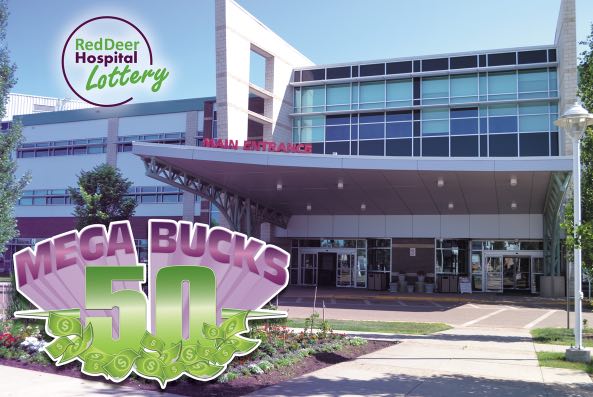 Mega Bucks 50 tickets are selling out and the jackpot is shaping up to be our biggest payout ever! You only have until June 21st for a chance to win!
Win half of an increasing jackpot of up to $1,000,000 with a minimum guaranteed payout of $200,000 cash.
1 for $10
·
10 for $25
25 for $50
· 50 for $75
Win half of the current jackpot of:
And, there's $1 MILLION in other prizes to be won in the main lottery, including our Sorento Custom Dream Home package. It's valued at $880,619.00 and includes furnishings from The Brick and $10,000 Dream Home CASH!
Total value of the Dream Home prize package is $880,619!
CHECK OUT OUR GREAT TICKET PACKAGES
$25 EACH | 5 FOR $75 | 10 FOR $125 | 25 FOR $250
Proceeds from Red Deer Hospital Lottery and Mega Buck 50 support the purchase of electronic fetal monitors for labour and delivery units in the Central Zone.
CALL RED DEER & AREA OR TOLL FREE
403.340.1878 1.877.808.9005
Red Deer Hospital Lottery
PO Box 1098
Red Deer AB T4N 6S5

Lottery Licence 570213 | Mega Bucks 50 Licence 570214
© RED DEER HOSPITAL LOTTERY 2021
Edmonton Elks sign Canadian receivers Smith, Jones to extensions
EDMONTON — The Edmonton Elks signed Canadian receiver Tevaun Smith and Mike Jones to one-year extensions Thursday.
The two were scheduled to become free agents Feb. 8.
Smith, of Toronto, had 27 catches for 324 yards last season, starting 10-of-13 games with Edmonton.
Jones, also of Toronto, registered 29 catches for 394 yards and two touchdowns in 11 games with Edmonton in 2021.
Jones spent his first four CFL seasons with Hamilton and has accumulated 130 receptions for 1,866 yards and six TDs in 69 regular-season contests.
This report by The Canadian Press was first published Jan. 20, 2022.
The Canadian Press
Alberta Premier Jason Kenney, top health officials, to give COVID-19 update
Premier Jason Kenney and top health officials are to provide an update on COVID-19 this afternoon as Alberta faces surging hospitalizations.
Chief medical officer of health, Dr. Deena Hinshaw, Alberta Health Services CEO Dr. Verna Yiu, and Health Minister Jason Copping are expected to join Kenney.
A surging number of COVID-19 infections, driven by the Omicron variant, is putting increasing strain on the province's already overwhelmed health-care system.
There were more than 1,100 people hospitalized for the virus in Alberta Wednesday, with expectations that admissions will soon exceed record highs seen during the previous wave.
Dr. Shazma Mithani, an emergency room physician in Edmonton, says wait times are longer than she has seen in at least five years.
Mithani says she is worried, as this wave continues to surge, that people needing treatment for COVID-19 and other medical emergencies could have worse outcomes because of stretched wait times.
This report by The Canadian Press was first published Jan. 20, 2022.
The Canadian Press