Smokey Air, Mountie Injured In Cruiser Ramming & 4H Dairy Show
2:49 pm – Alberta Health Services has issued advisories for all zones saying that air quality is expected to vary for the coming days and potentially, weeks due to the B.C. Wildfires. Read More.
2:37 pm – Red Deer RCMP are searching for a suspect who rammed a police car while driving a stolen truck early this morning, resulting in minor injuries to a Red Deer police officer. Read More.
For more local news, click here!
10:21 am – Grants have been awarded to 16 organizations across Alberta to support voluntary restorative justice programs, including at the John Howard Society of Red Deer, the Innisfail Restorative Justice Society and Three Hills and Area Restorative Justice Society. Details Here.
9:50 am – Red Deer County will begin accepting Business License applications on July 17, 2017. This means all existing and new businesses are afforded the opportunity to register their business prior to December 31, 2017, at no cost. Read More.
9:29 am – A 17 year old Maskwacis youth is facing charges after a vehicle owner was thrown from a moving truck bed while trying to stop it from being stolen in Wetaskiwin on Saturday. Read More.
For more local news, click here!
9:15 am – Road and trail closures to make note of in the City of Red Deer today. Details Here.
9:08 am – The Provincial 4H Dairy Show is getting underway at Red Deer's Westerner Park today. It runs from July 17th – 19th. Read More.
9:00 am – Meteorologists with Environment Canada have issued a special air quality statement for all of southern Alberta, including the Red Deer region. Smoke from forest fires in B.C. and southern Alberta is causing poor air quality and reducing visibility. Read More.
Afghan rights leader heartbroken after year of Taliban rule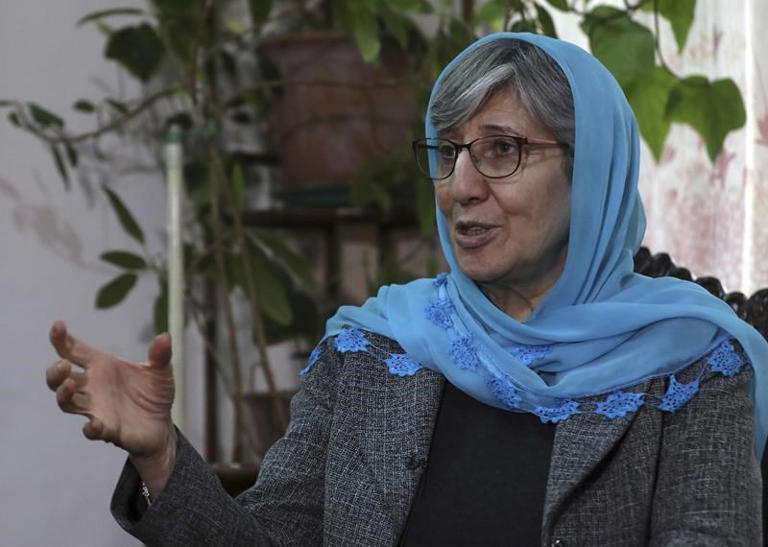 UNITED NATIONS (AP) — A year after the Taliban takeover of Afghanistan, prominent Afghan rights activist Sima Samar is still heartbroken over what happened to her country.
Samar, a former minister of women's affairs and the first chair of the Afghanistan Independent Human Rights Commission, left Kabul in July 2021 for the United States on her first trip after the COVID-19 pandemic, never expecting Afghan President Ashraf Ghani to flee the country and the Taliban to take power for the second time soon after on Aug. 15.
"I think it's a sad anniversary for the majority of people of my country," Samar said, particularly for the women "who don't have enough food, who do not know what is the tomorrow for them."
A visiting scholar at the Carr Center for Human Rights at the Kennedy School at Harvard, she has written the first draft of an autobiography and is working on a policy paper on customary law relating to Afghan women. She is also trying to get a Green Card, but she said, "I honestly cannot orient myself, where I am, and what I'm doing."
She wishes she could go home — but she can't.
In an interview Friday with The Associated Press, she recalled a Taliban news conference a few days after they took power when they said if people apologized for past actions they would be forgiven.
"And I said, I should be apologizing because I started schools for the people?" said Samar, a member of Afghanistan's long persecuted Hazara minority. "I should apologize because I started hospitals and clinics in Afghanistan? I should apologize because I tried to stop torture of the Taliban? I should apologize to advocate against the death penalty, including (for) the Taliban leadership?"
"All my life I fought for life as a doctor," she said. "So I cannot change and support the death penalty. I shouldn't apologize for those principles of human rights and be punished."
Samar became an activist as a 23-year-old medical student with an infant son. In 1984, the then-communist government arrested her activist husband, and she never saw him again. She fled to Pakistan with her young son and worked as a doctor for Afghan refugees and started several clinics to care for Afghan women and girls.
Samar remembered the Taliban's previous rule in the late 1990s, when they largely confined women to their homes, banned television and music, and held public executions. A U.S.-led invasion drove the Taliban from power months after the 9/11 attacks in 2001, which al-Qaida orchestrated from Afghanistan while being sheltered by the Taliban.
After the Taliban's ouster, Samar returned to Afghanistan, moving into the top women's rights and human rights positions, and over the next 20 years schools and universities were opened for girls, women entered the workforce and politics and became judges.
But Samar said in an AP interview in April 2021 — four months before the Taliban's second takeover of the country — that the gains were fragile and human rights activists had many enemies in Afghanistan, from militants and warlords to those who wanted to stifle criticism or challenge their power.
Samar said the Afghan government and leadership, especially Ghani, were mainly responsible for the Taliban sweeping into Kabul and taking power. But she also put blame on Afghans "because we were very divided."
In every speech and interview she gave nationally and internationally over the years, she said Afghans had to be united and inclusive, and "we have to have the people's support. Otherwise, we will lose."
As chair of the Human Rights Commission, she said she repeatedly faced criticism that she was trying to impose Western values on Afghanistan.
"And I kept saying, human rights is not Western values. As a human being, everyone needs to have a shelter … access to education and health services, to security," she said.
Since their takeover, the Taliban have limited girls' public education to just six years, restricted women's work, encouraged them to stay at home, and issued dress codes requiring them to cover their faces.
Samar urged international pressure not only to allow all girls to attend secondary school and university, but to ensure all human rights which are interlinked. And she stressed the importance of education for young boys, who without any schooling, job or skill could be at risk to get involved in opium production, weapons smuggling or in violence.
She also urged the international community to continue humanitarian programs which are critical to save lives, but said they should focus on food-for-work or cash-for-work to end peoples' total dependency and give them "self-confidence and dignity."
Samar said Afghan society has changed over the past two decades, with more access to technology, rising education levels among the young and some experience with elections, t even if they weren't free and fair.
She said such achievements leave the possibility of positive change in the future. "Those are the issues that they (the Taliban) cannot control," she said. "They would like to, but they cannot do it."
Samar said she hoped for eventual accountability and justice for war crimes and crimes against humanity. "Otherwise, we feel the culture of impunity everywhere, everywhere — and the invasion of Russia to Ukraine is a repetition of Afghanistan's case," she said.
Her hope for Afghan women is that they can "live with dignity rather than being a slave of people."
Edith M. Lederer, The Associated Press
Ship carrying grain for hungry Ethiopia leaves Ukraine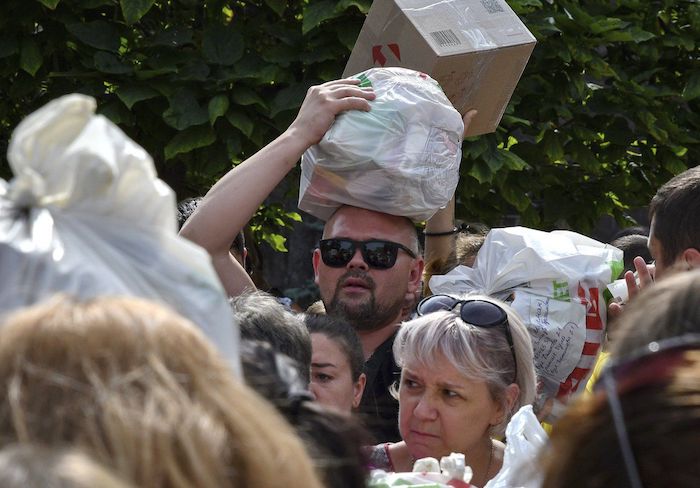 By Derek Gatopoulous in Kyiv
KYIV, Ukraine (AP) — A United Nations-chartered ship loaded with 23,000 metric tons of Ukrainian grain destined for Ethiopia set sail Sunday from a Black Sea port, the first shipment of its kind in a program to assist countries facing famine.
The Liberia-flagged Brave Commander departed from the Ukrainian port of Yuzhne, east of Odesa, according to regional governor Maksym Marchenko. It plans to sail to Djibouti, where the grain will be unloaded and transferred to Ethiopia under the World Food Program initiative.
Ukraine and Russia reached a deal with Turkey on July 22 to restart Black Sea grain deliveries, addressing the major export disruption that has occurred since Russia invaded Ukraine in February.
Ethiopia is one of five countries that the UN considers at risk of starvation.
"The capacity is there. The grain is there. The demand is there across the world and in particular, these countries," WFP Ukraine coordinator Denise Brown told The Associated Press. "So if the stars are aligned, we are very, very hopeful that all the actors around this agreement will come together on what is really an issue for humanity. So today was very positive."
On the front line, Russian forces on Sunday fired rockets on the Mykolaiv region in southern Ukraine, killing at least one person. That region is just north of the Russian-occupied city of Kherson, which Ukrainian forces have vowed to retake. The Ukrainian emergency service said one person was killed in shelling early Sunday settlement of Bereznehuvate in Mykolaiv.
A Russian diplomat, meanwhile, called on Ukraine to offer security assurances so that international inspectors could visit a nuclear power station that has come under fire.
As fighting steps up in southern Ukraine as Russia's war closes in on six months, concern has grown sharply about the Zaporizhzhia nuclear power plant, which is held by Russian forces and has been hit by sporadic shelling. Both Ukraine and Russia blame each other for the shelling, which officials say has damaged monitoring equipment and could lead to a nuclear catastrophe.
The Zaporizhzhia facility is Europe's largest nuclear power plant.
Russia's envoy to international organizations based in Vienna, Mikhail Ulyanov, called on Ukraine to stop attacking the plant in order to allow an inspection mission from the International Atomic Energy Agency.
"It is important that the Ukrainians stop their shelling of the station and provide security guarantees to members of the mission. An international team cannot be sent to work under continuous artillery shelling," he was quoted as saying Sunday by Russian state news agency Tass.
Ukraine says Russia is shelling nearby regions from the plant and storing weapons there.
___
Follow the AP's coverage of the war at https://apnews.com/hub/russia-ukraine