UPDATE – Penhold – School bus with students onboard collides with armed robbery suspect
Update: Jan 23. Correction: The incident of shots fired on January 16 occurred in Delburne, in the Three Hills detachment area, not in Three Hills itself.
Jan. 22 Update #2
RCMP seeking information on activities of stolen Fountain Tire Truck
Blackfalds, Alta. – On January 15, 2019 the Fountain Tire in Drumheller was broken into, and a truck was stolen. On January 16, 2019 the truck was associated to a break and enter in Bashaw and an incident of shots fired in Three Hills. Today, the Blackfalds RCMP recovered that truck following a collision and car-jacking, and are looking for any possible information as to the timeline of activities of that truck between January 16 and today.
Attached are photos of the stolen truck. The public is asked to contact the Blackfalds RCMP if anyone saw that truck throughout the last week.
Note: The photos being provided of the truck were taken today following the collision it was involved in. The truck did not have the front end damage prior to today.

16Original Story from earlier today 11:37 am
Blackfalds RCMP on scene of bus collision and car jacking
The Blackfalds RCMP are currently investigating both a collision and a carjacking that occurred this morning.
At 8:12 a.m. the RCMP responded to a 911 call about the carjacking which had just occurred. A male driving a truck collided with a school bus on Township Road 372 and Range Road 281. When a passerby stopped to offer assistance, the male suspect pointed a handgun and demanded her vehicle. He fled in the victim's Mitsubishi Outlander, heading westbound on Township Road 372.
The school bus was connected to the Chinook's Edge School Division, servicing Penhold schools. The bus had seven children on board, all of whom were assessed and cleared by on scene EMT. Two children had minor injuries which were treated, and the children released.
RCMP are looking for a silver 2012 Mitsubishi Outlander, with Alberta license plate BNR6558.
The public is not to approach this vehicle, or the male driving the vehicle. He is considered to be armed and dangerous.
The truck which was involved in the initial collision was earlier reported stolen and involved in previous incidents. The RCMP had been working to locate the truck. (see attached background).
The male suspect is described as:
– Caucasian
– 5'11" tall
– Dark wavy hair
– Black skull bandana pulled up covering the lower half of his face
– Dark jacket with the hood covering his head
– Dark cargo pants
BACKGROUND From Jan. 16, 2019
Drumheller RCMP apprehend wanted male and seize stolen vehicle – Seeking second male and stolen Fountain Tire truck
Drumheller RCMP received a report at 7:30 am January 15 that a burgundy Ford F350 truck smashed into a bay door at Fountain Tire and a logo'd 'Fountain Tire' GMC truck was stolen. Later in the evening, the burgundy Ford F350 was involved in rural fuel thefts which culminated in a male being apprehended at a farm and the truck seized.
The male was arrested and taken to hospital. Police investigation is ongoing. The suspect cannot be named pending the swearing of an information.
The stolen Fountain Tire truck has since been linked to a rash of offences in the Three Hills to Bashaw area and police are looking for the public's assistance in locating the truck and suspect.
If located, DO NOT APPROACH. RCMP believe the suspect is armed and dangerous. Please contact 911 or your local police. If you wish to remain anonymous, you can contact Crime Stoppers at 1-800-222-8477 (TIPS), online at www.P3Tips.com or by using the "P3 Tips" app available through the Apple App or Google Play Store."
Blackfalds Community Plaza To Be Named Border Paving Plaza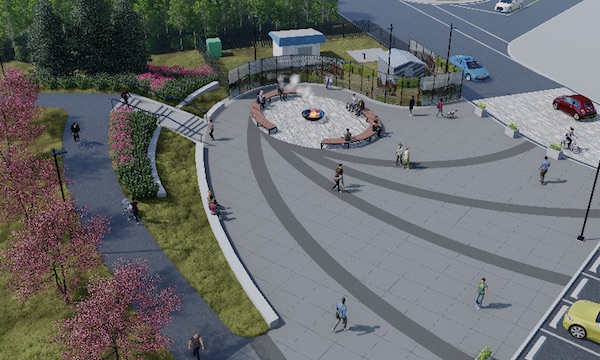 News Release from the Town of Blackfalds
The Town of Blackfalds is proud to announce that the community plaza set to open in the fall of 2022 will be officially named the Border Paving Plaza! Council formally approved the naming sponsorship at the March 22 Regular Council meeting.
The Border Paving Plaza will be a four-season gathering place that will provide residents and visitors with an aesthetically pleasing open area in which they can participate in markets, festivals, performances, and other community events. The Plaza will be east of the Eagle Builders Centre and south of the existing parking lot.
"Over the past number of years, outdoor gatherings and events have been steadily growing in participation and popularity in Blackfalds, so it's very exciting that we are moving forward with the Border Paving Plaza project that will serve to be a focal point for many of these exciting events," shared Mayor Jamie Hoover. "Along with completing the Eagle Builder Centre and the road realignment, this outdoor plaza will quickly become a central point of pride in our always improving community."
The 24,000 square foot space will feature a decorative stained concrete deck, stairs and ramps, landscape features, and a natural gas fire pit.
Border Paving Plaza's budget is $668,000, of which 75 per cent was approved through the Canada Community Revitalization Fund. The remaining funds will be alleviated from sponsorships, including Border Paving Ltd, DB Bobcat Services, STEP Energy, Stantec, and ATCO gas.
Amanda Stasiuk, Border Paving's Community Outreach Coordinator, said that the company is looking forward to the development and the continued partnership with the Town.
"Once again, we are very excited to be a part of Blackfalds' commitment to public gatherings and community-minded development. Donations like this are part of our long-standing commitment to the communities we are part of."
Construction of the Border Paving Plaza will begin this spring, in conjunction with the Gregg Street Realignment project.
Train Derailment south of Lacombe: 1 rail car leaked liquid asphalt
News Release from Blackfalds RCMP
Blackfalds RCMP advise of train derailment – Update
Blackfalds, Alta. – On July 2, 2021, at 8:15 p.m., Blackfalds RCMP received a 911 call of a train derailment along Highway 2A in Lacombe County.
Initial reports suggested a number of oil cars were leaking oil and possibly on fire. A nearby residence was evacuated as a precaution, and multiple emergency crews responded.
Emergency crews were able to determine that 23 train cars had derailed, four of which were carrying Tar Oil (liquid asphalt). Upon further inspection, only one of the cars was found to have a leak while the remaining were intact. No fires had started.
No injuries were reported and those evacuated were able to return home.
CP Rail and Lacombe County Emergency Management remain on scene and Highway 2A is expected to be blocked to traffic for several more hours while crews investigate and cleanup.
CP Rail Police has taken over this investigation.