Red Deer's Parker Thompson looking for strong finish to the Indy Pro 2000 season
From Parker Thompson Racing
With two events remaining in the 2019 Indy Pro 2000 by Cooper Tires Championship, Parker Thompson is focused on making a big impact. The Road to Indy veteran started the season in the best possible way, winning the opening two races with rookie team Abel Motorsports. Thompson has since become familiar with adversity. With Abel Motorsports, he has placed on the podium in six of twelve races, but struggles in other races put the team on its back foot entering the Oval Challenge of St. Louis this weekend. A strong finish was critical to maintaining Thompson's contention for the overall championship.
After a near miss in qualifying, the young Canadian started the race from ninth position. He would work his way up to sixth place before the checkered flag fell, but failed to gain any ground on other top Championship contenders. With four races remaining, and a 64-point deficit to the leader, Lindh, Thompson knows that there is little room for error.
Parker Thompson
"On these oval tracks where there is a short 2-lap qualifying stint, we've got a small window to earn a good starting position. Unfortunately, I had a near miss with the wall on one of my laps that cost us a lot of time. After starting near the back of the field, we are satisfied to at least move up to sixth. That said, with two events remaining, you can bet that we are looking for a strong finish to the season. Our team knows that we can run at the front of the field on the road courses. We are not going to let the season end without a big fight."
Results
Cooper Tires Indy Pro 2000 Oval Challenge of St. Louis – Rounds 13
Qualifying – Official (PDF)
Race – Official (PDF)
Overall Standings (PDF)
Next Events
August 30-31 – IP2000 Round 13 & 14 – Portland International Raceway, OR
September 20-22 – IP2000 Round 15 & 16 – WeatherTech Laguna Seca, CA
September 27-29 – GT3CAN Round 9 & 10 – Circuit Mont-Tremblant, QC
GRAND OPENING & FOOD DRIVE SUPPORTING RED DEER FOOD BANK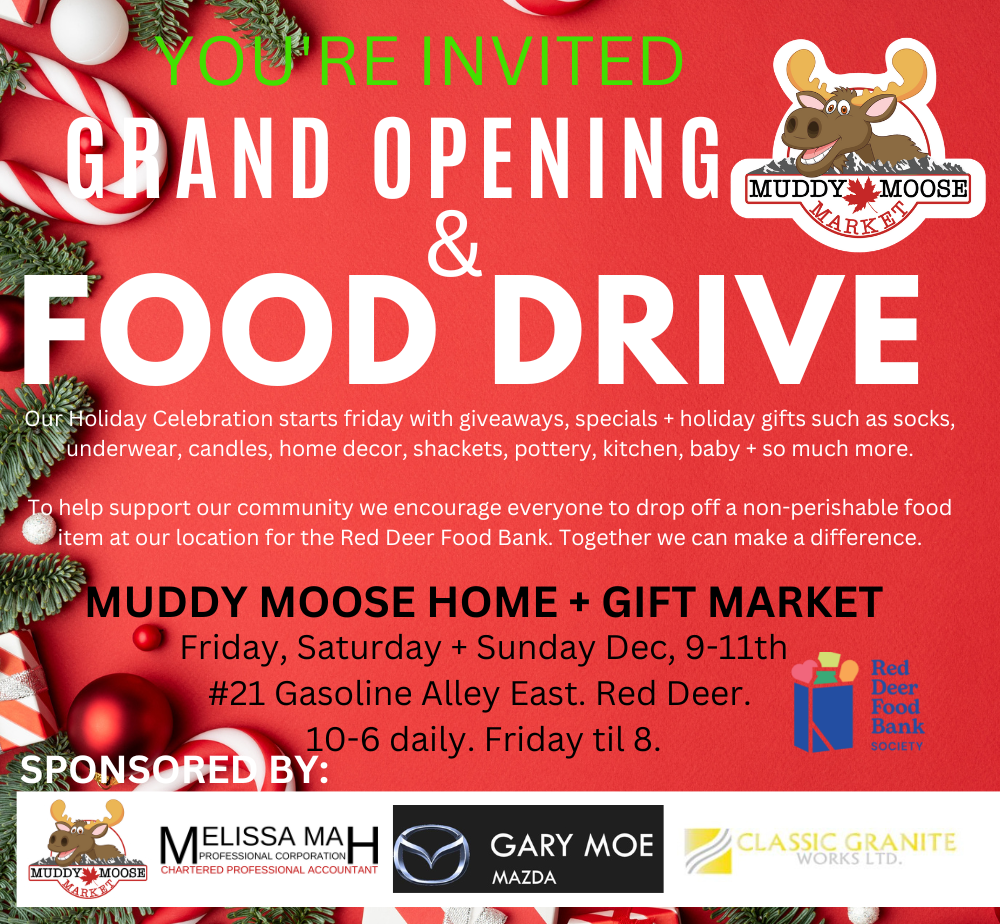 Muddy Moose Market, 21 Gasoline Aly E, Red Deer, AB
We sell fudge to fashion + everything in between, handmade from small businesses from around the world.
Located on the East side of Gasoline Alley (south of Harley Davidson) featuring socks, shackets, pottery, candles, home decor, kitchen accessories, Hush blankets, baby + so much more.
To join in our grand opening celebration, and love of family and friends, we are encouraging everyone in our community to drop off an item for the Red Deer Food Bank. Together we can make a difference this holiday season.
Muddy Moose Home & Gift Market is all about family. Ours. And Yours.
And that means community. We hope you will join us this weekend, even if you drop by just to say hi, bringing a non-perishable food item to help support the Red Deer Food Bank. Together we can make a difference.
Visit us at #21 Gasoline Alley East (just south of Harley Davidson). Open daily 10-6. Thursday & Friday til 8.
UPDATE: Red Deer family found – safe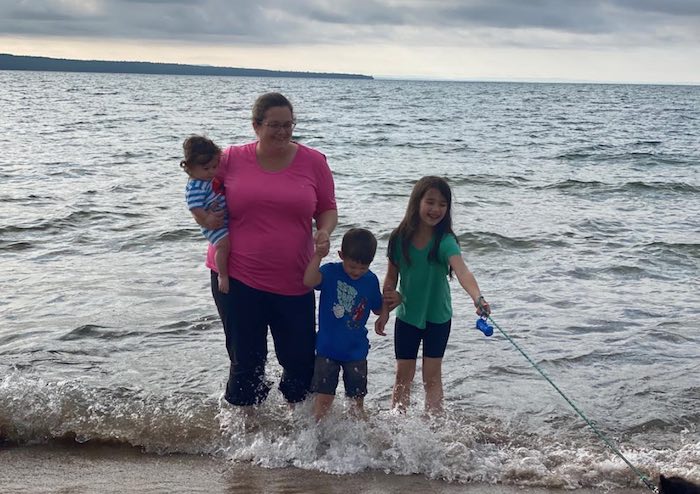 UPDATE!
RCMP are pleased to report that Susan, Deckard, Ryker, Emma, and Charlee have all been located safe. We would like to thank the public and media for their assistance.
Release from Red Deer RCMP
Red Deer RCMP request public assistance to locate missing mother with four children
On Dec. 5, 2022, Red Deer RCMP received a report from a concerned school representative that the whereabouts of a number of students from a family from Red Deer were unknown under concerning circumstances. The children were last seen in school earlier on Dec. 5, 2022.
Red Deer RCMP conducted an investigation and despite all efforts have been unable to locate Susan Lynn French (38) and her four children: Deckard French (11-months-old), Ryker French (3-years-old), Emma French (9-years-old) and Charlee French-Frank (12-years-old). Red Deer RCMP are concerned for their well-being. The family's current whereabouts are unknown.
Susan French is described as:
5'8" tall
240 lbs
Light complexion
Brown hair
Brown eyes
Deckard French (11 months) is described as:
Longer dark brown hair
Hazel eyes
Light complexion
Ryker French (3) is described as:
Short light brown hair
Blue eyes
Light complexion
Emma French (9) is described as:
Long dark brown hair
Brown eyes
Light complexion
Slim build
Charlee French-Frank is described as:
Long brown hair
Brown eyes
Light complexion
It is believed Susan may be driving a White 2014 Nissan Pathfinder bearing Alberta license plate CJS 5362.
Anyone with information concerning Susan or the children's whereabouts is asked to contact the Red Deer RCMP Detachment at 403-406-2200. If you want to remain anonymous, you can contact Crime Stoppers at 1-800-222-8477 (TIPS), online at www.P3Tips.com or by using the "P3 Tips" app available through the Apple App or Google Play Store.