Red Deer RCMP record some unbelievable speeds on city streets!
From an RCMP press release…
Red Deer RCMP ticket 406 speeders in April
Throughout April, the Red Deer RCMP traffic unit and Community Peace Officers (CPOs) issued 406 speeding tickets in Red Deer as part of a larger provincial traffic focus on speed for the month, including eight tickets to drivers going over 100 km/ hour within the city. Speeding tickets were issued by police officers and community peace officers on patrol in marked and unmarked vehicles and through hand-held laser campaigns at locations where speeding is frequently an issue.
During a hand held laser speed operation at 19 Street and Irwin Avenue, which is a 70 km/ hour zone, two drivers were clocked at 163 km/ hour and 122 km/ hour. In several campaigns on 67 Street, three drivers were clocked at speeds of 110, 116 and 130 in a 70 km/ hour zone and a fourth driver was caught doing 115 in a 60 zone.
Officers also handed out 55 speeding tickets in playground and school zones during the month.
"There is no justification for driving at twice the posted speed limit – these drivers are putting everyone around them in danger," says Constable Tyler Hagel with the Red Deer RCMP Traffic Unit. "Speeding is a serious safety issue in Red Deer, and the number of tickets issued in April as well as the excessive speeds are proof of that. That's why we continue to operate speed campaigns year round in the city."
The Alberta Office of Traffic Safety cites brain injuries as one of the most common injuries that result from speed-related collisions, and notes that nearly one in four fatal collisions involved one or more drivers travelling at a speed too great for the given conditions.
For the month of May, RCMP and CPOs will also be focusing on motorcycle safety, in keeping with the provincial traffic focus.
Red Deer RCMP remind motorcyclists and other drivers of the importance of sharing the road and driving defensively. It's vital to the safety of riders that they practice defensive driving, and it's equally important that other drivers be aware of motorcyclists and give them the space they need. On a motorcycle, a rider is vulnerable, and we all play a role in motorcycle safety.
Safety tips for motorcycle riders:
Wear a helmet. By wearing an approved motorcycle helmet, you are, according to the Alberta Ministry of Transportation, 37% less likely to sustain a fatal injury in a collision. If your helmet has been damaged, replace it with a new one. Used helmets could be broken in ways that can't always be seen.
Gear up! The right gear will protect you and keep you comfortable while you ride. Along with a helmet, riders should wear shatter-proof eye protection, a durable, bright coloured jacket, long pants, leather footwear that protects the ankles, full fingered, non-slip gloves and all weather proof riding clothes.
Stay bright and in sight! Wearing high visibility safety gear in colours like orange, yellow and white instantly draws other motorists' eyes to you. Remember, motorcycles are smaller than most vehicles. Staying out of blind spots on roadways and in parking lots will help keep other vehicles aware of your presence.
Showing off does not pay off – but driving defensively does. Never underestimate the speed of your motorcycle. Its size makes speed deceptive. Driving defensively means being aware of your surroundings, sharing the road, changing lanes with extreme caution.
Practice makes perfect. Riders should practice on safe roads away from high traffic areas and highways to make sure they are comfortable and confident in their skills on the road.
TC Energy shuts down Keystone pipeline system after leak in Nebraska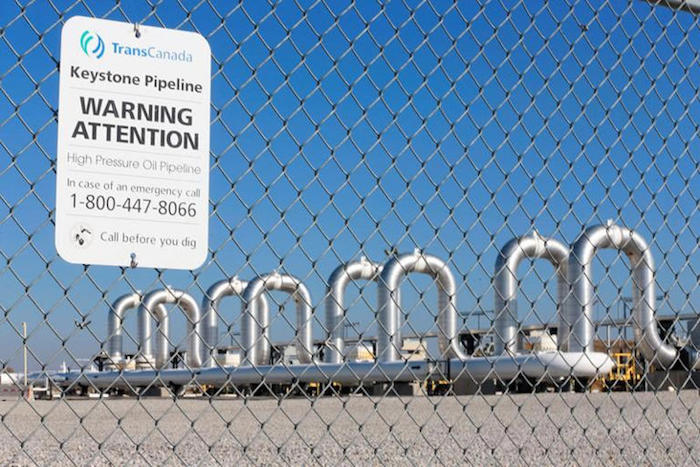 CALGARY — TC Energy Corp. says it has shut down its Keystone pipeline after a leak in Nebraska.
The company says it has mobilized people and equipment in response to a confirmed release of oil into a creek, about 32 kilometres south of Steele City, Neb.
TC Energy says an emergency shutdown and response was initiated Wednesday night after a pressure drop in the system was detected.
It says the affected segment of the pipeline has been isolated and booms have been deployed to prevent the leaked oil from moving downstream.
The Keystone pipeline system stretches 4,324 kilometres and helps move Canadian and U.S. crude oil to markets around North America.
TC Energy says the system remains shutdown as its crews respond and work to contain and recover the oil.
This report by The Canadian Press was first published Dec. 8, 2022.
Companies in this story: (TSX:TRP)
The Canadian Press
Advocate asks AFN chiefs to ensure $40B settlement deal leaves no child behind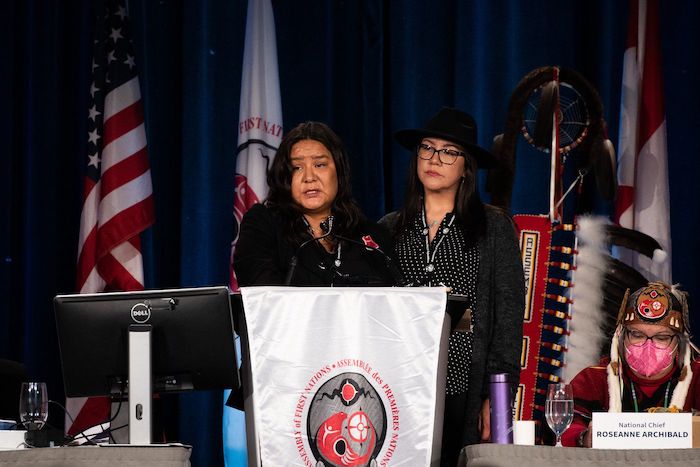 By Stephanie Taylor in Ottawa
A First Nations child welfare advocate on Wednesday implored chiefs to ensure "no child is left behind" in a landmark $40-billion settlement agreement with the federal government.
Cindy Blackstock delivered the message to an Assembly of First Nations gathering in Ottawa, after being invited to take the stage by Cindy Woodhouse, regional chief in Manitoba who helped negotiate the agreement, which had been thrown into question since being rejected by the Canadian Human Rights Tribunal.
The AFN, representing more than 600 First Nations across the country, had asked the tribunal to approve the settlement deal, which would see the government spend $20 billion to compensate families and children for systemic discrimination in the Indigenous child welfare system. It would also spend another $20 billion on making long-term reforms.
Blackstock, the executive director of the First Nations Caring Society who first lodged the complaint at the heart of the issue, raised concerns that the agreement wouldn't provide $40,000 in compensation to all eligible claimants, which is the amount the tribunal ruled they should get.
"We can make sure that in our First Nations canoe of justice, no child has to see their money go away and no child is left behind in justice," she said Wednesday.
"We are capable of that."
Following the tribunal's decision in October, the federal government filed for a judicial review of some parts of its decision.
Endorsing the settlement agreement loomed as one of the biggest items on the assembly's agenda, with chiefs being asked to vote on what the organization should do next.
The chiefs had been preparing to vote on conflicting resolutions, with one asking them to support the final settlement agreement, while another sought to see the organization not appeal the tribunal decision and renegotiate the deal.
But on Wednesday, further talks between both sides took place, assisted by former senator and judge Murray Sinclair, who helped the AFN, federal government and lawyers for two related class-action lawsuits reach the $40-billion agreement in the first place, which was formally announced in January.
Chiefs ultimately voted late Wednesday against re-entering negotiations but to instead support compensation for victims outlined in the agreement and "those already legally entitled to the $40,000 plus interest under the Canadian Human Rights Tribunal compensation orders."
It also included a provision that AFN leaders must regularly return to chiefs to provide it with progress updates and "seek direction" from chiefs on implementing the final agreement.
Many chiefs thanked Blackstock, who was greeted with applause after further agreement was met and said she was honoured to see people come together for children harmed by Ottawa's discrimination.
"We have had too many apologies, we've had too many compensation deals, we've had too many kids hurt. And this has got to be it," she said.
She added more discussion on the long-term reform part of the deal would be presented to chiefs on Thursday.
Earlier in the day, the assembly heard from sisters Melissa Walterson and Karen Osachoff, plaintiffs on the case, about the impact the foster care system had on their lives.
Osachoff said she had been in the child welfare system since she was born and didn't have a chance to grow up with her sister.
"Had it not been for the '60s Scoop and the child welfare (system), her and I would have grown up together."
She said she understands why the tribunal characterizes those like her as "victims," but told chiefs to instead think of them as survivors.
"I am not a victim and our claimants are not victims."
This report by The Canadian Press was first published Dec. 7, 2022.