RED DEER'S OPPORTUNITY FOR A NEW AND BETTER APPROACH FOR HOMELESSNESS AND ADDICTIONS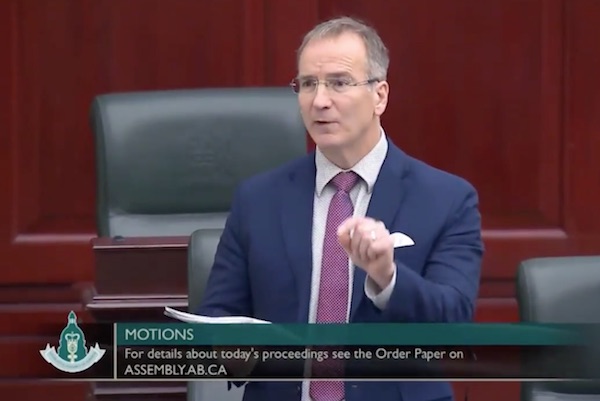 Article submitted by Red Deer South MLA Jason Stephan
Dear Friends,
There is a profound need in our community to have fairness for all – supporting our neighbors suffering under addictions, while respecting businesses and individuals working and families raising children in our City. This is a longer article; the issues at stake deserve nothing less.
A. Addiction Recovery Community
Last month, I joined my friends Minister LaGrange, our Mayor, the Infrastructure Minister and the Associate Minister of Mental Health and Addictions to break ground for an "Addiction Recovery Community" for Red Deer. Ours is the first under construction! This community will be located north of the City, off Highway 2A.
Earlier this year I visited the Thorpe Recovery Centre, west of Lloydminster, which also operates under this model. This is what I observed. No drugs. A place of safety and refuge, where those seeking recovery live for months making positive connections. Men and women from all walks of life supporting and encouraging each other in their individual paths towards recovery.
I attended a meeting with Thorpe residents. There was an honesty and vulnerability in those discussions that was both courageous and inspiring. Taking individual responsibility for one's recovery while seeking to love and support others to do the same is heroic.
Red Deer is a special place; there are many families, churches, and organizations in our community that have desires to love and support our neighbours in their individual paths to recovery. This recovery community will increase opportunities to do so.
Addiction is a challenge of human nature. Success in this complex matter must begin with the end in mind: supporting and loving our neighbours to become free from addictions.
Please consider this question, if someone you loved was suffering under a drug addiction would you take them to a drug consumption site? No! You would love and support them, not in living in their addictions, but becoming free of them. This will become easier with our recovery community. Participants in recovery will experience transformative miracles in their lives, blessing themselves, healing their families and our communities. This is very exciting!
B. Overdose Prevention Site (OPS)
Red Deer did not ask for an OPS; the NDP imposed it on Red Deer, ignoring the concerns of civic leaders, local businesses, and families.
As a private citizen, prior to seeking to serve as an MLA, I attended packed town hall meetings at City Hall. The vast majority of townhall participants did not want an OPS in Red Deer. But this was not an option provided by NDP/AHS to civic leaders – their input was limited to not "if" there was an OPS, but "where".
With input from citizens, City council said the OPS should be at the Hospital. But this choice was rejected on the basis that it was not safe! It appears that the NDP did not have the same concerns for families and businesses elsewhere.
The OPS has now been in our community for years and its impacts are evident for all to see. Let's speak plainly and honesty. The OPS has become an attraction for individuals who are not from Red Deer, to come to our City, to live in drug addictions. Because of this drug consumption site, there are more, not less, suffering under addictions in Red Deer.
There is an exodus of businesses from our downtown. There is too much stealing, too much vandalizing, too much uncertainty for local businesses, their employees, their customers. The City has invested so much of our tax dollars seeking to revitalize our downtown. So much of this effort is being undermined by the OPS. Regardless of good intentions, the truth is that the OPS has facilitated a growing lawlessness, including embedding and emboldening criminal elements, which either abuse the OPS or prey on those living in addictions, some of whom support addiction lifestyles through stealing or robbing businesses and families in our community.
A prioritization on "harm reduction", such as the OPS, has caused great collateral "harm expansion" to businesses and individuals in our community seeking to live their lives, working, and raising their families. One does not have to take a position on the substantive merits of an OPS to reach a good faith conclusion that not every community should be required to have an OPS. Red Deer is not a large city; we are becoming overwhelmed. The published report of the panel conducting the supervised consumption services review, listening to our community businesses and families, conclude that that the overall social and economic impact of Red Deer's OPS is negative.
We have a new, elected city council with different experiences and competencies that can add much value and insight. If this Council wishes to reverse the NDP forcing an OPS on Red Deer, they need to speak unambiguously on this important matter. Such a position supports a substantial majority of individuals, families, and businesses in our community, and I sustain them.
Together we have an opportunity to support a fundamental course correction; focusing on healing and recovering, while providing opportunities for those who want to continue to use OPS services to transition to other communities that wish to continue with these services.
C. Integrated Shelter Service
Budget 2020 announced about $7 million for an integrated shelter service for Red Deer.
A new shelter service is an opportunity for a newer, better culture. Our shelter should be a place of hope where individuals receive support and opportunities to work towards moving out of shelter and towards self-reliance, including, as applicable, with invitations to access our new addiction recovery community. There are individuals working in our existing shelters who are seeking to love and
support their neighbors using shelter services. Let's support their efforts to do even better!
But this is not all, this new shelter needs to be an accountable service, not only to the individuals it serves, but also as a good neighbour to families and businesses in our community. Many families and businesses in our community are very concerned with growing property and persons crimes, needle debris, and shelter camps and garbage in public spaces caused, in many cases, by adult users of current shelter services.
Properly implemented, an integrated shelter service is a great opportunity, to make an imperative course correction, better serving our homeless adult population, while repairing a frayed social fabric and distrust in our community; improperly implemented, this shelter will entrench an unacceptable status quo and exacerbate growing frustration in our community.
Minister LaGrange and I have advocated for our City Council to have input in shelter decisions with significant impacts to a local community. They are choosing the location of the new shelter. I am grateful our Council is doing so – their insights and perspectives as our local leaders should be valued and respected. Nevertheless, the "how" of the shelter, is at least as important as the "where" of
the shelter. These resources provide us with opportunities to improve the "how" of shelter services in our City. Here are some opportunities for consideration:
1. No Shelter Services in Residential Neighborhoods
Mustard Seed is a great organization supported by generous volunteers and employees in our community. Out of its Riverside Meadows location, Mustard Seed provides many services which bless individuals and families in our community. But homeless shelters do not work well in residential neighbourhoods.
There is an opportunity with this Provincial funding to support migrating Mustard Seed's shelter services out of Riverside Meadows to a non-residential location, while continuing to support our Mustard Seed in maintaining its other, non-shelter services in its current location, such as providing lunches to children in schools.
2. Consolidate Homeless Meal Services into One Location
Red Deer has three organizations providing homeless meal services: Mustard Seed, Red Deer Soup Kitchen and Potters Hands. These are great volunteer service organizations. Our community has so many individuals and families with compassion to serve our neighbours. Given our smaller downtown, this Provincial funding provides an opportunity to consolidate our meal services into one location while supporting each of these organizations to continue serving our neighbours.
Consolidation will allow for better oversight of litter and social issues to neighbouring properties and businesses. Working together these organizations can have opportunities to combine their individual resources together providing even better meal services, while retaining their organizational autonomy and control to continue to uniquely serve our neighbours in love.
3. Locate All Shelter Services Proximate to Each other
Currently dry shelter services are principally provided by the Mustard Seed; wet shelter services are principally provided by Safe Harbour. Better shelter services leverage off respective competencies and strengths of different community organizations, including opportunities for many great families and individuals in our community to volunteer and serve!
Our city is small, let's situate all dry shelter and wet shelter services proximate to each other to reduce issues for wider City families and businesses, while supporting the organizational autonomy of service providers respecting their organizational culture, their strengths, and competencies.
4. A Culture of Hope in Shelter Services
An overarching shelter culture which encourages and supports positive steps towards self-reliance for adult shelter users, including for addiction recovery as applicable, engaging civil society volunteers and our service organizations, and local businesses, will result in shelter services with a culture of hope.
5. Opportunity for our City to own our Shelter Infrastructure
It is important to recognize that the ownership of our new shelter infrastructure and the operation of shelter services in that location can be separated. While I respect that others may have different perspectives, there will be great public benefit, even protection, if the City considers owning this new shelter infrastructure. Why? Because as shelter services must be provided in a "good neighbour" manner, there needs to be an ability for the City to not only ask an operator to be better, but even seek replacement of the operator if they fail to do so.
If a shelter operator owns shelter infrastructure, while the Province can, as a last resort, end operational funding to the operator, the Province would be then compelled to not only seek an alternate operator, but also alternate infrastructure to provide shelter services. That requirement increases the cost of changing a bad operator higher, and as a result, harder. Therefore, if shelter infrastructure ownership is with the City, the ability to require accountability from shelter operators increases.
Separating ownership from shelter operations recognizes that shelter boards and management change over time. Good operators today may be less good tomorrow. If shelter ownership is separate from shelter operations, there is more protection over time against a risk of a shelter service provider beginning to act with less care for the collateral consequences of their actions to businesses and families in the community.
The Province does not own shelters, but we do not want them to do so. A future provincial government may transfer ownership to a shelter service provider, contrary to the interests of a local community. The City, which better understands our local needs and circumstances, is a better person to be entrusted with this critical public infrastructure.
D. The pieces are there; let's put them properly together!
Doing things in the right way, may require us to do things differently, and better, from past approaches. With new strategic investments from our Provincial Government, we have a unique opportunity to make transformative course corrections which will bless businesses, families, and individuals in our community over the long term!
The Mustard Seed is in Urgent Need of Bottled Water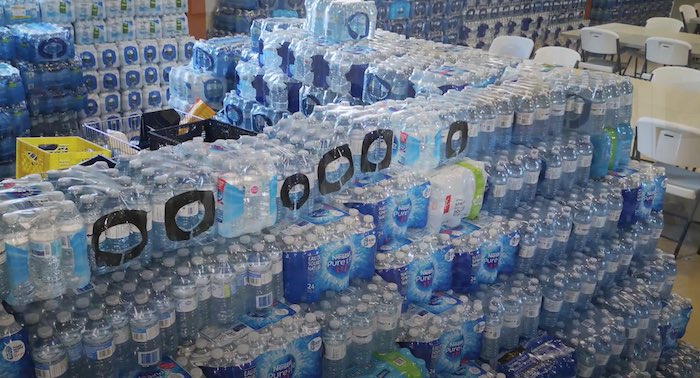 News release from The Mustard Seed
Summer is here and as temperatures are rising in Red Deer, The Mustard Seed is in desperate need of bottled water to keep Red Deer's most vulnerable safe from the sweltering heat.
For those experiencing homelessness, the extreme heat can pose a dangerous risk. Insufficient water when temperatures rise can lead to exposure-related illnesses such as heat stroke, heat exhaustion, and even death.
The Mustard Seed is working hard to ensure that those in need of water are provided for – but we can't do this alone. We urgently need your help to respond to the increased need for water and other summer essentials found here:
Items Needed:
Rain Ponchos
Travel-Size Shampoo & Conditioner
Hair Brushes
Deodorants (Men & Women)
Individual Kleenex
Ladies Underwear (Small – Medium Size)
Men's Boxershorts (Medium – Large Size)
Backpacks
Razors
Travel-Size Body Wash
Hair Care (Gel preferably)
Reusable Water Bottles
Toilet Paper
New Blankets
Tooth Brushes
Baby wipes
Reusable Bags
Insect Repellant
Travel-Size Sunscreen
Q-tips
Flipflops: (Men's sizes 7 – 13 & Women's sizes 6 – 10)
Hats
School Lunch Program:
Granola Bars
Nut-free Snacks
Carrots
Cucumbers
Celery
Apples
Oranges
Deli Meat
In dire situations like this – whatever you can give makes a huge difference in the lives of those in need.
All donations will be gratefully received at the Community Support Centre, Monday to Friday from 8:00 am to 4:00 pm.
Thanks to your generosity, we can provide vital services and resources that help keep our most vulnerable community members in Red Deer safe.
About The Mustard Seed:
The Mustard Seed is a Christian non-profit organization that has been caring for individuals experiencing homelessness and poverty since 1984. Operating in five cities across Alberta and British Columbia, The Mustard Seed is a supportive haven where people can have their physical, mental, and spiritual needs met and grow toward greater health and independence.
Primary Care Network launches 'Year of the Garden' to encourage more activity and healthier eating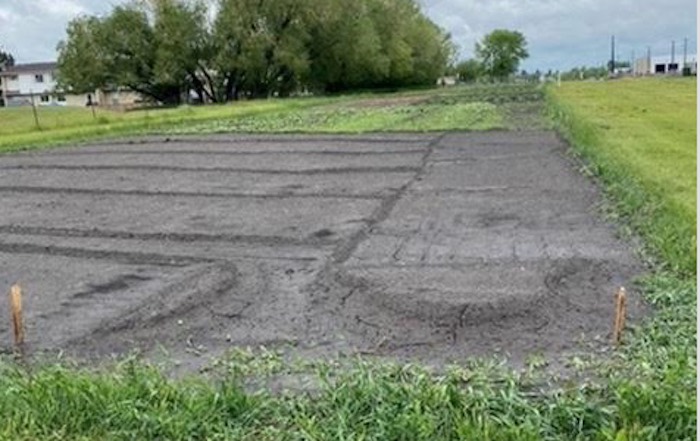 By Mark Weber
Summer is here as is the joy of spending time outdoors – and an exciting Primary Care Network program has been designed with that goal in mind.
"The City offered us one of their garden plots on the north end in Normandeau," explained Lynsey Hermary, a recreation therapist with the PCN, adding that space is being offered to any PCN patients or staff to use.
Essentially, it's all about encouraging folks to get outside more, while of course growing healthy food and spending time in nature.
"It is located directly behind the Save on Foods on 67th St, access is along 68th (Nash St) and we are garden plot number B12." The plot numbers are marked on the stakes.
"We recommend that everyone who uses it, marks off their section, and is then responsible for weeding, pruning and harvesting their area," notes the PCN web site. It's also an incredibly practical activity to take part in, with the ongoing high costs of food – particularly healthy food, added Hermary.
Meanwhile, there is plenty of room at the plot as well, and it's been exciting to see people utilize the space. "This is a brand-new program – we just got it up and running (recently)," she said, adding that the City of Red Deer web site offers tips on the
gardening side of things as well.

A PCN-hosted Westerner pancake breakfast is also slated for July 20th
Looking forward into the summer, staff are also excited to announce they will be hosting a pancake breakfast on July 20 from 7 to 9 a.m. to celebrate Westerner Days. It will be held at the park beside the PCN office which is located at 5120 – 47th St.
"You'll see our PCN staff and some of our physicians out flipping pancakes, and there will be some entertainment," said Bonnie St. Dennis, office and IT administrator at the Red Deer PCN.
"There is no charge to attend, but donations are welcome which will go to support PCN programs involving the City's vulnerable populations."
Staff also wished to remind residents that they have the PCN bike corral each Saturday at the Farmer's Market.
"We really encourage people to ride their bicycles down to the market, and they can then leave them for us to watch," said Lorna Milkovich, the PCN's executive director. "It's a nice option to help people get out and get more active, too."
And another key local event PCN staff are helping to promote is the Dr. Walter Reynolds Memorial run which is set for Sept. 18 th.
More information about the family-friendly event, which will be held at Bower Ponds, can be found at www.drreynoldsrun.ca. As the web site explains, it was in August of 2020 that, "A wonderful person was taken from us while working at the Village Mall Walk-in Clinic.
"The community of Red Deer suffered a tremendous loss when Walter was taken from us. A hole in the hearts of many as he was loved by all who knew him, from his patients to his colleagues, friends and family. The purpose of this run is to remember Dr. Walter Reynolds and what he stood for: respect, love, kindness and community.
"In Walter's name, ALL funds raised through this race will be donated back into the community which he loved. The Red Deer Hospice Society and Red Deer Youth Sports initiatives will be the organizations benefiting from this year's event. Our goal is to see this race become an annual event and spread the love through the community."
Also looking ahead, St. Dennis pointed out that although the PCN's Health Cafes won't be running again until the fall, anyone can check out the PCN web site (under the Patient Resources tab) and view previous Health Cafes which cover a wide range of health topics with experts offering guidance and information. Meanwhile, the local PCN offers a wealth of programs aimed at bolstering virtually all aspects of healthy living.
Primary Care Networks are made up of groups of family physicians working with other health care professionals such as nurses, pharmacists, nurse practitioners, exercise specialists, social workers, and mental health professionals.
Red Deer PCN supports the communities of Red Deer, Blackfalds and Penhold.
For more information, call the local PCN office at 403-343-9100 or check out www.reddeerpcn.com.