RED DEER'S OPPORTUNITY FOR A NEW AND BETTER APPROACH FOR HOMELESSNESS AND ADDICTIONS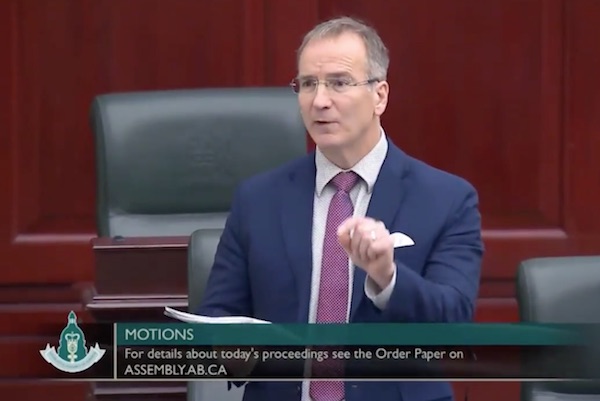 Article submitted by Red Deer South MLA Jason Stephan
Dear Friends,
There is a profound need in our community to have fairness for all – supporting our neighbors suffering under addictions, while respecting businesses and individuals working and families raising children in our City. This is a longer article; the issues at stake deserve nothing less.
A. Addiction Recovery Community
Last month, I joined my friends Minister LaGrange, our Mayor, the Infrastructure Minister and the Associate Minister of Mental Health and Addictions to break ground for an "Addiction Recovery Community" for Red Deer. Ours is the first under construction! This community will be located north of the City, off Highway 2A.
Earlier this year I visited the Thorpe Recovery Centre, west of Lloydminster, which also operates under this model. This is what I observed. No drugs. A place of safety and refuge, where those seeking recovery live for months making positive connections. Men and women from all walks of life supporting and encouraging each other in their individual paths towards recovery.
I attended a meeting with Thorpe residents. There was an honesty and vulnerability in those discussions that was both courageous and inspiring. Taking individual responsibility for one's recovery while seeking to love and support others to do the same is heroic.
Red Deer is a special place; there are many families, churches, and organizations in our community that have desires to love and support our neighbours in their individual paths to recovery. This recovery community will increase opportunities to do so.
Addiction is a challenge of human nature. Success in this complex matter must begin with the end in mind: supporting and loving our neighbours to become free from addictions.
Please consider this question, if someone you loved was suffering under a drug addiction would you take them to a drug consumption site? No! You would love and support them, not in living in their addictions, but becoming free of them. This will become easier with our recovery community. Participants in recovery will experience transformative miracles in their lives, blessing themselves, healing their families and our communities. This is very exciting!
B. Overdose Prevention Site (OPS)
Red Deer did not ask for an OPS; the NDP imposed it on Red Deer, ignoring the concerns of civic leaders, local businesses, and families.
As a private citizen, prior to seeking to serve as an MLA, I attended packed town hall meetings at City Hall. The vast majority of townhall participants did not want an OPS in Red Deer. But this was not an option provided by NDP/AHS to civic leaders – their input was limited to not "if" there was an OPS, but "where".
With input from citizens, City council said the OPS should be at the Hospital. But this choice was rejected on the basis that it was not safe! It appears that the NDP did not have the same concerns for families and businesses elsewhere.
The OPS has now been in our community for years and its impacts are evident for all to see. Let's speak plainly and honesty. The OPS has become an attraction for individuals who are not from Red Deer, to come to our City, to live in drug addictions. Because of this drug consumption site, there are more, not less, suffering under addictions in Red Deer.
There is an exodus of businesses from our downtown. There is too much stealing, too much vandalizing, too much uncertainty for local businesses, their employees, their customers. The City has invested so much of our tax dollars seeking to revitalize our downtown. So much of this effort is being undermined by the OPS. Regardless of good intentions, the truth is that the OPS has facilitated a growing lawlessness, including embedding and emboldening criminal elements, which either abuse the OPS or prey on those living in addictions, some of whom support addiction lifestyles through stealing or robbing businesses and families in our community.
A prioritization on "harm reduction", such as the OPS, has caused great collateral "harm expansion" to businesses and individuals in our community seeking to live their lives, working, and raising their families. One does not have to take a position on the substantive merits of an OPS to reach a good faith conclusion that not every community should be required to have an OPS. Red Deer is not a large city; we are becoming overwhelmed. The published report of the panel conducting the supervised consumption services review, listening to our community businesses and families, conclude that that the overall social and economic impact of Red Deer's OPS is negative.
We have a new, elected city council with different experiences and competencies that can add much value and insight. If this Council wishes to reverse the NDP forcing an OPS on Red Deer, they need to speak unambiguously on this important matter. Such a position supports a substantial majority of individuals, families, and businesses in our community, and I sustain them.
Together we have an opportunity to support a fundamental course correction; focusing on healing and recovering, while providing opportunities for those who want to continue to use OPS services to transition to other communities that wish to continue with these services.
C. Integrated Shelter Service
Budget 2020 announced about $7 million for an integrated shelter service for Red Deer.
A new shelter service is an opportunity for a newer, better culture. Our shelter should be a place of hope where individuals receive support and opportunities to work towards moving out of shelter and towards self-reliance, including, as applicable, with invitations to access our new addiction recovery community. There are individuals working in our existing shelters who are seeking to love and
support their neighbors using shelter services. Let's support their efforts to do even better!
But this is not all, this new shelter needs to be an accountable service, not only to the individuals it serves, but also as a good neighbour to families and businesses in our community. Many families and businesses in our community are very concerned with growing property and persons crimes, needle debris, and shelter camps and garbage in public spaces caused, in many cases, by adult users of current shelter services.
Properly implemented, an integrated shelter service is a great opportunity, to make an imperative course correction, better serving our homeless adult population, while repairing a frayed social fabric and distrust in our community; improperly implemented, this shelter will entrench an unacceptable status quo and exacerbate growing frustration in our community.
Minister LaGrange and I have advocated for our City Council to have input in shelter decisions with significant impacts to a local community. They are choosing the location of the new shelter. I am grateful our Council is doing so – their insights and perspectives as our local leaders should be valued and respected. Nevertheless, the "how" of the shelter, is at least as important as the "where" of
the shelter. These resources provide us with opportunities to improve the "how" of shelter services in our City. Here are some opportunities for consideration:
1. No Shelter Services in Residential Neighborhoods
Mustard Seed is a great organization supported by generous volunteers and employees in our community. Out of its Riverside Meadows location, Mustard Seed provides many services which bless individuals and families in our community. But homeless shelters do not work well in residential neighbourhoods.
There is an opportunity with this Provincial funding to support migrating Mustard Seed's shelter services out of Riverside Meadows to a non-residential location, while continuing to support our Mustard Seed in maintaining its other, non-shelter services in its current location, such as providing lunches to children in schools.
2. Consolidate Homeless Meal Services into One Location
Red Deer has three organizations providing homeless meal services: Mustard Seed, Red Deer Soup Kitchen and Potters Hands. These are great volunteer service organizations. Our community has so many individuals and families with compassion to serve our neighbours. Given our smaller downtown, this Provincial funding provides an opportunity to consolidate our meal services into one location while supporting each of these organizations to continue serving our neighbours.
Consolidation will allow for better oversight of litter and social issues to neighbouring properties and businesses. Working together these organizations can have opportunities to combine their individual resources together providing even better meal services, while retaining their organizational autonomy and control to continue to uniquely serve our neighbours in love.
3. Locate All Shelter Services Proximate to Each other
Currently dry shelter services are principally provided by the Mustard Seed; wet shelter services are principally provided by Safe Harbour. Better shelter services leverage off respective competencies and strengths of different community organizations, including opportunities for many great families and individuals in our community to volunteer and serve!
Our city is small, let's situate all dry shelter and wet shelter services proximate to each other to reduce issues for wider City families and businesses, while supporting the organizational autonomy of service providers respecting their organizational culture, their strengths, and competencies.
4. A Culture of Hope in Shelter Services
An overarching shelter culture which encourages and supports positive steps towards self-reliance for adult shelter users, including for addiction recovery as applicable, engaging civil society volunteers and our service organizations, and local businesses, will result in shelter services with a culture of hope.
5. Opportunity for our City to own our Shelter Infrastructure
It is important to recognize that the ownership of our new shelter infrastructure and the operation of shelter services in that location can be separated. While I respect that others may have different perspectives, there will be great public benefit, even protection, if the City considers owning this new shelter infrastructure. Why? Because as shelter services must be provided in a "good neighbour" manner, there needs to be an ability for the City to not only ask an operator to be better, but even seek replacement of the operator if they fail to do so.
If a shelter operator owns shelter infrastructure, while the Province can, as a last resort, end operational funding to the operator, the Province would be then compelled to not only seek an alternate operator, but also alternate infrastructure to provide shelter services. That requirement increases the cost of changing a bad operator higher, and as a result, harder. Therefore, if shelter infrastructure ownership is with the City, the ability to require accountability from shelter operators increases.
Separating ownership from shelter operations recognizes that shelter boards and management change over time. Good operators today may be less good tomorrow. If shelter ownership is separate from shelter operations, there is more protection over time against a risk of a shelter service provider beginning to act with less care for the collateral consequences of their actions to businesses and families in the community.
The Province does not own shelters, but we do not want them to do so. A future provincial government may transfer ownership to a shelter service provider, contrary to the interests of a local community. The City, which better understands our local needs and circumstances, is a better person to be entrusted with this critical public infrastructure.
D. The pieces are there; let's put them properly together!
Doing things in the right way, may require us to do things differently, and better, from past approaches. With new strategic investments from our Provincial Government, we have a unique opportunity to make transformative course corrections which will bless businesses, families, and individuals in our community over the long term!
Red Deer Mayor Shares Message on Mentoring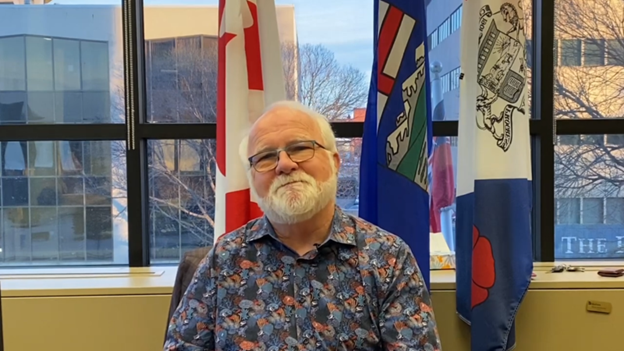 In an effort to help Youth HQ and Big Brothers Big Sisters recruit more mentors for the kids on their waitlist, Red Deer Mayor Ken Johnston took a moment to record a video and speak on the matter:
There are currently over 70 kids in Red Deer on a waiting list, hoping for a mentor.
Anyone looking to become a mentor can visit the Youth HQ website, or reach out directly to Volunteer Resources Coordinator, Janessa McCormack via email at [email protected]
Big Brothers Big Sisters has been active for over 100 years. The organization came to the Red Deer & District region in 1976 and has been at work in this community ever since. Several programs and services are available to young persons and their families, including in-school mentoring.
Share a special night with Great Big Sea's Sean McCann this Saturday for the Child Advocacy Centre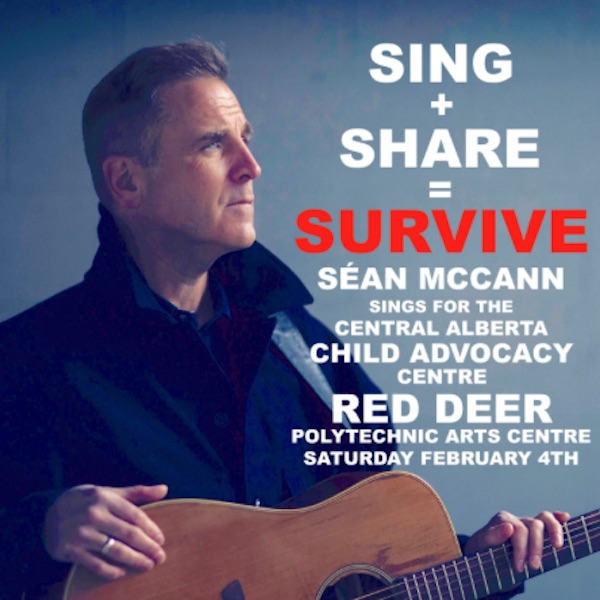 Tickets selling fast for Séan McCann – Sing, Share, Survive
In support of the CACAC
Séan McCann from Great Big Sea will be performing in support of the Central Alberta Child Advocacy Centre this Saturday, February 4th!

Tickets are selling fast! In this powerful live music and storytelling event, you'll learn the meaning of resiliency. Séan will be joined by special guest Sheldon Kennedy for this special performance!
Tickets are $50 each through Red Deer Polytechnic ticket office.
About Séan McCann –
A survivor of sexual abuse as a teenager, Séan has spent the last ten years touring North America as a musical keynote speaker, singing and sharing his story with theatre audiences, front line workers, teachers, students, patients, inmates, veterans, and anyone who has struggled with their mental health. Séan believes that music is medicine and a song is never more powerful than when it is sung with a friend.
As part of this event, the CACAC is benefiting from an
online silent art auction, operated by JRADCLIFFE Auctioneering.

These artworks were created and curated by Kathryn Fellowsand donated to this auction in her memory by her daughter Sharon Moffat.

Watch on social media for a link to this auction, which opens on February 4th.
We're building a path forward for victims of child abuse, neglect, and sexual exploitation. The Centre of Excellence will house many partners in one building, including teams from Alberta Health Services, RCMP, and the Central Alberta Sexual Assault Support Centre.

We've created a strategic partnership with Red Deer Polytechnic to build this innovative centre right here in the heart of Central Alberta on RDP land.
Consider becoming a monthly donor today!
Your monthly contribution will help us #BuildtheFuture of healing, advocacy, and prevention. Click the button below, and select "recurring" to set up your monthly contribution to the Centre of Excellence.

Help us build the future…so every child can have a bright one.