Red Deer Resort & Casino Unveils Its New Casino, the Grandest in Central Alberta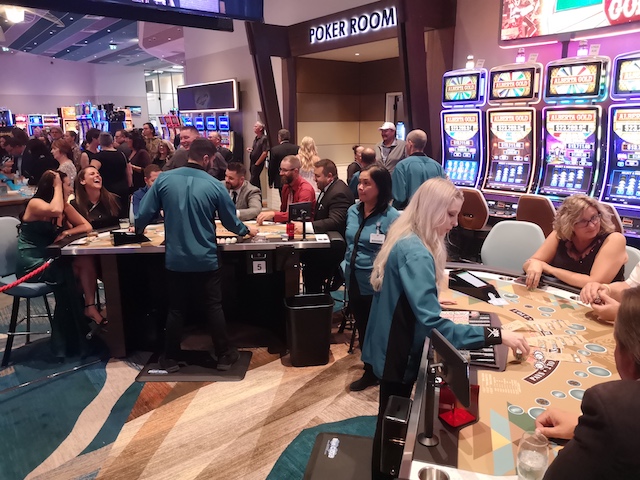 The new casino location offers a first-of-its-kind gaming experience in central Alberta
You may remember it as the Capri. Then it briefly joined the Sheraton brand. More recently it was known as the Cambridge. Over the last few years Central Albertans have become accustomed to the largest hotel complex in the city changing it's name regularly.
It would seem those days are over. When the O'Chiese First Nation purchased the Cambridge in the summer of 2021, they definitely had long term plans in mind. Over the last month those plans have become visibly obvious as the Red Deer landmark has taken on significant structural changes which will alter the view of the hotel at the intersection of Gaetz and 30th for decades to come.
Even more significant changes have taken place inside as September 2023 marked the Grand Opening of Red Deer Resort and Casino.
"The completion of the casino is a major milestone for us and the City of Red Deer," said George Yammine, CEO, O'Chiese Business and Investment Center, the owners of Red Deer Resort & Casino. "The casino will be a key driver of tourism and economic growth in the region, becoming a hub for entertainment for the region and beyond."
The expansion of the casino and upgrades to the hotel are expected to increase employment by up to 20 per cent with an increased need for dealers, servers and housekeeping professionals.
The casino will serve as a major entertainment destination for residents and tourists alike. Located in the heart of Downtown Red Deer, it will offer a wide range of gaming options such as slot machines, table games, poker room, dining rooms and bar and more. The casino is expected to become a hub for entertainment, attracting visitors from all over the region and beyond.
The casino's design also respects the cultural heritage of the O'Chiese First Nation. The sunrises over the Alberta prairies and the sunsets over the Rocky Mountains inspired the design for the casino space. An integrated waterfall symbolizes shared values of a deep connection to nature, ancestral lands, and the spiritual importance of water. With more than 38,000 square feet of play space, the casino's design highlights the region's beautiful landscape.
Red Deer Resort & Casino is expected to significantly contribute to community investment through its hotel and casino operations and create numerous employment opportunities for the city.
"We look forward to welcoming guests to Red Deer Resort & Casino and providing them with a world class entertainment experience," said Adrian Strawberry, Hotel Operations Manager, O'Chiese Hospitality. "We have worked tirelessly to bring this project to fruition and we cannot wait for you to experience it."
The next massive project will take place on the north side of Red Deer Resort and Casino where the former dance bars have been demolished to make room for a new exhibition hall featuring space for 2,000 visitors.
The Red Deer Resort & Casino features 241 unique guestrooms, 15 modern meeting rooms, a sprawling conference centre covering 53,000 square feet.
For more information, please visit www.reddeerresortandcasino.ca.
Annexation allows City of Red Deer to build new "Gasoline Alley" commercial district along QE2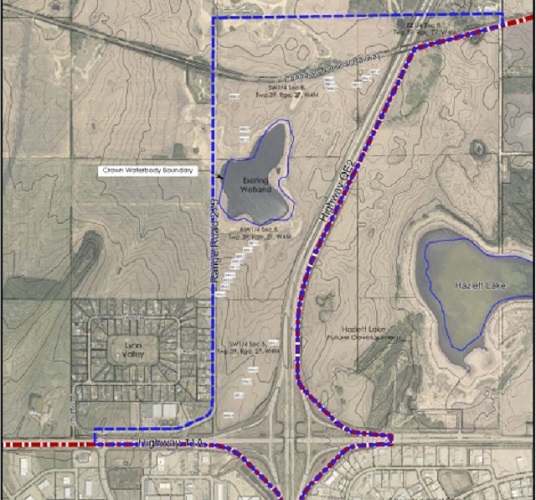 Annexation with Red Deer County approved
This week, The City received approval from Cabinet that the annexation for land north of the Queen's Industrial Business Park and west of Highway QEII from Red Deer County was approved."Our City Council is thrilled with the Government of Alberta's green light on this annexation. This pivotal move sets the stage for Red Deer's next 30 years, transforming our northwestern gateway. Leveraging Highway QEII for commercial expansion will redefine Red Deer's economic landscape. We extend our heartfelt appreciation to Red Deer County for their collaboration and to the local landowners for their invaluable contributions to these fruitful discussions," said Mayor Johnston.On June 22, 2021, Council gave direction to administration to prepare a Notice of Intent to Annex for this area of land. This annexation, encompassing approximately 216 hectares, addressed The City's deficiency in highway fronting commercial land. On February 14, 2022, Red Deer City Council passed a resolution endorsing a Notice of Intent to Annex, therefore supporting for the proposed annexation and directing administration to begin the formal annexation process.

Following that, the application was prepared for the annexation of approximately 216 hectares of land from Red Deer County. Based on landowner consultation, the proposed annexation area was altered from the Notice of Intent to Annex Land to include the entirety of one of the landowners' parcels.

Then in April of this year, the annexation was moved to the next step, when both Red Deer City Council and Red Deer County Council passed a resolution endorsing The City to submit an Annexation Application and Negotiations Report to the Land and Property Rights Tribunal. A Land and Property Rights Tribunal hearing was held on June 20, which allows the Tribunal to receive information and evidence from interested parties. After considering the submissions from all parties, the Tribunal made an annexation recommendation to the Minister of Municipal Affairs for the decision to be made.

Now that the annexation was successfully approved by the province, area structure plans will be prepared and adopted by bylaw, by Red Deer City Council. These annexed lands are intended to be developed as a regional commercial development along Highway 2, providing The City with a significant economic development opportunity.

"Securing this annexation approval has been a great success, thanks to all the collaborative partnerships involved. As we move forward, we're enthusiastic about the potential economic boost this annexation will bring, especially in addressing our shortage of commercial land along the highways," said David Girardin, Major Projects Planner.

Annexation is used by municipalities to realign jurisdictional boundaries to ensure a sufficient land supply for long-term development. The Intermunicipal Development Plan (IDP) between The City and Red Deer County provides guidance for all annexations.

To learn more information about this annexation are encouraged to visit www.reddeer.ca/annexation.
MNP steps in to help youth "Move Your Mood" at the Sheldon Kennedy Centre of Excellence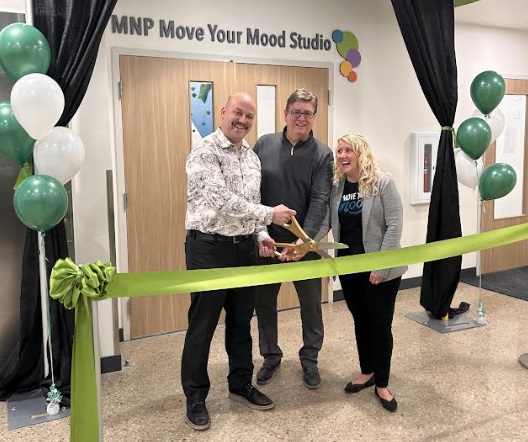 Ribbon Cut at the Newly Named MNP Move Your Mood Studio in the Sheldon Kennedy Centre of Excellence
The ribbon has been officially cut, and a new name announced for the MNP Move Your Mood Studio inside the Sheldon Kennedy Centre of Excellence.
The MNP Move Your Mood Studio held its naming ceremony and ribbon cutting on Tuesday, November 21st. Move Your Mood, an Alberta Health Services program, occupies a portion of Floor 2 inside the new Sheldon Kennedy Centre of Excellence on the main campus of Red Deer Polytechnic.
The new MNP Move Your Mood Studio has a large space for classes and physical activity, complete with a climbing wall, physical activity gaming wall, and kitchen.
A significant contribution was made on behalf of the partner group from MNP's Central Alberta region. This contribution reflects their commitment to investing in the communities that they are a part of.
"On behalf of the Central Alberta partner group and our entire team across the region, we are elated to celebrate the MNP Move Your Mood Studio," says Patrick Wigmore, Regional Managing Partner for MNP in Central Alberta. "At MNP we truly believe that making a positive difference in the communities where we live, work, and play is a fundamental part of who we are. Our partners throughout the region believe that pooling our efforts together to create a greater impact for organizations like Central Alberta Child Advocacy Centre and in turn, Move Your Mood, will leave a lasting legacy of positive impacts in Central Alberta. The decision to support the CACAC was unanimous."
Move Your Mood is a research-based program that promotes physical activity and healthy lifestyle practices to improve the mental and physical well-being of participants. The MYM program provides opportunities for participants to experience how to move their bodies, fuel their bodies, practice mindfulness, and build positive coping strategies.
"We would like to thank MNP for their generous donation to the Sheldon Kennedy Centre of Excellence and helping make this dream come true for children and youth in our community. We are grateful and honoured to share the name of the MNP Move Your Mood Studio and look forward to the opportunities this space will provide our entire community in the future. The space will be up and running in the New Year." – Denise Fredeen, Health Promotion Facilitator at Move Your Mood.
The MNP Move Your Mood Studio will be a shared space for all children and youth accessing services at the Sheldon Kennedy Centre of Excellence. The Studio will be a place where children and youth can learn positive coping strategies to improve their mental and physical wellness through interactive opportunities. There will be opportunities for them to play, practice mindfulness, be physically active, learn how to make healthy snacks and take part in creative activities.
The space will provide professionals in the building an opportunity to create positive connections and teach children and youth skills they can continue to be active and healthy for life. The space will also provide opportunities for prevention work with students in the community and a space for future training of RDP students and MYM Coaches.
To learn more about the MNP Move Your Mood Studio and its programming, please email
[email protected] or visit www.moveyourmood.ca.
About MNP: National in scope and local in focus, MNP is one of Canada's leading professional services firms — proudly serving individuals, businesses, and organizations since 1958. Through the development of strong relationships, we provide client-focused accounting, consulting, tax, and digital services. Our clients benefit from personalized strategies with a local perspective to fuel success wherever business takes them. For more information, visit www.mnp.ca
About CACAC: The Central Alberta Child Advocacy Centre is a not-for-profit organization rooted in the protection and recovery of today's most innocent and vulnerable – our children. The Centre is comprised of a collective that is driven by the courage to support children, youth, and their families affected by abuse, enabling them to build enduring strength and overcome adversity. We work in a collaborative partnership with the Alberta Children and Family Services, Alberta Health Services, Alberta Justice, Alberta Education, Red Deer Polytechnic, the Central Alberta Sexual Assault Support Centre and the RCMP. Together we harness our collective courage to provide children with
supported recovery. For more information on CACAC and the Sheldon Kennedy Centre of Excellence, please visit: centralalbertacac.ca