Red Deer RCMP seize loaded guns and body armour from two stolen vehicles
From Red Deer RCMP
Red Deer RCMP arrest two people in stolen vehicles
Early Wednesday morning, Red Deer RCMP responded to a report of two suspicious vehicles in Highland Green.
At approximately 12:30 a.m. on Feb.19, RCMP located two stolen vehicles parked together on a residential street. A male and female were each behind a wheel and were arrested without incident.
Loaded handguns, body armour, weapons, drugs and other stolen property were seized from the vehicles.
Jared Michael Lee Mcleod, 26, faces 33 firearms and weapons related criminal code charges including possession of firearm in motor vehicle as well as charges under the Body Armour Control Act.
Sarah Dawn Sheptycki, 27, faces eight criminal code charges related to firearms possession and stolen property. Both individuals remain in police custody with Mcleod scheduled for court on Mar. 4 and Sheptycki scheduled for court Feb. 21.
Red Deer RCMP wishes to thank the public for reporting suspicious activity to police. To report suspicious behaviour or activity in your neighbourhood, call Red Deer RCMP at 403-343-5575. If you want to remain anonymous, you can contact Crime Stoppers at 1-800-222-8477 (TIPS), online at www.P3Tips.com or by using the "P3 Tips" app available through the Apple App or Google Play Store
Jared McLeod also appears in a release from RCMP from Feb 10 / 2016
Wanted man arrested after ramming police cruisers in stolen truck
February 10, 2016 10:49 AM
Red Deer, Alberta – A 22 year old Red Deer man was arrested seven days after he fled from the Red Deer RCMP in a stolen truck, having rammed two police vehicles, a garbage truck and two civilian vehicles.
On February 2 at approximately 4 pm, Red Deer RCMP responded to a report of a suspicious truck in a parking lot at 60 Street and 51 Avenue. RCMP confirmed the truck had been stolen out of Red Deer the day before. Police laid two tire deflation devices at the parking lot exit before approaching the parked truck, which then accelerated toward the police officers, narrowly missing striking them. The truck drove over the tire deflation devices then turned toward the police cruisers, ramming two of them and a waste disposal truck that was also in the parking lot.
The truck fled east on 60 Street then north onto 50 Avenue, driving on two flattened tires. The driver refused to stop for police, running a red light at 61 Street and colliding with two civilian vehicles that were stopped at the light. Police did not initiate a pursuit for public safety reasons. Fortunately, no one was injured in this series of collisions and near-collisions.
The stolen Ford F350 was located abandoned a short time later in an alley near Newton Crescent. However, RCMP identified the driver of the truck almost immediately in the course of their investigation and issued multiple warrants for his arrest. Edmonton Police Service arrested him on February 9.
22 year old Jared Michael Lee McLeod of Red Deer faces the following charges:
Criminal Code 270.01(a) – Assault on police officer with weapon
Criminal Code 430(3) – Mischief over $5,000 X 2
Criminal Code 430(4) – Mischief under $5,000
Criminal Code 249.1(1) – Flight from police
Criminal Code 249(1)(a) – Dangerous operation of motor vehicle
Criminal Code 355(a) – Possession of stolen property over $5,000
Criminal Code 355(b) – Possession of stolen property under $5,000 X 3
Criminal Code 88(1) – Possession of weapon for dangerous purpose (bear spray)
Criminal Code 733.1(1) – Fail to comply with probation order
TSA 69(1)(a) – Fail to remain at scene of collision
TSA 54(1) – Run a red light
McLeod will appear in Alberta Provincial Court in Red Deer on February 11.
Missing 13-year-old Edmonton girl found alive in Oregon, 41-year-old man arrested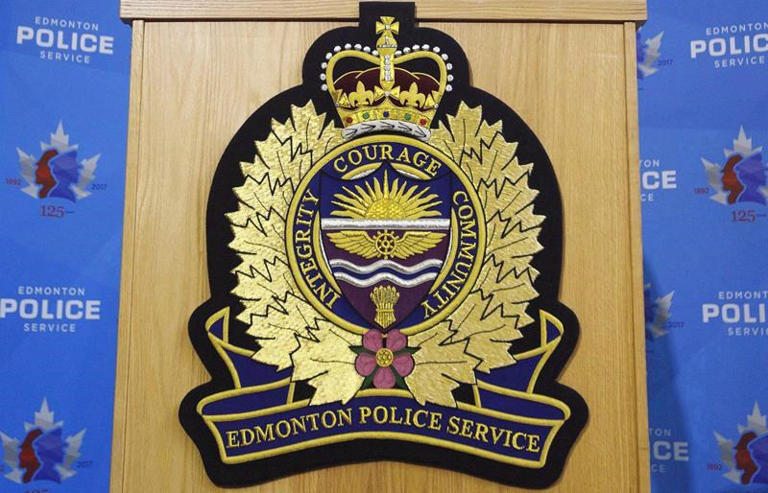 EDMONTON — Police say a 13-year-old Edmonton girl missing for more than a week has been found alive in the United States.
She was located following a week-long search that began when she was seen arriving at her junior high school but didn't show up for class.
Edmonton Police Insp. Brent Dahlseide says the girl, who was reported missing June 24, is currently in an Oregon hospital for a precautionary examination after being found safe in the state early Saturday morning.
Dahlseide says a 41-year-old Oregon man will be charged with child luring and is expected to face additional charges in Canada and the U.S.
He says Edmonton police received assistance from other agencies in Canada, as well as from the FBI and other police services in the U.S.
Dahlseide says it's believed the suspect came to Edmonton, but it's not yet clear how he initially made contact with the girl or how she crossed the U.S. border.
"We would be speculating to say they crossed the border together, but I do know that they were located together, again, in the U.S. once they gained entry," Dahlseide told reporters during an online news conference Saturday, noting he believed the two had been communicating online.
"I don't know how long they may have been in contact with one another. I do know that the reason we're going with a child-luring charge at this point is that it's one we can support because of some of the online history."
Photos of the girl have appeared on billboards and posters across Alberta this past week asking people to be on the lookout for her and contact police with tips.
Dahlseide said an Amber Alert was not issued because investigators lacked a description of a suspect or a suspect vehicle. He said police got that information on Friday and were drafting the alert that afternoon when they learned from Canada Border Services the suspect had crossed into the U.S.
At that point the suspect was no longer in Canadian jurisdiction, Dahlseide explained, which is another criteria for an Amber Alert. He said they made a deduction about where the suspect was going and alerted authorities on the U.S. side.
Dahlseide said he believed the arrest was made outside Gladstone, Oregon, just south of Portland, away from the suspect's residence. He said the suspect's name would not be released until charges are formally laid.
He said the girl's family were informed early Saturday she'd been found safe and they are making arrangements to bring her home.
"I'm sure we likely woke them up, showing up at their door so early," Dahlseide said.
Canadian investigators have not had a chance to speak with the girl or the suspect yet, Dahlseide said, and other questions remain.
He said investigators believe the suspect was in Mission, B.C. for three to four days, so they'll be asking RCMP there to speak to people who may have seen him or the girl during that time. The FBI will also be able to help supply bank or credit card information to piece together the suspect's movements, he said.
This report by The Canadian Press was first published July 2, 2022
Rob Drinkwater, The Canadian Press
B.C. RCMP identify twin brothers as B.C. bank shooting suspects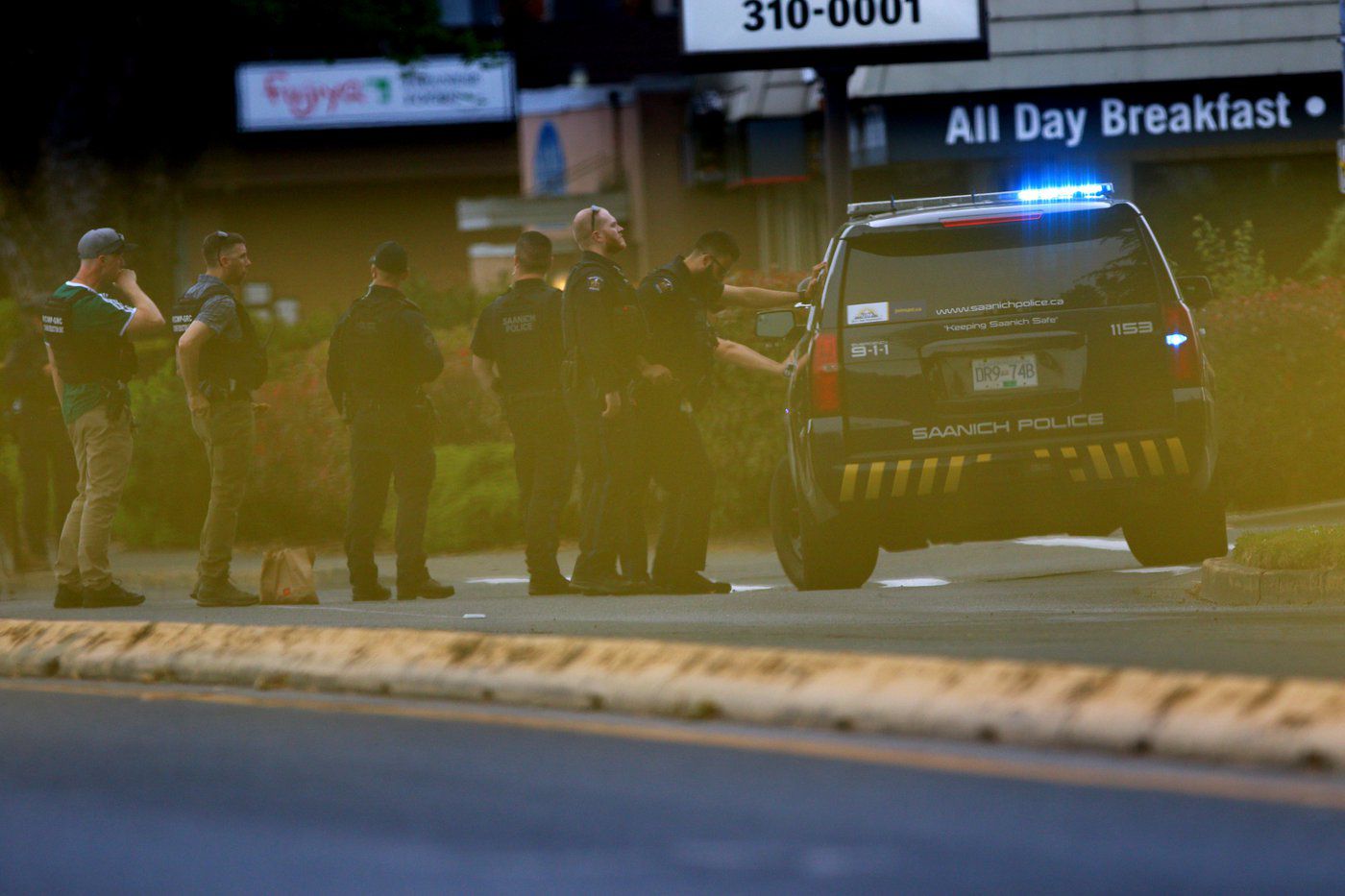 Victoria – Twin brothers in their early 20s were responsible for the shooting that injured numerous police officers at a bank in Saanich, B.C., earlier this week, RCMP alleged Saturday.
Mounties spokesman Cpl. Alex Bérubé named the men as 22-year-olds Mathew and Isaac Auchterlonie from Duncan, B.C.
Six officers were shot and the brothers were killed in the shootout with police on Tuesday outside the Bank of Montreal branch.
Bérubé said officers have spoken with the twins' relatives, who are co-operating with the investigation.
Investigators are looking into the suspects' backgrounds, and he said neither man had a criminal record or was known to police.
"We understand that the release of the names of the two deceased may answer the who, but there are still many outstanding questions and investigation efforts that need to take place in order to fully understand what took place and why," Bérubé told a news conference.
"The motive behind the armed robbery and subsequent exchange of gunfire with police has not yet been determined."
Police have also confirmed that the twins are associated with a white four-door 1992 Toyota Camry that has two black racing stripes over the hood and roof, Bérubé said.
The car was found with multiple explosives, which were removed and destroyed last week
Bérubé said the investigation has so far determined that there were only two suspects in the bank.
"However, we are continuing to look into whether anyone else was involved or associated to the events on Tuesday."
An update on the condition of the injured officers wasn't given.
Earlier, Saanich Chief Const. Dean Duthie had said three of the officers remain in hospital, including one who is in intensive care while another will require more surgeries.
This report by The Canadian Press was first published July 2, 2022.