UPDATE: Red Deer RCMP investigation continues. One man in custody.
Red Deer RCMP arrest male
Red Deer RCMP would like to advise the incident of the armed and barricaded male has ended.
One male has been taken into custody without incident.
Please be advised that the heavy police presence in the area is over, however there will be members remaining on scene to conduct an investigation.
Police would like to thank the public for their co-operation.
—————————————-
7:30 pm Red Deer, Alta. – Red Deer RCMP are currently on scene of an armed and barricaded male on Galbraith Street in Red Deer.
Police are advising the general public to stay away from the area until the matter has been dealt with. Police also ask individuals to refrain from taking pictures of the members and the area and posting them on social media.         
Police will be on scene for several more hours, and thank the public for their co-operation.
As this matter is currently being dealt with no further details will be available at this time.
Ontario man arrested for sexual assault of Alberta girl he groomed online
Submitted by the Alberta Law Enforcement Response Team
St. Catharines man arrested for sexually assaulting youth he met online
Edmonton… A cross-Canada investigation between ALERT's Internet Child Exploitation unit and the Niagara Regional Police Service (NRPS) has led to charges against a St. Catharines, Ont. man, and police believe there may be additional victims.
ICE alleges the suspect sexually assaulted an underage youth that he met via the internet. The victim was lured and groomed online before the two met in Edmonton, where she was forced into performing degrading sexual acts. Photos and videos of the offences were later posted online.
The alleged offences took place in Edmonton, Burlington, and St. Catharines and occurred over a period of several years, roughly 2012 and 2014. ICE has reason to believe other victims exist in those communities.
"What our victim endured is sickening and she displayed remarkable courage in coming forward. ICE is hoping other woman can muster the same strength; to contact police, to get help, and ensure no one else has to suffer in the same manner," said Cpl. Dave Knight, ALERT ICE.
Jason Anderson, 41, was arrested by Niagara Regional Police on April 29, 2021 and has since been transported to Alberta. He has been charged with sexual assault, assault, sexual exploitation, and making child pornography.
Anderson appeared in a Calgary court on May 4, 2021 and was released on a cash bail under a number of conditions.
The investigation dates back to 2018 and is ongoing. The two agencies are working together to explore the possibility of additional victims in both provinces.
ICE is also looking to identify and speak with potential victims and witnesses. Anyone with information about this investigation is encouraged to call:
In Alberta – ALERT ICE: 780-509-3363;
In Ontario – Niagara Regional Police Service: (905) 329-8354 ext. 1009128;
Local police agency;
Or anonymously at cybertip.ca.
ALERT was established and is funded by the Alberta Government and is a compilation of the province's most sophisticated law enforcement resources committed to tackling serious and organized crime.
Major drug haul; ALERT seizes $3 million in drugs and cash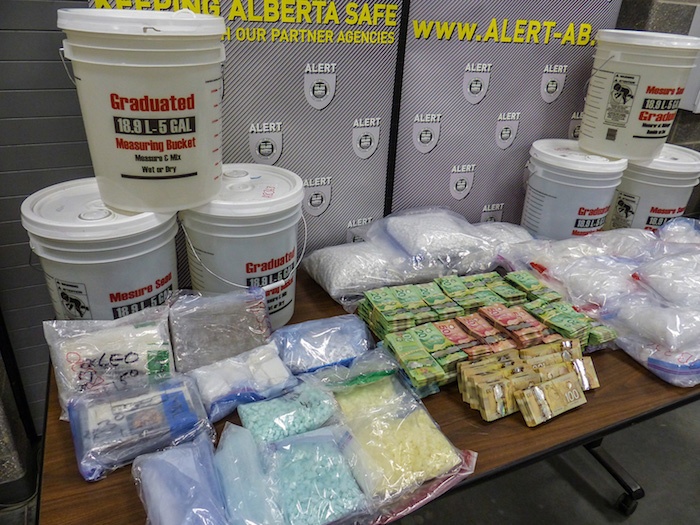 Post submitted by Alberta Law Enforcement Response Team (ALERT)
Three million dollars' worth of drugs and cash was seized from two Calgary homes, including what is believed to be the province's largest seizure of gamma-hydroxybutyrate (GHB).
On April 27, 2021 ALERT Calgary's organized crime and gang team concluded a short-term investigation with a record drug haul. ALERT seized enough methamphetamine, fentanyl, cocaine, and GHB to equal an estimated 100,000 doses.
The GHB seizure of 113.5 litres is believed to be the largest seizure of its kind in Alberta.
Meanwhile, the amount of methamphetamine and fentanyl pills seized ranks amongst ALERT Calgary's biggest busts.
"The totality of what was seized is staggering, and represents a high degree of community harm. Behind so many doses are crimes committed to feed that addiction; be it property crimes, thefts, frauds, and robberies, and all feeding into social disorder," said Supt. Dwayne Lakusta, ALERT CEO.
In total, ALERT seized roughly $3 million worth of drugs and cash:
113.5 litres of GHB;
22.3 kilograms of methamphetamine;
18,000 fentanyl pills;
1.5 kilograms of fentanyl;
4.1 kilograms of cocaine; and
$386,220 cash.
GHB is colourless and odourless, and is commonly referred to as the "date-rape drug" but is usually abused as a club drug. In July 2013 Edmonton Police Service seized 106 litres of GHB, which at the time, was believed to be Alberta's largest seizure.
ALERT's investigation is ongoing and additional charges are being contemplated. To date, 14 drug-related charges have been laid against three suspects:
Ashley Stanway, 30-year old from Calgary;
Rayann Blackmore, 22-year old from Calgary; and
Harmandeep Tiwana, 28-year old from Calgary.
ALERT began its investigation just a month prior after receiving information about suspected drug trafficking activity in the Calgary region.
Members of the public who suspect drug or gang activity in their community can call local police, or contact Crime Stoppers at 1-800-222-TIPS (8477). Crime Stoppers is always anonymous.
ALERT was established and is funded by the Alberta Government and is a compilation of the province's most sophisticated law enforcement resources committed to tackling serious and organized crime.