Red Deer Polytechnic recognizes achievements of graduates at 2023 Convocation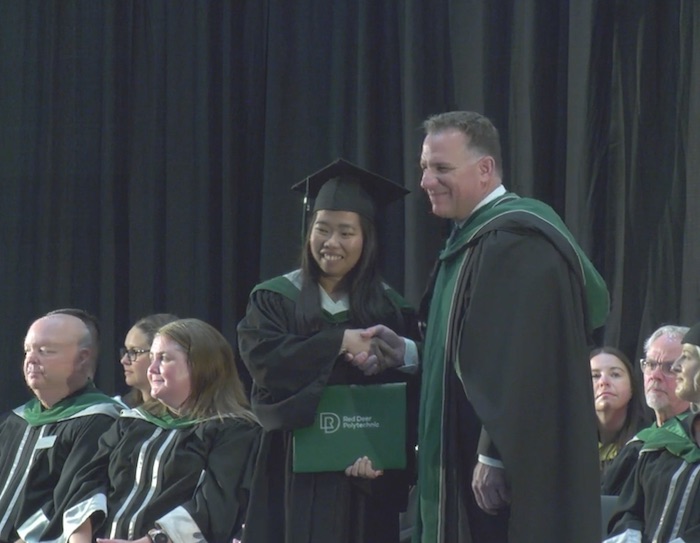 Friday, Red Deer Polytechnic (RDP) celebrated the Class of 2023 with families, community members and employees attending its 59th Convocation Ceremonies.
"Convocation is the most important day of the academic year, when we come together as a community to celebrate our graduates and all they have achieved," says Stuart Cullum, President of Red Deer Polytechnic. "I congratulate the Class of 2023 and wish them every success as they start the next chapter of their lives."
More than 620 of 1,470 eligible RDP graduates from 2023 attended the ceremonies in the Gary W. Harris Canada Games Centre. Little Buffalo Drum Group welcomed the graduates into The Fas Gas – On The Run Gymnasium with an Indigenous Grand Entry Song, which was performed to acknowledge and celebrate significant achievements in life.
This year is the first graduating classes of RDP's Bachelor of Science in Biological Sciences, Business Certificate, Business Diploma, Business Certificate Skywings and Bachelor of Applied Arts in Film, Theatre, and Live Entertainment – Film Production.
Brittany Parker received the Governor General's Academic Medal (Collegiate Bronze Level), achieving the highest academic standing among all graduates from Red Deer Polytechnic's diploma-level programs. Parker completed an Occupational and Physical Therapist Assistant Diploma, earning seven grades of A+ and a GPA of 4.0 during the 2022/2023 academic year.
"To earn the Governor General's Academic Medal takes hard work, commitment and effective time management," says Dr. Paulette Hanna, Interim Vice President Academic. "Brittany has demonstrated these important skills throughout her time at Red Deer Polytechnic and we are very proud of her accomplishments. We wish Brittany well as she embarks on her career."
Parker and the entire Class of 2023 now join an esteemed group of more than 80,000 RDP alumni who are key contributors to industry and communities.
This year, Red Deer Polytechnic granted Honorary Bachelor of Interdisciplinary Studies Degrees to both Dr. James Barmby and Dr. Russell Schnell for providing meaningful impact in Alberta and around the world. They were formally acknowledged at the Convocation Ceremonies.
Dr. Barmby is a respected post-secondary educator and leader who has made significant contributions provincially and nationally. His expertise and advocacy for higher learning have contributed to student success for almost 40 years. Along with his ongoing community involvement, Dr. Barmby is currently Co-chair of the Minister's Advisory Council on Higher Education and Skills. Dr. Barmby, who was an Art and Design student at the Polytechnic, transferred to university before completing the program. At Convocation, he was also granted a Visual Art Diploma.
Dr. Schnell was recognized for his global contributions to environmental sciences. He was a member of the Intergovernmental Panel on Climate Change that was a co-recipient of the 2007 Nobel Peace Prize. Dr. Schnell discovered biological ice nuclei, which are effective initiators of natural precipitation, while working on the Alberta Hail Project. In recent years, he has built Little Free Libraries out of recycled materials and donated them to communities in Alberta and around the world to inspire youth.
Dr. Barmby and Dr. Schnell join a prestigious group of nine other individuals who have also received Honorary Degrees from Red Deer Polytechnic. The Polytechnic first began bestowing this honour in 2014.
More details about RDP's 59th Convocation, the institution's second as Red Deer Polytechnic, are available at: rdpolytech.ca/convocation.
THE JACKPOT IS OVER $14000 AND THE WINNER WILL TAKE HALF!!!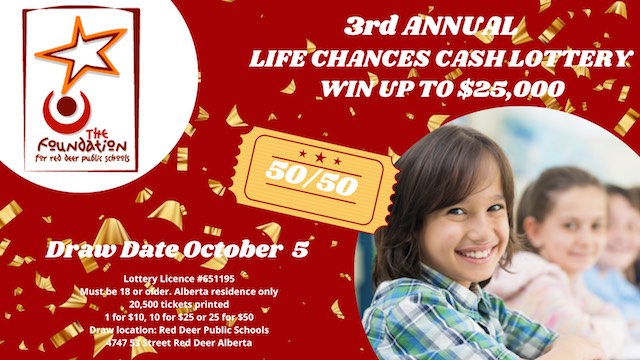 GET YOUR 50/50 TICKETSTODAY!!!! Winner could take home up to $25,000!!!
The Foundation for Red Deer Public Schools supports programs that have a significant impact on the LIFE CHANCES of students across the Division. By purchasing a ticket to support our 50/50 cash lottery you are giving students opportunities to have better life chances.
From giving kids a Bright Start to school to reconnecting with students so they graduate and cross the Finish Line, the Foundation helps students who face challenges in school and makes things better. We motivate struggling students and inspire them to read and write through Reading College. For students who come to school without basic needs, we give them that needed Step Up.
With the support from the Foundations 50/50 Life Chances Raffle, you are providing a student with opportunities that will improve their life. They can't always control the situations they're in but with your help students will continue to have these chances.
Don't miss your chance, CLICK HERE to buy your tickets today – Draw will be held on October 5! Good luck!
NOTE: This raffle is open to all community members in Alberta and over the age of 18.
The Red Deer Polytechnic Alumni Association is inviting you to Palate: A Taste of Local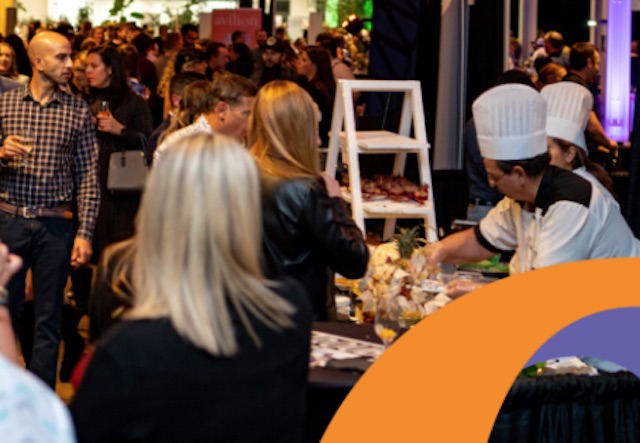 Palate: A Taste of Local is an elegant tasting experience, featuring 35 food and beverage vendors from across central Alberta. This award-winning event will take place on October 19. Do you have your tickets yet? Your ticket includes everything you need for a full tasting experience, with no hidden costs. Consider treating your team, your clients, or your friends and family to a night out while supporting our local business community, RDP Alumni Relations and RDP students at this year's kick-off to Homecoming – Palate: A Taste of Local!
Get your tickets now! Please note, this event is 18+.
This signature event, presented by the Red Deer Polytechnic Alumni Association (RDPAA), provides an elevated tasting experience, with a focus on local food producers, craft breweries and distilleries and restaurateurs. At Palate, we celebrate the amazing vendors and alumni businesses that call Central Alberta home. If you're interested in seeing your name on this event, sponsorship opportunities are still available, with more information here.
Check out everything happening Homecoming Weekend at RDP
Palate: A Taste of Local
Thursday, October 19, 2023
Cenovus Energy Learning Common | Red Deer Polytechnic
Palate: A Taste of Local is an elegant tasting event that builds on the well-established reputation of the Fine Wine and Food Tasting Festival. We've combined the elegant experience you have enjoyed in the past with new elements we know you are going to love. This redesigned special event recently received national recognition, earning a silver medal in the annual Canadian Council for the Advancement of Education Prix d'Excellence!
Your ticket is all-inclusive, providing access to all of the items available from every vendor attending the Palate. There are no extra costs – the only thing you have to worry about, is how you will be able to sample everything.
Begin your evening with a champagne toast as you enter the event space. Palate vendors will offer a variety of food items, including sweet, savoury and international dishes, as well as small batch spirits, craft beer and soda, hand-crafted cocktails and mocktails, and other beverages.
Guests will immerse themselves in central Alberta's local food and beverage culture, meeting the makers, owners and mixologists that bring these flavours to life while networking with other alumni and guests.
---
2023 Vendors
Blindman Brewing

Bo's Bar & Stage

Caballo Blanco

Café Millennium

The Curvy Bottle

Cilantro & Chive

C Zone Coffee

Dark Woods Brewing and Coffee Roasting

Delidais Estate Winery (DNA Gardens)

Field and Forge Gastro Pub

Hash & Forno

The Hideout

Jumble Eats

May Cakes

Memphis Blues Barbeque House

Moxies

Occam's Razor

One Eleven Grill

Oodles of Chocolates

Pampa Brazilian Steakhouse

Pupuseria Cristy

Red Deer Resort and Casino

Red Deer Polytechnic Cook Apprentice Program

Red Hart Brewing

Riverbend Golf & Recreation

Sawback Brewing

Share-a-tea

Silver Devil

Snake Lake Brewing

Solarzano Spa Café & Wine Bar

State & Main

Sunterra

Stems Flowers & Café

Troubled Monk

Wild Brewing
---
---
Looking for Additional Information?
Thank you to our Palate: A Taste of Local 2023 Sponsors