Red Deer Polytechnic adds Psychology degrees and two diplomas for fall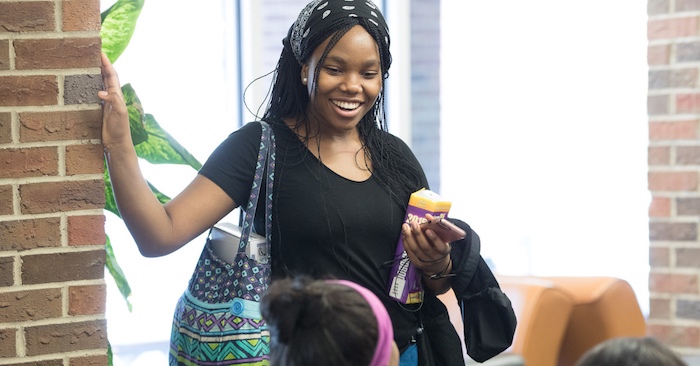 Red Deer Polytechnic continues to expand its breadth of programming for learners by offering a Bachelor of Arts in Psychology, a Bachelor of Science in Psychology, a University Arts Diploma and a University Sciences Diploma, all set to begin in Fall 2021 Term.
"We are pleased to expand our offering of credentials at Red Deer Polytechnic to meet the demand of learners. These new programs signal another important benchmark in the evolution of our post- secondary institution," says Kylie Thomas, Vice President Academic and Research. "As a unique polytechnic, we are committed to offering diverse academic pathways for students. Pathways including apprenticeship, micro-credentials, collaborative degrees, certificates, more of our own degrees, and diplomas."
The Bachelor of Arts in Psychology and Bachelor of Science in Psychology provide Red Deer Polytechnic students with a strong foundational knowledge in a range of topics including behaviour, biology, environment, cognition, neuroscience, and how these areas intersect. Throughout these programs, learners will also explore themes of wellness as they expand their analytical, creative and problem-solving skills.
"Offering of these psychology degrees at Red Deer Polytechnic provides learners the access to complete all four years of their program right here in central Alberta. The value of these opportunities cannot be understated," says Dr. Jane MacNeil, Dean of the School of Arts and Culture. "Throughout their academic journey, students will also benefit from the ability to collaborate with regional partners through participation in experiential learning such as community service and applied research opportunities."
The new two-year diplomas – the University Arts Diploma and the University Sciences Diploma – will provide students with the necessary skills, knowledge, and experiences that will help them prepare for the workforce upon completion of the program or pursue further education in a variety of fields.
Within the University Arts Diploma, learners can focus on several areas of interest in the Humanities and Social Sciences and may choose one of three academic themes: Global Perspectives; Science and Society; or Culture, Societies, and Gender.
Students enrolled in the University Sciences Diploma will explore subject areas that include Chemistry, Calculus, and Physics, with an initial specialization in Biological Sciences. This diploma prepares graduates to work in biology-related fields, to enter a professional school after two years of undergraduate studies, and to transfer into the last two years of Red Deer Polytechnic's Bachelor of Science Degree in Biological Sciences.
"Using a holistic interdisciplinary approach, learners will have the opportunity to advance their multi- faceted education as they engage in independent and collaborative scholarly inquiry throughout these diplomas," says Dr. Nancy Brown, Dean of the Donald School of Business, Science, and Technology. "With a host of hands-on learning opportunities, students will also expand their competencies in solving problems and conducting research projects."
Red Deer Polytechnic has submitted degree proposals to Alberta's Ministry of Advanced Education for Bachelor Business Administration and Bachelor of Education as it looks to broaden its program offerings in the future. The process of designing Red Deer Polytechnic's own Bachelor of Arts in Multidisciplinary Studies is also underway.
More information about these programs, including the application process, can be found online at rdc.ab.ca/apply.
About Red Deer Polytechnic: Our institution's story began as Red Deer College, opening in 1964. The institution proudly serves its learners and communities with more than 100 programs, as well as impressive learning spaces and facilities. Now, as a polytechnic institution, the post-secondary institution will continue to offer the same breadth of programs in various subject areas and credentials it offers now, plus more of its own degrees. Programs will continue to include apprenticeship training, certificates, diplomas, micro-credentials, degrees and programs in collaboration with partner post- secondary institutions.
Red Deer Polytechnic estimates that about 6,200 full-and part-time credit and apprenticeships students will enroll for the 2020/2021 academic year. The Polytechnic also provides lifelong learning opportunities to 34,000 youth and adult learners annually in the School of Continuing Education. Red Deer Polytechnic's main campus is located on Treaty 7, Treaty 6 and Métis ancestral lands. This is where we will strive to honour and transform our relationships with one another.
For more information, please visit: rdc.ab.ca
Red Deer Public Schools team up with Red Deer Polytechnic and sponsors to give 64 Grade 2 students "the best July ever!"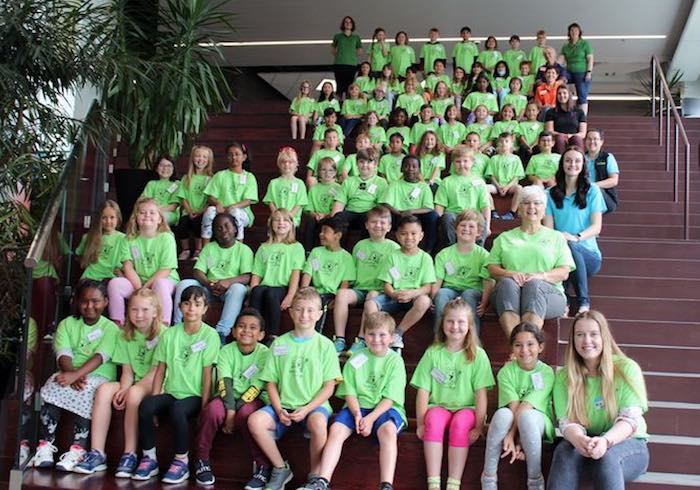 News Release from Red Deer Public Schools
Reading College has reached a big milestone this year as we celebrate its 10th anniversary.
64 Grade 2 students from across Red Deer Public Schools are going to have the best July ever while improving their reading and writing skills along the way.
Last year, due to COVID-19, the program was held in a virtual format, but this year it's back under near normal circumstances — this year at the Gary W. Harris Canada Games Centre at Red Deer College.
For the entire month, Reading College students will be immersed in a literacy rich environment, while being supported by mentor teachers as well as recent graduate teachers of Red Deer College. Students will also enjoy fun activities each day throughout the college, which will further enhance their excitement about reading and writing and introduce them to possibilities for their future.
"Third grade reading levels are one of the best predictors of high school graduation. Reading College helps struggling readers become readers of potential," said Sue Carmichael, Program Coordinator of Reading College. "Reading College is a fantastic program that inspires kids to read and write to ensure they are ready and excited to enter Grade 3."
"Even with summer holidays just starting, kids and parents were excited when they got on the bus today to start Reading College. In 20 days, we will see significant improvement using approaches that have demonstrated real success. Students will be working hard at reading and writing, but also playing hard with lots of great literacy-based activities around RDC," said Bruce Buruma, Executive Director for the Foundation for Red Deer Public Schools. "All the programs the Foundation supports creates life chances for students. Reading College gives these students foundational skills that will help them be more successful in school."
In its 10th year, Reading College is a project of the Foundation for Red Deer Public Schools. The program would not be possible without financial support from many community partners including from the Central Alberta Optimist Clubs and Tim Hortons through their Smile Cookie Campaign.
"We believe Reading College is one of the best projects our club has undertaken in the City of Red Deer," said Glenn Turple, a charter member of the Central Alberta Optimist Clubs. "It really does a lot of great things for kids who really need the help."
"The Foundation is doing such important work in our community that's benefitting so many children," said Tanya Doucette, Tim Hortons Restaurant Owner in Red Deer. "Reading College is an amazing opportunity for children at a pivotal moment in their educational careers where they are transitioning from learning to read as a skill to using that skill to enhance all of their future learning."
For more information regarding Reading College, visit rdpsd.ab.ca/Foundation.php.
Finish Line Program making a life-changing difference for Red Deer students battling difficulties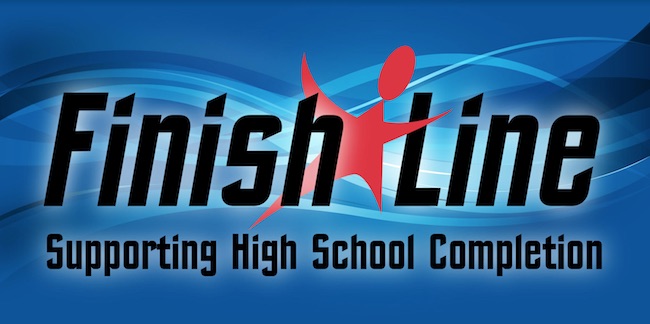 Over 400 students graduate through The Finish Line Program
It's graduation time for 802 students in Red Deer Public Schools, but the journey to cross the stage isn't the same for everyone. For some it's been a real challenge.
Through the Finish Line Program, over 400 students have earned their high school diplomas over the last number of years. These students, who were no longer in school and had not completed their high school graduation requirements, would not have graduated if it wasn't for Finish Line.
"Now more than ever, achieving a high school diploma is important. It creates life chances," said Kristine Plastow, Chair of the Foundation for Red Deer Public Schools. "Employers are asking for a minimum of a high school diploma when looking at candidates, and often those candidates are required to upgrade for post secondary to gain acceptance into a chosen field. Finish Line allows students who did not graduate an opportunity to complete their diploma and reach their full potential."
Finish Line works to identify students who are no longer in school, and who have not completed their high school graduation requirements. For some students, they may have been a few credits short of earning their diploma, and for others the task may have seemed monumental, but with the help of Program Coordinator Sharon Schultz, they were able to achieve their goal.
"Students are surprisingly honest when they are asked about their academic history," said Sharon. "They may not be proud of their lack of completion, but they are now ready to reach that finish line. Many will say that getting a call and having someone welcome them to the completion process is the first step. Most have said that they would not have taken the initiative on their own had they not been contacted for the program."
With the COVID-19 pandemic, the past year has presented new challenges for many, but there have been many opportunities as well.
"This school year, 35 students accessed the Finish Line Program. Each of these individuals have unique stories and backgrounds, and have worked hard to complete courses," said Sharon.
Some of the students of the program this year included a single mom who works full time and is raising her four-year-old son. Another young girl working as a hospital aide, can now apply for the Bachelor of Nursing program because of her high school diploma.
"With the pandemic, there has been a large increase in overage students wanting to complete their high school courses. Being laid off from a current job, being unable to find work, and being driven by the basic need to be productive, led to a huge increase in overage students accessing the program," said Sharon.
For Lisa, high school was one of the hardest times in her life. Lisa battled with mental health issues, while trying to navigate an ever-changing friend group and trying to figure out who she wanted to be as a person. As a result, she struggled to stay in school.
"I felt like I was alone in trying to move forward," she said, speaking of her desire to continue with school but constantly feeling overwhelmed. "The struggle of school was still so hard on my mental health that it was healthier for me to just not finish at that time."
When Lisa dropped out of her Grade 12 year, she had 27 of 100 credits needed to graduate. While working full-time, Lisa received a letter from the Finish Line Program.
"I didn't know what it entailed but I was ready at that point to see what my options were," said Lisa. "I met with Mrs. Schultz and she told me that even though I had only 27 credits, I had really good marks so she knew something probably was going on. This is the first time I felt really understood. I explained my story to her and like a loving mother she comforted me and we set up a plan for me to fully succeed. I knew it wasn't going to be easy but now I had her and her support by my side."
Two years after their initial meeting and putting in the work with lots of encouragement and support from Sharon, Lisa graduated from high school.
"The support didn't stop there though, and it still continues today," Lisa said of Sharon. "Besides being with me throughout my school life, she has even seen me get married, go through college and will be here for when my first child is born. I would be in a much different place and headspace if it wasn't for the Finish Line Program and Mrs. Schultz especially."
The Finish Line Program is a project of the Foundation for Red Deer Public Schools and would not be possible without the generosity of community support. Thank you to our sponsors including Nova Chemicals, Servus Credit Union, Central Alberta Co-op, Berry Architecture, Border Paving, the Red Deer Rebels, the Kiwanis Club of Red Deer and Andy and Christine Metzger.
"The Finish Line Program continues to serve a very valuable need in our community," said Sharon. "This program is viable, sustainable, and life changing for many. Thanks to the sponsors, young people are achieving."
* Lisa's name has been changed to protect her privacy