Red Deer Polytechnic adds Psychology degrees and two diplomas for fall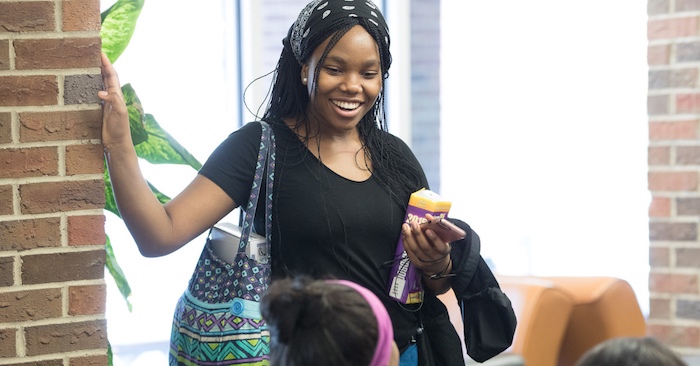 Red Deer Polytechnic continues to expand its breadth of programming for learners by offering a Bachelor of Arts in Psychology, a Bachelor of Science in Psychology, a University Arts Diploma and a University Sciences Diploma, all set to begin in Fall 2021 Term.
"We are pleased to expand our offering of credentials at Red Deer Polytechnic to meet the demand of learners. These new programs signal another important benchmark in the evolution of our post- secondary institution," says Kylie Thomas, Vice President Academic and Research. "As a unique polytechnic, we are committed to offering diverse academic pathways for students. Pathways including apprenticeship, micro-credentials, collaborative degrees, certificates, more of our own degrees, and diplomas."
The Bachelor of Arts in Psychology and Bachelor of Science in Psychology provide Red Deer Polytechnic students with a strong foundational knowledge in a range of topics including behaviour, biology, environment, cognition, neuroscience, and how these areas intersect. Throughout these programs, learners will also explore themes of wellness as they expand their analytical, creative and problem-solving skills.
"Offering of these psychology degrees at Red Deer Polytechnic provides learners the access to complete all four years of their program right here in central Alberta. The value of these opportunities cannot be understated," says Dr. Jane MacNeil, Dean of the School of Arts and Culture. "Throughout their academic journey, students will also benefit from the ability to collaborate with regional partners through participation in experiential learning such as community service and applied research opportunities."
The new two-year diplomas – the University Arts Diploma and the University Sciences Diploma – will provide students with the necessary skills, knowledge, and experiences that will help them prepare for the workforce upon completion of the program or pursue further education in a variety of fields.
Within the University Arts Diploma, learners can focus on several areas of interest in the Humanities and Social Sciences and may choose one of three academic themes: Global Perspectives; Science and Society; or Culture, Societies, and Gender.
Students enrolled in the University Sciences Diploma will explore subject areas that include Chemistry, Calculus, and Physics, with an initial specialization in Biological Sciences. This diploma prepares graduates to work in biology-related fields, to enter a professional school after two years of undergraduate studies, and to transfer into the last two years of Red Deer Polytechnic's Bachelor of Science Degree in Biological Sciences.
"Using a holistic interdisciplinary approach, learners will have the opportunity to advance their multi- faceted education as they engage in independent and collaborative scholarly inquiry throughout these diplomas," says Dr. Nancy Brown, Dean of the Donald School of Business, Science, and Technology. "With a host of hands-on learning opportunities, students will also expand their competencies in solving problems and conducting research projects."
Red Deer Polytechnic has submitted degree proposals to Alberta's Ministry of Advanced Education for Bachelor Business Administration and Bachelor of Education as it looks to broaden its program offerings in the future. The process of designing Red Deer Polytechnic's own Bachelor of Arts in Multidisciplinary Studies is also underway.
More information about these programs, including the application process, can be found online at rdc.ab.ca/apply.
About Red Deer Polytechnic: Our institution's story began as Red Deer College, opening in 1964. The institution proudly serves its learners and communities with more than 100 programs, as well as impressive learning spaces and facilities. Now, as a polytechnic institution, the post-secondary institution will continue to offer the same breadth of programs in various subject areas and credentials it offers now, plus more of its own degrees. Programs will continue to include apprenticeship training, certificates, diplomas, micro-credentials, degrees and programs in collaboration with partner post- secondary institutions.
Red Deer Polytechnic estimates that about 6,200 full-and part-time credit and apprenticeships students will enroll for the 2020/2021 academic year. The Polytechnic also provides lifelong learning opportunities to 34,000 youth and adult learners annually in the School of Continuing Education. Red Deer Polytechnic's main campus is located on Treaty 7, Treaty 6 and Métis ancestral lands. This is where we will strive to honour and transform our relationships with one another.
For more information, please visit: rdc.ab.ca
RDP Queens drop Trojans, share first place in the south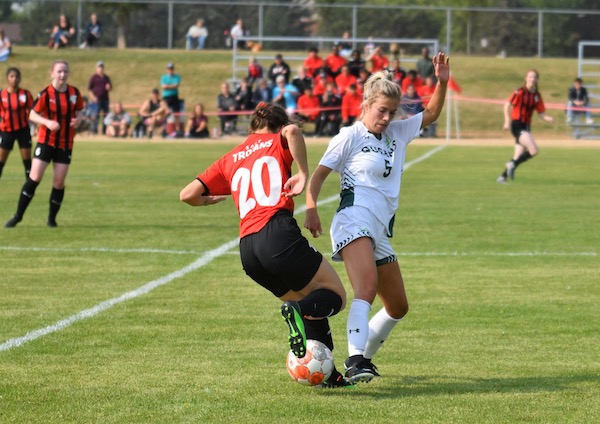 Ever since the Red Deer Polytechnic Queens were edged by the SAIT Trojans 4-3 in the season opener, they had the October 2 rematch circled on their calendars.
Despite playing the Trojans tough in the first game, the RDP Queens had several injuries and ill student-athletes, and believed if they were healthy and played up to their potential they could topple the defending Alberta Colleges Athletic Conference (ACAC) Champions.
That belief turned into reality Sunday afternoon in Calgary.
The visitors struck twice in the first half and earned an impressive 2-1 road decision over the second ranked women's soccer team in the Canadian Collegiate Athletic Association (CCAA).
In the 28th minute, Queens first-year striker Sein Furuyama controlled the ball on the left side and fired a high shot that eluded Trojans goalkeeper Erin Mergen into the right side of the net. It was Furuyama's league leading 19th goal of the season.
Furuyama (20)
The RDP Queens kept the pressure on and went up by a pair of goals 11 minutes later. Alisha Coules set up Grace Smith and the Bachelor of Commerce student found space in the left side of the net.
The 2-0 lead held until the 68th minute. On a two-on-one, SAIT's Meaghan Wiebe, the 2021/2022 ACAC Women's Soccer Rookie of the Year, elected to shoot and beat Queens goalkeeper Abby Kotyk with a low shot.
Both Kotyk (five saves) and Mergen (four saves) were unbeatable over the final 22 minutes and the Red Deer Polytechnic Queens sealed a 2-1 victory.
The RDP Queens (6-1-0) and SAIT Trojans (6-1-0) now share first place in the south.
Edmonton's Estel Quinteros was recognized as the Queens Player of the Game.
E. Quinteros (8)
Harleen Singh was named the Trojans Player of the Game.
The Red Deer Polytechnic Queens (6-1-0) will play the Ambrose University Lions (0-8-0) on Friday, October 7 on the road.
Janet Alvarez Perez (6)
RDP Kings Cross Country Running team finishes first, Queens place third at Grand Prix #3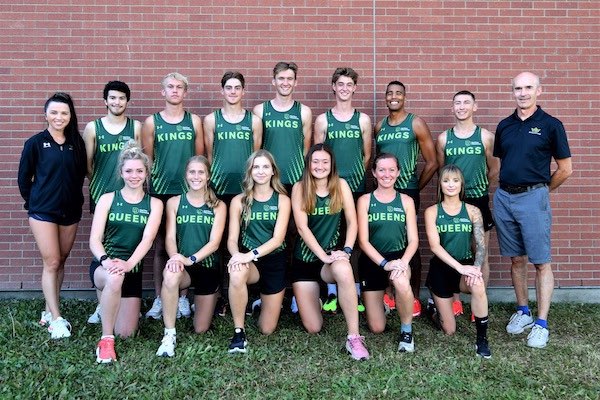 The Red Deer Polytechnic Cross Country Running team had another solid showing in its third conference competition of the 2022/2023 Alberta Colleges Athletic Conference (ACAC) season.
At Running Room Grand Prix #3, the Red Deer Polytechnic Kings earned top spot and the RDP Queens captured third.
RDP Kings
Lacombe's Daniel Szucs (27:49) had another strong race and placed fourth among ACAC male competitors over 8 km. Ethan Duret (29:10) finished seventh. Teammate Ben House (29:57), who is a first-year Bachelor of Science in Biological Sciences student, was eighth. Red Deer's Axsivier Lawrence (31:03) placed 11th.
House
SAIT's Moktar Said (26:17) took top spot among ACAC male runners and helped the Trojans finish second. The Lethbridge College Kodiaks Men's team wrapped up third.
RDP Queens
Lacombe's Jenica Swartz (24:09) paced the Queens over 6 km, placing second among ACAC female runners. Swartz was only four seconds behind first place Reese Bendiksen (24:05) of the University of Alberta Augustana Vikings.
Three members of the Queens finished 11 seconds within one another.
Justine Larson (27:01) completed the race in 12th spot. Teammate Myah Cota (27:08) followed seven seconds later in 13th and Three Hills' Melissa Ray (27:12) placed 15th.
Cota
The St. Mary's University Lightning Women's team grabbed first place. The Medicine Hat College Rattlers were second.
There is one more grand prix before the championships.
St. Mary's University will host Running Room Grand Prix #4 on Saturday, October 15 in Calgary.
The ACAC Cross Country Running Championships will take place on Saturday, October 29 in Edmonton.