Red Deer Mother back from the brink of death thanks to Red Deer Regional Hospital, shares her story.
This story shared by a Red Deer Mom whose daughter sent a note to the Red Deer Regional Health Foundation saying 'thank you' because the doctors & nurses at our hospital saved her Mom's life. The McKinley family knows that the Foundation played a role in her recovery because of the support they provide to the hospital through the purchase of new equipment.
—————————
If you have an opportunity to share the video we would really appreciate it. Below are quotes from Sabrina McKinley about her ordeal.
It was the day of my little girl's baptism and my heart ached to be at the church with her. Instead, I was in the Emergency Department at the Red Deer Regional Hospital with severe fatigue and a fever. An infection was raging in my body and I had no antibodies to fight it.
My name is Sabrina McKinley and this wasn't my first visit to the hospital. I became a patient here when I was diagnosed with breast cancer in 2014. A few days before Erikka's baptism, I received chemotherapy which compromised my immune system. If not for the quick action of my healthcare team in the Emergency Dept, I don't think I'd be here today. My situation was so serious I was transferred to the Palliative Care Unit. It was terrifying to hear that I might not make it. My family had to start preparing for the worst.
But I was determined to pull through. Erikka, was only seven years old and she needed me. I'll never forget her words to me. "You have to come home, mommy. This isn't the end," she said. Thanks to the lifesaving treatment I received at the Red Deer Regional Hospital, Erikka was right. It wasn't the end. My incredible doctors and nurses saved my life. I desperately needed comfort and reassurance and I found both at the Red Deer Regional Hospital. My amazing care team assured me I wasn't in this fight alone. They were there by my side every step of the way.
I am so grateful I could get all the care I needed in my community. It meant I could be home every day for my daughter and nothing was more important to me.
My family and I have so many reasons to be grateful today. Thanks to the generosity of the hospital's amazing supporters, I'm here to watch my daughter grow up. I wake up each morning ready to enjoy every single moment of my life.
Shelly Flint Appointed as New CEO of Westerner Park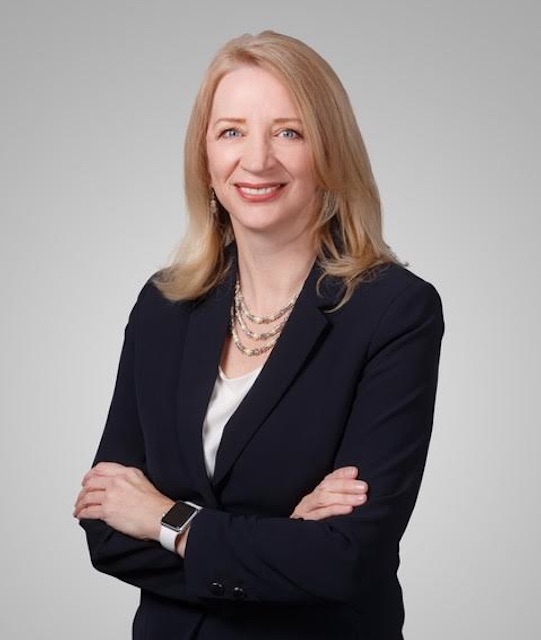 Westerner Park, a distinguished agricultural society and premier exhibition venue in the heart of Central Alberta, is pleased to announce Shelly Flint as its new Chief Executive Officer (CEO). This decision culminates a thorough and extensive search process, with the Board of Directors expressing their enthusiasm for the promising journey ahead under Shelly's leadership.
Tyler Nightingale, President of the Board of Directors, shared his excitement about the appointment, stating, "After a comprehensive search, we are thrilled to welcome Shelly. Her extensive experience, skill set, and knowledge align seamlessly with the strategic direction of Westerner Park, ensuring a positive and enduring impact on both the organization and the community at large."
Tara Lodewyk, Red Deer City Manager, added, "Shelly immediately connected with the mission of Westerner Park and the value it brings to the culture of our city and region. We are looking forward to working together and are confident in her leadership of Westerner Park."
For the past two decades, Shelly has served as a senior executive, spearheading diverse teams within Alberta's dynamic entertainment and finance sectors. Her tenure as the former CFO at the Calgary Stampede equips her with a distinctive insight into the intricacies of Westerner Park, enabling her to adeptly navigate its challenges and leverage its opportunities. Coupled with her roots in Central Alberta, Shelly is poised to steer the Park towards growth and long-term sustainability.
Shelly expressed her eagerness to join Westerner Park, saying, "I was thrilled at the opportunity to return to Central Alberta, where I grew up! Leading this purpose-driven organization will allow me to contribute to my community and affect meaningful change."
Shelly Flint's robust leadership, commitment to community, and extensive experience makes her an exceptional choice to lead Westerner Park into the future. The entire Westerner Park team eagerly anticipates the positive impact she will bring to this renowned institution.
About Westerner Park
Westerner Park is Central Alberta's largest tradeshow, agricultural, sports, entertainment, and convention facility. A not-for-profit organization and agricultural society, Westerner Park typically generates $150 million annually in economic activity, hosting over 1,500 events and 1.5 million visitors each year.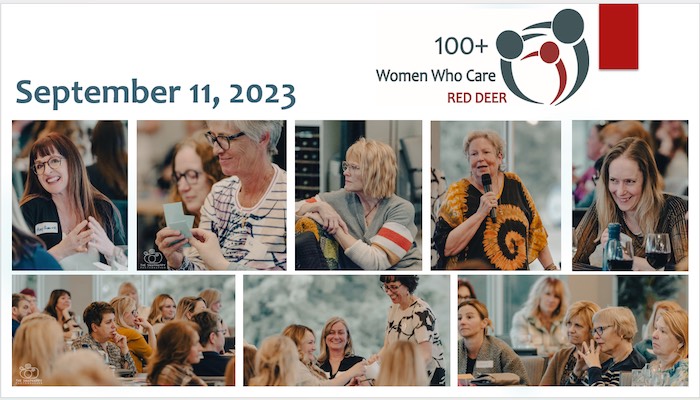 News release from 100 Women Who Care
The room was buzzing with energy and connection on Monday night – what a great way to kick off the fall with a full-house!
Thanks to everyone who joined us, with a special thank you to the 14 new members and their friends who encouraged them to join. There were also a few ladies simply checking out the vibe and we hope to see them again.
We had three excellent, engaging presentations from:
Judy-Ann Wybenga – Red Deer Food Bank Society
Jean Stinson – Red Deer Action Group Society
Lisa Smith – Central Alberta Pregnancy Care Centre
Congratulations to Judy-Ann! Our donations are going to the Red Deer Food Bank Society for their Community Kitchen initiative. We sure hope we get two big cans on the donor board. (Inside joke, ya had to be there!
)
There are two ways to make your donations to the Red Deer Food Bank through the Red Deer and District Community Foundation:
Mail a cheque to the Red Deer & District Community Foundation at 4901 48 St #503, Red Deer, AB T4N 6M4. Please write "100+ Women RD" along with "Red Deer Food Bank" in the memo line.
OR
Use this link or QR code to donate

– just be sure to note Red Deer Food Bank on the online form. If you can, please consider adding $4 to your online donation to cover the Foundation's processing fees. Simply click on the link to do so – no need to add it to your donation.
https://www.canadahelps.org/en/dn/67021
The Red Deer and District Community Foundation manages our donations and ensures that they arrive all present and accounted for to the recipient charities. Erin Peden, Executive Director of the RDDCF (and 100+ Women member) gave us an enlightening date on the amazing work happening at the Foundation. It sure had both of us thinking about ways we can support it more.
Thank you Jody Wianko for the update from CMHA. Our donation helped more that 340 people since April.
Kim Mortimer, The SnapHappy Photographer, was everywhere in the room getting great action shots. The sample above from April's meeting shows what a fun, yet serious, group we are. It's so great having you at the meetings, Kim. And for bringing friends!
There is so much happening in Central Alberta! Here are a few of the community announcements:
We asked and these gals delivered! Jillian donated a beautiful autumn arrangement and two tickets to the Mustard Seed's Bowls for Bellies event. Shelley donated a $100 gift certificate from her family business, Twisted Steel Blacksmithing. Annamarie donated a gorgeous fresh bouquet on behalf of Hucal and Edwards Orthodontics.
We asked and you delivered! The Central Alberta Women's Emergency Shelter and Safe Harbour Society are very grateful for the generous donations of toiletries and personal care items.
It was great to see so many people arrive early to socialize and a number that stuck around after the meeting to keep the evening's energy going. Thank you to Mary Warrener, Samantha Sheridan and Gail Bellanger for all their help at the registration desk, collecting and counting ballots, and generally keeping us organized. Thanks also to everyone who assisted with the post-meeting clean up. We hardly had to lift a finger and it gave us a chance to visit a few of you.
And lastly – aargh – EMAIL ISSUES! We have heard from many of you that you're not getting our emails, so we took some time before sending this out to restructure our email list. Fingers crossed that it worked! Please respond to the read request. This will help us gauge who is and who isn't getting the emails. Please compare notes with your 100+ Women friends, too, by asking if they received this email and letting us know if there are still gaps. Our apologies to everyone who hasn't been in the loop and we that this is rectified "toot sweet"
.
NEXT MEETING: MONDAY, NOVEMBER 27.
With so much gratitude to all of you,
Cindy and Susan