Red Deer man arrested after ramming police car with a stolen truck
Red Deer, Alberta – A Red Deer man wanted on three warrants faces 24 new criminal charges after ramming an RCMP cruiser while attempting to evade arrest in a stolen truck yesterday afternoon.
At 1:30 pm on June 5, Red Deer RCMP responded to a report of a stolen truck parked in the Riverside Meadows neighbourhood. RCMP boxed in the truck to prevent it fleeing police, and the male suspect standing at the truck then entered the truck and used it to ram the driver's door of the police cruiser while the police officer was behind the wheel. The suspect then exited the truck through the open passenger window and attempted to flee on foot. He was arrested immediately despite struggling with police officers.
During the arrest, RCMP seized two stolen cheques – a government cheque that had been altered, and a cheque stolen from a business and made out to the suspect – brass knuckles, a knife, and several pellet and BB guns that the suspect was prohibited by court order from possessing. Police also seized bolt cutters and other tools known to be used in vehicle break-ins, and several stolen identity documents.
"Red Deer RCMP were actively looking for the stolen white Chevrolet truck after it fled during an attempted traffic stop earlier the same day and we are relieved to say that the officer in the rammed police vehicle was not injured," says Corporal Karyn Kay of the Red Deer RCMP. "When criminals in stolen vehicles attempt to evade arrest, the vehicle can become a deadly weapon, so our thanks go out to the citizen who reported the truck's location. Citizens play a crucial role in our crime reduction efforts by helping police take stolen vehicles off the road without injury to innocent civilians, and helping us to put repeat offenders before the courts as often as possible."
At the time of his arrest, 30 year old Cody Alan Feil was wanted on three warrants for theft under $5,000, possession of stolen property over $5,000 and driving while disqualified, after he was identified as the suspect in a gas and dash in a stolen jeep the afternoon of May 18. Red Deer RCMP had further arrested him the day before, May 17, on an earlier warrant and charged him with drug possession and resisting arrest at that time.
In addition to his warrants, Cody Feil faces a litany of charges including: 3 counts of possession of stolen property under $5,000, resisting and obstructing a peace officer, assault with a weapon, 3 counts of possession of identity documents, 3 counts of possession of a prohibited weapon, 2 counts of unauthorized possession of a firearm, and other charges.
Cody Feil has been remanded to appear in court in Red Deer on June 7 at 9:30 am.
Read more stories about crime in the area on Todayville.com.
Search warrant seizure: Early morning traffic stop leads Innisfail RCMP to firearms cache in Penhold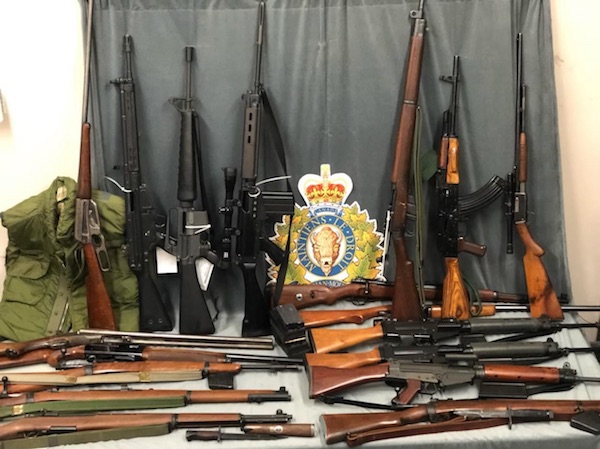 News Release from Innisfail RCMP
Innisfail RCMP execute search warrant recovering numerous firearms, charges laid
At approximately 5 a.m. on Nov. 30, 2021, Innisfail RCMP observed a subject known to police to violate his court-imposed conditions by leaving his residence in Penhold, Alta., and depart in a vehicle.
With the assistance of Blackfalds RCMP, a traffic stop was conducted on Highway 2A leaving Penhold. Three occupants in the vehicle were located in possession of two firearms. The vehicle and firearms were seized and the occupants, two males and one female, were arrested.
Search warrants were obtained and executed by Innisfail RCMP at the residence in Penhold as well as on the seized vehicle with the assistance from the Southern Alberta Crime Reduction Unit (SACRU), Forensic Identification Section (FIS), and the National Weapons Enforcement Support Team (NWEST) along with Blackfalds and Innisfail ITU
A total of 21 prohibited and non restricted firearms were seized, along with silver coins, collectable currency and suspected methamphetamine and drug paraphernalia.
Jordan Glasgow (21) from Penhold, Casey Laprise (33) of no fixed address, and Amber Parfitt (37) from Olds, Alta., have been jointly charged with numerous offences:
Possess firearm in vehicle (x2)
Possession of a firearm obtained by crime
Possession of a weapon dangerous to public peace (x2)
Possession of stolen property over $5000 (x2)
Possession of stolen property under $5000
Possession of break in instruments
Jordan Glasgow and Amber Parfitt have been jointly charged with:
Unauthorized possession of a firearm (x3)
Unsafe transportation of firearm in motor vehicle
Possess loaded firearm
Jordan Glasgow has also been charged with:
Possession of a weapon dangerous to public peace
Fail to comply with release order
Unsafe storage of a firearm (x2)
Unauthorized possession of a firearm (x2)
Possession of a firearm obtained by crime
Possession of stolen property under $5000 (x2)
Amber Parfitt has also been charged with:
Possession for the purpose of trafficking (CDSA)
Possession of a controlled substance (CDSA)
Possession of stolen property over $5000
Casey Laprise has also been charged with:
Unsafe transportation of a firearm in a motor vehicle
Possession of a loaded firearm
Unauthorized possession of a firearm (x2)
After a judicial hearing, all three accused were remanded to custody. Casey Laprise and Amber Parfitt will next be appearing on Dec. 9, 2021, and Jordan Glasgow on Dec. 12, 2021, in Red Deer Provincial Court.
Innisfail RCMP General Investigative Section believe the firearms seized are related to a recent Break and Enter in Innisfail and are continuing to investigate.
Innisfail RCMP are encouraging the community to report criminal or suspicious activity when it is observed as too often incidents are reported long after the incident. Reports tell us where to look, who to look for, and where to patrol in the future. If you see a crime in progress, dial 911. If you wish to remain anonymous, contact Crime Stoppers at 1-800-222-8477 (TIPS), online at www.P3Tips.com or by using the "P3 Tips" app available through the Apple App or Google Play Store.
Two Million Dollar Drug Bust in Edmonton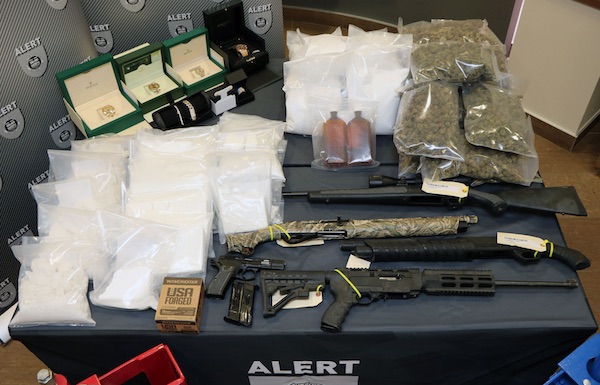 News Release from ALERT (Alberta Law Enforcement Response Team)
Project Elk concludes with eight arrests, millions in drugs and assets seized
A two-year cross-Canada drug trafficking investigation has concluded with eight Edmonton suspects facing charges. ALERT seized roughly $2 million in drugs, cash, and proceeds of crime.
Project Elk was a lengthy investigation into an Edmonton-based drug trafficking network that was involved in drug importation. Eight suspects were arrested and charged in October 2021 with offences ranging from drug and firearms related, to conspiracy to commit an indictable offence, to commission of an offence for a criminal organization.
The suspects are scheduled to make their initial court appearances on November 25, 2021.
"Project Elk will prove to be significant disruption to drug markets in Edmonton and other communities in northern Alberta. The negative impacts of drug trafficking are multi-faceted and connect back to societal harms such as gang-related violence, theft, property crimes, and healthcare implications," said Inspector Kevin Berge, ALERT Edmonton.
ALERT Edmonton's organized crime team spearheaded the investigation in November 2019, and Project Elk also involved the assistance of the Edmonton Police Service, and specialized RCMP units from Alberta, Saskatchewan, and Ontario.
In August 2020, ALERT intercepted a six-kilogram cocaine shipment that originated in Toronto. The seizure precipitated a series of search warrant executions in which six homes in the Edmonton were searched and one home in Strathcona County.
Project Elk resulted in the seizure of:
Five firearms;
10 kilograms of cocaine;
17 kilograms of a cocaine buffing agent;
4.7 kilograms of meth;
2.9 kilograms of cannabis; and
$135,000 cash.
In addition, ALERT seized roughly $200,000 in offence related property, including three vehicles, jewelry, diamond rings, and Rolex watches.
"The drug trade doesn't pay in the end. If you're not shot, you're ending up in jail, and you're only hurting the people around you. It's not the glamourous lifestyle that is fictionalized for the sake of TV and movies," said Berge.
A total of 35 criminal charges have been laid against:
Tyshawn Walters, 29-year-old man from Edmonton;
Kashane Walters, 34-year-old man from Edmonton;
Kariyawasam Kariyawasam, 39-year-old man from Edmonton;
Tyree Malcolm, 28-year-old man from Edmonton;
Levi Collinge, a 39-year-old man from Edmonton;
Boris Derpich, 43-year-old man from Edmonton;
Stacey Sharpe, 35-year-old woman from Edmonton; and
Trevor Bellows, 31-year-old man from Edmonton.
Members of the public who suspect drug or gang activity in their community can call local police, or contact Crime Stoppers at 1-800-222-TIPS (8477). Crime Stoppers is always anonymous.
ALERT was established and is funded by the Alberta Government and is a compilation of the province's most sophisticated law enforcement resources committed to tackling serious and organized crime.