Red Deer is Canada's most active community. Celebrate with free activities at the Collicutt Centre!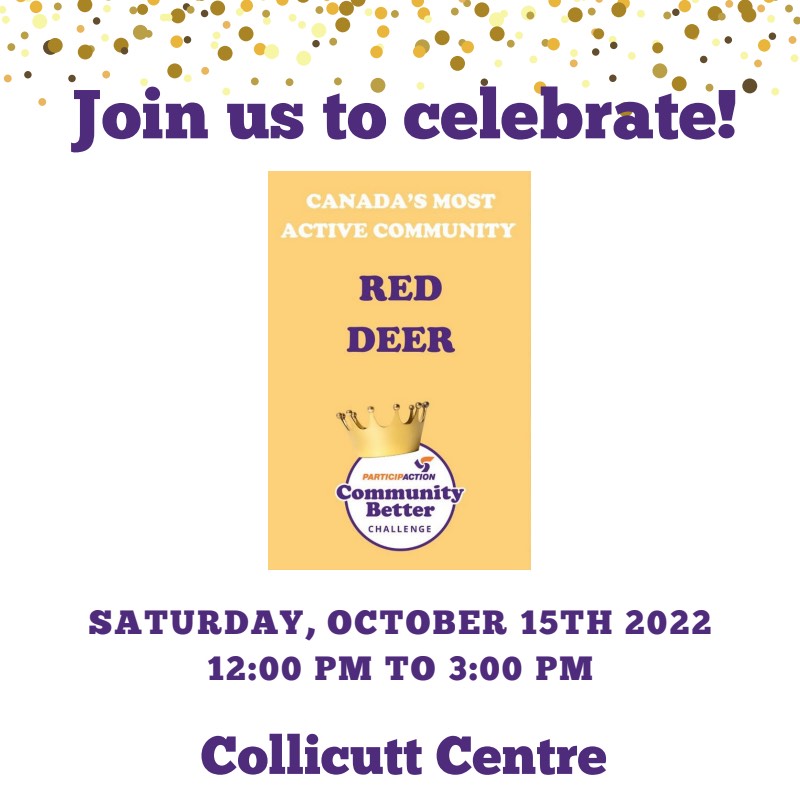 News release from the Red Deer Primary Care Network
Residents are invited to celebrate Red Deer winning the Community Better ParticipACTION Challenge and the title of the "Most Active Community" in Canada.
October 15, 2022, Collicutt Centre
In June, Red Deer Residents participated in the ParticipACTION Community Better Challenge.
This challenge saw our citizens and community organizations tracking over 19 million minutes of physical activity. We had over 700 community members and 35 community organizations showing a total of 153,010 people participating in organized community events and tracking their activity on the ParticipACTION app or website.
This support by our community helped Red Deer WIN the title of Canada's Most Active Community. Along with the title we received the $100,000 grand prize to be put back into our community to stay active and healthy.
As recognition and to thank everyone for their efforts and celebrate this victory, we welcome all Red Deer citizens to join us at that the Collicutt Centre on October 15th, 2022, from 12:00- 3:00pm.
There will be a warm welcome address by Mayor Johnston between 12:00-12:15pm followed by FREE Swimming, Skating and activities in the Field House for everyone to participate in. There will also be the opportunity to connect with community organizations showcasing their services on mainstreet in the Collicutt.
"HotSpot" – How to use the City of Red Deer's new downtown parking app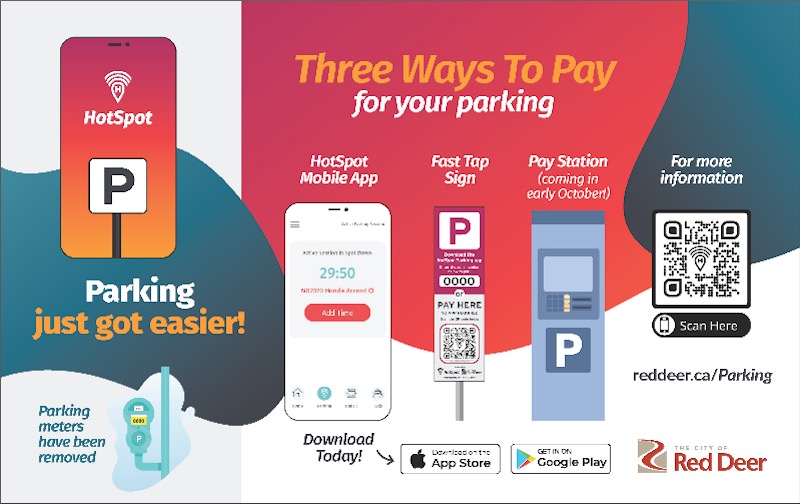 HotSpot has launched in Red Deer! If you're visiting our downtown for work, attending an event, or supporting a downtown business, you'll use HotSpot to pay for your parking.
Three ways to pay!
HotSpot mobile app
A free download for iPhone and Android users, the HotSpot app is the easiest way to manage daily parking sessions and monthly permits.
Download HotSpot:
Fast tap signs
Located throughout the downtown parking areas, fast tap signs allow payment through the HotSpot website with a quick scan code. You don't need a HotSpot account to use the fast tap signs.
Pay stations
If you prefer not to use an app or website, 21 new pay stations will be available throughout downtown and hospital zones. Pay stations offer several payment options, including coins, credit cards, Interac tap, Apple Pay and Google Pay. SmartCard parking cards will also be accepted at the pay stations, but are no longer able to be reloaded and are no longer being sold. Pay stations are expected to be up and running in early October. Until they arrive, customers are encouraged to use the app and fast tap signs to pay for parking.
Pay Station and Parking Zone Map (pdf)
HotSpot app features By using the HotSpot mobile app to manage your parking, you can:
Pay for parking
Extend parking sessions
Avoid tickets with auto-alerts
Refund unused time
Manage your monthly parking permit
More information
Review The City of Red Deer Parking Management Strategy (pdf).
Questions about downtown parking may be directed to The City's Inspections & Licensing department at 403-342-8185 or [email protected].
The City of Red Deer thanks the Government of Alberta for supporting the Parking Infrastructure Improvement Project through Municipal Sustainability Initiative (MSI) funding.
Bus fares and transit fees rising next month: City of Red Deer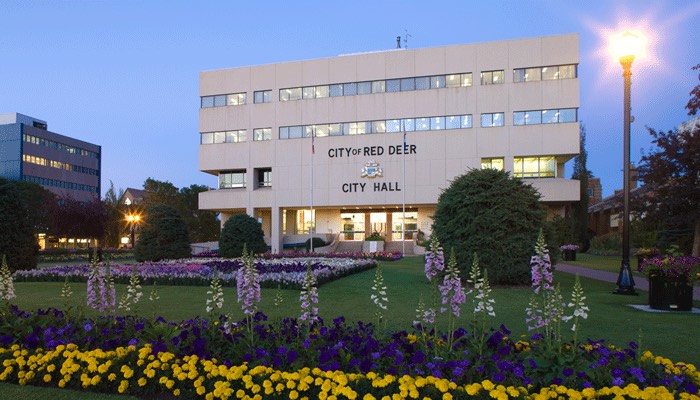 Increase to fees and fares, effective September 1
Starting September 1, 2023, there will be an adjustment to fares and fees for Transit, Recreation and Cemetery Services.During 2023/2024 budget deliberations City Council agreed that an increase to bus fares, recreation fees and cemetery fees was necessary to keep up with the rising costs for operating.

"Like every business, our operating costs have increased and in order to maintain our current levels of service for our riders we had to consider increasing our bus fares," said Jeremy Bouw, Manager, Transit & Fleet Services. "This year we have seen our ridership slowly increasing and we want to keep that trend moving upward by maintaining our transit services and continuing to attract new riders."

As of September 1, the following rates will be applied to Transit services:
Cash Fares

Adult (18-64 years) – $3
Youth (6-17 years) / Student / Senior – $2.50

12 Ride Pass

Adult – $33
Youth / Student / Senior – $27.50

Unlimited Ride (Monthly Pass)

Adult – $75
Senior – $62
Student – $62
MyRide, The City's electronic bus pass, is available for purchase at Transit Customer Service in Sorensen Station or at City Hall. MyRide can be conveniently reloaded with the fare type of your choice in 12 ride bundles or unlimited monthly passes at Transit Customer Service, City Hall or one of the seven reload stations located throughout the community.
As of September 1, the following recreation services will experience rate changes:
Daily admission at the Collicutt Centre, Recreation Centre, Michener Centre, Servus Arena, Kinsmen Community Arenas and Setters Place at Great Chief Park
Monthly Recreation All Access Passes and Recreation Value Passes*
10 punch passes at the above-mentioned facilities
Group admission fees at the above-mentioned facilities
Childminding fees at the Collicutt Centre and G.H. Dawe Community Centre
Facility rental fees
* The Recreation Plus Pass fee was adjusted with the opening of the newly expanded G.H. Dawe Community Centre in February, and will not receive another adjustment in September.
"Our intent is always to provide as much access to recreation as possible, while managing increased costs, staffing levels and maintenance demands," says Tammy Greba, acting Recreation Superintendent. She continues, "as a demonstration of this, we continue to offer the Fee Assistance Program to those needing financial help accessing City Arts and Recreation programs and services."
For more information on fees and fares visit: