RDP Kings Cross Country Running team finishes first, Queens place third at Grand Prix #3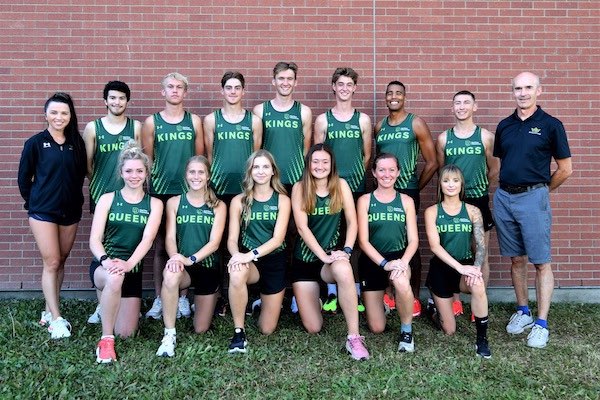 The Red Deer Polytechnic Cross Country Running team had another solid showing in its third conference competition of the 2022/2023 Alberta Colleges Athletic Conference (ACAC) season.
At Running Room Grand Prix #3, the Red Deer Polytechnic Kings earned top spot and the RDP Queens captured third.
RDP Kings
Lacombe's Daniel Szucs (27:49) had another strong race and placed fourth among ACAC male competitors over 8 km. Ethan Duret (29:10) finished seventh. Teammate Ben House (29:57), who is a first-year Bachelor of Science in Biological Sciences student, was eighth. Red Deer's Axsivier Lawrence (31:03) placed 11th.
House
SAIT's Moktar Said (26:17) took top spot among ACAC male runners and helped the Trojans finish second. The Lethbridge College Kodiaks Men's team wrapped up third.
RDP Queens
Lacombe's Jenica Swartz (24:09) paced the Queens over 6 km, placing second among ACAC female runners. Swartz was only four seconds behind first place Reese Bendiksen (24:05) of the University of Alberta Augustana Vikings.
Three members of the Queens finished 11 seconds within one another.
Justine Larson (27:01) completed the race in 12th spot. Teammate Myah Cota (27:08) followed seven seconds later in 13th and Three Hills' Melissa Ray (27:12) placed 15th.
Cota
The St. Mary's University Lightning Women's team grabbed first place. The Medicine Hat College Rattlers were second.
There is one more grand prix before the championships.
St. Mary's University will host Running Room Grand Prix #4 on Saturday, October 15 in Calgary.
The ACAC Cross Country Running Championships will take place on Saturday, October 29 in Edmonton.
Queens Soccer rookie Sensation Sein Furuyama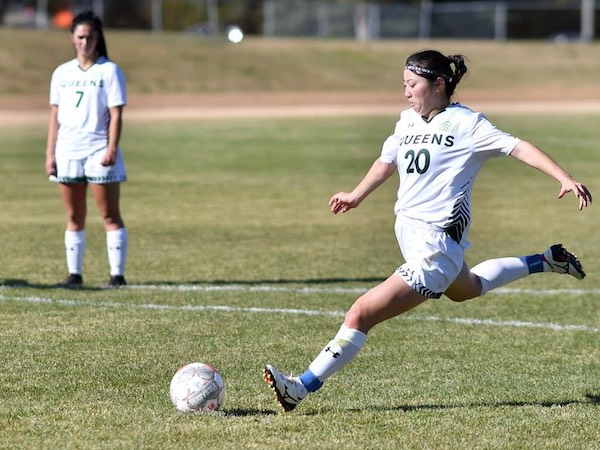 By Seth Slomp of Red Deer Polytechnic Communications
Sein Furuyama 'Lives. Eats. Breathes. Soccer. Repeat.'
Absolutely brilliant. Kind-hearted. Enthusiastic. Amazing. Caring. Team-player. Unbelievable. These are just some attributes that describe one international player, who made a mark on the Red Deer Polytechnic Queens Soccer team as well as in the Alberta Colleges Athletic Conference (ACAC). But all-in-all, no word can do justice to what this player accomplished this year Sein Furuyama, who hails from Kobe, Japan, is 21 years old and has been playing soccer since the age of seven. She chose the sport because her older brother played it and she liked it the most out of all the other sports she tried.
"I was playing in Fukui High School, and we made it to nationals. I was a right-wing at the time and we managed to just win one game. I scored a couple of goals, and it was also a good time similar to this season in Red Deer."
When asked about the differences between Japanese and Canadian soccer, Furuyama explained they do not have player of the game honours. If somebody played well, they did not get recognized. At the end of the season, they had a banquet but did not have supper or an awards ceremony. All that was involved in this formal event was speeches from players and coaches which Furuyama found boring.
"I really like the system in the ACAC because it was a rare experience for me as I was able to evaluate the results I had over the past season. The physicality in the matches is totally different as there are only like one to three fouls a game in Japan, where I find there are a lot more fouls called in Canada."
The Japanese-striker wanted to come to Canada and study English before her future was decided, which has been an incredible experience for Furuyama so far. She explained living away from home and her parents is something she is used to as the Academic Upgrading student-athlete started living alone at the age of 15.
Throughout two years in Canada, the ACAC rookie has toured Vancouver, Victoria and Montreal which she really enjoyed. Furuyama also really enjoyed a place not too far from Red Deer.
"These places were definitely a good experience as it was nice to get out of Red Deer for a bit and see a bit more of Alberta and Canada. I also went to Banff which was my favourite of all the places. It was really pretty. I like the life in Canada, and I am having a great time."
She did not just come here to tour around and learn English, Furuyama was recruited by Queens Soccer Head Coach Mahziar Peyrow to play for his team in the ACAC. The 2022 South Coach of the Year thought it would be nice to add an international athlete to a program that
has never had one.
"I wanted to bring something different to our game. I worked for many months on recruiting Sein. She came very highly recommended from her coaches in Japan and it showed in her game play. She's extremely disciplined, talented, and technically sound. Sein is very coachable even with the language barrier"
It took 18 months for Furuyama to play her first match with the Queens, but it did not take long for her to leave a mark on the ACAC. In her debut match against a strong SAIT Trojans squad, she scored two of the Queens' three goals in the 4-3. She went scoreless the next game but followed that up with a total of 12 tallies against the Medicine Hat College and the Ambrose University Lions. This started a goal streak which saw her score 23 goals in six games, which put herself in good position to break the ACAC Single Season Goal Record. This was previously held by Kayla Michaels, who played for the NAIT Ooks, and scored 26 goals in the 2014/2015 season. At this point, she was just two away from breaking the record, but it took some time as she went scoreless against the University of Alberta-Augustana Vikings and the Lethbridge College Kodiaks. On October 16, history was made for Furuyama as she capitalized on two shots against the Rattlers to tie and break the record in the same game. She added two more goals to extend the record in a single season to 29.
The captain of the Queens, Alisha Coules, who is graduating from the Queens Soccer program this year, explained Furuyama is amazing and unique in her own way.
"Despite her successes and accomplishments on the provincial and national collegiate level, she acknowledged everyone that contributed to her achievements and looked at the team who got her there. She 'Lives. Eats. Breathes. Soccer. Repeat.' which is definitely evident in her commitment to the sport, her gameplay and to the team."
With a record-breaking season in her first year playing in Alberta, she was awarded not only the Women's South Rookie of the Year but also the South Player of the Year honour. On top of all this, Furuyama was named to the All-Conference and All-Canadian squad for her incredible performance in her rookie season and also finished with a gold medal around her neck at the championships in Lethbridge.
Sein and Alisha became a dynamic duo in the conference at the top of the Queens formation and Peyrow said they both understood what the team worked on every training session and were able to break the back line well. They stayed close to each other and worked off each other's touch very well. When asked about why Furuyama, a natural goal scorer, and herself worked well together, Coles described she was able to do what she did best – playmaking.
"This year was phenomenal because it allowed me to do what I did best and fulfill my role as a playmaker on the team. Sein is phenomenal at working off and on the ball. She has an amazing shot, so it created that dynamic duo at the front end, which gave the opposing team something to worry about."
The graduating nursing student added the international player was game smart and was able to exploit gaps in the opposing defensive line. Coules said that she seemed to be a lot quicker than the rest of the league and had a powerful shot, which made her stand out from the rest of the female athletes.
Even though all her honours were individual awards, Furuyama the kind-hearted, caring, enthusiastic person that she is, recognized her accomplishments as a team win.
"I really enjoyed my time with my teammates and was happy with everything. My individual results are thanks to everyone: my teammates, coaches, and of course the fans. I can't get those awards without the people that supported me throughout the year. Lastly, I want to thank my parents too. I really appreciated the support I got from the bottom of my heart."
As of now, Furuyama is considering coming back next year but first must go back to her university in Japan and graduate. Once this happens, the South Player of the Year hopes to come back to play with her Queens teammates as this was a season Furuyama will never forget.
RDP Queens drop Trojans, share first place in the south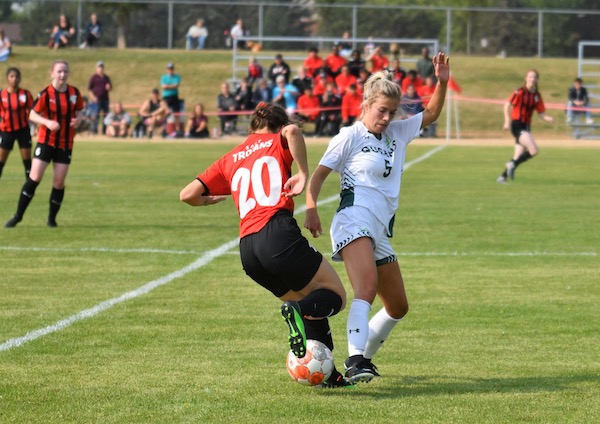 Ever since the Red Deer Polytechnic Queens were edged by the SAIT Trojans 4-3 in the season opener, they had the October 2 rematch circled on their calendars.
Despite playing the Trojans tough in the first game, the RDP Queens had several injuries and ill student-athletes, and believed if they were healthy and played up to their potential they could topple the defending Alberta Colleges Athletic Conference (ACAC) Champions.
That belief turned into reality Sunday afternoon in Calgary.
The visitors struck twice in the first half and earned an impressive 2-1 road decision over the second ranked women's soccer team in the Canadian Collegiate Athletic Association (CCAA).
In the 28th minute, Queens first-year striker Sein Furuyama controlled the ball on the left side and fired a high shot that eluded Trojans goalkeeper Erin Mergen into the right side of the net. It was Furuyama's league leading 19th goal of the season.
Furuyama (20)
The RDP Queens kept the pressure on and went up by a pair of goals 11 minutes later. Alisha Coules set up Grace Smith and the Bachelor of Commerce student found space in the left side of the net.
The 2-0 lead held until the 68th minute. On a two-on-one, SAIT's Meaghan Wiebe, the 2021/2022 ACAC Women's Soccer Rookie of the Year, elected to shoot and beat Queens goalkeeper Abby Kotyk with a low shot.
Both Kotyk (five saves) and Mergen (four saves) were unbeatable over the final 22 minutes and the Red Deer Polytechnic Queens sealed a 2-1 victory.
The RDP Queens (6-1-0) and SAIT Trojans (6-1-0) now share first place in the south.
Edmonton's Estel Quinteros was recognized as the Queens Player of the Game.
E. Quinteros (8)
Harleen Singh was named the Trojans Player of the Game.
The Red Deer Polytechnic Queens (6-1-0) will play the Ambrose University Lions (0-8-0) on Friday, October 7 on the road.
Janet Alvarez Perez (6)