Watch: A stunning, fully-furnished dream home could be yours – please support the Red Deer Hospital Lottery
Red Deer Hospital Lottery 2019 Cause: Pyxis Medstations
Pyxis Medstations are automated medication dispensing units with numerous electronic features to ensure safety, accuracy and efficiency.
In our hospital, over 1,000 new medication orders are written by prescribers and processed every day. 13,000 units of medication are dispensed on the care areas every 24 hours. The process for dispensing this medication is paper-based and manual with nurses selecting medication from a patient drawer or from the unit supply.
Patient safety is of utmost concern in our hospital, and the Pyxis system will help ensure the best possible healthcare for Central Albertans. Automated medication dispensing will ensure possible allergies, drug interactions, and duplicates in therapy are reviewed before medication is given, reduce the chances of a patient receiving the wrong medication, only allow access to medications approved for that patient, warn if a medication is selected too early or too late for a patient, provide additional instruction and information on medications to healthcare providers, enhance communication between the pharmacy and nursing.
The technology will further ensure medication dispensing safety with 'bedside medication verification'. Once a medication has been selected for a patient, the nurse will scan the patient file at the bedside before administering the medication to that patient.2019 proceeds will be used to purchase Pyxis Medstations for use in emergency, the intensive care unit, operating room, recovery room, unit 22 (cardiology), & other critical care areas at the Red Deer Regional Hospital Centre.
Red Deer Hospital Lottery Proceeds from the Lottery have exceeded $8.5 million since its inception; the lottery has become a huge success and has plenty to celebrate!
For a fifth exciting year we are proud to partner with Sorento Custom Homes for the 2019 Red Deer Hospital Lottery Dream Home!
The 2019 Red Deer Hospital Lottery Dream Home, designed by Sorento Custom Homes, makes a strong statement of luxury and design. This $840,000 bungalow features 3,110 sq ft of developed living space. It's a perfect family home with 3 bedrooms, 2 1⁄2 baths, and a master chef kitchen with adjoining butler pantry. You'll love the high vaulted ceilings in the main living space, accented with wood beams & two large skylights, plus a full height brick fireplace. Enjoy the convenience of the 5 piece ensuite, connecting to a large walk-in closet and adjoining laundry room. Finish off this beautiful unique home with an impressive wet bar, and $40,000 worth of gorgeous furnishing provided by The Brick. Our Dream Home is located in the community of Laredo on the south east corner of Red Deer.
There are 100 prizes to be won valued at more than $1.1 million. This year's Early Bird prize is: $25,000 Cash!
Don't forget the MegaBucks 50 Raffle with a minimum cash payout of $100,000. Last year's winner took home $250,000!
2019 proceeds will be used to purchase Pyxis Medstations, automated medication dispensing units with numerous electronic features to ensure safety for patients at the Red Deer hospital, and accuracy and efficiency for hospital staff.
Tickets for the Lottery are $25 each, 5 for $100 or 15 for $250 Call 403.340.1878 or toll-free at 1.877.808.9005.
Mega Bucks 50 tickets are $10 each, 10 for $25, and 25 for $50. To order online or for more details visit reddeerhospitallottery.ca
The show home is open to the public beginning March 15 at 1pm. Show home hours are March 15 – March 31, Daily 1-5 p.m.; Starting April 1, Friday – Sunday 1-5 p.m. Closed Good Friday, open Easter Sunday.
Early Bird cutoff is 11pm May 27, 2019. Final Ticket Sales cutoff is 11 pm June 24, 2019.
Pop-up Spray Parks – City bringing family fun to your neighbourhood this summer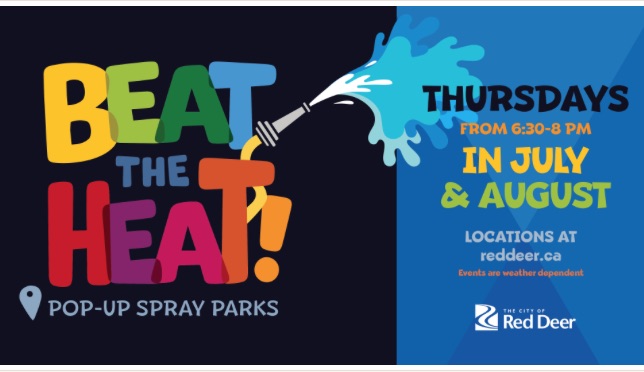 Pop-up spray parks are back this summer
Pop-up spray parks are gearing up again in Red Deer, set to visit eight neighbourhoods across the city this summer. The first pop up is set for this Thursday, July 7 at Barry Wilson Elementary School.

Families and friends are invited to join Red Deer Emergency Services, Municipal Policing Services and the Red Deer RCMP to beat the heat at pop-up spray parks every Thursday this July and August.

Each spray park will run every Thursday from 6:30 – 8 p.m., visiting neighbourhoods across the city as follows:
| | | |
| --- | --- | --- |
| Date | Location | Address |
| July 7 | Barry Wilson Elementary School | 300 Timothy Drive |
| July 14 | G.H. Dawe School | Holt Street & 59 Avenue |
| July 21 | St. Francis of Assisi School | 321 Lindsay Avenue |
| July 28 | Anders Park | Ayers Avenue & Anders Street |
| August 4 | Kentwood Park | Kendrew Drive & Kent Street |
| August 11 | Don Campbell Elementary School | 99 Irving Crescent |
| August 18 | Joseph Welsh Elementary School | 4401 – 37 Avenue |
| August 25 | Johnstone Park | Jordan Parkway & Jennings Crescent |
Events are weather dependant and will be cancelled if weather warnings are in place. The City will provide updates on social media each week if events are in question due to weather.
Information and schedule are available online at www.reddeer.ca/PopUpSprayParks.
For more information, please contact:
Corporate Communications
The City of Red Deer
Complete list of winners of the 2022 Red Deer Hospital Lottery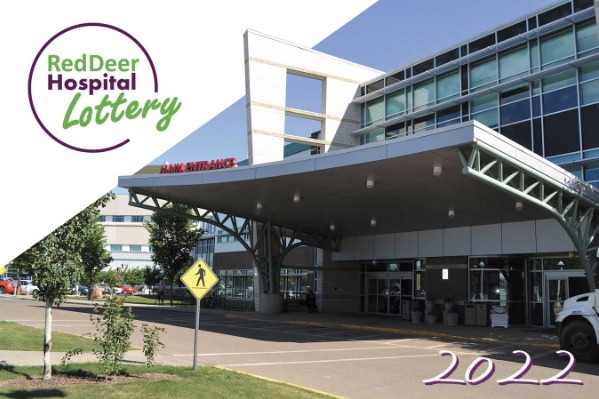 Congratulations to our 2022
Grand Prize Dream Home Winner!
Congratulations to our 2022
Mega Bucks 50 Winner!
RICHARD PEART of Red Deer Alberta with Ticket Number RDHH800236043 is this years Mega Bucks 50 Prize $332,280.00!
| Ticket | First Name | Last Name | City | Prize |
| --- | --- | --- | --- | --- |
| RDHD400123017 | CECILE | ASHLEY | RED DEER | Cash Prize $1000.00 |
| RDHC302106007 | LYNDA | HAND | LACOMBE | Cash Prize $1000.00 |
| RDHB201583004 | DAN & WENDY | KOYICH | SYLVAN LAKE | Cash Prize $1000.00 |
| RDHB201030004 | BOBBI & JOHN | WILLIAMS | MILLET | Cash Prize $1000.00 |
| RDHC301217004 | JACK | WESSELMAN | STETTLER | Cash Prize $1000.00 |
| Ticket | First Name | Last Name | City | Prize |
| --- | --- | --- | --- | --- |
| RDHB201467002 | CAROL | RAMAGE | PENHOLD | SodaStream Source Sparkling Water Maker Package |
| RDHC302228002 | ALLISON | FINDLAY | CALGARY | SodaStream Source Sparkling Water Maker Package |
| RDHD401875014 | SHAUNA | MARTIN | RED DEER | SodaStream Source Sparkling Water Maker Package |
| RDHC300237007 | PERRY | PARKER | RED DEER | SodaStream Source Sparkling Water Maker Package |
| RDHD400651022 | BRENDA | FISCHER | RED DEER | SodaStream Source Sparkling Water Maker Package |
| RDHD401747013 | MICHAEL | WALLACE | BENALTO | SodaStream Source Sparkling Water Maker Package |
| RDHC300105010 | N. | LAMBERT | RED DEER | SodaStream Source Sparkling Water Maker Package |
| RDHB207799005 | JACKIE | FRASER | SYLVAN LAKE | SodaStream Source Sparkling Water Maker Package |
| RDHC302216005 | MARION | LAVALLEE | LACOMBE | SodaStream Source Sparkling Water Maker Package |
| RDHD400202017 | RICHARD | KLASSEN | RED DEER | SodaStream Source Sparkling Water Maker Package |
| RDHD400257004 | STACEY | SCHAFER | CALGARY | Hand-crafted Willlow Bird Feeder |
| RDHD401498010 | Jesse | Paulsen | Red Deer | Hand-crafted Willlow Bird Feeder |
| RDHD401380017 | STAN | PROHL | RED DEER COUNTY | Hand-crafted Willlow Bird Feeder |
| RDHD401922004 | GARY | BAGSTAD | ROCKY MOUNTAIN HOUSE | Hand-crafted Willlow Bird Feeder |
| RDHC300291007 | GILLIAN | EVANS | SYLVAN LAKE | Hand-crafted Willlow Bird Feeder |
| RDHD401727023 | PAT | WHITE | WATER VALLEY | Hand-crafted Willlow Bird Feeder |
| RDHC301635008 | GAIL & GARRY | KUNSTMAN | STETTLER | Hand-crafted Willlow Bird Feeder |
| RDHD401089017 | ROLAND | CYRE | RED DEER COUNTY | Hand-crafted Willlow Bird Feeder |
| RDHC301140004 | KATHLEEN | SVEDERUS | RED DEER COUNTY | Hand-crafted Willlow Bird Feeder |
| RDHB208001002 | Melanie | Holland | Red Deer | Hand-crafted Willlow Bird Feeder |
| RDHA101392001 | JUDITH | BABCOCK | EDMONTON | MOZA Mini-MI Handheld Smartphone Gimbal with Wireless Charging |
| RDHD401556007 | RED AND KAREN | SORENSEN | STETTLER | MOZA Mini-MI Handheld Smartphone Gimbal with Wireless Charging |
| RDHB200207005 | CAL & JANICE | MCGUCKIN | DRUMHELLER | MOZA Mini-MI Handheld Smartphone Gimbal with Wireless Charging |
| RDHD400079002 | ASHLYN | ABEL | BLACKFALDS | MOZA Mini-MI Handheld Smartphone Gimbal with Wireless Charging |
| RDHD400597004 | YVONNE | WICKBERG | BLUFFTON | MOZA Mini-MI Handheld Smartphone Gimbal with Wireless Charging |
| RDHB203064004 | LORI | ZULTOK | EDMONTON | MotoMaster Jump Starter Safety Kit. 44 pc |
| RDHB200277003 | MONTY | CARTER | SYLVAN LAKE | MotoMaster Jump Starter Safety Kit. 44 pc |
| RDHC303802003 | JIM | PARSONS | TEES | MotoMaster Jump Starter Safety Kit. 44 pc |
| RDHB207735004 | RODNEY | ROSEVEAR | SUNDRE | MotoMaster Jump Starter Safety Kit. 44 pc |
| RDHB208068005 | LAURIE | PITTENDREIGH | RED DEER COUNTY | MotoMaster Jump Starter Safety Kit. 44 pc |
| RDHC300688009 | ARLENE | COMO | ROCKY MOUNTAIN HOUSE | $250 Superstore Gift Card |
| RDHD400187017 | ROBERT | ROE | CARDSTON | $250 Superstore Gift Card |
| RDHB204576005 | ADELE | WALDO | RED DEER | $250 Superstore Gift Card |
| RDHB201338002 | GERALD R | QUANTZ | ECKVILLE | $250 Superstore Gift Card |
| RDHB202424002 | MARIE | KOSIK | OLDS | $250 Superstore Gift Card |
| RDHB202312005 | BERT & GRACE | LETOURNEAU | OLDS | $250 Superstore Gift Card |
| RDHD400674019 | DOUGLAS | SKOREYKO | RED DEER | $250 Superstore Gift Card |
| RDHD401186022 | GARY | CROCKER | ERSKINE | $250 Superstore Gift Card |
| RDHB205297001 | JUSTIN | MELCHIOR | BLACKFALDS | $250 Superstore Gift Card |
| RDHB203047001 | MYRA AND/OR JAMES | CRONE | SYLVAN LAKE | $250 Superstore Gift Card |
| RDHB203151003 | JOYCELYN | BAZA | RED DEER | $250 Superstore Gift Card |
| RDHB203845002 | JENNIFER | TOMNUK | RED DEER | $250 Superstore Gift Card |
| RDHB203032003 | CINDY | BOHNET | RED DEER | $250 Superstore Gift Card |
| RDHC303646008 | GLENN A | ENGELHARDT | DUFFIELD | $250 Superstore Gift Card |
| RDHB204358005 | KLARA | COZENS | RED DEER | $250 Superstore Gift Card |
| RDHB201136004 | GLORIA | ZUKIWSKY | RED DEER | $250 Superstore Gift Card |
| RDHD400798012 | DENISE | SUMNER | LACOMBE COUNTY | $250 Superstore Gift Card |
| RDHB200606001 | DONNA | KOOIMAN | RED DEER COUNTY | $250 Superstore Gift Card |
| RDHD401739008 | NEHAL | RAWAL | EDMONTON | $250 Superstore Gift Card |
| RDHC300928001 | LARRY & LORETTA | OXAMITNY | KIRRIEMUIR | $250 Superstore Gift Card |
| RDHB200423004 | MARY | GLENN | RED DEER | $250 Superstore Gift Card |
| RDHD401190008 | IAN | BREWSTER | RED DEER | $250 Superstore Gift Card |
| RDHD400344002 | DUANNE | HRONEK | HALKIRK | $250 Superstore Gift Card |
| RDHB202373003 | NORRIS & LAURIE | TAIT | ERKSINE | $250 Superstore Gift Card |
| RDHD400801012 | MAHASRI & PRIYANI | WEERASOORIYA | EDMONTON | $250 Superstore Gift Card |
| RDHC302101010 | VENTA | CARLSON | RED DEER | $250 Superstore Gift Card |
| RDHD401000001 | GAIL | SANDERS | STETTLER, ALBERTA | $250 Superstore Gift Card |
| RDHB203085003 | ROB | PORKKA | RED DEER | $250 Superstore Gift Card |
| RDHB200768005 | DEAN | PEACOCK | AMISK | $250 Superstore Gift Card |
| RDHD400406016 | JEFF & DOLORIS | MCALLISTER | WARBURG | $250 Superstore Gift Card |
| RDHC300962007 | LENA | WILLSON | RED DEER | Keurig Coffee Maker |
| RDHB207257001 | JOHN | HEYNEN | CALGARY | Keurig Coffee Maker |
| RDHD400986009 | GLENN | ALWARD | RED DEER | Keurig Coffee Maker |
| RDHC302011003 | KIMBERLY | CARYN | BENTLEY | Keurig Coffee Maker |
| RDHC300284001 | BARBARA | MALEY | RED DEER | Keurig Coffee Maker |
| RDHB201664001 | GLENDA | MILNE | DIDSBURY | Instapot 8Qt. Duo Crisp Pressure Cooker |
| RDHD400135017 | CLARENCVE | VERVEDA | ALIX | Instapot 8Qt. Duo Crisp Pressure Cooker |
| RDHC301389005 | CALVIN | SWARBRICK | LACOMBE | Instapot 8Qt. Duo Crisp Pressure Cooker |
| RDHD400218003 | WAYNE | NORTON | SHERWOOD PARK OUTER SOUTHWEST | Instapot 8Qt. Duo Crisp Pressure Cooker |
| RDHB200667002 | GORDON | HUTCHINSON | RED DEER | Instapot 8Qt. Duo Crisp Pressure Cooker |
| RDHD401883025 | DIANNA | WALLS | RED DEER COUNTY | DJI Mini SE Drone Flycam |
| RDHB200152001 | LEONARD | FLAMAN | CALGARY | DJI Mini SE Drone Flycam |
| RDHD401519025 | CAROL F | JAFFRAY | RIMBEY | DJI Mini SE Drone Flycam |
| RDHB200611002 | SONJA | VIS | OLDS | DJI Mini SE Drone Flycam |
| RDHA105415001 | BRAD | MCNEILL | YELLOWKNIFE | DJI Mini SE Drone Flycam |
| RDHD401643005 | JODY | PETTIGREW | SYLVAN LAKE | Family Games Night Package |
| RDHD401193021 | BRUCE | BURUMA | RED DEER | Family Games Night Package |
| RDHC301134010 | MICHELINE | ANDERSEN | CALGARY | Dyson Pure Cool Me Air Purifier Fan |
| RDHC302614008 | ALBERT & JEAN | MAPPIN | BYEMOOR | Dyson Pure Cool Me Air Purifier Fan |
| RDHD401905011 | MATILDA | KLEINSASSER | RIMBEY | Dyson Pure Cool Me Air Purifier Fan |
| RDHB202008001 | CURTIS | ELLIOTT | RED DEER | Dyson Pure Cool Me Air Purifier Fan |
| RDHD401721022 | DANIELLE | DOBSON | RED DEER | Dyson Pure Cool Me Air Purifier Fan |
| RDHC300745004 | KATHARINE | BARR | RIMBEY | Acer Chromebook Spin 11.6 |
| RDHD401044007 | HAILEY | MACKENZIE | LACOMBE | Acer Chromebook Spin 11.6 |
| RDHB200564002 | MIKE AND LAURA | ONEILL | RED DEER | Acer Chromebook Spin 11.6 |
| RDHD400761003 | ERIKA | JOHN | EDMONTON | Acer Chromebook Spin 11.6 |
| RDHC303399007 | ANTONIA | INDENBOSCH | LETHBRIDGE | Acer Chromebook Spin 11.6 |
| RDHD400312022 | MIKE | FROLEK | THREE HILLS | Canvas Sydney Egg Swing |
| RDHD400644020 | BARRY | WENGER | CALGARY | Canvas Sydney Egg Swing |
| RDHD400186009 | BRIAN | PHIPPEN | WESTEROSE | Breton Outdoor Fire Pit Table 40,000 BTU |
| RDHC300027006 | LINDA | BRYANT | RED DEER | Breton Outdoor Fire Pit Table 40,000 BTU |
| RDHC303829002 | JOHN | GAFFNEY | LEDUC | Camping Accessories & Spikeball Game |
| RDHB207937005 | JACK | GIBB | HIGH LEVEL | Camping Accessories & Spikeball Game |
| RDHD400081009 | SHELLEY | BLACK | LACOMBE | Dyson V11 Torque Cordless Vacuum |
| RDHB201420004 | RICHARD | OST | LACOMBE | Dyson V11 Torque Cordless Vacuum |
| RDHB207535004 | ANTHONY W | PETRUNIA | RED DEER | Dyson V11 Torque Cordless Vacuum |
| RDHB202180003 | GLEN AND BETTY | MACE | RED DEER COUNTY | Dyson V11 Torque Cordless Vacuum |
| RDHB201962005 | DOUG | MARCHMENT | LACOMBE | Dyson V11 Torque Cordless Vacuum |
| RDHC300279007 | DAVID AND MARY | CHAFFIN | RED DEER COUNTY | $1,000 Scooter/Skateboard Gift Card |
| RDHD400217007 | KEN | NELSON | RED DEER | $1,000 Gift Card for Skiing Accessories |
| RDHC301383006 | TERRY | WELTY | RED DEER | Canvas Bala Section Patio Furniture Set. 6 pc |
| RDHD400527023 | JIM | SHERBINO | RED DEER COUNTY | LG 55 4K HDR Television |
| RDHB202633005 | LINDA | STANGER | DRUMHELLER | LG 55 4K HDR Television |
| RDHD401083018 | VERNA | GALLIVAN | VALLEYVIEW | LG 55 4K HDR Television |
| RDHB205046001 | SHIRLEY | GRADEN | WETASKIWIN | LG 55 4K HDR Television |
| RDHC303677010 | GLENN | PIERCEY | RED DEER | LG 55 4K HDR Television |
| RDHD401115013 | LORRAINE | HORLICK | CALGARY | LG 55 4K HDR Television |
| RDHD401767018 | LINUS | HOLLMAN | CALGARY | LG 55 4K HDR Television |
| RDHC302171002 | GRAHAM | VANDERWATER | RED DEER | LG 55 4K HDR Television |
| RDHC303048006 | CANDACE | WILSON | BENTLEY | LG 55 4K HDR Television |
| RDHB207658004 | RANDY | BROADHEAD | SHERWOOD PARK | LG 55 4K HDR Television |
| RDHD401418014 | DAVE | NELSON | EDSON | Panasonic Chair with Heated Foot & Calf Massage |
| RDHC301567010 | AUDREY L | DAINES | INNISFAIL | 2022 GMC Yukon SLT |