Red Deer DBA announces Entertainment District events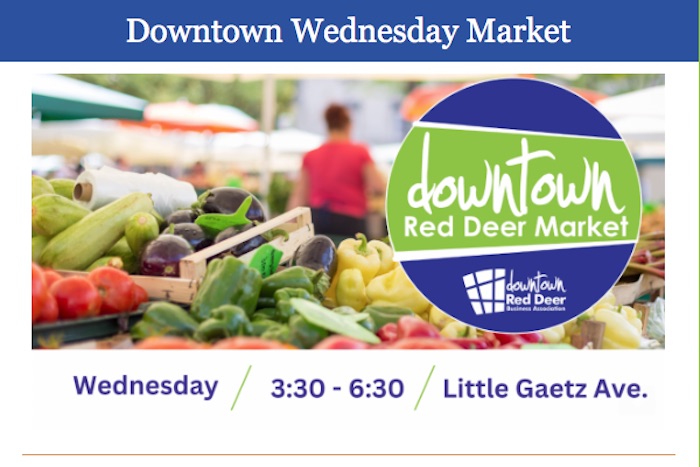 With great enthusiasm and anticipation, the Downtown Business Association (DBA) is thrilled to share some exciting updates and plans for the future! After careful consideration and a deep understanding of our community's needs, we are here to announce our latest developments.
Firstly, while we understand the disappointment caused by the cancellation of the upcoming season of the Downtown Saturday Market, we want to assure you that this decision was made with the utmost care and consideration. Our valued vendors and attendees have shown incredible support and enthusiasm for this new venture, and for that, we are truly grateful.
Though we faced time constraints and logistical challenges that hindered our ability to organize the event effectively, we have not lost sight of our mission to bring joy and entertainment to the community. Our plans for the Wednesday Market remain unchanged and we are are thrilled to inform you that the music programming meant for Saturday market entertainment will continue to thrive!
Every Saturday from 2-4pm, the public patio will come alive with soul-stirring performances from amazing artists from all over Central Alberta and beyond. Best of all, this event is free and open to the public, inviting everyone to share in the magic of live music. This will be in addition to the regularly scheduled Tuesday – Friday Programming, with an extra special open mic night every Thursday evening. Friday's will take it up a notch with business-led events that will make your evenings truly unforgettable.
We have an incredible lineup of events and activities planned for this summer to enhance your enjoyment of the Ross Street Patio, day and night. To stay up-to-date with all the showtimes and artist line-ups, we encourage you to follow us on our social media channels.
In addition, our Host-It! Program offers community partners the opportunity to use the stage every Saturday throughout the summer. Imagine the possibilities—music, theatre, art galleries, and so much more. We are committed to providing a platform for diverse activities that will invigorate the heart of our downtown. And let's not forget the festivals! The Downtown Business Association is proud to support several upcoming festivals on Ross Street and nearby this summer. These celebrations will infuse the area with a joyful and festive atmosphere, attracting thousands of visitors to revel in the excitement. After immersing yourself in these vibrant events, the Ross Street Patio will be the perfect spot to unwind and savor a refreshing beverage.
Our little Entertainment District has flourished, and we couldn't be prouder. The first full summer season with this new bylaw in place promises to be an absolute triumph, as we are still the only Entertainment District in Alberta.
Looking ahead, the DBA remains dedicated to fostering a vibrant and thriving downtown. We are already hard at work planning an afternoon market for next year based on valuable community feedback. This revised schedule will provide vendors with greater flexibility and the opportunity to participate in other morning markets. We are committed to announcing and implementing these efforts earlier, ensuring that vendors have ample time to plan their seasons accordingly.
Together, as a united community, we will continue to create successful opportunities for all. Let's embrace the vibrant future that awaits us and build a downtown that will inspire and uplift us all.
Red Deer Polytechnic recognizes achievements of graduates at 2023 Convocation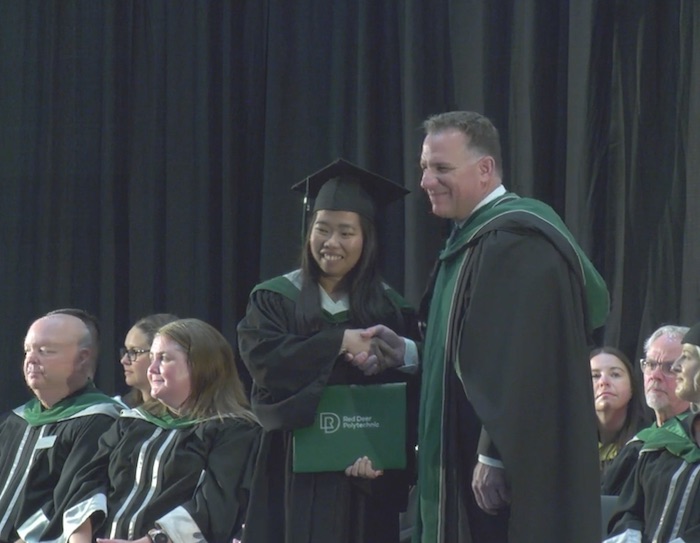 Friday, Red Deer Polytechnic (RDP) celebrated the Class of 2023 with families, community members and employees attending its 59th Convocation Ceremonies.
"Convocation is the most important day of the academic year, when we come together as a community to celebrate our graduates and all they have achieved," says Stuart Cullum, President of Red Deer Polytechnic. "I congratulate the Class of 2023 and wish them every success as they start the next chapter of their lives."
More than 620 of 1,470 eligible RDP graduates from 2023 attended the ceremonies in the Gary W. Harris Canada Games Centre. Little Buffalo Drum Group welcomed the graduates into The Fas Gas – On The Run Gymnasium with an Indigenous Grand Entry Song, which was performed to acknowledge and celebrate significant achievements in life.
This year is the first graduating classes of RDP's Bachelor of Science in Biological Sciences, Business Certificate, Business Diploma, Business Certificate Skywings and Bachelor of Applied Arts in Film, Theatre, and Live Entertainment – Film Production.
Brittany Parker received the Governor General's Academic Medal (Collegiate Bronze Level), achieving the highest academic standing among all graduates from Red Deer Polytechnic's diploma-level programs. Parker completed an Occupational and Physical Therapist Assistant Diploma, earning seven grades of A+ and a GPA of 4.0 during the 2022/2023 academic year.
"To earn the Governor General's Academic Medal takes hard work, commitment and effective time management," says Dr. Paulette Hanna, Interim Vice President Academic. "Brittany has demonstrated these important skills throughout her time at Red Deer Polytechnic and we are very proud of her accomplishments. We wish Brittany well as she embarks on her career."
Parker and the entire Class of 2023 now join an esteemed group of more than 80,000 RDP alumni who are key contributors to industry and communities.
This year, Red Deer Polytechnic granted Honorary Bachelor of Interdisciplinary Studies Degrees to both Dr. James Barmby and Dr. Russell Schnell for providing meaningful impact in Alberta and around the world. They were formally acknowledged at the Convocation Ceremonies.
Dr. Barmby is a respected post-secondary educator and leader who has made significant contributions provincially and nationally. His expertise and advocacy for higher learning have contributed to student success for almost 40 years. Along with his ongoing community involvement, Dr. Barmby is currently Co-chair of the Minister's Advisory Council on Higher Education and Skills. Dr. Barmby, who was an Art and Design student at the Polytechnic, transferred to university before completing the program. At Convocation, he was also granted a Visual Art Diploma.
Dr. Schnell was recognized for his global contributions to environmental sciences. He was a member of the Intergovernmental Panel on Climate Change that was a co-recipient of the 2007 Nobel Peace Prize. Dr. Schnell discovered biological ice nuclei, which are effective initiators of natural precipitation, while working on the Alberta Hail Project. In recent years, he has built Little Free Libraries out of recycled materials and donated them to communities in Alberta and around the world to inspire youth.
Dr. Barmby and Dr. Schnell join a prestigious group of nine other individuals who have also received Honorary Degrees from Red Deer Polytechnic. The Polytechnic first began bestowing this honour in 2014.
More details about RDP's 59th Convocation, the institution's second as Red Deer Polytechnic, are available at: rdpolytech.ca/convocation.
Red Deer Catholic Regional School Board approves balanced budget and 2.9% student enrollment increase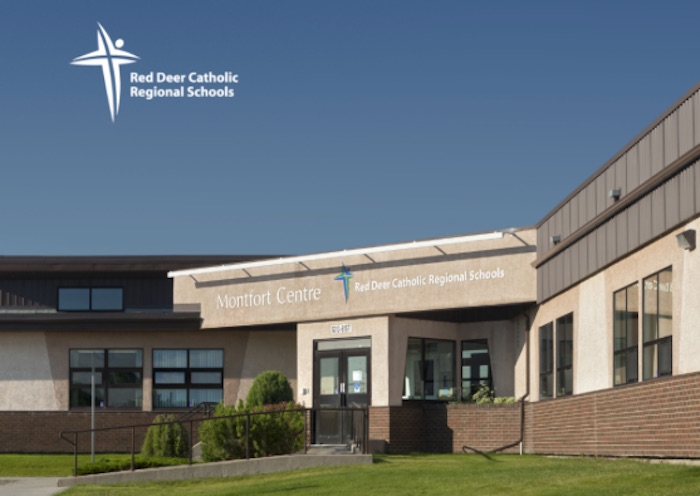 News release from Red Deer Catholic Regional Schools
The Board of Trustees approve the 2023/2024 school year budget and Division Education Plan
On Friday, May 26, the Board of Trustees approved the 2023-2024 school year budget and the 2023-2026 Division Education Plan – Year Two Implementation Adjustments, at their Regular Board Meeting.
2023-2024 Budget:
The Board of Trustees approved a balanced budget with a projected increase in student enrollment of 2.9 per cent. Red Deer Catholic Regional Schools (RDCRS) strives to maintain a fiscally responsible budget with the main goal of ensuring our resources are directed toward having the greatest impact in the classroom and continue to provide a quality, faith-based education to students.
"The 2023-2024 school year budget is reflective of the Board's continued focus on innovation, strategic planning, mental wellness and permeation of our faith," said Board Chair, Anne Marie Watson at Red Deer Catholic Regional Schools. "In addition to these priorities, the Board of Trustees and Senior Administration worked collaboratively to ensure budget decisions were also aligned with the Division Education Plan, Strategic Development Plan and the areas of focus provided by Alberta Education."
The 2023-2024 budget will be submitted to Alberta Education on May 31, 2023.
Division Education Plan:
RDCRS is currently in the second year of the 2023 – 2026 Division Education Plan. This plan guides the strategic direction and supports the three Board of Trustees Strategic Imperatives, including:
Mental health and safety

Purposefully, tangibly, and visibly demonstrate our faith, and

Build a workplace culture of engagement, empowerment and innovation
The Division Education Plan was drafted following active engagement with community stakeholders in central Alberta, utilizing interviews to help develop these board priorities and link these with the Division Education Plan. Moving forward, RDCRS will continue to engage with, and prioritize, RDCRS community partners and stakeholders through a collaborative approach to foster successful teaching and learning outcomes. To view the approved Division Education Plan, please click here.
Red Deer Catholic Regional Schools serves over 10,085 students in 21 schools in Red Deer, Sylvan Lake, Rocky Mountain House, Innisfail, and Olds. It also supports the learning of over 600 students in a Home Education Program. The Division is committed to serving children and parents with a complete offering of learning opportunities delivered within the context of Catholic teachings and within the means of the Division.