Red Deer Cleaning Up And Restoring Power After Major Windstorm
By Sheldon Spackman
You could see the storm coming from the north and northwest for a while before it arrived but when it did, shortly before 7 pm, it packed a powerful punch that the City of Red Deer is still trying to recover from. Winds in excess of 112 km/hr were recorded in some areas and left behind significant damage in many places. City officials say as much as 35 percent of Red Deer was without power at one point.
Downed trees and power outages are still impacting traffic flows across the city as crews continue to clean up after the storm. This, while Parks crews continue to assess the state of City parks and Red Deer's highly regarded trail systems. Officials say all parks/trails in the Waskasoo Park system are closed, with the following exceptions:
River Bend Golf and Recreation Area is open; however, the pitch and putt area is closed.
Discovery Canyon is open.
Oxbows Dog Off Leash Park is open.
Great Chief Park/Bower Ponds is expected to open at some point on June 21st.
Although the storm thankfully did not cause any fatalities, there was one minor injury sustained at the Lion's Campground in the city. Officials say that person was taken to hospital for treatment and later released. The storm did however cause three school closures in Red Deer. They included Mountview School and Gateway Christian School in the Red Deer Public School District and also Parkland School.
City Transit services remain running as normal.
Officials say residents can dispose of any downed tree branches at the north snow storage facility (6859 Edgar Industrial Drive). Drop off is free of charge and the facility is open from 7 a.m. to 11 p.m. Garbage, sod, or other yard waste material will not be accepted at the Edgar site.
Mayor Tara Veer says a big Thank You needs to be extended to all city crews and contractors working to clean up and restore power to the community. Also to the Town of Penhold and Red Deer County for their help with the storm clean up and securing emergency sites on Tuesday evening.
For more information on the Local State of Emergency still in effect in the City of Red Deer, Click Here.
First medal: Canada swims to silver in women's 4×100 freestyle relay
TOKYO — Canada has its first medal of the 2020 Tokyo Olympics after the women's 4×100 freestyle relay team raced to silver.
Penny Oleksiak and Kayla Sanchez of Toronto, Margaret Mac Neil of London, Ont., and Rebecca Smith of Red Deer, Alta., finished in a time of three minutes 32.78 seconds as Canada picked up a medal in the event for a second straight Games.
Australia won gold in a world-record time of 3:29.69, while the United States finished third in 3:32.81.
Oleksiak swam the anchor leg and narrowly beat out American Simone Manuel at the wall.
Canada's women are looking to duplicate the success they had in the pool at the 2016 Rio Games, where they picked up six medals.
Oleksiak and Ruck were 16-year-old members of the relay team that won bronze for Canada's first medal in Rio.
Oleksiak went on to win 100-metre freestyle gold, 100-metre butterfly silver and anchor Canada to another relay bronze in the 4 x 200.
This report by The Canadian Press was first published July 24, 2021.
The Canadian Press
Three charged after investigators find fentanyl, meth, and cannabis on property at Bowden Institution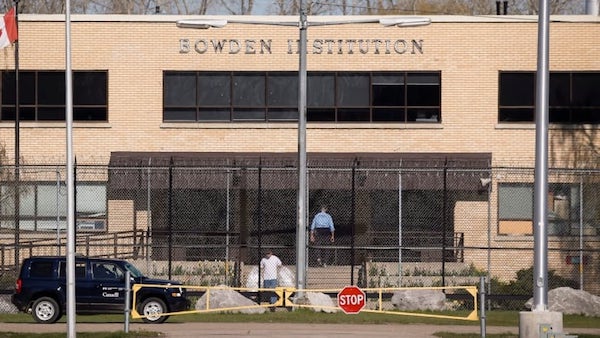 News Release from Innisfail RCMP
Drug Investigation Leads to Charges
A drug investigation at the Bowden Institution has resulted in charges after a year and a half long investigation. In November of 2019 Bowden Institution staff responded to suspicious activity on Correctional Service Canada's property. A search was conducted that resulted in locating contraband that had been concealed on the property. The contraband packages contained fentanyl, methamphetamine, cannabis concentrates and tobacco. Innisfail RCMP General Investigation Section worked on the investigation in partnership with the Bowden Institution's Security Intelligence Office and Slave Lake RCMP General Investigation Section.
Raymond Foss (32), Braden Foster (31) and Joshua Laboucan (23) all of Slave Lake, Alta., have been charged with:
Trafficking a controlled substance, contrary to the Controlled Drugs and Substances Act (x2),
Distribute Cannabis, contrary to the Gaming, Liquor and Cannabis Act, and
Trespass by night.
Foss and Foster were arrested and after a judicial release hearing were remanded into custody.  After a subsequent bail hearing, Foss was released.  Foss and Foster's next Court appearances are both scheduled for August 19, 2021 in Red Deer Provincial Court. Laboucan remains at large with outstanding warrants for his arrest.
Innisfail RCMP encourage the public to report any criminal or suspicious activity.  Reports tell us where to look, who to look for, and where to patrol in the future. If you see a crime in progress, dial 911. If you wish to remain anonymous, contact Crime Stoppers at 1-800-222-8477 (TIPS), online at www.P3Tips.com or by using the "P3 Tips" app available through the Apple App or Google Play Store.