Red Deer Citizen of the Year Terry Loewen calls 'defunding the police' one of the most dangerous ideas yet
This post is republished with the permission of author Terry Loewen
The ideological idea of defunding or eliminating the police is the most irresponsible, dangerous and stupidest one I've heard or seen yet!!
Reform policies and hold all police officers accountable (immediately) for any actions that are not lawful? Absolutely!!
This is getting so out of hand and ridiculous, it's embarrassing to human civilization. I always thought this was what oppressed third world countries did, not first world countries!
People are saying "we riot because we are not heard"!
Smashing windows and stealing every item in stores is NOT a protest or seen as being heard! Defacing a city with spray paint is NOT a protest or seen as being heard!
I get it that we as a society can do a lot better when it comes to racism. In fact we can do a lot better in many other social issues as well, but I have never and will never believe violence, looting and destroying property is acceptable for any reason.
Society as a whole has to start showing empathy for everyone no matter their race, gender, sexual orientation, disability, religion or any other characteristics a person or group may have!
If we don't, we as a society will just destroy itself. Plain and simple! Forget nuclear war or a pandemic! We will just look after it ourselves.
This world really needs a leader that can be open minded and can bring a very far right and left together! It's the only thing that is going to get us back on track.
There is something in this world for everyone and there should be, but it comes at a sacrifice of something. It always does.
You can work your butt of and be rich and have a successful business, BUT your family life will suffer somewhat to do that.
You can spend 24 hours a day training to be a professional athlete and achieve that, BUT you will sacrifice time with friends, girlfriends, boyfriends and family!
I could go on and on but my point is that nobody can have everything they want without giving up something in return. For society to get along and live prosperous lives, it comes with sacrifice of certain things. That doesn't mean you can't believe or say that you don't agree with something, but you can tolerate it because you get something that you believe in, in return!
It's called compromise! Which the right and left are refusing to do! It's all or nothing! Its tearing us apart and it's unnecessary in my opinion.
There are some great leaders right now but there are far too many terrible leaders and we better start electing ones that are between the 2 forty yard lines of a football field ASAP or it will be the end of the free world as we know it!!
Lastly, it would be helpful for the media to report the truth and not the BS that only pertains to the politics they believe in!! It in my opinion is possibly the biggest problem.
Two friends are bringing the world together one beer at a time.
Get Back: Imagining The Real John Lennon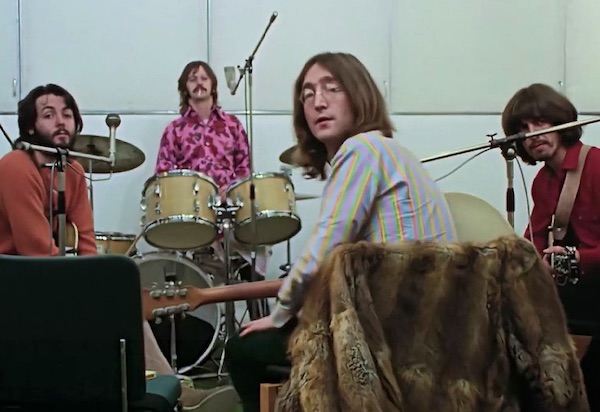 Get Back, Peter Jackson's new documentary on The Beatles taping their Let It Be album in 1969 has revelations for all generations of Beatles fans. Using video shot at the time for an earlier Michael Lindsay-Hogg film Jackson captures the creative process of the band in all its tortured glory.
Watching the four men create, procrastinate, argue, harmonize, feud and eventually part ways puts meat on the bones of their legend— particularly for those who came to their music since the band split up in1969-70. Seeing them in the context of the time reinforces their astounding productivity and creativity.
While there are have been endless tribute bands since, The Beatles themselves almost came out of thin air. They didn't discover rock and roll fire but they harnessed it to establish a template often imitated but never quite duplicated. The anticipation of a new album like Revolver (their best) was a cultural event for which there's no modern equivalent. After they split up members of the group never achieved quite the success they enjoyed as a foursome (George Harrison fans might contest this.).
Jackson's documentary does establish one salient fact. Yoko Ono did not break up The Beatles. Nor did Linda Eastman nor George Harrison nor Paul McCartney. The Brutus in this plot was John Lennon, the quixotic blunt edge of the group. Distracted and disillusioned in the film, Lennon creates the fissures that finally result in dissolution.
Nursing a nasty heroin addiction as the band starts recording, Lennon is starting the slow-motion breakdown that leads to his later incarnations as Ghandi, Gene Vincent, Randall McMurphy and finally martyred Jesus figure. He can't concentrate on anything for more that a few minutes. He wants Phil Spector, the Rasputin of rock, to produce the album. He wants Allen Klein to mange Apple, their creative company. He wants to play a public concert.
Eventually it all gets to be too much for the other Beatles. Harrison chafes to record his own music, Ringo feels bored, while McCartney wearies of trying to hold the whole business operqtion together. Lennon, meanwhile, wants to hang with the New York crowd that Yoko has introduced to him.
At its heart the band dramas were about Lennon and loyalty to The Beatles brand. His current beatific image is nothing like the man we see in Get Back. In 1969 he was the scruffy guy who'd written songs like Run For Your Life ("I'd rather see you dead, little girl, than to be with another man") and dumped his wife Cynthia for Yoko. (John singing "I'm in love for the first time" about Yoko must have been comforting for his ex-wife Cynthia and son Julian.)
His pacifist politics are summed up in Revolution ("If you talk about destruction, don't you know you can count me out") He liked getting in the face of authority. "Once they've got you violent, then they know how to handle you. The only thing they don't know how to handle is non-violence and humour."
And he famously debated his popularity versus that of Jesus. There were seams and creases to the man in the studioi who later became the sloppy drunk pal of Harry Nilsson, boozing themselves to oblivion. It wouldn't be an understatement to say he was the least loveable of The Beatles in his day— an image he was okay with, apparently.
So Lennon would probably hate the people who define him now by Imagine, the song he wrote that has been sanitized by the establishment. Imagine is what you'd get if Karl Marx met Sesame Street
Imagine no possessions
I wonder if you can
No need for greed or hunger
A brotherhood of man
Imagine all the people
Sharin' all the world?
No possessions? Kids who can't go ten feet without checking for their iPhone sing this tripe without irony. Remember that Apple's name and its iconic startup tone are Beatle tributes. There's more.
Imagine there's no countries
It isn't hard to do
Nothing to kill or die for
And no religion too
Imagine all the people
Livin' life in peace?
This is how we got Facebook censoring the posts of people who might actually prefer borders and religion. (Frankly this is the part I blame on Yoko.) And this verse prefiguring post-1980s marketing.
You may say I'm a dreamer
But I'm not the only one
I hope someday you'll join us
And the world will live as one
Because Lennon was shot to death by one of his lunatic fans— precluding any second act to his llfe— we now see him as corporatized John, smoothed out to be marketable like Big Macs and Apple tablets. As Jackson shows he was anything but a bite-sized commodity.
Watching Lennon still fascinate the public 40-plus years after his murder suggests one lyric that might serve as epitaph: "It's not like me to pretend. But I'll get you, I'll get you in the end. Yes I will, I'll get you in the end. Oh yeah." Get Bak to that.
Bruce Dowbiggin @dowbboy is the editor of Not The Public Broadcaster (http://www.notthepublicbroadcaster.com). The best-selling author was nominated for the BBN Business Book award of 2020 for Personal Account with Tony Comper. A two-time winner of the Gemini Award as Canada's top television sports broadcaster, he's also a regular contributor to Sirius XM Canada Talks Ch. 167. His new book with his son Evan Inexact Science: The Six Most Compelling Draft Years In NHL History is now available on http://brucedowbigginbooks.ca/book-personalaccount.aspx
Let's put an end to this pandemic: Why my child will not be getting a covid vaccine and what citizens and local politicians need to do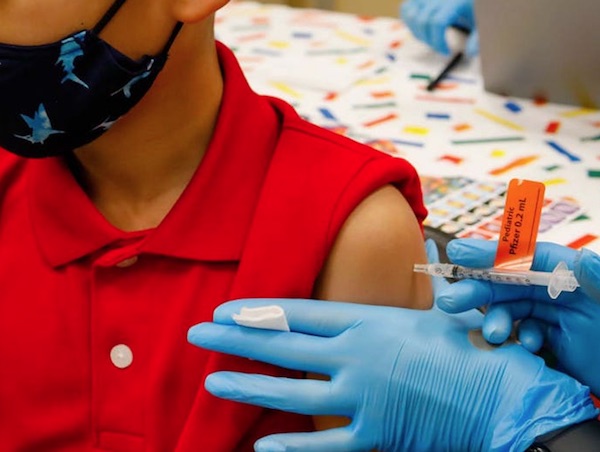 First I just want to say I respect you and your opinions and the decisions you make within your family. Sure I'd love to convince you, but if there's one thing I've learned in the last two years it's this: Decisions people are making around covid are not necessarily about covid. My beliefs and yours are more likely tied to an overall world view.
To let you know about my world view, I've been associated with media my entire adult life. I've always loved it even though I can pinpoint the very day I realized journalism and truth were not the same thing. I spent New Years Eve 1999-2000 in a fully staffed news room because of the Y2K panic. That multi-billion dollar boondoggle turned out to be an incredible farce. In short, rather than investigate the truth thoroughly, the media as a whole convinced itself of an oncoming tragedy. In the end nearly every business in the western world spent time and money trying to fix something that was, as it turned out, absolutely nothing. When it was over the media simply didn't talk about it. No one was at fault. No one paid a price. There was certainly a financial crime in the needless spending of billions of dollars, but there was no follow up. No one was ever charged. Who would you charge anyway? It was like a rumour no one knows who started.
Missing the big party at the turn of the century taught this young reporter a valuable lesson. Even if the vast majority of people are 'certain' about something that has turned into a narrative, it's OK to question it. In fact, it's important to question well established narratives. Basic journalism really.
Enter covid. In the winter of 2020 we all locked down for two weeks to flatten the curve. When the curve didn't flatten we agreed to do everything we could to continue to battle the virus we were told might kill 3 or 4 percent of us. How innocent we were. I was an early proponent of masks. This was back when our government said we should NOT wear masks. I was looking at articles from Asia at the time, which made sense to me because that was where most of the covid was. I saw people in Hong Kong and South Korea going to school and shopping in their masks and I thought they must be on to something. Then for the first, and not the last time in covid, our leaders lied to us. Not just our health leaders, but our provincial Premiers and the people running our public health agencies. "Sorry. We needed all the PPE we could get for people working in health care. It was important for us to lie to you, to save them."
Hhhhhm. No! That was a mistake or something worse. Canadians would have been happy to breathe through an old sweaty shirt if they would have told us the truth. Heck you know Canadians. Half of us would have delivered masks along with Tim Hortons to our nearest hospitals within hours. Healthcare workers would have been wading in masks, drowning in coffee and choking on timbits. That's how Canadians would have acted. We never got the chance. Because they lied. Public health care officials and politicians decided as a group that the public was not to be dealt with squarely, but we should be handled. That makes them liars. They have not changed that position. I can't explain why people continue to believe everything they say.
Somehow the VAST majority of media failed to take our officials to task for lying to us. It broke our trust. Like so many I have not accepted anything media or government and public health officials have said since, without checking on it first. What kind of a reporter would I be if I did? The officials we elected to serve us could have apologized and stuck to the truth and earned our trust back. Instead they double down every chance they get. Politicians are caught breaking the rules they're setting for us constantly. They allow the large multinational store to operate, but they shut down the neighbourhood pub. They allow thousands to attend some events, but punish preachers for opening their doors to a few hundred. They greet each other with drinks and hugs, then put on their masks and step away from each other for the official photographs. Now they're allowing only the double-vaxed to travel while restricting people who have actually tested negative. Comically absurd. All this under the eyes of the media who lift not one finger to complain on our behalf.
So here we are. People have fallen into their camps and very few are switching sides. On one side, are the Pro Mandaters. They continue to invest their trust in the institutions we grew up with. The politicians and the health officials, and the people on TV and in the newspapers have always told the truth right? OK maybe they don't 'always' tell the truth, but our health is their top priority right? You'd certainly hope so, but there's a simple fact that proves differently. TREATMENT. Despite the fact politicians and some leading health officials declare ignorance, they know millions of people are being treated. They know India and Japan have had miraculous results after offering treatment.
They know doctors in the United States and Canada have used over 20 different treatments with results ranging from interesting, to incredible. They don't care. It's not that they just insist vaccine mandates are the best way forward. Those in charge go as far as to ban treatment for desperate, dying people. Then they punish anyone who dares to try to save lives through safe, trusted, well known and widely used treatments. Let me repeat that… they ban treatment for desperate, dying people. Take a second to let that sink in.
When I was younger, a veteran reporter once told me how things really work. At a city council meeting I came to him perplexed at a seemingly stupid decision. He told me that whenever things don't make sense it always has something to do with money. "Stop trying to make sense of it, and start looking for who is making money from that decision." Probably the best advice I ever got until this next piece about politicians. I'm paraphrasing: "When you phone a politician and ask for a call back, you'd better keep this in mind. Politicians don't care about you. They don't care about your tv station. They care about being reelected. If they think talking to you about something voters care about will get them reelected, they'll call you back right away. If not, they'll avoid you like the plague. You need to make them understand this question will influence the next election. You'll get a call every time."
While it's difficult to believe politicians could deny treatment to dying people, it's nearly impossible to think public health officials would be so cruel. I've had a lot of trouble getting my head around that. These are good people. They are in public health care after all. This is a good time to think of that advice about things that don't make sense. So, forget about trying to make sense of it and ask "who is making money from this decision?". Well in this case it's the pharmaceuticals. These are some of the biggest businesses in the world. They have been the most heavily fined businesses in the world. Pre-covid, they were viewed as among the most untrustworthy businesses in the world. Then their public face turned from lawyers and multi-millionaire executives, to public health officials and we forgave (or forgot). In his new book Robert F. Kennedy Jr. examines the relationship between pharmaceuticals and the world's most influential (dare I say powerful) health official, Anthony Fauci. Kennedy outlines how over the many decades of Fauci's leadership, the US has turned into an incredibly unhealthy nation with an insatiable thirst for pharmaceuticals. Instead of promoting healthy lifestyles, public health officials have become intertwined with the pharmaceutical industry. Now it starts to make sense.
Then there's the other side, widely known as the Anti Vaxers even though this is the only vaccine most of them haven't taken. The Pro Mandaters may not know it, but the other side are not against vaccines, they're against MANDATING THIS PARTICULAR vaccine. They know the risk for a severe outcome for people below 70 with no comorbidities is extremely low. They're OK with that risk. They're not OK with being ordered to take part in a medical trial. A lot of them, tens of thousands in fact, have had covid already. Even the NIH admits readily that covid survivors have lasting strong immunity. Can't catch it. Can't pass it on. Unlike vaccinated people who still get sick and pass covid on to someone else. There's only one way to protect yourself from catching covid with statistical success. That's to have had covid already. Why these people are being asked to also get vaccinated is something future medical students will shake their heads at.
Many of us know someone, or know of someone who has died of covid. Other people we know of have been saved by a treatment we're not supposed to even talk about. Those who have died are poorly mourned at small funerals. Those who were saved are buried in a different way. We're not to talk about them. Incredibly as doctors in other parts of the world are treating, and studying, and creating data, our front line health care practitioners are relegated to the sidelines, waiting to see what their public health officials will allow. Some step up at great risk. They diagnose and prescribe treatments their training and experience tells them will work. I've met two people who felt they were close to death when a very brave doctor swept in with treatment cocktails. Neither of the people I talked to knew each other. Their experiences happened months, and miles apart. Both swear they turned around dramatically within hours of their first dose. You'd think they'd stand on the roof and yell out their truth. But they're scared. Who can blame them? Both doctors who treated them have been disciplined. If lives are not as important as the narrative, how could mere careers have a chance?
I'm not personally against the vaccine. I am very much against mandating it, and I am very much against giving it to children. We are here to protect our children, not to ask them to protect us. Knowing that young people are statistically at a greater risk of a serious reaction from the vaccine than they are from covid, I will keep my child away from this particular vaccine. Knowing that children are at less risk from covid than they are from the yearly flu virus I will act accordingly. Children have a statistical 0 % chance of dying from covid and they are not good at spreading it to adults. They don't need to take the risk, as tiny as it is, of suffering from a vaccine reaction.
My final argument is the simple fact that our government's Zero Covid Approach is obviously failing. Show a single country in the world which is both highly vaccinated, and has wiped out covid. There's not a single example. Meanwhile, two prominent countries with good record keeping and advanced health care systems have had remarkable success against covid. Japan has a vaccination rate well above 70%. India is struggling to get to 20%. The two countries have completely different levels of vaccinated citizens, but they share one thing in common. Facing brutal waves of covid earlier this year, in desperation both Japan and India allowed medical treatments.
Less than 20 percent of India's population is vaccinated. Japan's rate is in the 70's. Clearly something other than vaccinations is in play. Treatment.
So how do we get out of this mess here in Alberta, Canada? I'm certainly open to ideas. Personally I only see one way out and one path to get there. It starts at home and leads directly to our local politicians. We need to face our fear of speaking the truth within our families and among our loved ones. We need to resist the name calling and the emotion (speaking to myself here), and stick to reciting boring facts and data. Then a very critical step. We need to talk to our school board members, and our city councillors. They are not affiliated with a political party and don't have to worry about being punished by political bosses. We need to insist they take the measures they can to set us on a new path. The approach of mandating vaccines on employees and restricting citizens while banning medical treatments is a colossal misstep, a divider of families and community, and a devastation on local business. Most importantly it steals the lives of desperate, dying citizens. We need to beg, plead and demand our local politicians stand up against vaccine mandates and restrictions against their citizens in private and public buildings. We need to respect the legal choices of individuals. Together we need to demand doctors be allowed to treat patients the way they always have. With treatment, the need for the restrictions and mandates will vanish. This is the only way to get our communities and our families back, if it's not too late already.
As for the politicians who are in a position to make changes quickly. Remember the advice from my friend and veteran reporter. We need to stop waisting our time with common sense arguments and start appealing to them about the next election. They're reading the polls and those polls tell them most of the voters are afraid. It's a tragedy that leaders with courage are so few and far between, but this is the world we live in and this is the fault of the courageous for avoiding politics. The good news is if we start to demand treatment and this movement grows it's only a matter of time! The very second those same poll-reading politicians see enough people are demanding treatment, they'll suddenly rise above their role of vaccine sales person and switch over to medical treatment advocates. It will happen in the blink of an eye. If you want treatment there when you're the one who gets sick, start advocating now. The best thing about it is everyone wins, because medication is a both – and solution. Medications don't need vaccines to go away, they just make them a voluntary extra precaution.
Premiers tremble at the very thought of contradicting the public health officials they used to hire and fire as they saw fit. The cowardice is embarrassing. Worse. Their cowardice stops so many thousands from encountering a doctor who wants to treat them with available drugs. For the rest of us, their cowardice means we'll continue indefinitely to live in a suspended existence, restricted from going where we want to, when we want to, to do what we want. In fear, we willingly surrendered our freedoms and assaulted our small businesses and our community life. Those freedoms and those communities will not come back until effective medical treatments for covid are no longer banned.
Even though I'm vaccinated to protect my mother my child will not be vaccinated. My older children have made their decisions. My youngest is too young to make that decision. I'll take the lesser of the two risks, and the one that will protect him the most going forward. Most importantly I know there are treatments available and I know who to talk to if someone close to me gets sick.
Here's the Guide to Home Based Treatment for Covid from the American Association of Physicians and Surgeons, and here's the Guide to Covid Early Treatment from a group of US doctors on their website TruthForHealth.