Red Deer Celebrates 100th Anniversary of Victory at Vimy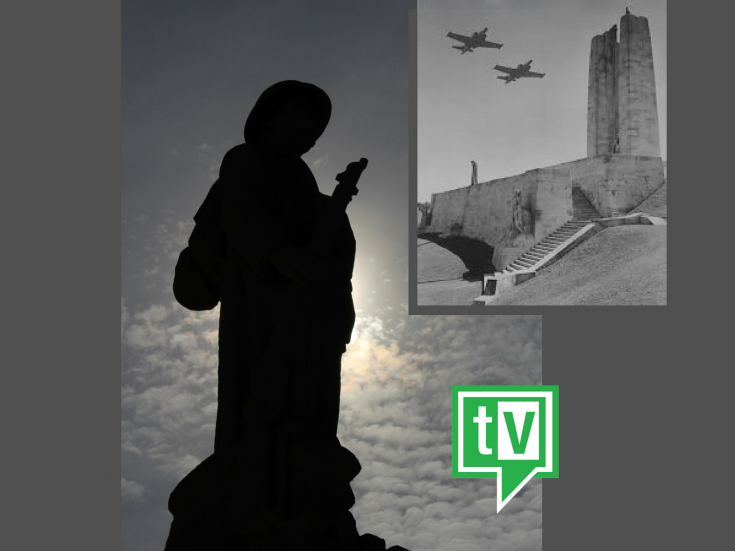 In the accompanying video Capt. James Gascoyne explains the significance of the Battle of Vimy Ridge.
From April 9 to 12, 1917, the Battle of Vimy Ridge was fought by four divisions of the Canadian Corps (see Canadian Expeditionary Force).  At 5:30 AM on Easter Monday, April 9 the first wave of 15 thousand Canadians (fighting together for the first time) attacked the critically strategic ridge and took it from the German army.  More than 10,500 Canadians were killed and wounded in the assault.
This weekend Red Deer will celebrate the 100th Anniversary of the Battle.  This Sunday morning (April 9th) at 10:30, the military parade will start and finish in the parking lot at 52nd Street and Gaetz Avenue.  A Remembrance Ceremony will be conducted at the Cenotaph on 50th Street, wrapping up by 11:30.
Taking part will be soldiers from 41 Signal Regiment and 78 Field Battery, 20 Field Regiment, Royal Canadian Artillery, with the support of the City of Red Deer. Also participating in the parade are members of the 1390 Royal Canadian Army Cadet Corps 24 Royal Canadian Air Cadet Squadron (RCACS) and the Royal Canadian Legion in the downtown core and culminate with ceremony at the Cenotaph, ending at approximately 11:30.
Tie A Yellow Ribbon Around the Old Oak Tree and Time Machines
The prominence of video and media classes in High Schools today is not by accident.
With the incredible popularity of YouTube, Vimeo and other video platforms, people today watch everything from church services to teens playing video or card games!  Incredibly, with enough views, these activities are monetized.
The history of photography classes in Alberta traces back more than years with the availability of home developing equipment.  As many old timers could attest, even during the 1930s, small business people developed photos in their sheds and offices.  There is anecdotal evidence of this occurring around Torrington in the late 1930s and I am sure in many other communities.
Museums and provincial archives are full of family pictures lying dormant and orphan with no connection to living families.  Local history books are the recipient of such treasure.  Upon the passing of older relatives, such pictures are commonly taken out and split up, never to be seen again.
In the 1970s in Torrington School, Ed Lasiuta taught students the basics of still and videography with scattered results.  Many pursued photography later in life while some students helped recreate their grand parents lives.   In other communities, other inspired teachers introduced their students to life time hobbies as well.
An example of school video follows below:
Music by Tony Orlando and Dawn
Home photography as we know it today, with everyone having a image capturing device in our hands, was not always accessible to everyone.  It was a privilege to even have a camera in many cases and was a luxury.  Families who were fortunate to own a camera, whether it was professional or the classic Brownie, or Fuji/Pentax/Canon recorded life around them both formal and informal.
Those who also took to 8mm movie cameras in the 1950s and 40s (if you were very well heeled) had the power to record more than birthdays and anniversaries.  Adolph Hitler had a yen for videography and all of his color movies survive to this day.  The British have most of their war efforts captured on B/W movies!
They had time machines!
No longer did they have to dig into their memories to remember Grandma and Grandpa, but only to look in their family photo albums and watch a family movie.
Today, people scan through their thousand pictures of food, cats and download memes and humorous posters to find family history.  If people back up their images or download them to their home computers, they will have them close to forever.
But family photos and movies, the type that our grandparents took and kept and shared with us when we visited are truly precious and priceless.  Anyone who has albums with photos from the 40s and 50s can relate to the treasure we have the opportunity to share with our future generations.  Older photos of homesteads and great great grandparents have greater treasure.
With the power of digitization, it is possible to protect and restore those images and memories for our children.  When once, only ONE person had access to such time capsules, now every family member can for posterity.
I have heard of families who have restored 8mm films for family reunions and 100 year farm celebrations have seen aunts and uncles weep when seeing parents, grand parents and long gone friends and family members.
As a 4th generation generation photographer and image digitizer, I often help families with their personal time capsules.  I am honored to be part of their journey and remembrances.
In our present state of distancing ourselves, such ideas are counter cultural but they give us life as much as a shot of vitamin B12.
Within my own family, I have seen the power of family pictures and the bonding that occurs when we view our great grandparents walking down a sidewalk.  For those who were there, we can remember their voice and taste the treats that somehow magically appeared.  It is in those times we realize how much we truly need each other, and how our past binds us and prepares us for the future.
One thing for certain, when this time of social distancing is over and we can celebrate together in public one more time, photo albums and memories will flow once more.  And our community will be stronger for it.
Family Wedding, 1950s.
Please feel to contact me at timlasiuta@hotmail.com if you need help preserving you family time capsule for future generations!  I would be honored to be part of your journey.
Albertans encouraged to wear cloth masks in public: easy tips and links on "How To" make your own
It is not the law, but Canada and Alberta have agreed with the idea that wearing a homemade cloth mask might help in the spreading the coronavirus, especially when it is hard to maintain the 2-metre physical distancing when in public.
Unlike many Asian countries where a lot of the population regularly wear masks in public, in Western counties wearing a mask in public is not as easily accepted by the majority of the population. One unproven theory is that images of the face masks, conjure up ideas of the bad guys, bank robbers, the wild west's banditos all wear cloth face covers.
Not pulling any punches, virologist and immunologist, George Gao told ScienceMagazine.org, "The big mistake in the U.S. and Europe – is that people aren't wearing masks."
Gao is the director-general of the Chinese Center for Disease Control and Prevention, "This virus is transmitted by droplets and close contact. You've got to wear a mask, because when you speak, there are always droplets coming out of your mouth – masks, can prevent droplets that carry the virus from escaping and infecting others." Across Asian countries the populations are onboard that, "there are an unknown number of people that are asystematic, carrying the coronavirus and they do not even know it." So, in the spirit of a country's solidarity, "there is a need to protect others from yourself."
In recent weeks countries have seen the stats and cannot ignore the lower numbers of infected in mask wearing countries like, South Korea, Taiwan, Japan, Singapore, the region of Hong Kong and China has also now flatted the curve and have loosed up on the city military lockdowns.
Recently passing laws that make it mandatory to wear a face mask in public are the Czech, Slovakia, Indonesia and the Philippines. On April 3rd, US President Donald Trump, announced that the Centers for Disease Control and Prevention (CDC) is recommending, on a voluntary basis, that Americans wear "non-medical cloth" face coverings.
In Canada Chief public health officer Dr. Theresa Tam has changed her view and is now saying, "Wearing a non-medical mask, even if you have no symptoms, is an additional measure that you can take to protect others around you in situations where physical distancing is difficult to maintain, such as in public transit or maybe in the grocery store."
In Alberta, the view has also changed on the general public wearing mask in public. Leading off with the premier Kenney, who has seen countries that have been successful in keeping the transmission of COVID-19 down, have all had widespread use of facemasks. Alberta's Chief Medical Officer of Health, Dr. Deena Hinshaw said at a press conference, "What we know is that people who are sick spread illness – wearing a non-medical mask, such as a homemade cloth mask, has not been proven to protect the person who is wearing it," but added, "However, it may be helpful in protecting others around you."
The Alberta government wants people to follow these rules, even when wearing face coverings in public.
Continue to follow all other public health guidance (staying two metres away from others, wash hands regularly, stay home when sick).
Avoid touching your face and mask while using it.
Wash hands before putting on a mask, then before and after removing it.
Clean a cloth mask as soon as it gets damp or soiled.
Put it directly in the washing machine or a sealed bag that can be emptied into the washing machine and then be disposed of.
Cloth masks can be laundered with other items using a hot cycle, then dried in the dryer at the highest temperature setting.
Medical masks can't be washed and should be discarded and replaced as soon as they get damp, soiled or crumpled.
Dispose of these masks in a lined garbage bin.
Do not share masks with others.
There are many online resources where you can easily make a cloth mask with or without a sewing machine.
Click here to read more on Todayville Edmonton.
Controls can keep Canadian COVID-19 deaths under 22,000, health agency says