Around Red Deer April 6th…..
1:44 pm – Street sweeping begins in Red Deer on Sunday! Read More. 
1:39 pm – Your chance to speak directly with Red Deer Mayor Tara Veer and City Council happens this Saturday, April 8th. "Lets Talk – 2017" is at the Parkland Mall. Read More.
1:30 pm – Red Deer Mounties have been busy making aggravated assault, robbery and weapons arrests over the past week or so. Read More.
For more local news, click here!
1:21 pm – An award-winning writer who has been a faculty member with RDC's School of Arts and Sciences for the past three years, will join a handful of other writers from around the globe as part of the prestigious Hawthornden Castle Fellowship for Writers. Read More.
9:20 am – There will be some road closures in downtown Red Deer Sunday, April 9th to make way for the Battle of Vimy Ridge 100 Commemoration Parade. Details Here.
9:13 am – Rebels veterans moving on. Read More.
For more local news, click here!
9:10 am – Red Deer College undergraduate students from a variety of disciplines will engage in real-life academic learning at the Agora Undergraduate Symposium and the RDC Student Science Conference, both of which will be held at RDC on April 7 and 8. At these events, undergraduate students from RDC's School of Arts and Sciences will have the opportunity to present their research and connect with peers, faculty and community members in a conference setting.
9:01 am – RDC School of Education students are Showcasing their Learning from 4 – 5:30 pm today! Be inspired by this engaging year-end showcase of work created by students in Bachelor of Education (third year, Middle Years program), Educational Assistant and Transitional Vocational Program. Projects will include cross curricular literacy based projects based on Canada's 150, math resources suited to specific learning needs, projects highlighting individuals in the Transitional Vocational program and much more.
8:50 am – Red Deer trails affected by flooding last weekend are now cleaned up and ready for use!
• Kiwanis Picnic Park to Heritage Ranch Pedestrian Bridge
• 67th Street to Three Mile Bend
• Mckenzie Trail – North loop, boat launch and picnic area
• Waskasoo Crescent – Staircase and boat launch
For more local news, click here!
8:47 am – Street cleaning planned for Blackfalds today:
Sunridge Ave
Stanford Blvd.
Silver Dr.
Spring Cl.
Sunrise Cl.
Sunrise Cr.
8:42 am – RCMP are pleased to advise that Robert Murakami of the Airdrie and Calgary area has been located safe and well. The RCMP is appreciative of all the support and assistance from the media and the public in this investigation.
8:33 am – Crews continue working on a water main break in Innisfail today. Read More.
US Justice Department worried about Arizona Senate recount
PHOENIX — The U.S. Department of Justice expressed concern Wednesday about ballot security and potential voter intimidation arising from the Republican-controlled Arizona Senate's unprecedented private recount of the 2020 presidential election results in Maricopa County.
In a letter to GOP Senate President Karen Fann, the head of the Justice Department's Civil Rights Division said the Senate's farming out of 2.1 million ballots from the state's most populous county to a contractor may run afoul of federal law requiring ballots to remain in the control of elections officials for 22 months.
And Principal Deputy Assistant Attorney General Pamela S. Karlan said that the Senate contractor's plans to directly contact voters could amount to illegal voter intimidation.
"Past experience with similar investigative efforts around the country has raised concerns that they can be directed at minority voters, which potentially can implicate the anti-intimidation prohibitions of the Voting Rights Act," Karlan wrote. "Such investigative efforts can have a significant intimidating effect on qualified voters that can deter them from seeking to vote in the future."
Karlan wants Fann to lay out how the Senate and its contractors will ensure federal laws are followed. She pointed to news reports showing lax security at the former basketball arena where the ballots are being recounted by hand.
Fann said Senate attorneys were working on a response she promised to share when it was completed.
The Justice Department letter came six days after voting rights groups asked federal officials to intervene or send monitors to the Veterans Memorial Coliseum in Phoenix at the state fairgrounds, where the ballots are being recounted.
"We are very concerned that the auditors are engaged in ongoing and imminent violations of federal voting and election laws," said the letter sent by the Brennan Center for Justice, the Leadership Conference and Protect Democracy.
In other developments Wednesday, the Arizona Democratic Party has reached a deal with the Republican-controlled state Senate to ensure that voter and ballot privacy is guaranteed during an unprecedented recount of the 2020 presidential election results in Maricopa County.
The agreement reached Wednesday puts teeth in a court order that already required the Senate and its contractor, Florida-based Cyber Ninjas, to follow state laws around ballot privacy. Any violations of the agreement would be enforceable by seeking an emergency court order.
The agreement also puts in writing a verbal agreement between the Senate and Arizona Secretary of State Katie Hobbs that allows her to have three observers inside the Veterans Memorial Coliseum at the state fairgrounds.
Under the court order, the Senate and Cyber Ninjas last week released their policies and procedures for the recount. Hobbs' elections director, Bo Dul, told The Associated Press there were major problems with those rules, including that they seemed haphazard, lacked specifics and left much room for interpretation — something that is never allowed in ballot counts.
Dul noted that the policies allow counters to accept a large enough error rate to perhaps show Trump won the state. Such an outcome would not change the outcome of the election because the results were certified months ago in the state and Congress.
Hobbs on Wednesday sent a letter to the Senate's liaison to its recount contractor, former Secretary of State Ken Bennett, formally laying out a series of problems with the policies.
"Mr. Bennett, as a former Secretary of State, you know that our elections are governed by a complex framework of laws and procedures designed to ensure accuracy, security, and transparency," Hobbs wrote. "You also must therefore know that the procedures governing this audit ensure none of those things."
The developments come as the counting of 2.1 million ballots from the November election won by President Joe Biden are off to a slow pace. Bennett told the Associated Press Tuesday night that teams doing a hand recount of the presidential race lost by former President Donald Trump and the U.S. Senate race won by Democrat Mark Kelly has tallied less than 10% of the ballots since starting on April 23.
Bennett said it is clear the count can't be done by the time the deal allowing the Senate to use the Coliseum ends on May 14. Several days of high school graduations are set to begin on May 15.
Bennett said the plan was to move the ballots and other materials into a secure area of the Coliseum to allow the events, then restart counting and continue until that is completed.
That seems far from certain, though, after a state fair board official told the Arizona Republic that extending the Coliseum lease is "not feasible." The fair board didn't immediately respond to a request for comment from the AP.
Trump and his backers have alleged without evidence that he lost Arizona and other battleground states because of fraud. Fann said she wants to prove one way or the other whether GOP claims of problems with the vote are valid and use the results of the audit to craft updated election laws.
Bob Christie, The Associated Press
Federal budget 'overstates' economic impact of stimulus spending, budget officer says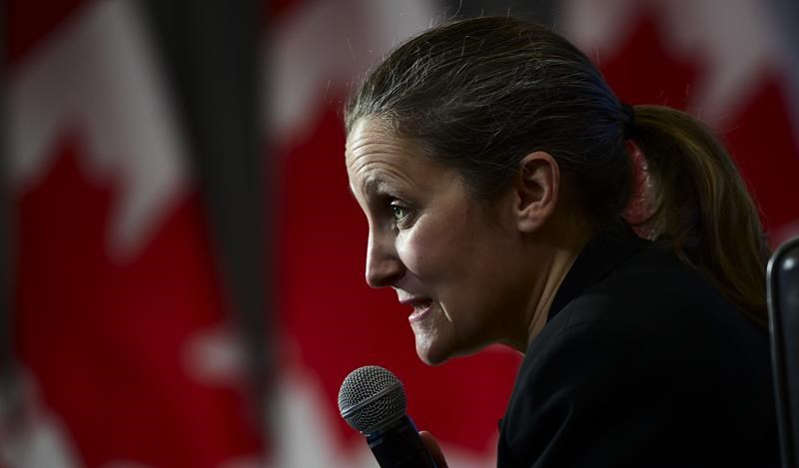 OTTAWA — Parliament's spending watchdog says the federal Liberals' budget overestimates how much of an impact its stimulus measures will have on Canada's economy.
The budget last month outlined what the government said was $101.4 billion in new spending over three years aimed at helping the country climb out of the economic hole caused by the COVID-19 pandemic.
But the budget officer's report on Wednesday estimated that only $69 billion of that spending could be considered stimulus, such as the extension of emergency supports that were outlined prior to the budget.
Yves Giroux said his estimates of stimulus spending would boost economic growth by one per cent next year and create 74,000 jobs, compared with the budget's estimates, respectively, of two per cent and 334,000 jobs.
He went on to say that the higher deficits and debt in the coming years could limit the ability of a government to introduce any new, permanent programs without spending cuts or tax increases.
Hours after Giroux's report landed, Finance Minister Chrystia Freeland kicked off debate in the House of Commons on the government's budget bill by standing by the economic impacts from planned stimulus spending.
She was cut off from debate via a technological hiccup and returned later.
Her office said the economic outlook provided in the budget were based on a survey of private sector economists and called the the fiscal plan "prudent and responsible."
The Senate is also poised to start studying the legislation, having given marching orders to various committees in anticipation of its arrival next month in the upper chamber.
But first the bill has to survive the House of Commons.
The minority Liberal government would fall without the support of at least one other major party to pass the budget bill, leading to a process that would likely trigger an election campaign.
Conservative finance critic Ed Fast said the PBO report showing higher-than-projected deficits, largely due to lower-than-expected revenues, and details on stimulus shows the budget is more about politics than the economy.
"A good portion of the spending wasn't used to stimulate the economy at all," Fast said during debate on the bill. "In classic Liberal fashion, much of the so-called stimulus was instead spent on measures intended to further the political interest of this Liberal government."
Fast said the Tories would take a different approach to boost wages and help small businesses if his party was elected to govern.
Similarly, NDP Leader Jagmeet Singh tried to paint the different approach his party would take, telling reporters on Parliament Hill that more spending is needed on health care, and that the ultra-rich and large, profitable corporations should help cover the cost through higher taxes.
"We got a whole plan around direct support that will go to small businesses, make sure that the ultra-rich, wealthy corporations pay their fair share, and that we invest in health care and supports that people need," he said.
"That's our vision that's different from the Liberals."
The Liberals have pegged their spending plans to a rebound in the labour market, which one year ago witnessed a historic drop when three millions jobs were lost over March and April 2020, while 2.5 million more had their hours plummet.
In March, overall employment was 296,000 jobs shy of the pre-COVID level in February 2020, a gap of 1.5 per cent, and the unemployment rate hit a pandemic-era low of 7.5 per cent.
Statistics Canada will update employment figures on Friday when it releases the April jobs report, which experts expect to show a decline as renewed restrictions and lockdowns took hold in response to the pandemic's third wave.
Even with a drop in jobs in April, Giroux said the budget office still expects the labour force to be back at its pre-pandemic levels by next year, which is when the first tranche of stimulus money is supposed to move out of the federal treasury.
"And that reinforces the point that we've made repeatedly over the last several months that the $70 (billion) to $100 billion to jump start the economy is miscalibrated," Giroux said during a morning briefing with reporters, "or in other words, too much and over too long a period of time if the objective is to return labour market indicators to their pre-pandemic levels."
Giroux also said the government's ability to manage the next economic crisis could be curtailed by the Liberals' decision to gobble up expanded fiscal room with new spending items.
This report by The Canadian Press was first published May 5, 2021.
Jordan Press, The Canadian Press