Red Deer Arts Council's fifth Open Studio Tour takes public behind closed doors in this two-day event!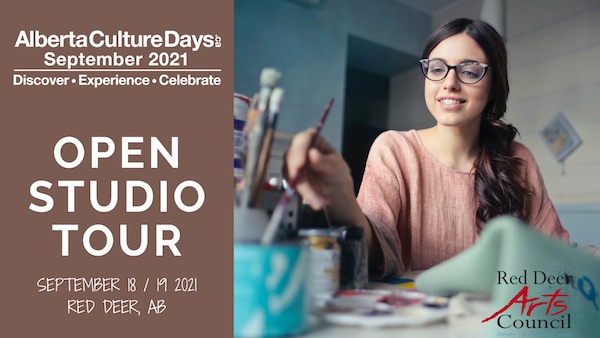 The Red Deer Arts Council is thrilled to announce its fifth Open Studio Tour, taking place September 18th and 19th, 2021! This is a self-guided tour of artist studio spaces and free to the public.
Seven visual artists in five studios bring you this amazing experience. They will open the doors to their private art studios from 10:00 am to 4:00 pm and welcome the public to see the process of creating fine art as each artist demonstrates their process. Fascinating techniques and works of some of Red Deer and area's most recognized artists will be on display for visitors.
This self-guided tour is free of charge. The artists will demonstrate the processes they use, and happily take questions about their media, style, technique, or anything related to art. Artists love to answer questions about their art!
Please Note: some artists are open both days, others open either Saturday or Sunday only. Please check each listing to see which artists are participating on that date or any additional hours they may host.
Download the complete list of artists and addresses HERE.
OPEN STUDIO TOUR LIST OF ARTISTS 2021
Saturday, September 18th Only – 10am to 4pm
Margaret R. Hall
Happy Yak Felt and Maggie's Millinery
48 Good Crescent, Red Deer, AB
[email protected]
403-346-8289
Margaret Hall is a fibre artist and enjoys fabricating whimsical functional items. Working mostly with wool, she enjoys exploring the sculptural properties of wool and combining hand felting and traditional millinery techniques to make unique hats.
Demo: Margaret will demonstrate the difference between blocking a hat with a hand felted hood and an industrially produced felt hood.
*****
Saturday, September 18th and Sunday, September 19th – 10 am to 4 pm
*Please note additional hour changes for individual artists
Susan Delaney
4611 – 48 Street, Red Deer, AB
403-341-9488
www.instagram.com/susandelaneyartist
Susan Delaney is currently making intriguing mixed media portraits and abstract compositions featuring photo image transfer, painting, drawing, collage, and embedded objects. Susan is also well known for her vibrant, expressive landscape paintings.
DEMO: Susan will be demonstrating image transfer and painting, including both deliberate and intuitive artistic decision-making.
*****
View Across the Vallery, Oil, 2021, Carol Lynn Gilchrist
Carol Lynn Gilchrist, ASA
Riverlands Artist Studio/Gallery IS
5123 – 48 Street (Alexander Way), Red Deer, AB
[email protected], 403-596-8890
www.clgilchrist.com
Carol Lynn celebrates the landscape in a range of media and styles. Her work in watercolour, acrylic, and oil are inspired by nature; skies and water worlds that are filled with light, colour and movement that are part real and part imagined. She has just opened her own studio and welcomes everyone to drop in and say hello!
DEMO: Carol Lynn will be working on a WIP (that's art speak for a 'work in progress') and will share her thoughts on composition and offer some plein air painting tips.
Guest Artist at Riverlands
Roberta Murray, ASA
Riverlands Artist Studio/Gallery IS
[email protected], 587-457-1201
www.robertamurray.ca
Roberta Murray is a full-time visual storyteller working in paint, pencil, and pixels. Roberta's work reflects her passions, dreams, and desires regardless of the medium she works in. Birds, wildlife, flora, and the land are all explored in her work. She tries to represent ordinary scenes in a poetic, expressive way to capture a fleeting mood or impression, not to mirror what is easily seen. "I don't paint the landscape. I paint the spirit disguised as a landscape."
*****
Country Sunshine-Watercolour, Marianne Harris
Marianne Harris
Paintwerx Studios
95 Piper Drive, Red Deer, AB
[email protected], 403-350-8106
Additional Hours: Friday 5 pm to 8 pm
Marianne creates 2D artwork in water-based media. Her work is prolific and varied in its subject, style, and size, from photographic realism to more semi-abstract pieces, often inspired from her photography. Her work is available at the A+ Gallery, and is also currently showing until October 11 in the Kiwanis Gallery at the Red Deer Library.
DEMO: Watercolour miniature landscapes demonstrating basic techniques.
Guest Artist at Paintwerx Studios
Winter Returns Again, Amanda Frost
Amanda Frost
Amanda Frost Artwork
95 Piper Drive, Red Deer, AB
[email protected], 403-596-6372
Additional Hours: Friday 5 pm to 8 pm
Amanda's artwork is bold and beautiful, from landscapes, to animals, or a combination of the two. Photographs are often used for reference, but colours from nature's palette are often improvised and enhanced. Her work can be seen at the A+ Gallery in downtown Red Deer.
Marlene Kallstrom-Barritt
Kallstrom Studio
5750 – 41 Street Crescent (West Park), Red Deer, AB
www.kallstromstudio.com, 403-307-3620
www.facebook.com/kallstromstudio
***Shortened Hours for Sunday, 1 pm to 4 pm
Marlene explores several water-based art mediums to create mixed media art that combines abstraction and realism. In other words, she plays with an alarmingly growing amount of art supplies to make paintings of familiar subjects done differently. Lately, she's been waxing watercolours and working on a new series.
DEMO: explaining waxed watercolours (and showing off latest art supply purchase)
The downloadable list of artists is available HERE.
The Red Deer Arts Council is a publicly funded, non-profit organization with a mandate to support all art forms and raise the profile of the arts in the community.
A celebration of writing styles and cultures, Poetry Party brings writers from around the world together in Red Deer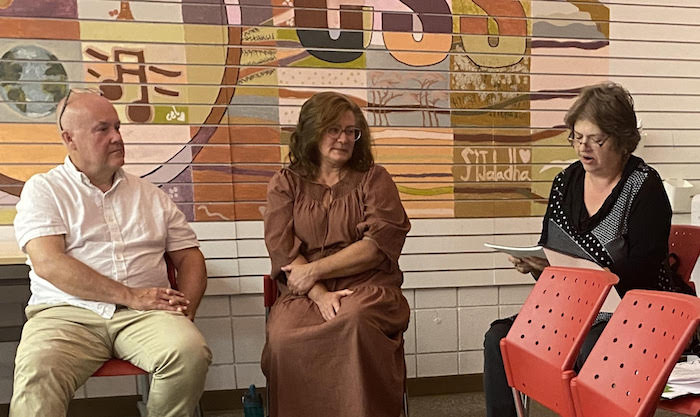 Left to right: Raymond Byiers (feature reader) with wife Rochelle Byiers, and Elena Rousseau (feature reader)
Submitted by Sabrina Samuel
Poetry Party Showcases Diverse Voices in Growing Literary Arts Community
There's an undeniable surge in arts and culture in the city of Red Deer that will carry on long after we say goodbye to Culture Days. From mural art adorning nearly every street in downtown, extensive musical programming, to theatre arts and new festivals exploding, Red Deer is flourishing and becoming a choice destination for working artists and arts purveyors.
Local poets and writers see more opportunities to gather and showcase their potential. Red Deer Writer's Ink celebrated thirty years as an organization this month, and now poets, curated by activist, advocate and community builder Jan Underwood from Care for Newcomers are committing to gathering regularly to share and celebrate their artform, after a successful inaugural Poetry Party.
Asdolah Khierandish, a global citizen who called Afghanistan home, also lived in Syria, before finding safety in Canada. He hesitated to share his poetry in Farsi. The lyrical language sounds like a song. Influenced by Sufi mystics such as Rumi and Hafiz, Khierandish explains the profound philosophical nature of their work, "A single poem can explain an entire book. The meaning is so deep."
While he was the only Farsi speaker of the group, the poem shared in his mother tongue about the Taliban overtaking his city moved others to tears. Asdolah's work penetrates the subconscious mind of the listener.
The honours English student from University of Alberta and multi-disciplinary artist, Elena Rousseau, brought levity and polish to the gathering, with poems playing into stereotypes of her Eastern European roots, "People think of vampires and Transylvania. I also love the culture of gypsies. That's something else people think of when I say I'm from Romania."
Her animated reading style drew in the audience.
All of art is a reaction to something. Beverly Beckley, known online as @beverleypithypoet takes her social media handle from her concise signature style of short and impactful poems. Her timeless work about Canadian Truth and Reconciliation from her chapbook The Little Bones, a fundraiser for The Remembering the Children Society, fit the season of Orange Shirts and Canadian historical awareness. The poet presented questions and posited opinions about the death of the queen, collective shame, and is a self confessed, "lover of personal darkness". She alluded to genius minds of mentally unwell writers including Sylvia Plath. The evening's discourse born from the poetry seemed equally interesting.
Another current event covered in my own reading was the death of Masah Amini from Iran while in custody of the morality police. A healthy twenty two year old, Masah's arrest came from not wearing a head covering (hijab) properly. The reported cause of death was a heart attack. Much of the poems I produce are to advance women and create equity. Social reality is often stark and hard to hear. The format of inclusion in the poetry circle asked all to share, though it was not required. The Poetry Party called on others to share their work in an open format as time permits after the featured readers were finished.
The most approached topic with mass appeal for poets is still love. Raymond Byiers rhyming works heaved with sentiment and personal homage to family. His first poem affirmed that the universality of grief can be captured. It lives in words, not always going beyond them. His final poem, a personal testament of deep love to his wife who was present from Didsbury renewed hope, "I wrote this just before my heart surgery. You can hear the Irish in me coming out when I read my poems aloud."
Since the Poetry Party was successful, another gathering will be held October 28, 6:00pm – 8:30 pm in the Maple Room of CARE for Newcomers (5000 Gaetz Avenue, Red Deer). All are welcome and this time, artists from all disciplines are welcome to bring their creations.
CFR Rodeo, live music, street dancing, art, theatre and more downtown celebrations..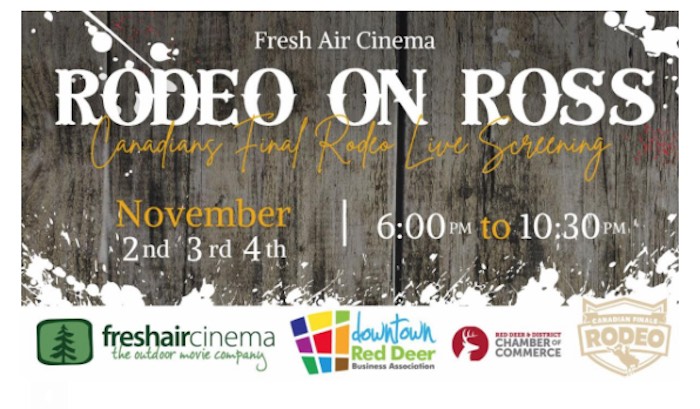 Live Music at The Velvet Olive
Mike Szabo at The Velvet Olive

October 26th @7:30

Join Mike Szabo on a journey of stories and songs he wrote and the covers that inspired him. Mike is promoting the release of his debut vinyl LP, Take My Heart 2020. Cover for the show is by donation and guests will be seated first come, first served.

Fish in a Birdcage at The Velvet Olive

October 28th @8:30

Dustan Townsend AKA "Fish in a Birdcage" is a young and passionate musical virtuoso. Townsend is originally from Red Deer, Alberta and is now on a two year long busking/street performing adventure around Europe with Spain being his next destination.
Family Street Dance October 29th
Grand Opening Celebration
October 29th
Yep, you heard that right! We're hosting a Grand Opening celebration for Red Deer's largest music store! When Long and McQuade bought the business in February of 2020, plans to renovate the store were made but had to be postponed. Fast forward to 2022, renovations are now finished and we would like to take this opportunity to celebrate the occasion with YOU, our amazing customers!
Come to the store on Oct. 29 for some awesome giveaway prizes, live music, and free food. Our BBQ will be fired up from 12 to 2 and we have live music scheduled from some excellent local musicians!
Trick or Treat Downtown Red Deer
October 31st
Trick or Treat October 31st-
12-4 pm
Trick or Treat with your little one at your favorite businesses and stop by the Ross Street Pation for a photobooth!
Contact Carbon + Oak for location information.
Rodeo on Ross
November 2nd, 3rd ,4th
Celebration 6 Years Arts & Culture
November 4th
A + Art Gallery & unique collections

Celebration 6 Years Exhibition

Details:

Opening Reception

Date: Friday, November 4th

Time: Noon to 4 pm

FREE Event
The Games of Love and Chance
November 10th to 27th
Prime stock Theater
@ Scott block theatre
November 10th to 27th.
Thursdays – Sundays 7 pm
PLUS 2 pm Matinees on Saturdays
Love must conquer clever disguises in this delightful comic masterpiece.

The Games of Love and Chance was originally written by Pierre de Marivaux at the height of opulence and extravagance during the reign of Louis XV in France. This playful and witty comedy has been newly translated and adapted by Artistic Director, Richard Beaune and this is it's world premiere! Indulge in an evening (or afternoon) of love, laughter and decadent silliness as Red Deer's only professional theatre company brings this sumptuous story of love and deception to life on stage.
Starpainter w/ Curtis Phagoo at The Velvet Olive
The Velvet olive

Starpainter is a folk rock band from Lethbridge, Alberta. They wear their influences on their sleeves, showcasing strong songwriting and an affinity for gently psychedelic alt-country tones. The band has been growing a following on the strength of their debut full-length titled Bury Me By My Family (2020). Their imaginative, guitar-heavy live show is built on a foundation of prairie-born craftsmanship with a pop sensibility that defies their youth.
Follow along with our NEW mural map, to enjoy the amazing murals that Downtown Red Deer has to offer!
Looking for a paper copy? Head to the Downtown Business Association office.
120, 5009 50 Ave.