First Fridays Gallery Openings for Red Deer September 1, 2023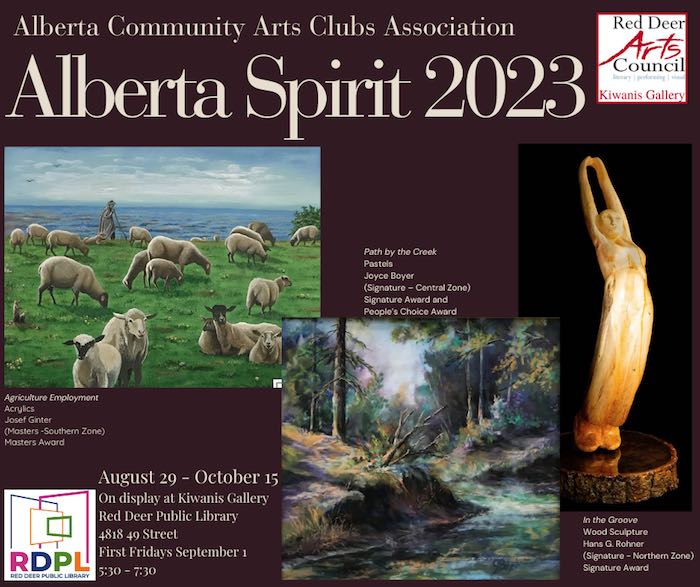 Title: Alberta Spirit Show
Kiwanis Gallery, 4818 49 Street, in Red Deer Public Library
Media: Various
Exhibition Dates: August 29 – October 15, 2023
#FirstFridaysRedDeer opening reception September 1 from 5:30 – 7:30pm with several of the Artists in attendance.
Exhibition Description: The Alberta Community Art Clubs Association's Spirit Show follows the province-wide Zone shows each year. The Alberta Spirit Show this year is made up of the best of the works from the
Northern, Central and Southern Zone shows to produce the Alberta Wide Exhibition. Truly, the best of the best is an understatement!
Hours: Mon – Thurs: 9 am – 8 pm, Fri: 9 am – 5 pm, Sat & Sun: 10 am – 3 pm
Title: Here, There, and Everywhere
Artists: William Armstrong, Judy Brownlee, Marianne Harris, Lynn LeCorre, Lucy McKavanagh, Kristina Miko, Nicole Murray, Jan Raymond, Betty Schnell, Hazel Sheehan, Carmen
Therriault, Theresa Towers Rickard, and Eelkje VanderMeulen-Smart
The Red Deer Arts Council Community Gallery, 6–4919 49 Street
Media: Various
Exhibition Dates: August 31 – October 3, 2023
#FirstFridaysRedDeer reception September 1, 2023 from 5pm – 7pm.
Description: For our Alberta Culture Days group exhibition, artists were asked to submit works that considered the importance of place, and their responses included culturally meaningful places, places of solace, places we
live. Come see how these artists interpreted the places they love, here, there, and everywhere in both imagery and poetry. Presented in collaboration with Central Alberta Retired Teachers' Association.
Regular (Summer) Gallery Hours: Monday to Friday 10am – 4pm
Title: The Oracles of Time
Artists: Eleanor P. Boyden
The Viewpoint Gallery, 5205 48 Avenue
Media: Acrylic Abstract Paintings
Dates: August 4 – September 22, 2023
#FirstFridaysRedDeer – the Gallery is open 8am – 8pm.
Artist's Statement: This new body of work, developed during an extended period of isolation, poses the question – How might we reconsider our experience of time, both singularly and as a community, from the past, through the present, and speculatively into the future?
As a collection, these abstract paintings engage with the viewer to collectively shift our understanding of how time is segmented, layered, and communicated. The work operates both as a meditation on many difficult aspects of isolation I experienced during the Covid pandemic, specifically how my relationship with time was altered, as well as reflecting a desire to shift from a sense of the endlessness and recognize the gift of time to explore a new painting process and deepen the themes presented in this series. I am truly excited about this body of work. I feel that The Oracles of Time series provides an opportunity to reconsider perceptions of the past, through our present experiences, and to look into the future with speculative wonderment. I believe that this project can reach a large and diverse audience and will challenge people's notions of how we experience time.
About the Gallery: The Viewpoint Gallery showcases original works of art by individual artists and collectives, and curated exhibitions. The gallery is in the lobby of the City of Red Deer Culture Services facility. Visit our Viewpoint Gallery page for more information.
Hours of operation: Monday to Friday: 8:00am – 4:30pm
Title: The Beauty of Our Natural World
Artist: Sharon Wright
Marjorie Wood Gallery, Kerry Wood Nature Centre, 6300 45 Avenue, Red Deer, AB
Media: Paintings
Dates: September 1 – October 16, 2023
#FirstFridays Opening Reception September 1 from 4 – 6pm in the Marjorie Wood Gallery with the artist in attendance.
Description: Come enjoy Sharon's vibrant, impressionistic oil paintings of people, animals, and places.
Submitted Artwork by Sharon Wright
Title: Lines and Shadows
Artists: Carol Lynn Gilchrist and Guest Margriet Hogue
Riverlands Studio and Gallery, 5123 48 Street, Red Deer
Media: Mixed Media
Dates of Exhibition: September 1 -27, 2023
Opening Reception: September 1 from 5:30 – 8:30 pm
http://Facebook.com/RiverlandsStudioandGallery
http://Instagram.com/@clgilchrist_artist
http://Instagram.com/@margriethogue
http://Facebook.com/MargrietHogue
Website: www.margriethogue.com
Title: September Sunflowers
Artists: Marlene Kallstrom-Barritt, Betty Schnell, Elizabeth Schapansky, Wendy Meeres, Amanda Frost, Audrey Rits, and many more!
Curiosity Art & Framing, 5002 48 Street, Red Deer
Media: Various
Dates: September 1 – 30, 2023
Description: September Sunflowers is an exhibition this month that has the theme of Sunflowers and floral fall. Stop by our new gallery at the corner of Little Gaetz and 48th Street.
Continuing Exhibitions
Title: Drawings by Martin Dahl
Artists: Martin Dahl
The Corridor Community Gallery, 4501 47A Ave inside the Recreation Centre
Media: Ink, Pencil, Coloured Pencil Drawings
Dates: August 4 – October 3, 2023
Description: Martin is a self-taught Red Deer artist who enjoys drawing old barns and buildings with abandoned and decaying cars and trucks in the foreground, or partially sunken and beached boats or ships. The drawings are mainly inspired by Martin's own photos taken in Alberta, Saskatchewan, and British Columbia or from those sent to him by family and friends.
About the Gallery: The Corridor Community Gallery is hosted by the City of Red Deer Community Development. This space, adjacent to our clay studio spaces, provides a public venue for local artists and allows us to share in the talents of fellow community members.
Visit https://www.reddeer.ca/corridor for more information.
Hours of operation: Monday to Friday 5:30 am – 10pm, Saturday 8am – 10pm, Sunday 11am – 8pm, Stats 12pm – 5pm
For information on visual arts classes and programs offered by the City of Red Deer or to enquire about showing your artwork in the Corridor Community Gallery, please contact: The City of Red Deer, Community Development | 403-406-8820 | [email protected]
Title: Body Language: Reawakening Cultural Tattooing of the Northwest
Red Deer Museum + Art Gallery (MAG) 4525 47A Avenue
Friday, September 1 from 5 – 8pm
Drop in to see the current exhibition Body Language: Reawakening Cultural Tattooing of the Northwest as part of #FirstFridaysRedDeer.
NEW: The MAG is now open Wednesdays and Fridays until 8pm on a permanent basis.
Velvet Olive Lounge, 4928C 50 Street, Red Deer (or enter via Capitol Pkg Store on Ross Street Patio)
Artribute Art School, 212 – 4836 50 Street, in the Old Courthouse. Treaty 6 & 7
Solorzano Spa Cafe & Wine Bar, 4631 50 Street, Red Deer, AB
First Fridays Red Deer is the monthly event where downtown art galleries hold exhibit openings and special events.
Creativity Understood.
Province adds $335 million over three years to attract more investment from Hollywood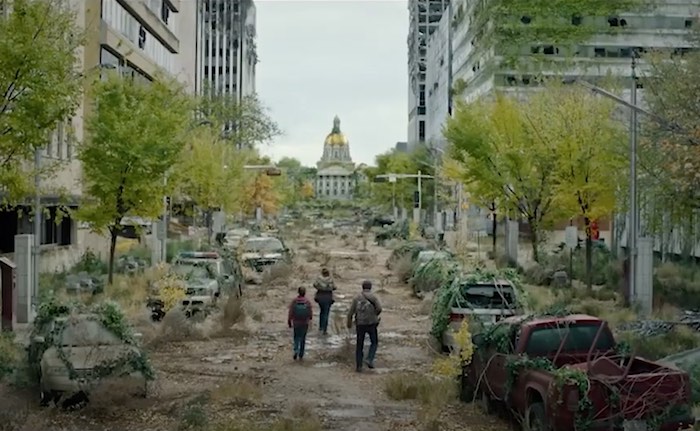 Action! for Alberta's film and television industry
Alberta's screen-based sector has momentum, and Alberta's government is helping to make the province a magnet for the job-creating film and television industry.
In 2020, Alberta's government launched the Film and Television Tax Credit, causing the province's film and television industry to grow in size and reputation. Since then, Alberta has attracted 129 productions with a total production value of $1.7 billion. This growth has resulted in approximately 9,000 direct and indirect jobs for Albertans.
To keep this momentum going, Alberta's government continues to make changes to the program and increase investment in it. One year after the tax credit was launched, the cap was raised, resulting in a doubling of the province's film and television sector. Now, Alberta's government is increasing its investment to a total of $335 million over three years to continue attracting the attention and investment dollars of Hollywood.
"Alberta is experiencing exponential growth in our film and television sector, and we are well on our way to becoming a top Canadian jurisdiction for producers from around the world. Since the introduction of the Film and Television Tax Credit, the film and television sector in Alberta has doubled. Productions reach every part of Alberta – big cities, small towns and rural locations – and use local resources, businesses, accommodations and contractors, supporting thousands of jobs."
As the province's film and television industry grows, so does the quality and number of Alberta-made productions. To help grow and promote local talent and productions, Alberta's government is also doubling the funding to the Alberta Made Screen Industries Program. This funding will support local producers and attract productions from around the world to set up shop in Alberta.
"Alberta-made film and television productions showcase Alberta's unique culture, breathtaking landscapes and stories to audiences across the globe. We are increasing our support to smaller productions because they provide a unique Alberta-made training ground for emerging talent and create local, highly skilled workers in the sector."
The Film and Television Tax Credit and Alberta Made Screen Industries Program work together to showcase the beauty and diversity of Alberta, create jobs, diversify the economy and support hospitality, service and tourism in the province. These targeted incentives to the film and television industries are helping to ensure Alberta remains the economic engine of Canada for years to come and the next film and television hub.
"The tax credit is central to the success of the industry. This is a competitive industry globally, and here in Alberta we're fortunate we had the cap removed. Now we can see productions with budgets from $100,000 to well over $100 million. Now that we have a robust production environment, there are more opportunities for people to have well-paying creative jobs."
"The Alberta government has provided supports for the film and television industry that provide certainty. It gives us more flexibility in how we're moving forward in our film and television work and the way that we're running our businesses."
"Seeing the increase to the Alberta Made Production Grant in the last budget has been fantastic. It will help grow the local industry, which means so much to local performers because that's where they build their resumés. It allows them to be a working performer, and not take side jobs or a day job somewhere else, and really focus on their craft."
Quick facts
According to Statistics Canada data:

Every $1 million of production activity in the screen-based production sector creates about 13 Alberta jobs.
Every $1 million of government investment under the Film and Television Tax Credit program is expected to support about 85 Alberta jobs.

The film and television industry is experiencing significant growth nationally and globally.
Every year, Alberta graduates more than 3,000 creative industry professionals from its post-secondary institutions.
The production workforce has grown 71 per cent from 2017, or by about 4,000 workers across all positions.
Alberta's Film and Television Tax Credit supports medium- and large-scale productions with costs over $499,999 through a refundable tax credit on eligible Alberta production and labour costs to corporations that produce films, television series and other eligible screen-based productions.
The Alberta Made Production Grant supports productions with a budget of up to $499,999.
The Alberta Made Screen Industries Program, through the Alberta Made Production Grant, supports smaller productions that do not qualify for the tax credit, covering 25 per cent of eligible Alberta production costs to a maximum of $125,000.
Every $1 investment in the Alberta Made Production Grant program generates an additional $4 in economic return.
The Negation of Reality in Roald Dahl's Literary Classic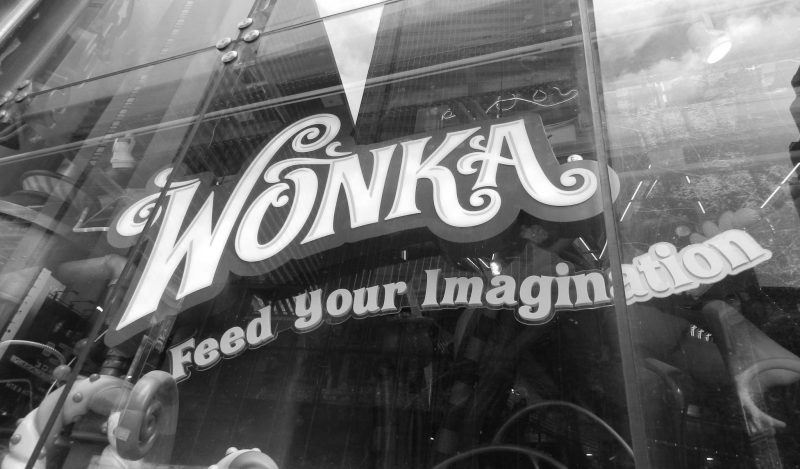 BY
THORSTEINN SIGLAUGSSON
Last weekend it was reported how books by the popular children's book author, Roald Dahl, are now being republished after significant changes to the texts. According to The Guardian, the changes are only about removing "offensive language" from his books. The Roald Dahl Story Company says the changes are minor and only about making the text more accessible and "inclusive" to modern readers.
Gerald Posner covered the issue on February 19th, citing a few examples of changes, which are certainly not minor; entire paragraphs are removed or altered beyond recognition. There are hundreds of changes, Posner says, agreeing with writer Salman Rushdie who has called these changes "absurd censorship."
Nick Dixon has published a short piece on the matter in the Daily Skeptic, pointing out how some of the changes make Dahl's text lifeless and flat and how all humour is carefully removed. Example from Matilda: "Your daughter Vanessa, judging by what she's learnt this term, has no hearing organs at all" becomes "Judging by what your daughter Vanessa has learnt this term, this fact alone is more interesting than anything I have taught in the classroom."
In other cases, the meaning simply disappears: "It nearly killed Ashton as well. Half the skin came away from his scalp" becomes "It didn't do Ashton much good." Some of the changes are outright absurdly silly, considering when the original text was written. One example Dixon takes: "Even if she is working as a cashier in a supermarket or typing letters for a businessman" becomes "Even if she is working as a top scientist or running a business."
"Mother" becomes "parent," "man" becomes "person," and "men" become "people." "We eat little boys and girls" becomes "We eat little children." Boys and girls have no right to exist anymore, no more than mothers or fathers; biological sex is prohibited. But the censors, sarcastically called Inclusive Minds, don't seem to be bothered by the practice of eating children.
References to authors currently banned for unfashionable beliefs are removed or changed. Joseph Conrad becomes Jane Austen. Rudyard Kipling becomes John Steinbeck.
Nothing is mild enough to escape the watchful eyes of the censors, Dixon says, noting how "Shut up, you nut!" becomes "Ssshhh!" and "turning white" becomes "turning quite pale." To the "inclusive," "white" is a forbidden word of course.
Suzanne Nossel, president of the American branch of the PEN writers' organization, expresses her dismay in an interview with the Washington Post. "Literature is meant to be surprising and provocative," Nossel says, explaining how attempts at purging texts of words that might offend someone "dilute the power of storytelling."
Roald Dahl is by no means uncontroversial. But his stories are the actual stories he wrote. The watered down and sanitised texts of the censors are simply no longer the author's stories.
Or, as Posner concludes: "Words matter. The problem is that the Dahl sensitivity censorship sets a template for other hugely successful author franchises. Readers should know that the words they read are no longer the words the author wrote."
The destruction of Roald Dahl's books is yet another sign of the all-pervasive negation of reality we now face. We see this negation all around us, in literature, history, politics, economics, even in the sciences. Objective reality gives way to subjective experience, emotions, or preferences in place of what is true.
It gives way, in fact, to radical subjectivism, which might just be the logical, yet contradictory conclusion of the victorious march of individualism in the West over the past few decades. It gives way, until all our common points of reference are gone, until our common sense has all but disappeared; until, atomised, lonely, incapable of meaningful communication, we no longer share a society. What takes its place will surely be no fairy tale.
And what better example of this negation of reality than the Guardian's headline, whereby the total destruction of the work of a beloved author becomes "removing offensive language" in a few places?
Republished from the author's Substack