Record number of online child exploitation reports in Alberta. Police warning parents
From ALERT (Alberta Law Enforcement Response Team)
Online Child Exploitation On the Rise
ALERT's Internet Child Exploitation (ICE) unit and the Canadian Center for Child Protection are reminding parents about the need to closely monitor their children's internet activity in light of a noted increase in cases of online child exploitation, likely in part related to digital dependency during COVID-19 isolation measures.
The ICE unit, which investigates online instances of child exploitation in Alberta, has experienced a record number of investigative referrals during the past month. For the month of March, ICE received 243 reported instances of online child exploitation in Alberta, far exceeding the unit's two-year average of roughly 110.
ICE receives the bulk of its referrals from the RCMP's National Child Exploitation Coordination Centre, which works with internet and social media providers to track and investigate online instances of child sexual exploitation.
"With children being home from school, not only are they spending more time online, but it appears that so are the predators. And they are looking to take advantage of our most vulnerable population: our kids," said Supt. Dwayne Lakusta, ALERT CEO.
"As a parent myself, I have recently noticed some concerning online behavior and have had to be even more diligent in monitoring what apps my child is using and who they are engaging with. All parents need to be vigilant of their kids' online activities
During the first three months of 2020, ICE made 21 arrests and laid 61 charges in communities big and small across the province. As the result of these arrests, four children were rescued from sexual exploitation, abuse and/or instances of luring.
ICE is anticipating an increase through April; however, the unit wants to buck the upward trend and is partnering with the Canadian Centre for Child Protection to warn parents and make internet safety resources available.
"During these unprecedented times and higher than usual online connectivity, it is essential that we work together to educate to the public on the risks and ways to reduce harm to children while online," says Signy Arnason, Associate Executive Director of the Canadian Centre for Child Protection. "Cybertip.ca has seen an increase in reporting involving offenders attempting to lure and sextort children through various chat and live streaming platforms. Now more than ever, parents/guardians must be vigilant in knowing who their children are connecting with online."
The Canadian Centre for Child Protection has information on its site dedicated to supporting families during the COVID-19 crisis, including resources for families and caregivers; schools and educators; and child serving organizations. This information is available at: https://protectchildren.ca/en/resources-research/supporting-you-through-covid-19/
Anyone with information about any child exploitation offence is encouraged to contact local police or cybertip.ca.
ALERT was established and is funded by the Alberta Government and is a compilation of the province's most sophisticated law enforcement resources committed to tackling serious and organized crime.
UCP asks Albertans to consider an Alberta Pension Plan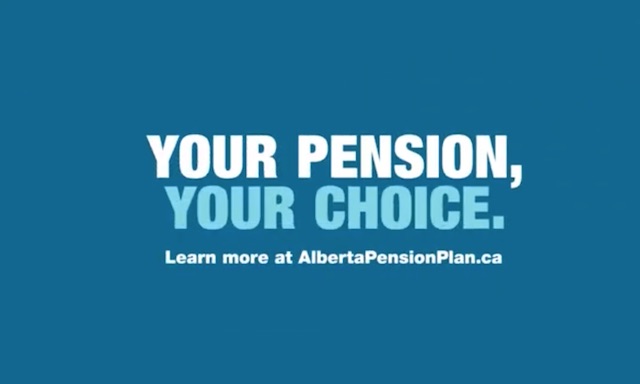 News release from the United Conservative party
The Government of Alberta is starting a public engagement to discuss the possibility of creating an Alberta Pension Plan.
You might be wondering, what's in it for you? Learn more by watching the short video below:
The government is eager to hear your views. To find more information, and participate in a survey, tap the button below.
Albertans deserve a pension plan that reflects their hard work and earnings, and it is up to Albertans to decide which pension plan that is.
-Your UCP Team
Police arrest two more people following killing of eight-year-old girl in Alberta
An Edmonton Police Service logo is shown at a press conference in Edmonton, Oct. 2, 2017. Police in Edmonton have charged two more people following the killing of an eight-year-old girl whose remains were found on a First Nation south of the provincial capital in April. THE CANADIAN PRESS/Jason Franson
Edmonton
Police in Edmonton have charged two more people following the killing of an eight-year-old girl whose remains were found on a First Nation south of the provincial capital.
Officers responded on April 24 to a welfare call about the girl at an Edmonton home but were unable to locate her.
Her remains were discovered five days later on the Samson Cree Nation in Maskwacis.
Shayden Lightning, who is 21, and Raighne Stoney, who is 36, have been charged with being an accessory to murder and causing an indignity to a body.
Three others were initially charged in the case.
Police are not releasing the names of two of the accused in order to protect the identities of other children related to the victim, whose identity is under a publication ban.
A 27-year-old woman faces a charge of first-degree murder and a 25-year-old man faces charges of being an accessory to murder and causing an indignity to a body.
Edward Nievera, 67, was charged with being an accessory to murder and causing an indignity to a body.
Edmonton police Staff Sgt. Colin Leathem said in a release Friday that the recent arrests will be the last in the case and that the investigation has concluded.
"We want to thank the RCMP in Maskwacis and Wetaskiwin for their assistance with this investigation," he said. "Needless to say, this was an exceptionally distressing investigation to work on, and they went above and beyond in helping to facilitate these final arrests and bring this file to conclusion.
"While nothing can change the horror of what occurred, we hope (the arrests) can provide some measure of justice to those who knew and loved this little girl."
This report by The Canadian Press was first published Sept. 22, 2023.