Rebels will hold auction for specially designed jerseys on Friday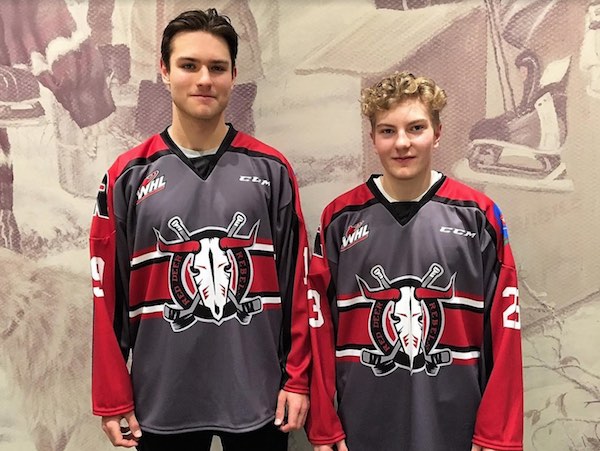 Article submitted by the Red Deer Rebels
Rebels auctioning CHL Leave Your Mark charity jerseys this Friday
The Red Deer Rebels will be wearing jerseys designed by the winner of the CHL's Leave Your Mark Design a Jersey Contest presented by Real Canadian Superstore when they take on the Calgary Hitmen this Friday, November 19 at the Peavey Mart Centrium.
The Rebels' winning design was created by 13-year-old Mya McCullough.
The jerseys for Friday's game will be available via silent auction starting when doors open at 6 p.m. Bids will close at the end of the second intermission. Proceeds from the auction will be donated to President's Choice Children's Charity in the fight against childhood hunger.
Bidding for the jerseys starts at $250 with a minimum bid increment of $15. "Buy now" options will also be available. Winners will be able to pick up their jerseys at the Rebels office next week once they've been washed and signed. Shipping is available upon request.
Tickets for Friday's game, which starts at 7 p.m., can be purchased through Tickets Alberta.
Click to experience 2021 Festival of Trees online!
Red Deer Festival of Trees 2021 is dedicated to providing funding for critical operating room equipment. Having access to new and replacement equipment for the OR will improve the patient experience and reduce wait times for life-saving surgeries, allowing our friends and family to remain close to home during their procedures.
REBELS ANNOUNCE 'FESTIVAL WEEKEND' IN SUPPORT OF 2021 FESTIVAL OF TREES
News Release from The Red Deer Rebels
The Red Deer Rebels are proud to announce "Festival Weekend" on November 26 and 27, in support of the 2021 Festival of Trees!
Festival of Trees, hosted by the Red Deer Regional Health Foundation, will support critically needed equipment in the operating room at Red Deer Regional Hospital to help provide a higher level of service to Central Albertans.
Beginning Wednesday November 24 at 9 a.m., a five-day progressive 50/50 inclusive of both weekend Rebels home games, will support the 2021 Festival of Trees and RDRHF, Rebels Foundation for Education and Wellness, and the Rotary Club of Red Deer. Sales close at 9:30 p.m. on Sunday, November 28. Tickets can be purchased at Rebels5050.com.
Help support the 2021 Festival of Trees by using promo code "TREES21" to purchase your tickets via Tickets Alberta, for either the November 26 or 27 Rebels games. The Rebels will donate $7 from every adult ticket and $4 from every youth ticket back to the Festival of Trees. The promo code is available for online purchases only.
Fans can visit the Festival of Trees during the intermission of both weekend games and view all trees available for auction. Fans can also show their ticket for free entry to the Festival all weekend.