Rebels start 2023-2024 season with a split. Tickets available for home game Friday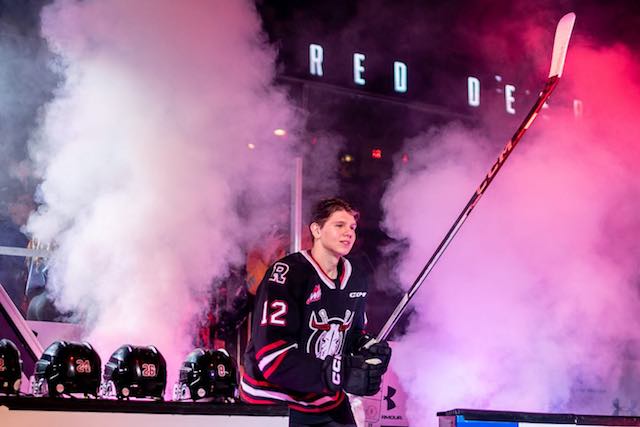 Carson Latimer takes the ice for the Red Deer Rebels home opener Friday, September 22. Coming over from Winnipeg in an off-season trade, Latimer enjoyed a very successful opening weekend with a goal and three assists.
REBELS THIS WEEK
SEASON OPENING SPLIT
The Red Deer Rebels and Edmonton Oil Kings, two longtime provincial rivals, spoiled the parties for each other by winning their opponent's home opener this past weekend.
The Oil Kings came to the Peavey Mart Centrium on Friday and doubled up the Rebels 4-2 in the Red Deer Advocate Home Opener. Kai Uchacz (power play) and Carson Latimer (in his Rebels debut) scored for Red Deer in the loss. A great crowd of more than 4,600 fans turned out for the contest.
Revenge was served the following night in Edmonton as the Rebels came from behind to defeat the Oil Kings 4-3 at Rogers Place. Jhett Larson (power play), Ollie Josephson, Talon Brigley, and Uchacz (game winner) scored for Red Deer. Chase Wutzke earned the win in net. The Rebels trailed 3-2 entering the third period before scoring twice in the final frame to take the win.
UPCOMING GAMES
Just one game for the Rebels this week as they welcome the Medicine Hat Tigers to the Peavey Mart Centrium on Friday, September 29 for a 7 p.m. tilt. It'll be the first of six meetings between the two Central Division rivals. Red Deer was 4-1-0-1 versus Medicine Hat last season.
All Rebels regular season and playoff games, home and away, will be heard exclusively on 106.7 REWIND Radio, and viewed exclusively through CHL TV.
LATIMER LOVIN' IT
Carson Latimer's first weekend with the Red Deer Rebels was a successful one as the 20-year-old from Surrey, BC collected a goal and three assists in two games versus the Edmonton Oil Kings, the team he started his WHL career with. Latimer also spent time with Prince Albert and Winnipeg before coming to the Rebels in an off-season trade.
WELCOME TO THE DUB
Several Red Deer Rebels made their WHL debuts over the weekend. Forwards Samuel Drancak (Strakonice, Czechia), Levi Green (New Westminister, BC), Jeramiah Roberts (Colorado Springs, USA), and Evan Smith (Kamloops, BC), and defenceman Derek Thurston (Delta, BC) each played their first game Friday in Red Deer, while forward Matthew Gard (Winnipeg, MB) played in his first league contest Saturday in Edmonton.
TICKETS, TICKETS, TICKETS!
Season tickets for the 2023-24 season are still available. Fans can also purchase half-season, 9-game packs, 3-game packs, and single-game tickets. Visit reddeerrebels.com or call Shaun Richer at 403-341-6000 for details.
We're Almost There! Building Campaign Announcement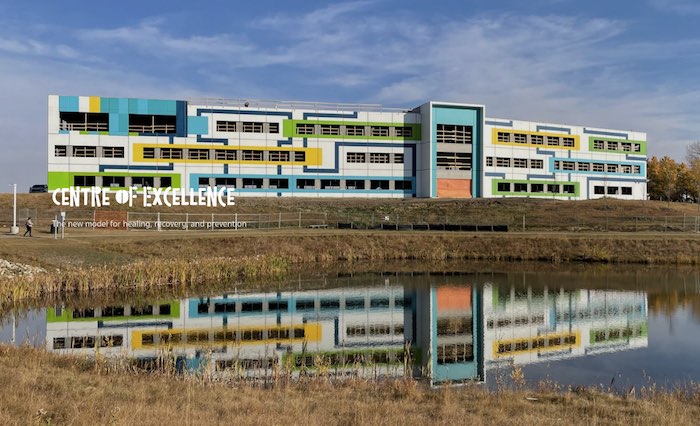 First off, I want to take a moment to thank you for following along in our journey, and being part of the solution for those children who have been impacted by a form of child abuse.
Whether you have volunteered, donated, or have simply followed us and shared our content online, you have contributed in some way to making the world better and brighter for our children and families.
Nothing that we have accomplished here has been without the support of our community.
We have come a long way since we first opened in Downtown Red Deer. When we moved from downtown to our previous space it was a big step up. We had room for new and existing staff, and we were able to create a more comfortable space. But as the need for services has grown, and as we take on cases that require more integration with our partners, we had to shift our focus to a new space. Rather than simply moving into a larger existing space, we needed to create a place where we could work with all of our partners in one building. We needed a centre that had space for more clinical therapies, more room for forensic interviews, and that allowed us to look ahead with research and academic integration to help bring up the next generation of teachers, nurses, therapists, and more. We needed to build the Sheldon Kennedy Centre of Excellence!
Creating the Sheldon Kennedy Centre of Excellence has been no small task. From concept and design, right through to painting the walls and grouting the tiles, every step has been meticulously planned out with the children in mind. On top of all of that, we have been working with our partners on ensuring that the space meets their needs. I'm proud to say that we've accomplished just that. Now, for example, if a child is having a forensic interview, and their parent or guardian needs support as well, they can get what they need all in one building.
The children we see have already been through unimaginable things, often at the hands of people they're meant to trust. Our job is not only to take a statement, and connect families to other resources, but also to make our young clients feel as comfortable as possible. No child wants to discuss their trauma if they're scared, uncomfortable, nervous, or intimidated. The space we bring them into needs to help them feel at ease, and we believe that is exactly what we have accomplished at the Sheldon Kennedy Centre of Excellence.
This has been our journey and our mission. Back in February, we announced our building campaign with a goal of raising $12 Million dollars. I am proud to tell you today that we are only $1.2 Million away from our $12 Million dollar fundraising goal! We have just 10% left to go in this campaign. Every dollar on top of that goal that we raise will help us pay for this building even faster, which means we can focus more of resources towards our services and creating new awareness and educational resources.
So this is what I'm asking you today; Please help us get over the finish line. Any donation today, even $10, will go a long way to helping those impacted by a form of child abuse. There are other ways to support us as well, including sharing this with your friends and family, or following us on social media and engaging with us there. It has taken a community to get us here, and it will take a community to take this to the end.

Together we can build the future so that every child can have a bright one!
Are your bottles and cans building up at home? This holiday season, you can turn your bottles and cans into support for children in Central Alberta with SkiptheDepot!

"SkipTheDepot is everything you need to recycle your bottles, cans, electronics, and clothes from the comfort of your couch." – SkiptheDepot

Schedule your pickup, and they'll handle the rest! Click here to schedule your pickup today!
Common Sense Red Deer calls for caution from City Council considering 2024 budget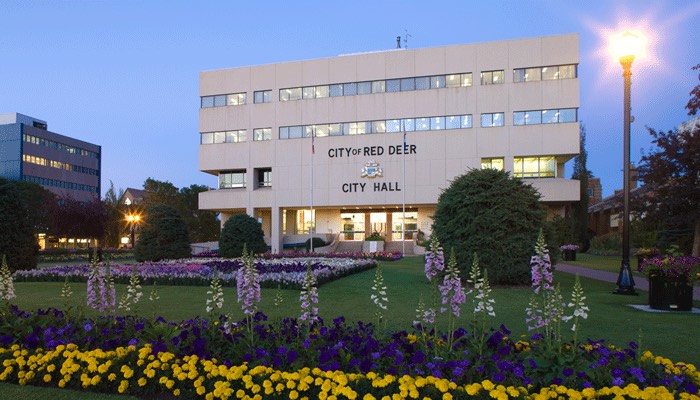 From Common Sense Red Deer
'Tis the season for budget adjustments.
At this time of year, City Councils across the province are reevaluating their budgets and setting the financial course for the coming year.
What they should be doing is taking a close look at spending and seeing where they can cut back!
But, if recent developments in Calgary and Edmonton tell us anything, that's the complete opposite of what is actually happening.
Thanks to recently passed budget amendments, Calgarians are staring down a 7.8% tax hike, while our neighbours in Edmonton are grappling with a 6.6% property tax increase.
Thankfully, that's not what happened in Red Deer – but only because there were no budget adjustments in Red Deer at all!
Red Deer's budget adjustments were supposed to begin at the November 27th Council meeting.
But, that discussion has been rescheduled to January 23rd, 2024.
Why?
Apparently, Administration needs a little more time to assess how much money will actually be available at the end of 2023.
Remember that this is the second year of a multi-year budget that already had a 4.12% increase built in for 2024.
Who knows what they'll be proposing in January?
Recently, we shared with you how successful Red Deer County has been at managing their finances.
For the eighth consecutive year, the County received the Government Finance Officers Association's Distinguished Budget Presentation Award.
They may be close by, but their commitment to transparent, accountable budgeting is a world apart.
Red Deerians deserve transparency and accountability.
It might be bad in Edmonton and Calgary, but at least they know how bad it actually is.
We have to wait and see…
We refuse to accept higher taxes without a fight.
At Common Sense Red Deer, we'll be watching the adjustments closely and keeping you informed.
As we prepare, your support is crucial.
If you can spare $5, $10, or even $25 toward our efforts, please click here to make a donation.
Your support will power our advocacy efforts and fuel our fight to ensure Council stays focused on core priorities.
Together, we can ensure that Red Deer does not follow in the troubling footsteps set by other cities.
Let's continue to make our voices heard, demand answers, and fight for a better, more transparent City.
Regards,
-The Common Sense Red Deer Team