RDC's Donald School of Business leaving downtown to return to main campus
From RDC Communications
RDC announces changes to its downtown campus as it looks to the future
New opportunities will support students and businesses
As RDC plans for the future and grows learning opportunities for all students, the Donald School of Business will move from its current downtown location in the Millennium Centre back to RDC's main campus. This move will take place in January 2021.
In 2011, Red Deer College's downtown campus in the Millennium Centre first opened. RDC has achieved great success there, with faculty creating unique learning experiences for our students and valuable connections with our local business community. These same successes will continue to thrive as we move the Donald School of Business back to main campus. RDC's Donald School of Business is expecting almost 900 students to attend classes in the School's nine programs during the upcoming 2020/2021 academic year.
"The reputation we've grown, and the core principles we've created within the Donald School of Business are embedded in our everyday fabric as a post-secondary institution. As we consider our future as Red Deer University, we are excited to provide all our students with increasing opportunities to engage with our local business community and prepare for successful careers. We anticipate this will be one of the areas that we'll continue to grow in creating a signature RDU student experience," says Dr. Peter Nunoda, RDC President.
The relationships that the College has built through its downtown campus with business leaders and organizations, and the entrepreneurial spirit at the core of RDC's Donald School of Business, will open doors to new experiences for all RDC students. The College's main campus is uniquely situated in our city and region to serve its students, and to allow the ability to grow connections with members of the business community, wherever they are housed, whether it be downtown, industrial parks, or in surrounding communities.
Through practicum and work integrated learning opportunities, guest speakers, seminars and workshops, and other mentorship opportunities, these are meaningful learning experiences that will grow on RDC's main campus for all students. Synergy between students, instructors and the business community will continue to grow in unique teaching and learning spaces such as RDC's Centre for Innovation in Manufacturing and Alternative Energy Lab, achieving practical solutions to real-world problems that will positively impact our communities.
Red Deer College's connection with, and support of, the heart of this city will remain strong. At our downtown campus, the College will leverage and grow the strong relationships we've already built as we continue our commitment to meet the needs of our diverse group of learners with an equally diverse range of programs and services.
Examples of serving these varied opportunities include providing customized corporate and executive training solutions and seminars, guest speakers, professional development opportunities, and more, for adult learners and businesses through RDC's School of Continuing Education. Many of these individuals also provide meaningful mentorship and real-world experiences for students in the College's other programs.
As another opportunity, RDC's English as a Second Language (ESL) programs, offered through the School of Continuing Education, will now be centrally located close to organizations such as Central Alberta Refugee Effort (CARE) and Catholic Social Services, to better meet the needs of ESL learners as they access learning and essential community resources.
Housing these types of lifelong learning opportunities at a downtown campus is something that is often seen within the post-secondary sector, and so the College believes this will fit well as the institution continues to serve all central Albertans.
Students in all RDC programs will always be welcome at the downtown campus, using this space for seminars, mentorship engagement and other possibilities yet to be imagined, continuing to create robust connections between students and with community members.
"Through the shifts we are making in where our programming is housed now, we are building for an exciting future as a polytechnic university. We will continue to instill an entrepreneurial spirit within all of our students, create meaningful connections with our business community, and innovate to serve our region with practical solutions in a variety of sectors that contribute to the economic well-being of our region," says Dr. Nunoda.
Jessica Snyder honoured as 2021 Gateway Christian School Valedictorian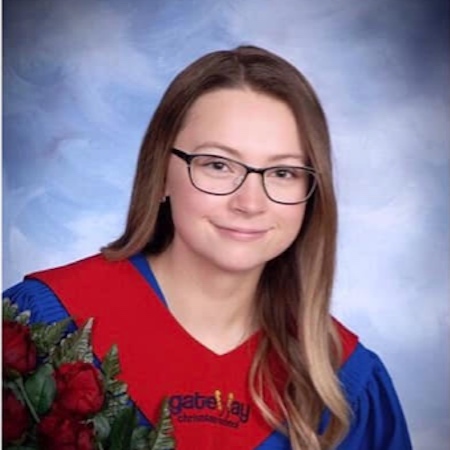 Gateway Valedictorian to become a teacher to make a difference
Emily Liu honoured as 2021 Hunting Hills High School Valedictorian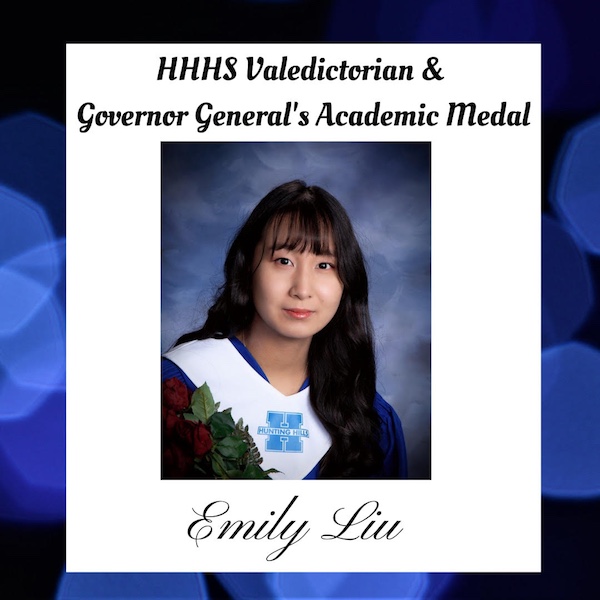 Hunting Hills Valedictorian looks to pursue career in the medical field
This year has been like no other for the Graduating Class of 2021, but the valedictorian at Hunting Hills High School is not letting the pandemic stop her from achieving her goals.
Grade 12 student Emily Liu has been named this year's Valedictorian at Hunting Hills High School.
"It's an incredible honour to be named valedictorian. I was very proud of myself when I learned that I was going to be this year's valedictorian," she said. "In Grade 9 when I first received the honour of being the top academic student in my class, that really came as a huge shock to me because I always knew I performed well in school, but I never imagined I could be the top academic student. After that, it was something that I was really inspired to work towards, and it's kept me motivated ever since."
Emily added when she reflects on her high school experience, she could never have predicted we would be in the midst of a global pandemic.
"I don't know if it necessarily took away from my high school experience, but it's definitely hindered me in my day-to-day life whether it's trying to pay attention during online school, or being able to hang out with my friends," she said.
Graduation ceremonies for Hunting Hills High School will take place on June 25 at the Centrium. The day will include staggered ceremonies with three groups of graduates at a time in compliance with Alberta Health Services guidelines.
Emily said her message to fellow graduates is one they can carry into the future.
"If there's one thing that this pandemic has taught me it's that the relationships we have in our lives are so incredibly precious. When your only way of communicating with your friends or your family is through a screen or a phone call, there's aspects of simple physical interaction that you really can't get through in an online medium," she said. "We need to treasure the relationships we have in our lives, maybe a little more. It may be a little clichè, but you really don't appreciate what you have in your life until they are gone."
Looking to the future, Emily said she hopes to soon be able to explore the world once restrictions allow. She has also been accepted to the University of Alberta.
"I'm going to study biochemistry. It's one of my hopes to pursue a career in the medical field in the future," she said, adding her volunteer work has given her an interest in that field. "I have been volunteering at the Red Deer Hospital for the past four years, and I've also been volunteering as a piano player at the Red Deer Hospice. I think my time at the hospital and hospice has been really enriching in the way that I am able to interact with people and learn more about people's lives and maybe provide them some kind of comfort or support when they are in a really vulnerable moment."
Christine Chappell, Vice Principal at Hunting Hills High School, said she is proud of Emily's achievements.
"An accomplished pianist, community volunteer, and HHHS Leadership student, Emily possesses an incredible work ethic. In every endeavour, whether it be academics or extracurricular activities, she embodies kindness, determination, and tenacity," she said. "Along with excelling in academics, Emily has completed her Grade 10 Piano with First Class Honours (Royal Conservatory). As a Leadership student, she has dedicated countless hours to our Bikeathon, Enviro Club and school activities. HHHS is honoured to recognize Emily as our 2021 Valedictorian and Governor General's Medal recipient."