RDC Runners are National Bronze Medalists!
From RDC Athletics
RDC Athletics Recap
This past week the Kings Soccer team finished sixth at the Canadian Collegiate Athletic Association (CCAA) Men's Soccer National Championship in Ontario. The RDC Cross Country Running Kings earned bronze and the Queens placed fourth at the CCAA Cross Country National Championships in Grande Prairie.
The Hockey Queens earned three of a possible four points against the NAIT Ooks. Both RDC Volleyball teams defeated the Olds College Broncos twice. The basketball teams downed the Broncos, including an impressive Queens' win over the defending national champions.
Here is a summary of what happened this week in RDC Athletics:
Kings Soccer | CCAA Championship | Vaso's Field | Oshawa
Even though injuries accumulated, the Red Deer College Kings gave it their all at nationals, finishing sixth.
In the quarter-final, the Kings defeated the Holland Hurricanes 2-1 on penalty kicks. Nathan Swartz scored in regulation time. Gabriel Martins Fonseca scored the winning penalty kick.
The Durham Lords downed the RDC Kings 2-0 in the semi-final. In the bronze semi-final, Champlain St-Lambert Cavaliers picked up a 3-0 decision over the Kings. Then in the placement match, the Humber Hawks won 5-0 over RDC.
RDC Cross Country | Sat., Nov. 9 | CCAA Championships | Grande Prairie
In challenging weather, the RDC Kings earned CCAA bronze and the Queens finished fourth, narrowly missing the podium. Red Deer's Devin Saunders (29:33.32) placed tenth nationally over 8 km, earning a spot on the CCAA All-Canadian team.
"It was a great day and huge victory for the men," says RDC Cross Country Head Coach Kari Elliot. "To have three of the men finish in the top 20 is incredible and it's the first time the Kings have podiumed at nationals."
Shayla Sklaruk (26:50.53) paced the Queens over 6 km, crossing the finish line in 11th spot.
Queens Volleyball | Thursday, Nov. 7 | Olds College
The Queens defeated the Broncos in three sets (25-16, 25-13 and 25-18). Emma Holmes and Tess Pearman had nine kills each.
Queens Volleyball | Friday, Nov. 8 | Gary W. Harris Canada Games Centre
The Red Deer College Queens (4-2) swept the Broncos at home (25-17, 25-15 and 25-18). Emma Holmes had eight kills. Jade Van Dyke, Erin Neufeldt and Alexandria Greenshields recorded seven each. Prior to the opening serve, representatives from the Royal Canadian Legion were present, promoting and leading Remembrance.
Kings Volleyball | Thursday, Nov. 7 | Olds College
The RDC Kings defeated the Olds College Broncos in three sets (25-21, 25-19 and 25-16). Ben Holmes led the Kings with ten kills.
Kings Volleyball | Friday, Nov. 8 | Gary W. Harris Canada Games Centre
In a rematch, the Kings (5-1) swept the Broncos (25-14, 25-19 and 25-17). Setter Thomas Wass finished with 22 assists.
Queens Hockey | Friday, Nov. 8 | NAIT
The NAIT Ooks edged the RDC Queens 4-3 in a shootout. Carissa Hogan scored a pair of goals and Jenessa Fournier added a single. The Queens picked up a point in the standings.
Queens Hockey | Saturday, Nov. 9 | Gary W. Harris Canada Games Centre
The Queens (6-2-0-0) earned a 4-2 victory over the Ooks. Avery Lajeunnesse, Brooklyn Rowley, Camryn Wallan and Jenessa Fournier scored for RDC. Karlee Fetch made 19 saves for the win.
Queens Basketball | Friday, Nov. 8 | Olds College
The Red Deer College Queens (3-1) played hard and defeated the 2019 CCAA National Champions, the Olds College Broncos, 69-65. Stockholm's Sophie Melin led the Queens with 17 points.
Kings Basketball | Friday, Nov. 8 | Olds College
The Red Deer College Kings (3-1) dropped the Olds College Broncos 104-73. Former Bronco, Jouvon Edison, scored 21 points.
For more information on RDC Athletics, the student-athletes and teams, please visit: rdcathletics.ca RDC Athletics photos are available on Flickr.
Today: Come meet Red Deer's Silver Medalist Rebecca Smith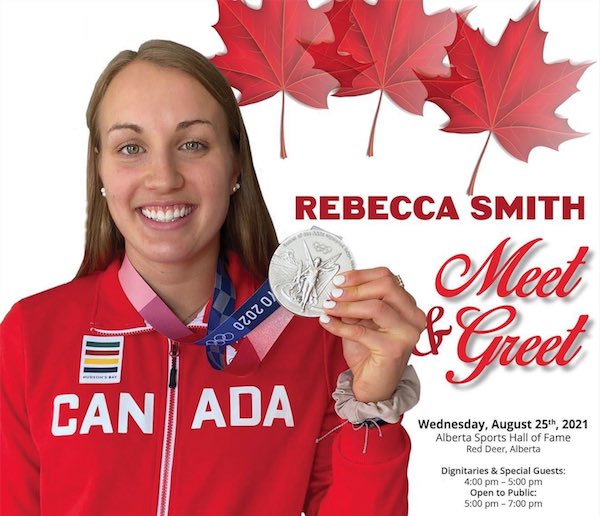 Submitted by Tourism Red Deer
Come celebrate with us and congratulate Red Deer's own Rebecca Smith.
Alberta Sports Hall of Fame and Tourism Red Deer invite you to meet Red Deer's Summer Olympic Silver Medalist Rebecca Smith!
Rebecca was a part of Team Canada's 4 x 100-meter freestyle relay swim team at the 2021 Tokyo Olympics. She'll be here to meet, greet, and show off her hardware.
Where: Alberta Sports Hall of Fame, 102-4200 Highway 2, Red Deer
When: Wednesday, August 25, 5:00 pm – 7:00 pm
Access to Dawe Centre pool and community centre affected by expansion project – Details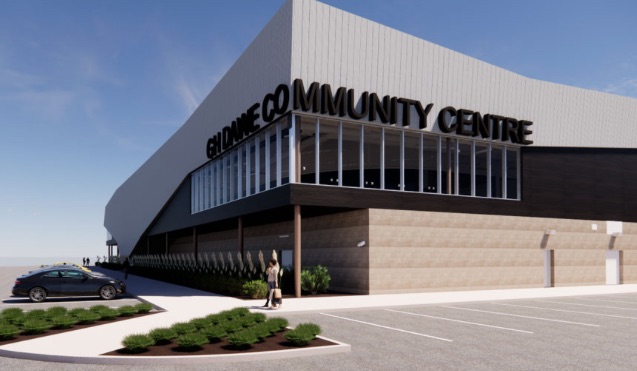 Limited access to G.H. Dawe Community Centre this summer due to construction
Due to construction, access to the G.H. Dawe Community Centre will be limited this summer, with a full closure planned for August.

As announced yesterday, City recreation centres are opening fully to the public as of July 1. With construction underway at the G.H. Dawe Community Centre, only limited services and areas will be available.

Here's what you need to know:
Starting July 2, fitness and gym areas will open from 10 a.m. – 8 p.m., daily. In July, summer day camps that normally operate from the Dawe will operate from other facilities.
The pool will remain closed until September.
To accommodate interior heating and ventilation construction, the facility will fully close from July 26 to August 31. Some registered preschool and summer camp programming may proceed, but no rental or general admission options will be available.
On September 1, we anticipate the pool will be open, but some other amenities, like the gym, may not be available. More information will be provided as construction progresses.
Playing surfaces in the arena will not be available until construction is complete, which is expected to be early 2023.
We are currently offering a discounted monthly Value Pass for $27 for adults ($24.50 for seniors; $21.90 for students; $19.30 for youth; $14.20 for children, and $60.50 for a family. It provides unlimited access to all facilities. As of August the Value Pass will only provide access to the Recreation Centre and Michener Aquatic Centre; however, access to the Dawe will be included in the Value pass until the pool, gym and fitness areas are open.
About the G.H. Dawe Community Centre Project
Work is underway now on the G.H. Dawe Community Centre Project and some exciting changes are in store. We expect to welcome visitors to the transformed space in early 2023. Here's just some of what you can expect:
Two NHL standard playing surfaces
Expanded fitness areas, including a running track
Outdoor spray park with washroom facilities
Improved accessibility
Additional north entrance + site access from 67 Street
Additional parking
During construction, there will be some changes and impacts to existing amenities and programs, and we'll do you best to share this information in advance. Thanks for your patience as we complete this work.
For more information about the project, please visit reddeer.ca/DaweProject.