RDC launches $1 Million fundraising campaign after huge commitment by anonymous donor
Red Deer College has launched an ambitious and significant student bursary fundraising campaign. A generous, anonymous donor has committed a $500,000 donation to match gifts made to the new RDC Student Bursary Fund. Gifts of any size made to this fund during the campaign will be matched 1:1 by the donor funds, doubling the impact of each gift.
"The impact of COVID-19 on our community has been tremendous. As it impacts Red Deer College directly, we have experienced decreases in both new student enrollment and in registrations for continuing students," says RDC President, Dr. Peter Nunoda.
It is a priority for the donor and for RDC that students are not deterred from pursuing their chosen educational path by financial constraints. The many impacts of COVID-19 have caused some students to pause or delay starting their post-secondary education.
"In addition to this immediate financial support for students, it was important to the donor that these funds be used to connect the community to the effort. By creating the matching program, we hope that other community members who wish to support post-secondary students will be inspired by the potential to double their impact on new and continuing RDC students," says Dr. Nunoda.
The RDC Student Bursary Fund is new and will be established entirely by donor gifts, doubled by the anonymous donor's matching gift. Bursaries will be available for full- and part-time students, up to $1,500 and $750, respectively, per year. Bursaries will be distributed as tuition credits on a first come-first served basis. When the matching campaign has fully funded the RDC Student Bursary Fund, it will provide financial support for more than 1,300 students. The bursary created by the matching campaign will be available to new and returning students in credit programs, beginning in Fall 2021 Term. Application for these awards is open now at rdc.ab.ca/studentbursary.
"We're grateful for the support of all of our donors, internal and external, small and large, and especially to this anonymous donor for their commitment, which will provide immediate and broad support for our students," says Dr. Nunoda. "It has been a challenging year for many in our community, but we continue to come together in large and small ways to support one another. This is one more example of what makes me proud to be a part of this community."
More information about the initiative, including the link to an online donation page, can be found at rdc.ab.ca/giving.
This new bursary is one of the ways in which RDC and generous donors support students in helping to keep post-secondary education accessible and affordable. Students enrolling in courses for 2021/2022 can apply for a variety of scholarships and awards now through May 31. RDC is pleased to award more than $1 million in scholarships and bursaries each year.
Today is the day! Someone supporting the Child Advocacy Centre is going to win a huge jackpot!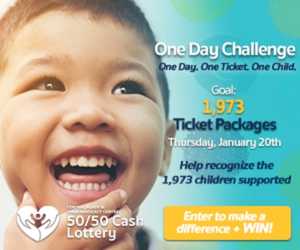 Or Call 587-272-2233
Phone lines will be open from 9:00AM – 7:30PM MTN
#CACACOneDayChallenge UPDATE
We are currently at
603
ticket packages
Goal: 1,973
We're almost half way there! Will you help us reach our goal!? Let's make a big push this afternoon to meet the challenge for these kiddos!
Thank you to those who took the Challenge and have already purchased!
Phone lines have been busy, so feel free to leave a voicemail with your details and we'll get back to you as soon as we can!
Visit our lottery website for more information, an updated list of winning numbers, and the full list of lottery rules! Or call 587-272-2233.
*Please Note: Phone lines are operated by CAC Staff. Open from 9AM – 4PM Monday – Friday. Please leave a voicemail with a detailed message & we will return your call as soon as possible.
Lottery License #578482
Skills that maintain healthy relationships
Learn ways to improve your relationship skills using the acronym DEARMAN and GIVE, from the DBT therapy perspective, presented by a PCN Mental Health Counselor, Lana.
Interpersonal Effectiveness Skills
Learning to get along with others while also asserting your own needs is essential to healthy relationships. It can be difficult to balance your own needs and the needs of others. How can you get what you need without being aggressive or neglecting of the needs of others? There are three sets of skills you will learn to help achieve this goal: objective effectiveness, relationship effectiveness, and self-respect effectiveness.