RDC Bidding To Host 2019 CCAA Men's Volleyball Championship
Red Deer College is hoping to participate in the Canadian Collegiate Athletic Association (CCAA) Men's Volleyball Championship in an extra-special way in 2019, as the College will be submitting a bid to host the national event.
"The CCAA has guidelines about which conference will host the championships each year and, in 2019, an institution from the Alberta Colleges Athletic Conference will host the event," explains Diane St-Denis, RDC Athletic Director. "Since that's our home conference, we're eligible to bid, and Red Deer College will also have our new facility in place that will allow us to host this type of major national event, so this is something we are thrilled to pursue."
The new Gary W. Harris Canada Games Centre/Centre des Jeux du Canada Gary W. Harris will open its doors to students in the fall of 2018. In addition to the programs being offered in the building, RDC Athletics will also begin to compete in the new venue at that time. The facility will house stateof-the-art teaching and learning spaces, along with athletic training and competition areas – including a performance gymnasium – that will be a key part of the CCAA bid.
"The King's Volleyball team has a history of excellence at the national level, winning 12 championships since 1987, but we haven't had the opportunity to host the event since then because our facilities haven't met the criteria," says St-Denis. "Starting in the 2018-19 season, RDC Athletics teams will be able to train and compete in their home venue that's second-to-none. This will mean so much to all of our student-athletes, and for Kings Volleyball players, hosting the CCAA Championships would be an incredible opportunity to showcase their elite level of competition in their home community."
Kings Volleyball Head Coach, Aaron Schulha agrees. "There is a real following for volleyball in central Alberta, and the Kings receive great support from the College, the community and our alumni," he says. "It would be an incredible boost for our Kings players and for our program to be able to host the CCAA Championships in Red Deer."
Schulha notes that the Kings Volleyball alumni maintain a close connection and these former players would be an excellent resource for the national event. "Many of our alumni have participated in CCAA Championships, and they have incredible experience at this level," he says. "This is definitely a plus for RDC as we consider what it would mean to host this event."
RDC is preparing to submit the bid for the CCAA Men's Volleyball Championship in the coming months. If selected as the host institution, the championship event would take place in March 2019. "Red Deer College is growing and evolving, and we are laying the foundation for our College to be featured on the national stage," says Joel Ward, Red Deer College President & CEO. "When we look at our role in the upcoming 2019 Canada Winter Games, and as we work to prepare this bid for the CCAA Championship, it's clear we'll be able to connect with our learners, our communities and all of Canada in exciting new ways."
(Photo courtesy of RDC)
Today: Come meet Red Deer's Silver Medalist Rebecca Smith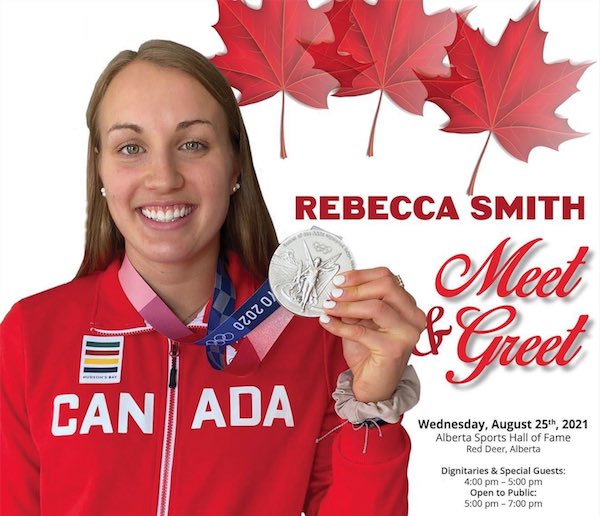 Submitted by Tourism Red Deer
Come celebrate with us and congratulate Red Deer's own Rebecca Smith.
Alberta Sports Hall of Fame and Tourism Red Deer invite you to meet Red Deer's Summer Olympic Silver Medalist Rebecca Smith!
Rebecca was a part of Team Canada's 4 x 100-meter freestyle relay swim team at the 2021 Tokyo Olympics. She'll be here to meet, greet, and show off her hardware.
Where: Alberta Sports Hall of Fame, 102-4200 Highway 2, Red Deer
When: Wednesday, August 25, 5:00 pm – 7:00 pm
Access to Dawe Centre pool and community centre affected by expansion project – Details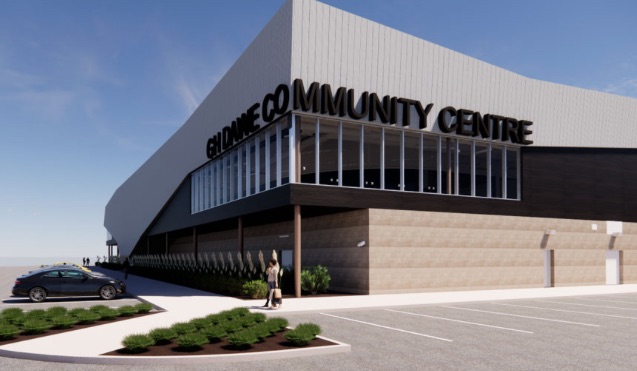 Limited access to G.H. Dawe Community Centre this summer due to construction
Due to construction, access to the G.H. Dawe Community Centre will be limited this summer, with a full closure planned for August.

As announced yesterday, City recreation centres are opening fully to the public as of July 1. With construction underway at the G.H. Dawe Community Centre, only limited services and areas will be available.

Here's what you need to know:
Starting July 2, fitness and gym areas will open from 10 a.m. – 8 p.m., daily. In July, summer day camps that normally operate from the Dawe will operate from other facilities.
The pool will remain closed until September.
To accommodate interior heating and ventilation construction, the facility will fully close from July 26 to August 31. Some registered preschool and summer camp programming may proceed, but no rental or general admission options will be available.
On September 1, we anticipate the pool will be open, but some other amenities, like the gym, may not be available. More information will be provided as construction progresses.
Playing surfaces in the arena will not be available until construction is complete, which is expected to be early 2023.
We are currently offering a discounted monthly Value Pass for $27 for adults ($24.50 for seniors; $21.90 for students; $19.30 for youth; $14.20 for children, and $60.50 for a family. It provides unlimited access to all facilities. As of August the Value Pass will only provide access to the Recreation Centre and Michener Aquatic Centre; however, access to the Dawe will be included in the Value pass until the pool, gym and fitness areas are open.
About the G.H. Dawe Community Centre Project
Work is underway now on the G.H. Dawe Community Centre Project and some exciting changes are in store. We expect to welcome visitors to the transformed space in early 2023. Here's just some of what you can expect:
Two NHL standard playing surfaces
Expanded fitness areas, including a running track
Outdoor spray park with washroom facilities
Improved accessibility
Additional north entrance + site access from 67 Street
Additional parking
During construction, there will be some changes and impacts to existing amenities and programs, and we'll do you best to share this information in advance. Thanks for your patience as we complete this work.
For more information about the project, please visit reddeer.ca/DaweProject.