RDC Athletics This Week – Queens Volleyball team sweep Ambrose to move into 3rd place tie
From RDC Athletics
Red Deer College Athletics is proud to announce our Boston Pizza Athletes of the Week.
1. Emma Holmes – Queens Volleyball Hometown – Red Deer, AB Bachelor of Kinesiology (1st year) (pictured above)
This past Friday in Calgary, Emma recorded eight kills, 12 digs and one ace in a three set victory over the Ambrose University Lions (25-15, 27-25 and 25-22). Then on Saturday at the Gary W. Harris Canada Games Centre, the five-foot-ten outside hitter was a key player in the Queens' four set win over the Lions (25-16, 25-22, 16-25 and 32-30). Emma led the way offensively for both teams, totaling 17 kills. The student-athlete from Red Deer added 10 digs and was selected as the Queens Player-of-the-Game.
Entering this past weekend, the RDC Queens trailed the Ambrose University Lions in the south standings by four points. With help from the Bachelor of Kinesiology student, the Queens won back- to-back matches against the Lions, vaulting the RDC team into a tie with Ambrose University for third spot in the division.
2. Spencer Klassen – Kings Basketball Hometown – Red Deer, AB Bachelor of Education Elementary (4th year)
Despite the Kings dropping an 80-72 home decision this past Friday to the St. Mary's University Lightning, Spencer played a solid game, accumulating 26 points, six rebounds and five steals, and was named the Kings Player-of-the-Game. Then the six-foot-two guard led the charge in Calgary on Saturday, helping the Kings earn an impressive 108-82 bounce-back victory over the Lightning. He played an integral part in the RDC Kings scoring over 100 points, with 34 of his own. The Bachelor of Education Elementary student added five assists and three rebounds, and remarkably hit eight-of- eleven from behind the three-point arc.
Spencer consistently leads by example and has a tremendous work ethic. The fourth-year student- athlete is a positive teammate and role model for youth. His 23.9 points per game leads Alberta Colleges Athletic Conference (ACAC) Men's Basketball.
This Week in RDC Athletics
This week, the RDC Kings Hockey team will play an important weekend series against the NAIT Ooks, who are chasing the Kings in the standings. The Hockey Queens will also be back in action as they take on the defending champions, the MacEwan University Griffins, in a pair of games. Both basketball teams will play a home-and-home series against the SAIT Trojans and the Kings & Queens Volleyball squads will compete against the Olds College Broncos in two matches.
Here is a summary of what is happening this week in RDC Athletics.
Queens Hockey | Friday, Jan. 11 | 7:00 p.m. | Gary W. Harris Canada Games Centre
The third place RDC Queens (5-6-1-0) will take on the second seed MacEwan University Griffins (10-3-1-0). Kaely McMurtry, a Bachelor of Education Middle School student, leads the league with seven goals.
Queens Hockey | Saturday, Jan. 12 | 6:00 p.m. | MacEwan University
The venue will shift to Edmonton as the Queens look to earn a road win against the Griffins.
Kings Hockey | Friday, Jan. 11 | 7:00 p.m. | NAIT
The first place Red Deer College Kings (10-2-1-1) will face-off against the NAIT Ooks (10-4-0-0) in Edmonton.
Kings Hockey | Saturday, Jan. 12 | 7:00 p.m. | Gary W. Harris Canada Games Centre
On their home ice, the RDC Kings will battle the NAIT Ooks in a rematch. After RDC's 22 points in the standings, NAIT is next with 20 so this weekend series will shape up to be an important one.
Even though the Kings have depth and balanced scoring, Chase Thudium is tied for the league lead with 11 goals. The Business Administration General student is even with Lynnden Pastachak for the most points (19) on the RDC Kings.
The Red Deer College Kings have played the NAIT Ooks extremely tough the past few seasons. In the opening weekend this year, the Kings handed the Ooks a 6-2 loss at the Gary W. Harris Canada Games Centre on October 5. Then 24 hours later, the RDC Kings defeated NAIT 3-2 in Edmonton. Over the two games, Kings' defenceman Dylan Baer led the way for both teams with one goal and two assists. Troy Trombley was the winning netminder in both contests, turning aside a total of 50 out of 54 shots (0.926).
Queens Basketball | Friday, Jan. 11 | 6:00 p.m. | Gary W. Harris Canada Games Centre
The Basketball Queens will host the SAIT Trojans. Sandra Garcia-Bernal has provided a spark for the Queens and has tremendous anticipation, and work ethic. The second-year guard sits third in ACAC Women's Basketball, averaging 11.2 rebounds per game.
Queens Basketball | Saturday, Jan. 12 | 6:00 p.m. | SAIT
In Calgary, the RDC Queens will challenge the Trojans.
Kings Basketball | Friday, Jan. 11 | 8:00 p.m. | Gary W. Harris Canada Games Centre
The RDC Kings (5-5) will hit the hardwood against the first-place Trojans (10-0). The fifth-place Kings are only a pair of points out of a playoff position.
Kings Basketball | Saturday, Jan. 12 | 8:00 p.m. | SAIT
In the second half of the home-and-home series, the Kings will compete against the Trojans in Calgary.
Queens Volleyball | Saturday, Jan. 12 | 6:00 p.m. | Gary W. Harris Canada Games Centre
The third place Red Deer College Queens (8-6) will entertain the Olds College Broncos (1-13) at home. Libero Kaylee Domoney has been outstanding defensively, helping the Queens quickly transition to offence. Her 4.56 digs per set ranks the Business Administration Human Resources student second in ACAC Women's Volleyball.
Queens Volleyball | Sunday, Jan. 13 | 6:00 p.m. | Olds College
In a weekend rematch, the Queens will play a rare Sunday match in Olds.
Kings Volleyball | Saturday, Jan. 12 | 8:00 p.m. | Gary W. Harris Canada Games Centre
The second place Red Deer College Kings (10-4) will play the Olds College Broncos (0-14). The Kings have been playing a solid brand of volleyball, winning their seventh straight ACAC match last weekend.
Right side hitter Regan Fathers leads ACAC Men's Volleyball in kills (218), kills per set (5.45) and hitting percentage (0.446). Middle Mark DeWit leads the league with 1.00 blocks per set and setter Thomas Wass sits at the top of the ACAC with 10.26 assists per set.
The Kings have significantly progressed since the opening ACAC serve on October 12 and have the goal of peaking at the Canadian Collegiate Athletic Association (CCAA) Men's Volleyball National Championship, March 6-9 at the Gary W. Harris Canada Games Centre.
Tickets can be purchased online for this incredible event.
Kings Volleyball | Sunday, Jan. 13 | 8:00 p.m. | Olds College
The Kings will hit the court in Olds and challenge the Broncos.
For more information on RDC Athletics, the student-athletes, scores, and game recaps of conference games, please visit: rdcathletics.ca
Wandler temporarily replaces Walton as RDC Queens Volleyball Head Coach
King of the Kings is undisputed King (of National College Gaming Challenge)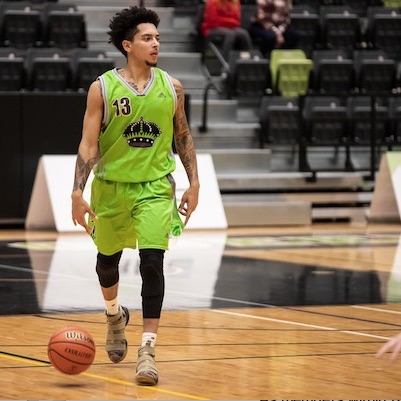 From RDC Communications
RDC student-athlete is king of CCAA Gaming Challenge
When it comes to basketball, Red Deer College Kings guard Tyronn King has demonstrated an impressive skillset beyond the court at the Gary W. Harris Canada Games Centre.
Over four weeks of online competition, King had a perfect 10-0 record in the NBA 2K Canadian Collegiate Athletic Association (CCAA) Gaming Challenge, using PlayStation 4. This unblemished performance earned him first place.
With the absence of Alberta Colleges Athletic Conference (ACAC) competition this year due to COVID-19, King embraced the opportunity to participate in this event created by the CCAA in coordination with Uniting Gamers.
"It was definitely a great experience – fun, and something competitive to do, especially right now with COVID-19 going on," said King, who rose to the top among 32 participants from CCAA member post- secondary institutions. "The people hosting it were great. They communicated well with the players and had everything set up nicely."
In order to continue advancing to the next round, King had to win the best of three games. It was randomly determined which player received first choice of current NBA teams. Participants could not select the same team and King had two squads that he relied on.
"I always picked either the Brooklyn Nets or the Milwaukee Bucks every game of the tournament," said King, who identified the Nets as his favourite team. "I didn't want to take a chance of losing one game of the tournament, so I made sure I always came out with fire power."
King faced Christopher Graham, a setter on The King's University Eagles Men's Volleyball team, in the quarter-final. The RDC Legal Assistant student from Toronto swept the series 2-0, with scores of 61-57 and 58-53 over Graham. In the semi-final, King persisted past Glynn Willis-Paris, a member of the St. Clair Saints Men's Basketball team, 48-44 and 50-47, to solidify a berth in the championship.
"In the two rounds prior to the final, I played a couple of guys who were really good and they put up a fight. In some of the games, I was down in the fourth quarter," said King, who helped guide his RDC Basketball team to the postseason in 2019/2020. "They gave me a run for my money, but when games are close and competitive, that's when they are the most fun."
King felt those hard-fought games adequately prepared him for the championship against Ryan Farrell of the University of New Brunswick Saint John Seawolves Men's Volleyball team.
"The two previous games were championship games to me. Once I got to the finals, I felt ready," explained King. "In the last two games, I was able to put my bench [players] in fairly early and won 57-43 and 54-42."
While balancing academics and training, King's hobby of playing basketball video games was a recipe for enjoyment and success in the CCAA Gaming Challenge.
"In my free-time, I play [NBA] 2K, so that was my preparation," said King. "It was pretty cool, knowing that I had a game each week, and being out of physical competition for so long, I looked forward to the days when I played."
The talented RDC student-athlete, who finished second in team scoring last year with 18.8 points per game, recommends this type of gaming challenge to others.
"Overall, it was fun and I would encourage anyone who plays 2K for fun or competitively to get involved in one of these tournaments," said King, who will enter his fifth year of eligibility when ACAC competition resumes. "It's definitely exciting and something to do during these COVID-19 times when there's not much competition going on."
For winning first place in the CCAA Gaming Challenge on March 18, King will receive a memorable gift.
"It is a customized ring from Jostens, so that's pretty cool," he said.
As members within RDC Athletics and the ACAC anxiously await the safe resumption of competition, King has been dedicated to his fitness and staying connected to his teammates and coaches.
"From a physical standpoint, I've been trying to stay in shape. When gyms weren't open, I trained at home and went for runs," said King, who is a 2019/2020 ACAC Men's Basketball South Second All- Conference team member. "As a team, we connect a lot via Zoom for weekly meetings that our coach organizes. Now, we are starting to get back in the gym, so it feels great."
In the absence of traditional sports this year, the CCAA Gaming Challenge was administered by the CCAA and Uniting Gamers in an effort to encourage connections among Canadian learners, in a fun and competitive virtual environment.
More information about the NBA 2K CCAA Gaming Challenge, including the results, is available online.